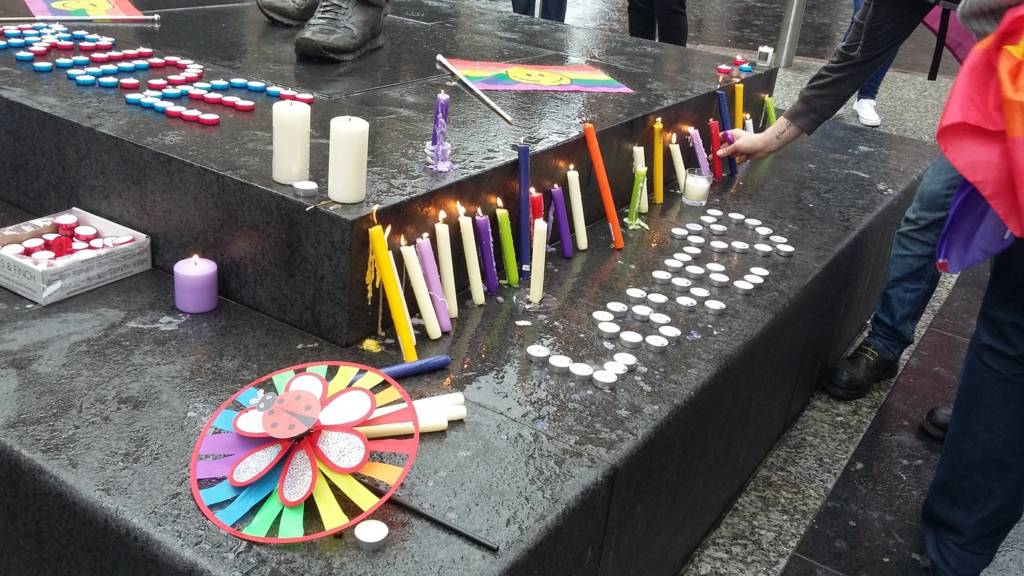 BBC Local Live: Nottinghamshire
Summary
Updates for Tuesday 14 June 2016
More news, sport, travel and weather from 08:00 on Wednesday
Our live coverage across the day

That's all from Local Live today.

Join us again tomorrow.

Weather: More showers pushing in

Kaye Forster

Weather Presenter

There will be a few showers pushing in later this evening and overnight. 

The cloud will remain and it will stay muggy with a minimum temperature of 11C (52F).

No changes to squad for Notts against Durham tomorrow  

Travel: Flooding in Long Eaton

Flooding brings Newark school ceiling down

Newark Orchard School's London Road Site will be closed tomorrow due to "serious flooding" 

Nottinghamshire County Council said part of the ceiling has been brought down.

Staff are due in as normal.

Man charged over M1 closure

Sandish Shoker

BBC News Online

A man has been charged with causing a public nuisance after he caused the closure of the M1 for 28 hours by climbing onto a motorway sign.

Nicholas Muton, 45, of no fixed address, will appear before magistrates tomorrow.

Fawaz 'working hard' to find director of football

Al-Hasawi also says he has had positive discussions with a number of candidates for the director of football position at Forest.

Read the full statement here.

Fawaz: Forest 'to appoint manager'

Forest owner Fawaz Al-Hasawi says he hopes to name a manager soon. 

Also that a significant investment deal will be completed soon.

Copyright: Nottingham Forest FC

Forest Fields stabbing: Situation so far

So today's arrest makes eight in total in connection with the death of Aqib Mazhar (pictured).

Copyright: Nottinghamshire Police

Four of those men have been charged. They are: 

Mohamud Alasow, 18, of Hamilton Road, Nottingham
Junaid Farrukh, 21, of Heathermead Close, Oakwood, Derby
Qamran Ahmed, 21, Staindale Drive, Aspley
Mohammed Quasim, 24, of Staindale Drive, Aspley

They're due to appear at Nottingham Crown Court in August.

Three men, including the 42-year-old we've heard about today, have been bailed.

One man has been released without charge.

Forest Fields stabbing: Eighth arrest made

An eighth man has been arrested on suspicion of the murder of a man in Forest Fields earlier this month.

The 42-year-old has been released on bail, police said.

Four men have been charged with the murder of 21-year-old Aqib Mazhar on Russell Road on 1 June.

Travel: Major city roadworks under way

A month of roadworks at the junction of Canal Street and Trent Street has begun, aimed at improving the city's District Heating Scheme. 

It supplies 5,000 homes with heating and hot water and the works are part of the final phase of work on Station Street. 

From next Monday there'll be lane closures and diversions in place between 19:00 and 06:00. 

Nottingham City Council says it's confident disruption will be kept to a minimum during the works, which will continue until 27 July.

Former Labour leader in city for EU campaign

Former Labour leader Ed Miliband is in Nottingham today helping the fight to remain inside the European Union.

Rainbow flag at half mast at council

Nottinghamshire County Council's flying a rainbow flag - the symbol of the LGBT community - at half mast outside County Hall in West Bridgford today.

It's in memory of those killed at the Pulse nightclub in Orlando at the weekend.

Copyright: Nottinghamshire County Council

Leader Alan Rhodes said: "We will not live in fear, no matter what despicable acts people carry out against others because of their race, religion or sexuality."

Vigils were held across the world last night, including in Nottingham.

B&B advice: Spoil your guests

So what is the secret to a successful B&B?

Lisa Holloway explained guests like to "feel spoilt" with "nice linen, nice towels and toiletries".

"But I don't want them to feel it's too formal, I want them to feel at home. If they want to put their feet up and read the paper that's ok with me."

Newark B&B owner to present TV show

Got a spare room but no spare cash?

A Newark B&B owner is travelling the country to front a new TV programme on how to make the most of your guestroom.

You might recognise Lisa Holloway, of Crompton House, from Channel 4's Four in a Bed (it's like Come Dine With Me for B&B owners...).

Her 35-part programme, To B&B The Best, aired on Channel 5 this morning.

Weather: Possible flooding later

A few sunny spells and plenty of cloud this afternoon. 

There's a risk of some heavy, thundery showers developing - there is a yellow weather warning in place for rain again today. 

Many locations will miss these, but where they do occur, please be aware of possible localised flooding and disruption to travel.Highs of 18C (64F).