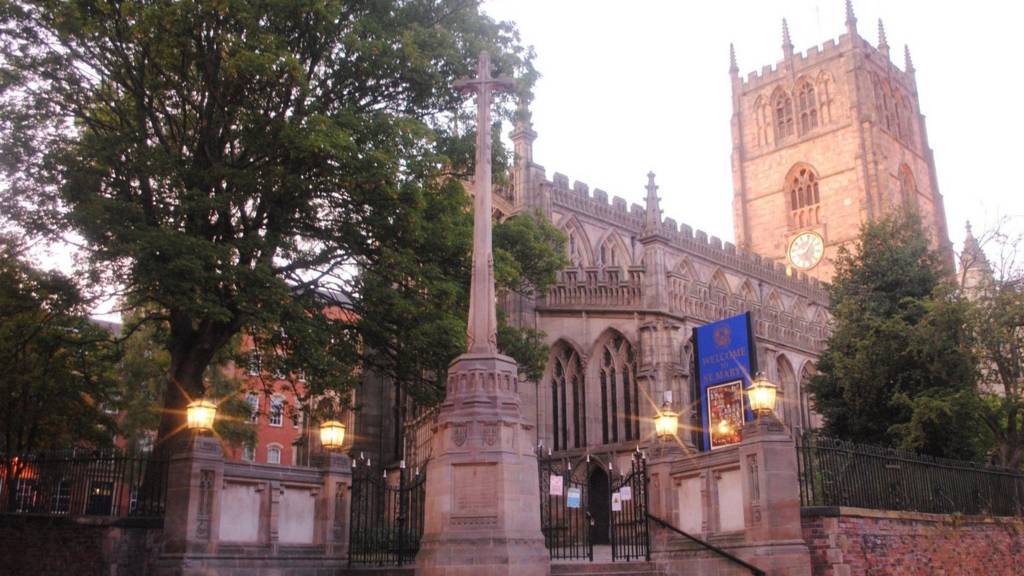 BBC Local Live: Nottinghamshire
Summary
Updates for Thursday 28 April 2016
More news, sport, travel and weather from 08:00 on Friday
Our live coverage across the day

That's all from Local Live. Join us again tomorrow.

Weather: Rumble of thunder possible

Anna Church

Weather Presenter, BBC East Midlands Today

Outbreaks of rain will continue this evening. This will be heavy at times with the potential for hail/sleet and a rumble of thunder. 

The rain will clear east leaving a largely dry night with clear skies and a patchy frost. 

The wind will be strengthening and isolated wintry showers will arrive by dawn. Min 2C (36F).

Watch: Viv Anderson kicks off Rusty Returners project

Kevin Stanley

BBC Radio Nottingham

Life begins at 40 – and then some. Nottingham's City of Football project is offering free sessions for men over the age of 40. 

They're called the "Rusty Returners" and have the backing of Nottingham Forest legend Viv Anderson.

Mann: Anti-Semitism has 'crept into Labour'

During his meeting with the Chief Whip of the Labour party John Mann was told it was "completely inappropriate" to be involved in public rows on television.

But the MP for Bassetlaw agrees with the prime minister that there's a problem with anti-Semitism in the Labour party.

"People equating Jewish people with wealth, money and conspiracy - that's wholly unacceptable," he said.

"Some of that has crept into the Labour Party - it needs to creep back outwards."

Mann 'to avoid discussions in street'

After his summons to the Chief Whip, John Mann admitted things with Ken Livingstone got a bit more heated than he'd expected.

The pair clashed and the Bassetlaw MP accused him of being a "Nazi apologist".

"I'm sure I'll need to try and avoid discussions in the street," he said.  

"It's best that we try to keep a civilised debate but sometimes in politics your passions run away with themselves."

Trams named after Olympian and mountaineer

Two more local celebs have had trams named after them, the city council's announced.

Olympic gold medallist Rebecca Adlington still has strong ties to her hometown of Mansfield and used to train in the city.

Copyright: Nottingham City Council / Getty Images

Mountaineer Doug Scott, who was born in Nottingham, was the first Briton to climb the southwest face of Everest and has climbed the highest peak on each of the world's seven continents.

Lenton factory remains to be dismantled

Station Manager Martin Molloy who was at the blaze said temperatures reached up to 1,000C.

"The fire itself was in a contained space in what was an unsafe building so we tackled in from the outside as we were unable to get inside," he said.

Copyright: Notts Fire and Rescue

"It has left the building in an almost demolished state although what is left will have to be taken down for safety reasons."  

View inside fire-hit Lenton factory

More than 30 firefighters tackled the blaze in Lenton yesterday which almost completely destroyed a disused factory, Notts Fire and Rescue have said.

Here's a view from the inside, just tweeted by the service.

Two teenagers, arrested on suspicion of arson, remain in police custody.

Travel: Grantham line to reopen

Barry Howard tribute: 'RIP lovely man'

Barry Howard's agent told the BBC he had been suffering from cancer.

She tweeted...

Some sad news. Nottingham-born actor Barry Howard - who was best known for the TV series Hi-De-Hi! - has died, aged 78.

He played one half of the bickering ballroom dancers Barry and Yvonne Stuart-Hargreaves in seven series of the classic comedy. Latterly he lived in Bournemouth.  

Travel: Trains delayed around Grantham

Charlie Slater

BBC Weather presenter

Cloud increasing and rain pushing in through the afternoon. 

Potential for some wintriness in a couple of places but mainly wet stuff rather than wintry this afternoon. Highs of 9C (48F).

Man injured in hit-and-run

Klara Lethbridge

Newsreader, BBC Radio Nottingham

A man's been taken to hospital with a head injury after a hit and run crash in a north Nottinghamshire village. 

It happened on the A631 at Beckingham at around 11:15 on Tuesday. 

Police want to trace the driver of a silver estate who they think knows the 19-year-old victim.

Notts Police are looking for a man who has been recalled to prison.

Lewis Alexander is on licence as part of a 42-month sentence for assisting an offender.

Copyright: Nottinghamshire Police

The 26-year-old's last known address was Radford Road in Nottingham

He is described as about 6ft 2ins tall with short dark hair.

Livingstone: Mann "over the top"

Ken Livingstone said of Mr Mann: "He went completely over the top. I've had that with John Mann before a few weeks ago - screaming that I was a bigot down the phone," he said.

Livingstone suspended, Mann summoned by Chief Whip

Ken Livingstone has been suspended from the Labour Party and John Mann has been summoned by the Chief Whip to discuss his conduct.

The pair also rowed live on air on the BBC's Daily Politics over the issue.

The former London mayor sparked anger after calling Naz Shah's actions "over the top" but not anti-Semitic and claiming Hitler supported Zionism before the Holocaust.  

Mann calls Livingstone 'Nazi apologist'

A bit more of the row between the Bassetlaw MP and Ken Livingstone...

Notts MP to Livingstone: 'You've lost it'

Bassetlaw Labour MP John Mann angrily confronts Ken Livingstone over "anti-Semitic" comments...

There are calls for the London mayoral contender for Mr Livingstone to be "kicked out" of Labour for defending MP Naz Shah about comments she has been suspended for.