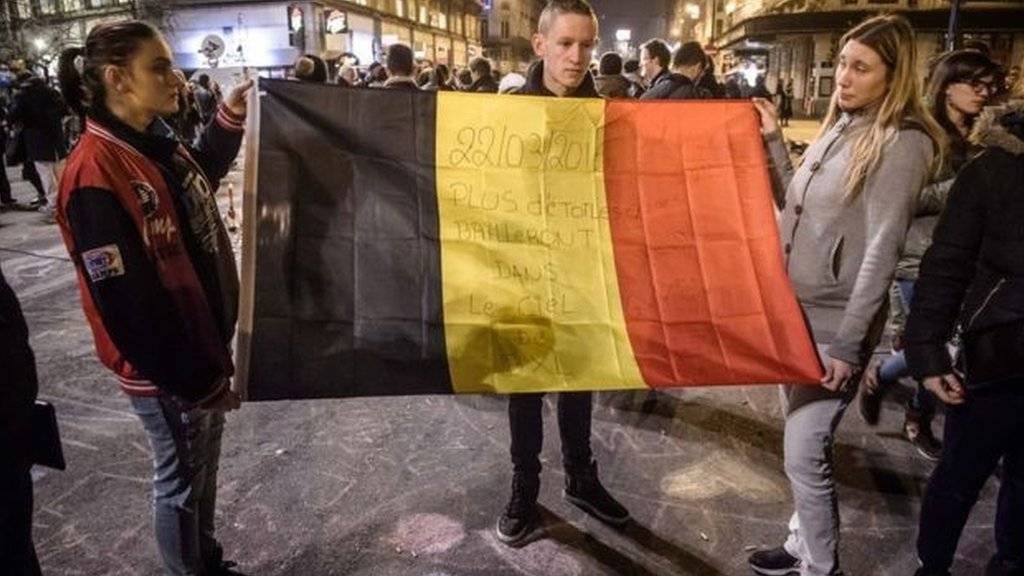 BBC Local Live: Nottinghamshire
Our live coverage across the day

Local Live has finished for the day. Join us again tomorrow.

Weather: Some clear spells overnight

Anna Church

Weather Presenter, BBC East Midlands Today

It's remaining dry and cloudy to the end of the day. 

There will be some clear spells overnight but temperatures should stay above freezing. 

A few spots of drizzle possible. Min 5C (41F).

Ex-airline boss wants security overhaul

Calum McKenzie

BBC Local Live

David Byron, the former managing director of bmibaby, which was based at East Midlands Airport, has been speaking about how security needs to be stepped up at airports.   

"I know in Israel they have a lot of people in the terminal who are trained to look out for suspicious people," he said. 

"These people will find a way to go into crowded places and yesterday, and the Paris attacks, it wasn't only aviation, it was attacks on transport infrastructure and public places."

Station Street: New layout 'confusing'

Kevin Stanley

BBC Radio Nottingham

The city council also says that cabbies support the new layout. 

Nasser Ahmed, secretary for Nottingham Taxi Association said: "We are happy to help with the changes which will improve safety for pedestrians, drivers and our customers."

But this morning I spoke to at least five drivers who said the new system was confusing for them and their passengers.  

Gedling Country Park celebrates first birthday

Station Street changes part of £1.3m revamp

Kevin Stanley

BBC Radio Nottingham

More now on the changes to traffic around Nottingham Station that appear to have caused some delays this morning.

It's part of the city council's £1.3m revamp of Station Street. 

Councillor Nick McDonald said: "We are reaching the final stages of this scheme now and the areas that are almost finished are looking great. 

"Pedestrians are already finding it easier and more pleasant to walk through this area and the changes to the traffic flow will improve safety as well."

Latest headlines for Nottinghamshire

Here are the top stories this afternoon:

Toddler death: Murder accused mum 'spent benefits on drugs'

A Nottingham woman accused of fatally stamping on her daughter used the money she received in benefits to fund her cannabis habit, a court has heard.

Kathryn Smith, of Sandfield Road, and her ex-partner Matthew Rigby deny murdering 21-month-old Ayeeshia Jane Smith in 2014 at their flat in Burton.

Jurors previously heard she was concerned the toddler may have had a seizure after taking drugs kept at the house.

Travel: Mansfield Woodhouse accident

MEP: Brussels 'very unsettled'

Calum McKenzie

BBC Local Live

East Midlands MEP Andrew Lewer has been speaking about how he walked past the metro station just minutes before the blast there.

He said: "My wife and my parents were on to me pretty quickly to find out that I was OK, which I and my team thankfully were but a vast number of people were not.

"The city's in a state of shock but it's shock after shock because we had the arrest of that terrorist, so many of the people from that previous atrocity in Paris were based here, so it's a very unsettled atmosphere."

Partner: Waiting is 'very, very difficult'

The partner of missing man David Dixon has told the Daily Telegraph that authorities are trying to match his dental records with the victims to establish if he is among them.

"We've not heard anything back from them and it's just a case of waiting. We're in their hands now, but it's very, very difficult," Charlotte Sutcliffe is reported as saying.

Copyright: Twitter/Simon Hartley-Jones

Alex Smith

BBC News Online

Andris Logins' lawyer said he was "suckered into a regime he became part of".

"He accepts errors and accepts he has to be punished," he told Nottingham Crown Court today.

Judge: Logins created 'a home from hell'

Alex Smith

BBC News Online

Sentencing Andris Logins, judge James Sampson at Nottingham Crown Court said he had committed "a grave breach of trust".

"What should have been a safe haven was in fact a home from hell," Mr Sampson said. "You were compliant in physical violence, you dished it out in a sadistic fashion.

"You befriended, groomed then sexually abused them."

Logins sentencing: County council to make 'unreserved apology'

The leader of Nottinghamshie County Council has said he will make "an unreserved apology" at tomorrow's full council meeting for failing to protect children in its care in the 1980s.

Logins committed 17 sexual offences at the Beechwood care home, which was under council control.

Alan Rhodes said: "The outcome in this case is proof that victims will be listened to and believed."

He praised victims for their bravery, courage and persistence in helping to bring Logins to justice.

NSPCC: Vulnerable children subjected to 'sickening abuse'

After the court hearing, the NSPCC said Andris Logins, who's been sentenced to 20 years, "used his position of trust and authority to subject vulnerable children to sickening abuse".

"We hope this case will encourage other victims of abuse to come forward in the knowledge that action will be taken, no matter how many years have passed," a spokesman said.

Copyright: Nottinghamshire Police

Employers helping authorities in David Dixon search

Mike O'Sullivan

Reporter, East Midlands Today

Tristan Peniston-Bird, a Euroclear spokesperson said: "We confirm that David Dixon is a contractor working for Euroclear in Brussels, who remains unaccounted for following yesterday's tragic events. 

"We are in touch with his partner and continue to coordinate with the authorities in locating David. Our primary concern is the safety and protection of our people, and our thoughts go out to those affected by yesterday's attacks."     

Social worker jailed over 17 sexual offences

Nottingham Crown Court heard Andris Logins raped two girls and committed crimes against two boys at the Beechwood home in the 1980s.

He is the first carer to be convicted as part of Operation Daybreak.

Breaking

Social care worker jailed for 20 years over sex abuse

A social care worker has been jailed for 20 years after being found guilty of 17 sexual offences which took place at a Nottingham children's home. 

Andris Logins, 57, of Stiles Road, Arnold, had denied committing the offences at the Beechwood Community Home in the 1980s.