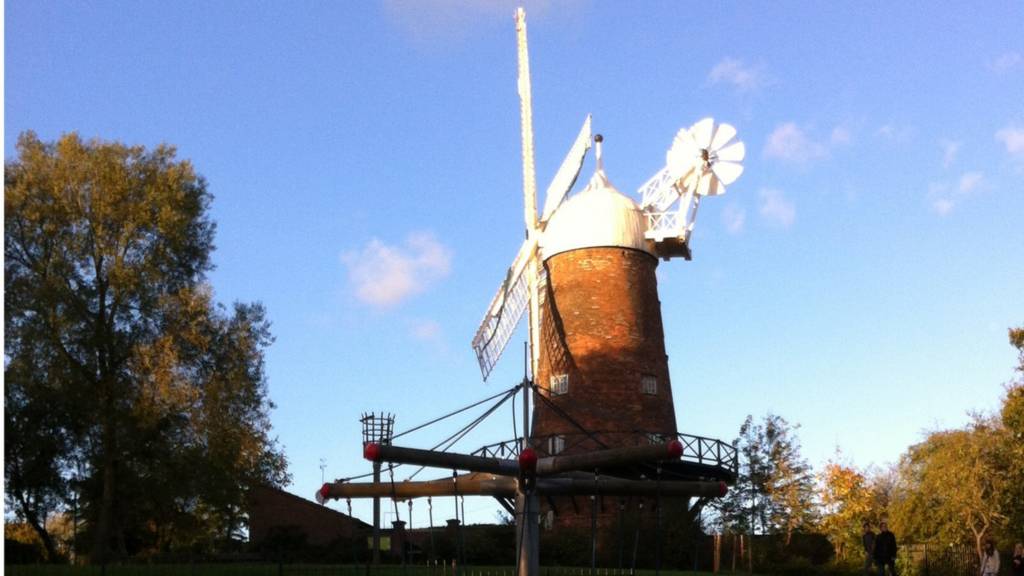 BBC Local Live: Nottinghamshire
Summary
Updates for Nottinghamshire on Thursday 10 March 2016
News, sport, travel and weather updates resume at 08:00 Friday
Our live coverage across the day

That's all from Local Live today. Join us again tomorrow.

Weather: Chilly night ahead

Anna Church

Weather Presenter, BBC East Midlands Today

It will be dry overnight but the cloud will remain for some but where the skies break a frost is possible and some mist or fog patches by dawn. 

It's a chilly night. Min temperature 1C (34F).

Nottingham firm supplying Hollywood

BBC reporter Wesley Mallin couldn't resist a Mr Benn moment at Nottingham firm Anchor Supplies.

It's supplied Hollywood with costumes and props for Harry Potter, James Bond and new blockbuster London Has Fallen.

Mansfield 'fattest town in Notts'

Forest: Burke in Scotland side

Forest midfielder Oliver Burke named in the Scotland squad to face Denmark later this month.

Waterlogged fields around Notts

There's still a lot of water around from all the rain yesterday, as this picture from one of our Weather Watchers Steve from Kimbo shows.

Copyright: Steve from Kimbo

It was taken at Bennerley Viaduct on the Notts-Derbyshire border.

Crown Island roadworks finish early

Believe it or not, the latest phase of roadworks on the Crown Island in Nottingham have finished early.

Overnight road closures on the Wollaton Road approach had been due to continue for the next two evenings but City Transport says restrictions have now been lifted. 

There are further restrictions to come the week after next.  

Abandoned canaries: Your views

You've been having your say about the horrible news that 17 canaries have been found abandoned in a sealed box in Papplewick.

Jill Townsend said: "Puppies and kittens but dumping birds like that's a new low. Disgraceful."

Margaret Braham simply wrote: "Dreadful in the extreme".

Confirmed: Magpies sign Boyce

Notts County sign defender Andrew Boyce from League One side Scunthorpe United for the rest of the season.

QMC's A&E figures below national average

Delays in accident and emergency units in England are the worst since records began in 2004, official figures show.

At Nottingham's QMC, just over 82% of patients were seen within four hours - The target is 95%.  

Across the NHS in England, 88.7% of patients were dealt with in that timeframe.

School Report: West Bridgford students turn weather reporters

BBC School Reporters at the West Bridgford School have sent us their weather report via BBC Weather Watchers.

Copyright: BBC School Report The West Bridgford School

It's "a little windy and grey today", they say.

School Report: Weather presenter in the making

Pip Watts

Reporter, BBC Radio Nottingham

Here are some of the things the Year Seven pupils at Nottingham Academy told me while I was there for BBC School Report earlier.

Jayden said "I'm learning loads, we are really enjoying it" and Jade said: "I've learned it's important to hear all sides of a story". 

And Yusuf said he wants to read the weather when he's older after today's experience!

Here are Saba and Aksah interviewing Mr Hashim on a story about Ramadan clashing with some exams this year.

Postpartum psychosis 'very rare'

Kevin Stanley

BBC Radio Nottingham

More now on Cheryl McAuley, the Nottingham mum who's been speaking out about a condition called postpartum phsychosis. 

It results in extreme manic episodes and the illness was portrayed by Stacey Slater's character in EastEnders. 

But it's still quite rare. Consultant psychiatrist Neelam Sissoida told me: "For every 100 women who have a family history of mood disorder, only three will develop a serious episode in late pregnancy or the early days and weeks after delivery."

Cheryl has also written a blog for the Nottinghamshire healthcare trust.

Notts Ladies sign Welsh international

There's been another new signing for Notts County Ladies as their squad continues to take shape before the new season gets under way later this month.

Wales international midfielder Angharad James, 21, has joined the Women's Super League side from Bristol City WFC.

Blaze at Mapperley Park flat

Travel: A1 blocked at Carlton-on-Trent

There's been a second accident on the A1, this time at Carlton-on-Trent on the southbound side.

It's causing delays back to the Tuxford junction.

A1 crash: One person injured

Police say the crash on the A1 happened on the southbound carriageway at 08:30 and involved two vehicles.

One person was taken to hospital for treatment to injuries that are not believed to be life-threatening.

Charlie Slater

BBC Weather presenter

Dry and cloudy throughout the afternoon with a couple of spots of drizzle and the potential for limited brightness. Highs of 8C (46F).

Cuckney crash death man named

A 25-year-old man who died in a crash between Mansfield and Worksop last week has been named by police.

Jonathan Masters, known as Jay, died at the QMC after the crash at the junction of Budby Road and the A60 in Cuckney on Friday.

His family said they were "devastated".

Postpartum psychosis mum speaks out

Kevin Stanley

BBC Radio Nottingham reporter

Nottingham mum Cheryl McAuley is speaking out about a little-known mental illness, which can have devastating consequences. 

It's called postpartum psychosis and happens shortly after giving birth. 

Cheryl, pictured right, was treated at a specialist mother and baby unit at the QMC.

"I thought the whole thing was a set up," she said. "This isn't a ward, these patients are actors and I'm on a reality show."