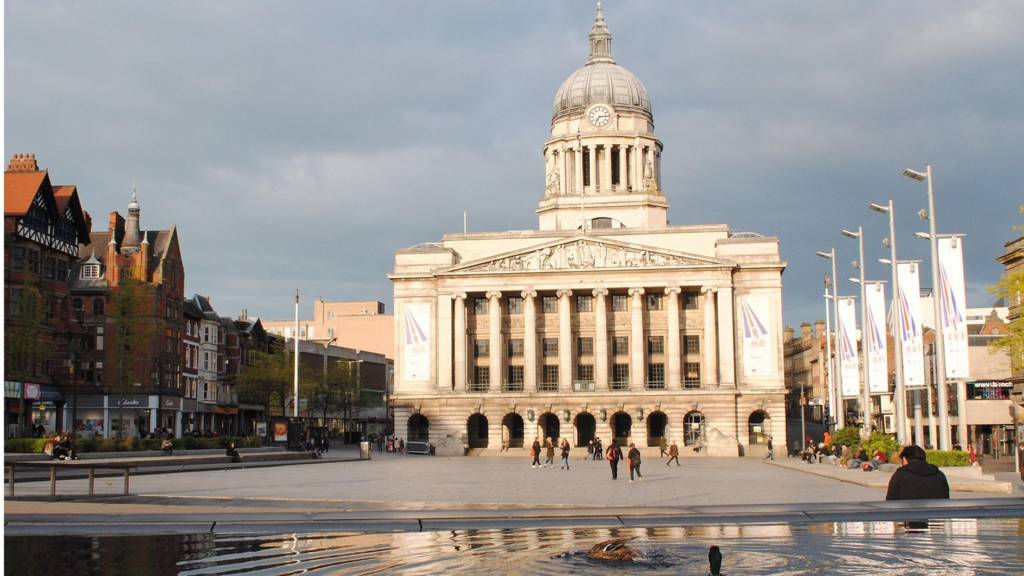 BBC Local Live: Nottinghamshire
Summary
Updates for Monday 22 February 2016
News, sport, travel and weather updates resume at 08:00 Tuesday
Our live coverage across the day

Local Live returns at 08:00 Tuesday but you can tune into BBC Radio Nottingham here.

Weather: Isolated showers possible tonight

Kaye Forster

Weather Presenter, East Midlands Today

Staying dry with clear spells into the evening but there will be thicker cloud pushing in later on in the night which may bring an isolated shower or two. 

Lows of 2C (35F) in town centres but down to 0C (32F) in sheltered areas.

County gritters out tonight

Eurovision hopeful's Leona Lewis-penned song

Have a listen to Nottingham singer Bianca Claxton's Eurovision offering.

The 25-year-old said: "I never dreamt this would happen because I love Eurovision so much and never thought I'd have the chance to be a part of it. It's incredible!"

Newark school partially closed tomorrow

The county council tweets...

Bugg returns with forest gig

Jake Bugg will perform in his home county for the first time in almost three years on June 23 with a gig at Sherwood Pines.

Seven Trent Water: We didn't do 'well enough' dealing with sinkhole

Calum McKenzie

BBC Local Live

Here's what Jonathan Smith, from Severn Trent Water, has had to say following yesterday's burst water main and sinkhole. 

"There's learning opportunities for us here, we don't think we did well enough for our customers throughout all of this," he said. 

"We did get bottles of water out to our most vulnerable customers, like nursing homes, we thought we could get people back on more quickly than we could get water supplies to them."

Travel: A606 fuel spillage

Travel: Crash in Eastwood

Resident asks Newark MP to review water company's response

Calum McKenzie

BBC Local Live

Mike Godwin, who lives in Bingham, has said he's asked local MP Robert Jenrick to review Severn Trent Water's response to Sunday's burst water main. 

Copyright: Andrew Yates/AFP/Getty Images

Jonathan Smith, from Severn Trent, has admitted they did not do "well enough" in their response to the problem. 

Forest: Lansbury and Assombalonga 'to return next month'

Dougie Freedman says Henri Lansbury (pictured) and Britt Assombalonga should be back in training by the end of March.

Eight jailed in Nottingham after 'Paris' biggest drugs haul'

Eight associates of alleged international drug trafficker Robert Dawes, from Sutton-in-Ashfield, have been jailed after a huge cocaine haul was found on a flight. 

The 1.3 tonnes of cocaine, found packed inside suitcases in September 2013, was said to have a street value of £129m and was the biggest drugs haul Paris had ever seen.

Copyright: National Crime Agency

It led to the arrest of Mr Dawes, who is awaiting trial in France.  

William Goldhawk, Jermaine Hammond, Oliver Junior, Masued Khalil (top left to right), Jamie Parlor, Shaun Porteous, Kane Price and Mark Thone (bottom left to right) were all jailed at Nottingham Crown Court on Friday.

Police are in Claypole searching for four people after a van stolen in Newark was dumped there.  

Travel: Mansfield roadworks

Eurovision hopeful from Nottingham

One of the acts in the running to represent the UK at Eurovision is from Nottingham, it's been announced.

Bianca Claxton, 25, is hoping her song Shine A Little Light - co-written by X Factor's Leona Lewis - will be picked by a professional panel and viewers at home after a live show on BBC Four this week.

She was a member of girl group Parade, and has supported Shakira and The Black Eyed Peas on tour.

During Eurovision: You Decide on Friday, the shortlist of six will be narrowed down to one act who will be sent to Sweden for Eurovision 2016.

Travel: Lenton lights broken

M1 roadworks to be fully complete in three weeks

Highways England estimates the "smart motorway" scheme between junctions 28 and 31 of the M1 will improve journeys for more than 95,000 drivers a day.

Once successful testing is complete, the 50mph speed restriction will be lifted and all four lanes will operate at 70mph. 

That's expected to be after 17 March for all four lanes in both directions.

The roadworks, which have seen the speed limit reduced to 50mph for a 20-mile stretch, started in August 2014.  

Andy Kirk, from the agency, said: "We hope drivers will notice a positive difference during the testing period as the extra lane will increase capacity, but the really big improvement will come once the smart motorway is fully open next month." 

M1 roadworks testing to begin next week

Those M1 roadworks from junctions 28 to 31 seem like they've been going on forever...

Well the end is in sight - final testing is about to be carried out along the 20-mile section next week.

Highways England said it's been creating a "smart motorway" scheme, which will see the hard shoulder permanently converted to an extra lane to increase capacity.

It will include variable speed limits and is aimed at easing congestion.

All four lanes will be opened with a reduced speed limit of 50mph on the northbound carriageway from Wednesday 2 March and in both directions the following day.

Jake Bugg playing in Notts

Nottingham's Jake Bugg is returning to his home county this summer.

The singer-songwriter, from Clifton, is performing at Sherwood Pines on 23 June - its part of the Forest Live concert series.