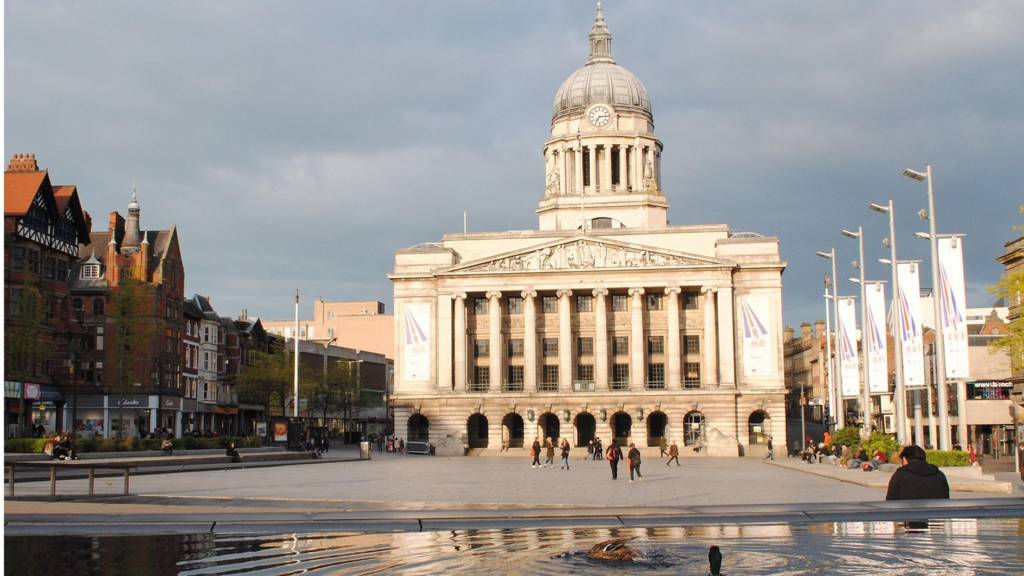 BBC Local Live: Nottinghamshire
Summary
Updates for Tuesday 16 February 2016
More news, sport, travel and weather from 08:00 on Wednesday
Our live coverage across the day

That's all from Local Live today. Join us again tomorrow from 08:00.

Weather: Risk of showers overnight

Alexandra Hamilton

BBC Weather

It's feeling chilly with bright spells and variable amounts of cloud this afternoon. Highs of 6C (43F).

Tonight, it'll be generally cloudy and breezy, remaining mostly dry with a small risk of an isolated shower. Lows of 2C (36F).

Eastwood stabbing: Residents 'scared'

Neighbours say they feel scared and unsafe in their own homes after a stabbing – which came just 24 hours after a gunshot was heard a mile away.

Copyright: Nottingham Post

MP pledges 'action' on Beeston tramlines

Fresh appeal over A610 armed robbery

Police have made another appeal after an armed robbery at a petrol station in Cinderhill last month.

They want anyone who saw a Vauxhall Insignia in the area around the Tesco Express service station on the A610 at Cinderhill at about 18:30 on Thursday 28 January to get in touch.

Two masked men threatened staff with a firearm and a knife before stealing cash and injuring a security guard.

They then fled over woodland and open ground towards Basford Hall College and Basford Miners Welfare, before driving off in a white Vauxhall Insignia

The route may have included Goldcrest Road, Bagnall Road, Nuthall Road, Broxtowe Lane and Exbourne Road, where empty cash boxes were found dumped in wheelie bins.

An earlier accident on the A1 southbound at Blyth between Frankie's Diner and Bilby is causing congestion back to the Bawtry Road junction. All lanes have now reopened.

Travel: Roadworks cause Bulwell delays

Travel: Awsworth broken-down lorry

Weather: More on the yellow snow warning

Alexandra Hamilton

BBC Weather

There's an early yellow warning for snow on Wednesday evening going through to Thursday morning. 

Rain may turn to sleet and snow in places before clearing on Thursday. 

Snow is more likely on higher ground but there's the possibility of it reaching lower levels and causing some travel disruption. 

This is a developing situation so stay tuned.

Mansfield woman died days after telling police she needed help

A mother-of-two who died after she set herself on fire had confessed to police she needed help just days before, an inquest has been told.

NHS trust merger: Union wants 'sustainable plan'

More now on the potential for job cuts after the hospital trusts merger between Nottingham and Sherwood Forest.

Coral Jenkins from the union Unison says staff need to know what's in store.

"We need to get rid of the uncertainty and I think the merger goes some way to doing that," she said.

"What we now need is a sustainable plan and a short, medium and long term forecast - that not only gives patients a sense of relief but the staff that work there."

It was certainly cold this morning. Here are some pictures from our Weather Watchers.

Steve from Kimbo took this one in Kimberley. it shows icicles running down a stone wall of an old railway cutting.

Copyright: Steve from Kimbo

And this one, from Dawn Chorus, shows a frosty path in Wymondham.

Appeal after A46 crash death

Police investigating the death of a man on the A46 last month have appealed for information.

Copyright: Nottinghamshire Police

Pawel Lampke, 29, was killed at about 12:05 on Friday 15 January while driving a silver Nissan Almera between Farndon and Newark.

Officers said: "It is unclear what Pawel's movements were on the morning of the crash but investigators are urging anyone who was with him at any point, or spoke to him, to get in touch."

Weather: Yellow warning of snow

Looks like we're in store for a coating of the white stuff...

The Met Office has issued a yellow warning for snow for a large part of Nottinghamshire tomorrow.

It's valid from 20:00 on Wednesday to 10:00 on Thursday.

Quarries consultation starts

If any of these are near you, you might want to take a look - there are now six weeks to comment on quarrying plans.

Nottinghamshire County Council's hoping to create five new sand and gravel quarries over the next 15 years. 

The Minerals Local Plan also recommends extensions to 14 existing quarries. 

Once the consultation closes, it'll be submitted to the government for a formal review.

Woman 'crushed against railings' by Audi

Notts Police have shared an appeal from neighbouring Derbyshire after a woman was apparently crushed against railings by a car.

The incident happened just before 10:00 yesterday in Main Street, Long Eaton.

The 66-year-old woman was taken to the QMC with "significant" head and leg injuries.

Officers have spoken to the driver of the Audi A3, an 18-year-old man, and inquiries continue.

NHS trusts merger: Your views

You've been having your say on Facebook about the takeover of Sherwood Forest NHS trust by Nottingham.

Peter Johnson said he's "scared" of what will happen next.

"Patients already waiting operations and appointments, will have to either go to Notts hospitals as the Newark folk do now and this will increase the waiting lists etc. No big is not beautiful," he wrote.

Alan Cassady-Bishop had questions about Sherwood's debt.

"If the PFI was set up to fund the building, does this mean the "debt" has been paid anyway? Were the payments to the PFI firms set at a reasonable time limit anyway? Or did the "investors" see it as a nice little earner for decades? Whose bright idea was it to build a hospital with money that was impossible to maintain repayment?"

Eastwood assault was stabbing

Police have confirmed the serious assault reported last night in Eastwood was a stabbing.

Copyright: Nottingham Post

Officers are searching drains and bins in streets around the area.

A 28-year-old man is in hospital with serious injuries after the attack in Ryemere Close at about 19:45.