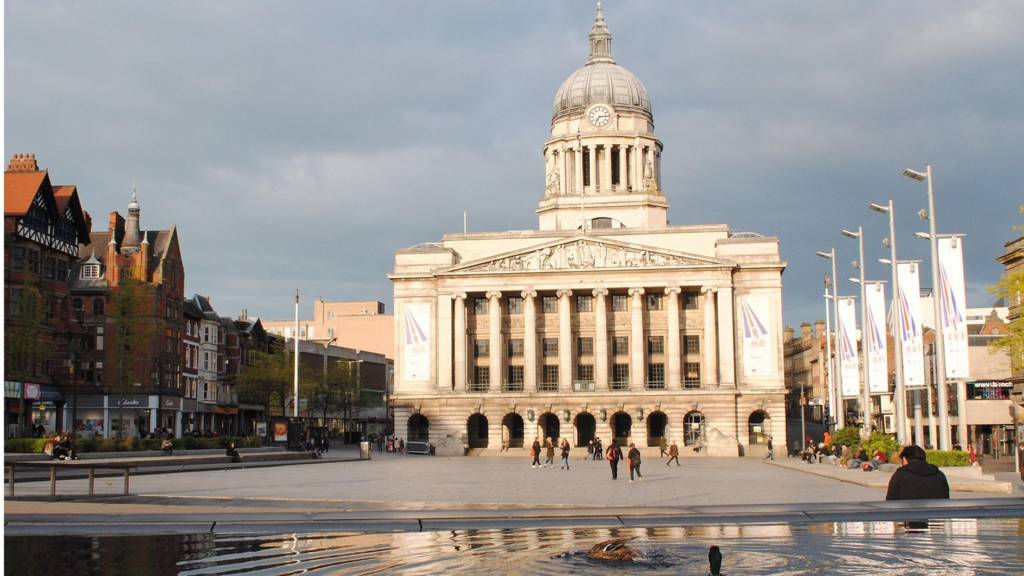 BBC Local Live: Nottinghamshire
Summary
Updates for Monday 15 February 2016
News, sport, travel and weather updates resume at 08:00 Tuesday
Our live coverage across the day

That's all from Local Live today. Join us again tomorrow from 08:00.

Weather: Sunny end to day

Alexandra Hamilton

BBC Weather

Some bright spells and sunshine to end the day with variable amounts of cloud. 

Highs of 5C (41F).

Gritters out in force tonight

It's expected to be a very cold night tonight, indeed...

Valentine's Day 'gunshots' in Eastwood

NHS trust merger: Too soon to discuss job losses

It's too early to say if there will be job losses after the takeover of Sherwood Forest NHS trust by Nottingham, according to Sherwood's interim chief executive.

Peter Herring said if there was going to be a reduction in staff numbers it may be covered by "natural turnover" of staff.

Illegal parker turns litterbug

The city council's parking enforcement team tweets...

NHS trust merger: Nottingham won't take on Sherwood debt

Peter Homa, the chief executive of Nottingham University Hospitals NHS Trust, says it won't take on Sherwood Forest's PFI debt.

"We've been assured financial responsibility will be dealt with - Nottingham won't be taking on that debt," he said.

He said the trust is in the process of discussing what will happen with NHS colleagues and the Department of Health.

The Sherwood Forest Trust's PFI deal was set to cost £2.5bn over the term of the agreement, which runs to 2034.  

Here's something to reflect on...

Travel: A52 broken-down lorry

Travel: Crown Island delays

NHS trust takeover: MP 'delighted'

Newark MP Robert Jenrick tweets:

Travel: Castle Boulevard roadworks

EMAS missed targets last year

EMAS chief executive Sue Noyes' departure from the service in June will come just over a year after the service was criticised for not hitting targets for a fifth year running.

The service missed the 75% target for the two highest priority categories last year.

Accident on A60 in Nottingham

The crash is near the entrance of the rec and is causing delays to bus services.

East Midlands Ambulance Service boss, Sue Noyes, is leaving the service in June 2016 "for personal family reasons".

Chairman Pauline Tagg said she is "a valued and respected member" of the team.

"Sue and I are committed to ensure that our work continues as normal over the following months," she said.

"We will continue to meet and engage with staff and stakeholders across the East Midlands as we prepare our long term plan to secure EMAS' future." 

There are delays heading into the county after a lorry has spilt fuel on the A38 northbound carriageway.

Two lanes are closed on the approach to junction 28 of the M1.

Colwick lorry death man named

A man who died after he was struck by a lorry on the A612 Colwick Loop Road on Friday has been named as Gavan O'Neill.

The 38-year-old, from Gedling, died after the collision near the Starting Gate pub at about 06:30.

The road was shut for several hours afterwards.

Teenage pregnancy unit 'transforms lives'

Campaigner Angie Mindel said teenage girls have had their lives "transformed" by attending the Beckhampton Centre.

Nottingham City Council is considering whether to close it today because teen pregnancy rates have halved in Nottingham since 1998.

"A lot of these girls are aged 14, 15, 16," said Angie.

"For them it's vitally important that they are supported in becoming a new mother and also supported with their education."

Council to decide future of pregnant teens unit

This row has been rumbling on for a little while now but a final plea's been made today to keep open an education unit in Bestwood that supports pregnant teenagers.

The Beckhampton Centre is among a handful of places in the country to offer help to young mums when mainstream school isn't suitable. 

The leading Labour group on the city council are holding a closed meeting to discuss whether to close it tonight.

MPs and campaigners say to shut it down would be short-sighted.

Parking firm refunds Christmas shoppers

A parking company that covers a busy Mansfield retail park has agreed to refund motorists fined for being caught up in Christmas traffic.