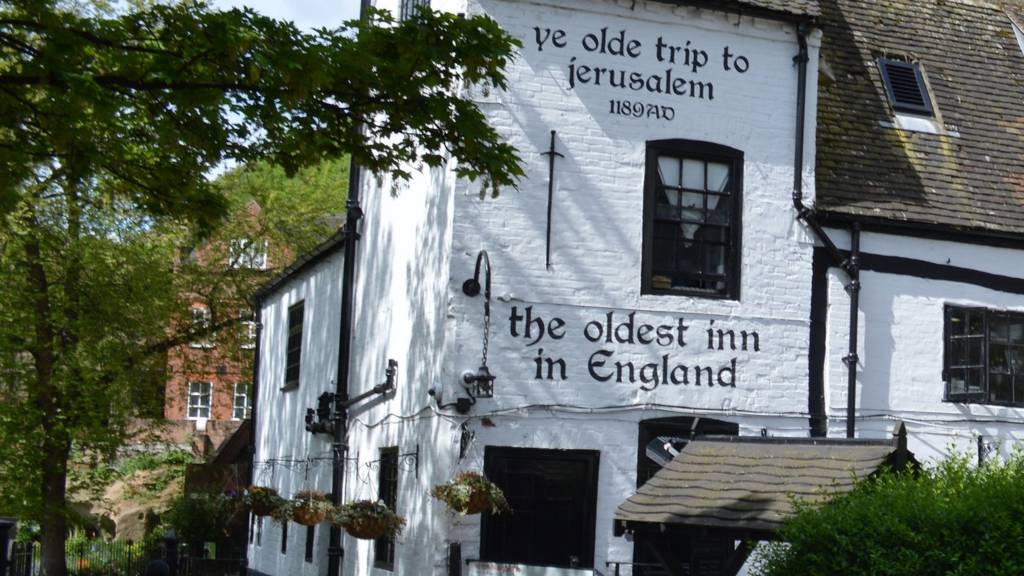 BBC Local Live: Nottinghamshire
Summary
Updates for Wednesday 3 January 2016
News, sport, travel and weather updates resume at 08:00 Thursday
Our live coverage across the day

That's all from Local Live today. Join us again tomorrow morning from 08:00.

Weather: Feeling cool with rain later

There will be an early dip in temperatures this evening, with a minimum of 3C (39F) by midnight.

But the cloud will increase and rain will arrive later in the night bringing milder air, so temperatures will recover to 8C by morning.

Most of the rain will clear by the morning, and there will be some dry weather tomorrow, on a milder day, with highs of 11C (52F).    

Prince Harry returns to city

Prince Harry has returned to Nottingham for the fourth time in the last three years - but this time he visited county's home of cricket.

Could this be the first daff in the county?

Weather Watcher capt scarlet took the picture today in Basford.

Spotted any signs of our weirdly warm winter in Notts? Let us know by email, Facebook or Twitter.

Latest headlines for Nottinghamshire

Here's a round-up of our main stories today:

Travel: No fuel at A1 service station

'Where did miners go to the loo?'

Children at Maun Infant and Nursery School in Ollerton have been finding about the history of mining in their area from one former miner.

And they asked him some very important questions, like "Where did you go to the toilet?"

 Watch the video over on our Facebook page.  

Pitch invasion suspects sought

Do you recognise these men?

Nine people are being sought by police in connection with a pitch invasion at the Forest v Derby game back in November.

Copyright: Nottinghamshire Police

Tennis: Notts' Rae inspired by Davis Cup win

Nottinghamshire's Jocelyn Rae says Great Britain's Davis Cup triumph in November is proving an inspiration for the Fed Cup team.

The GB women start their Euro/Africa Zone Group 1 campaign in Israel on Thursday, with Rae, 24, set to partner Anna Smith in the doubles.

"It was incredible and they all did so well. Not a lot of people maybe thought they could do it, but they did," she said.

"Before we left, we saw the trophy. Even just seeing that was inspiring."

Weather: Cloud increasing overnight

Kaye Forster

Weather Presenter, East Midlands Today

The odd isolated shower this afternoon but staying generally dry for most with some clear spells into the evening. 

There will be an early dip in temperatures with a minimum of 3C (39F) by midnight. 

But the cloud will increase and there will be some rain pushing in later in the night.

However milder air will push in with it, so any wintryness will be short lived and temperatures will recover to 8C by the morning.

Police 'paid £4.2m for temps'

A £4.2m bill paid out to recruitment agencies by Nottinghamshire Police to provide staff has been condemned by a candidate for Police and Crime Commissioner.   

Copyright: West Bridgford Wire

Cycling tour stage to start in city

More cycling news...

The 2016 Aviva Women's Tour cycling race will be heading through Nottinghamshire.

Copyright: Aviva Women's Tour

Stage 4 starts in Nottingham on Saturday 18 June.  

Travel: Lenton lorry update

'Six week deadline' for Notts-Derby devolution

Peter Saull

BBC Radio Nottingham Political Reporter

Almost a month has passed since the 19 local authorities in Nottinghamshire and Derbyshire published their final pitch to take back powers from the government.

They called it the "North Midlands" devolution bid, but there's been little to suggest that ministers are ready to sign it off.

This morning, the chief executive of Nottingham City Council, Ian Curryer, told me that he rates the chances of a deal at 50/50.

He also said that if an agreement isn't reached within four to six weeks, Nottinghamshire and Derbyshire won't be able to join other parts of the country and elect a mayor in May 2017.

What is the Bennerley Viaduct?

Some facts about the Grade-II listed structure that is set to become a walking and cycling route linking Notts and Derbyshire.

It was built in 1877 using the same material and construction method as the Eiffel Tower
All the parts were constructed in Derby, and assembled on site, using around a million rivets
The largest of its kind in the country, it was built to carry coal from the local pits to London
British Rail closed it in 1964 but the tough wrought iron couldn't be easily dismantled, so it has stood unused ever since

Hit-and-run cyclist blasts 'injustice'

The man who filmed the moment he was knocked off his bike in a hit and run in Nottingham has said he's angry that criminals can get away with crimes against cyclists.

"It's left me feeling surprised at the injustice and the ability for criminals to get away with crimes so easily, especially those perpetrated against cyclists," he said.

"And it's left the wider cycling community feeling totally betrayed."

In the footage, which has only just been released, the Volvo is shown accelerating into him as he rode across the BBC Island in November 2014.

Police said there wasn't enough evidence to prosecute the driver of the hire car.

Hit-and-run cyclist: I'm still biking

More now on the cyclist who filmed himself being hit by a car on the BBC Island in November 2014.

He said the incident has not stopped him riding his bike.

"It's literally the best form of transport we have - it's cheaper than all others, it's environmentally friendly," he said.

"It has made me very annoyed that cyclists are being let down time and time again when it comes to justice."

PMQs: Clarke praises PM on EU renegotiations

During Prime Minister's Questions, the Conservative's best known pro-European, the Rushcliffe MP Ken Clarke, said: "The PM has achieved more on the big issues in this negotiation than I ever expected.

"But as you say, you have still got to deliver it."  

Mr Cameron replied: "These are difficult issues...." 

But he stressed that when countries in Europe have problems they believe are in their key national interests, they have got to have the flexibility to deal with them.  

Travel: Ring road lorry broken down

PMQs: Sherwood MP asks about hospital PFI

Tony Roe

BBC East Midlands political editor

Conservative Mark Spencer has raised the question of PFI payments as part of the planned takeover at Sherwood Forest Hospitals NHS Trust.

He asks can the prime minister help solve this "disastrous mess"? 

Mr Cameron said he'll look into it.