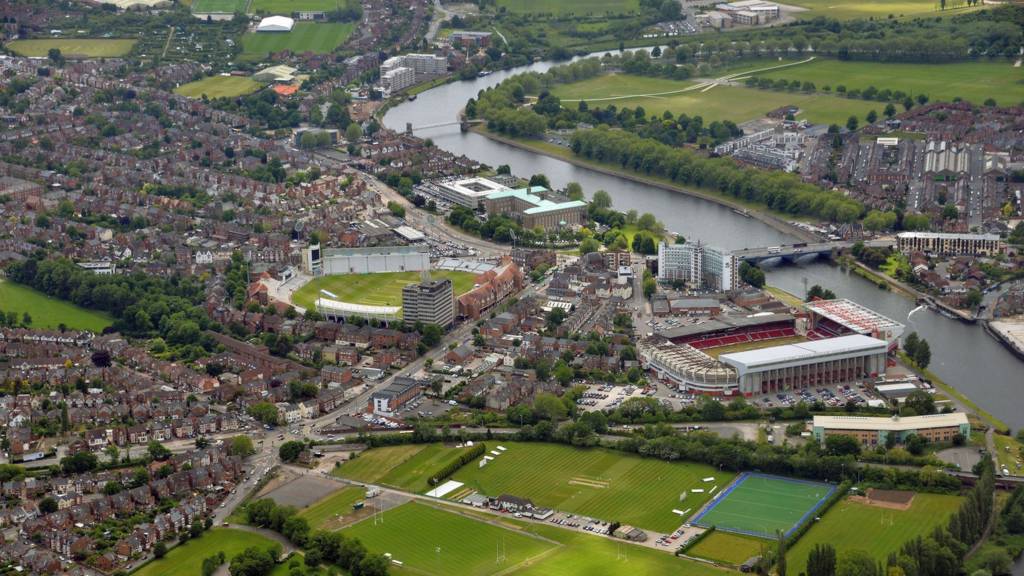 BBC Local Live: Nottinghamshire
Summary
Updates for 15 December
News, sport, travel and weather updates resume at 08:00 Wednesday
Our live coverage across the day

Local Live has finished for the day. Join us again tomorrow from 08:00.

A band of rain is heading in this evening giving a damp end to the day. 

Becoming dry for a short while but there will be another batch of rain pushing in during the early hours of the morning. 

It will stay quite misty and foggy for much of the night and it will stay mild with lows of 9C (48F).

Nottingham 'busiest railway station in region'

Nottingham is the busiest station in the East Midlands according to figures from the Office of Rail and Road...

Copyright: Office of Rail and Road

Man taken to hospital after city centre crash

Travel: Broken-down lorry on Canal Street

Love rival murder was 'an over-reaction'

Det Ch Insp Hayley Williams from Nottinghamshire Police has described the murder of Richard Pencott by love rival Sam Spaven as "such an over-reaction".

"He could have met Richard face to face and they could have argued about the girlfriend but he chose to drive an Audi at 40mph as a lethal weapon against someone on a cycle. It's just cowardly," she said.

Copyright: Nottinghamshire Police

Travel: Traffic lights out in city

Rare bikes built in Nottingham

Have you ever heard of a Brough Superior motorbike? Well a rare collection has been found in Cornwall and it turns out they were made in Nottingham.

In fact they were made at founder George Brough's factory in Haydn Road.

Built in the 1920s and 1930s, they were known as the Rolls Royce of motorcycles and were used by celebrated riders such as Lawrence of Arabia.

Love rival murder: Police release image of damaged car

After murdering Richard Pencott by mowing him down in his Audi A4 while he cycled along the side of Blyth Road, Harworth, Sam Spaven headed straight for work at a gym in Rotherham.

His heavily damaged car with smashed windscreen was seen by many passing motorists as he fled the scene, police said.

Copyright: Nottinghamshire Police

He stopped when he arrived at his work, a gym in Rotherham, where he was arrested shortly afterwards. 

Nottingham Crown Court heard he was behind the counter making a protein shake.

Love rival murder 'has devastated family'

More from the statement from the family of Richard Pencott, who was murdered by love rival Sam Spaven.

It was jointly released by Mr Pencott's older brother and sister.

Quote Message: Richard's murder has left our family devastated. My mother cannot face life without her youngest son. Lewis and Libby, Richard's children, have been hit very hard by this cowardly act. They miss their dad very deeply as we all do and no matter how harsh the sentence imposed on Spaven it cannot compare to the sentence imposed upon all of our family." from Statement from Richard Pencott's family

Love rival murder 'unprovoked and cowardly'

In a statement the family of Richard Pencott said the "unprovoked and cowardly act" had robbed them of a son, brother and father.

Quote Message: Spaven went out to seek some sort of jealous revenge for something that was totally and utterly unfounded. He did not have the stomach or the guts to face my brother ... Richard Pencott was an honest, hard-working member of the Harworth and Bircotes community. He would not hurt a fly and would rather walk away from trouble." from Statement from Richard Pencott's family

Copyright: Nottinghamshire Police

Love rival murderer 'bent on revenge'

A man who murdered love rival Richard Pencott by mowing him down in his Audi while he cycled home from work in Harworth in June was "obsessed" with his ex-partner, Nottingham Crown Court heard.

Copyright: Nottinghamshire Police

Judge Michael Stokes said it was "premeditated, deliberate murder". 

"Why? Because you, obsessed as you were with your former partner and mother of your child, were blinded by jealousy and bent on revenge."

Sam Spaven (pictured) must serve at least 25 years before he's eligible for parole.

Your views: City council budget cuts

Nottingham City Council's budget cuts have angered some of you on Facebook, particularly the proposals to dim some street lights.

Mick Pilsworth said: "Can street lights get any dimmer than the new white ones theyve installed?"

Tarn Hotchkiss wrote: "I can hardly see on my street and thats with the lights on. We'll be walking around with torches.lol" 

Latest headlines for Nottinghamshire

Here are the top stories this afternoon:

Quiz: How much do we spend at Christmas?

How much do you know about the cost of Christmas? Can you guess how much the average household is planning to spend?  

Copyright: Milan Markovic

This BBC News quiz tests how savvy you are when it comes to Christmas shopping.  

Rare motorcycles discovered in barns

Heather Burman

Journalist, BBC News Online

How about this for a find. A collection of rare motorcycles, which were made in Nottingham, has been discovered in Cornwall after being kept in barns for decades.

The Brough Superiors had been stored in barns for more than 50 years, according to auctioneers Bonhams. 

The eight motorcycles, which date from between 1926-1939, were collected by Frank Vague who died earlier in 2015.  

Stags fixture gets new date

Chris Ellis

BBC Sport Online

Mansfield Town's League Two fixture away at Oxford United will now take place on Tuesday 9 February with a 19:45 kick-off.

The match was originally scheduled for Saturday 9 January, but was postponed because Oxford are involved in the FA Cup third round.

Travel: Delays on A1 after crash

West Bridgford 'outperforming' Nottingham

An analysis by a cross-party think tank which studied English satellite towns and how they perform on a number of socio-economic criteria versus their city neighbour found that West Bridgford outperforms Nottingham by the biggest margin.