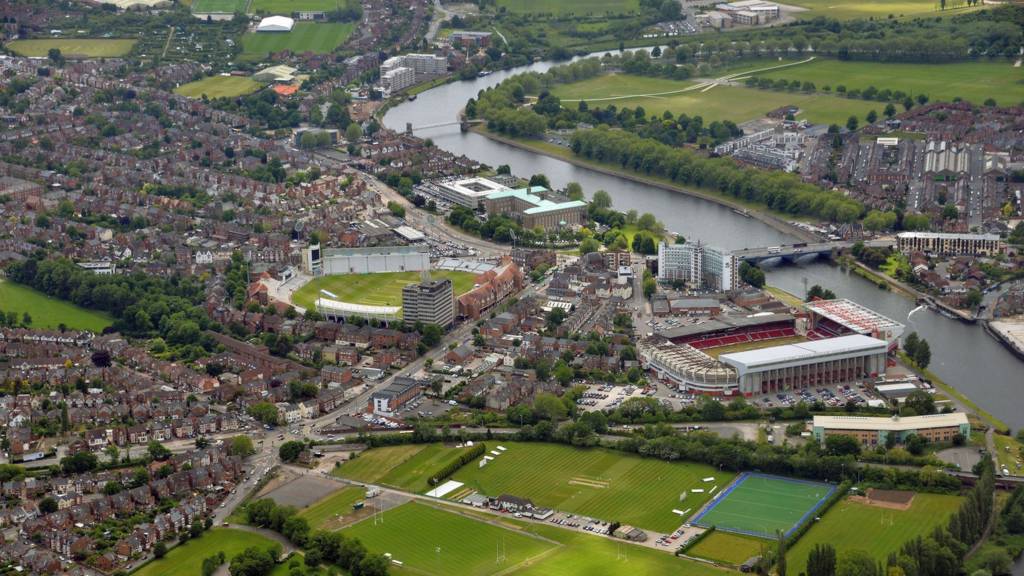 BBC Local Live: Nottinghamshire
Summary
Updates for 7 December 2015
More news, sport. travel and weather from 08:00 on Tuesday
Our live coverage across the day

That's all from Nottinghamshire Local Live today. There'll be more updates tomorrow from 08:00.

Weather: Wet and windy night but some sunshine tomorrow

Charlie Slater

BBC Weather presenter

Staying dry with some clear spells into the evening but the winds will pick up again overnight.

There will also be a band of rain pushing in through the early hours but this should clear by the morning. 

Lows of 8C (46F).

There'll then be a mixture of sunshine and rain on Tuesday. Showers will be fairly isolated but when they do come along they will be quite heavy and blustery. 

Some decent sunshine will develop in between but it will be a little cooler than today with highs of 12C (54F).

Notts trip to Carlisle uncertain following floods

If you're a Notts County fan, and were planning to make the long journey to Carlisle later this month, you might be interested to know Carlisle United have suspended all ticket sales for forthcoming matches.

The club say it needs to assess the state of their Brunton Park ground after the weekend's floods. 

Notts County are due to play there on 19 December.  

Morton: 'System is not fit for purpose'

More now on Nottingham actress Samantha Morton, who's been talking about why she spoke out about alleged abuse she suffered in children's homes. 

She said she made the decision to speak out last year after reading about abuse in the press and getting "angrier and angrier" at "institutional barriers".

"There are individuals within all these systems who want to make it better but they are banging their heads against brick walls, saying the system needs to change, it is not fit for purpose."

The BBC understands Ms Morton has met with police to discuss the allegations.

Beeston's new tree postponed

Amy Woodfield

BBC Local Live

I've just had an update from Broxtowe Borough Council on Beeston's new Christmas tree...

It was supposed to be going up today but now it will go up at some time tomorrow.

It's after they removed the first tree because it had been vandalised.

Nottinghamshire fireman helps with Cumbria flood rescue

Amy Woodfield

BBC Local Live

I told you earlier about some Nottinghamshire firefighters being drafted in to help with the flooding situation in Cumbria, well we've now heard from one of them.

Bryn Coleman says: "What we're finding is a lot of elderly people have decided to sit tight over the weekend and not wanted to be removed from their properties.

"They're now 48 hours or more into this situation, they're getting cold, wet, hungry, probably needing medication.

"So we're seeing a rise in the number of people needing evacuation."

Morton: 'I felt like a criminal'

I've been listening to Nottingham-born actress Samantha Morton, who spoke to Radio 4's Woman's Hour this morning about alleged abuse she suffered in children's homes in the city.

The Bafta and Golden Globe winner said she "felt like a criminal" after she spoke out last year.

"It's very traumatic, the interviewing process ... speaking to people in your past, it's really hard," she said. 

"It's a very serious thing to say ... It was heartbreaking reliving it all again when I'd already reported it."

Police spend nearly £500,000 on language translator

Twins spend pocket money on gifts for the homeless

Amy Woodfield

BBC Local Live

Here's a nice, heart-warming story for you.

These eight-year-old twins from Clifton have been saving their pocket money this year, not to buy sweets or their favorite toy, but to buy gifts for homeless strangers.

Korey and Mckade have bought hats, gloves, scarfs and ear muffs to give out to people over the festive period.

Amy Woodfield

BBC Local Live

Morton speaks out about alleged abuse

Amy Woodfield

BBC Local Live

This is a face you might recognise, it's actress Samantha Morton, who grew up in Nottingham.

She's been explaining why she decided to speak out about the alleged abuse she suffered in children's homes.

The allegations are being investigated as part of a national inquiry into child sexual abuse.

She said: "Looking at the past and what happened and what should have happened, now I'm an adult, a 38-year-old mother of three.

"There has to be consequences, these things can't just be allowed to happen and then written about and then filed away."

City council: We should be 'ranked at 32' over parking profits

Amy Woodfield

BBC Local Live

As promised here is what Nottingham City Council had to say about a survey, which claimed it made a £13.3m profit from car parking charges - ranking it ninth in England.

Deputy leader, councillor Graham Chapman, said: "We in fact make less from parking than some major cities like Manchester, Newcastle and Leeds - £5.2m last year. But this report mistakenly includes the Workplace Parking Levy which is unique to Nottingham and is ring-fenced by law to fund particular transport projects.

"The WPL income makes up the vast majority of our total in this report – but when the so-called 'surplus' from our day-to-day parking charges is fairly compared against others, Nottingham is actually ranked 32nd.

"Our car parks and parking spaces are busy which shows a thriving city centre and that our charges are appropriate. And of course, having the WPL means we can further improve the alternatives to the car that are already available in Nottingham."

Latest Nottinghamshire headlines

Amy Woodfield

BBC Local Live

Broad dons gown to receive honorary degree

Amy Woodfield

BBC Local Live

Yes that is cricketer Stuart Broad. He's hardly recognisable out of his cricket whites.

He's received his honorary degree from the University of Nottingham.

Shooting star spectacle starts tonight

Notts firemen help in Cumbria floods

Amy Woodfield

BBC Local Live

I'm sure you've heard all about the terrible flooding in Cumbria over the weekend.

Well, firemen from Nottinghamshire have gone to help.

Station manager Kevin Cleary co-ordinated Nottinghamshire Fire and Rescue Service's response.

He says: "The team up there are dealing with the logistics of things, assets coming in from not only the fire and rescue service but also our partners at the strategic holding area and then deploying them out to various scenes."

Broad's 'outstanding career' recognised

Amy Woodfield

BBC Local Live

The registrar at the University of Nottingham has been explaining why they've decided to award cricketer Stuart Broad with an honorary degree.

Paul Greatrex says: "We like to honor people who've achieved amazing things in their field and we particularly like honoring local people as well.

"It seemed entirely appropriate, following his eight for 15 in the Ashes test at Trent Bridge, to honor him this year."

Parking profit figures 'skewed by workplace levy'

Amy Woodfield

BBC Local Live

I've just been talking to Nottingham City Council about its profit from parking charges being among the highest in England.

The authority said this is because the RAC Foundation, which carried out the study, included income from the Workplace Parking Levy and without this the profits would be considerably lower.

A full statement is on its way, so I'll bring you more later.

Still no replacement Christmas tree in Beeston

Steve Beech

Reporter, BBC Radio Nottingham

There's still no sign of Beeston's new Christmas tree.

Honorary degree for England star Broad

Amy Woodfield

BBC Local Live

Nottinghamshire cricketer Stuart Broad is being recognised with an honorary degree from the University of Nottingham.

He'll receive a Doctor of Laws degree at a special ceremony this afternoon.