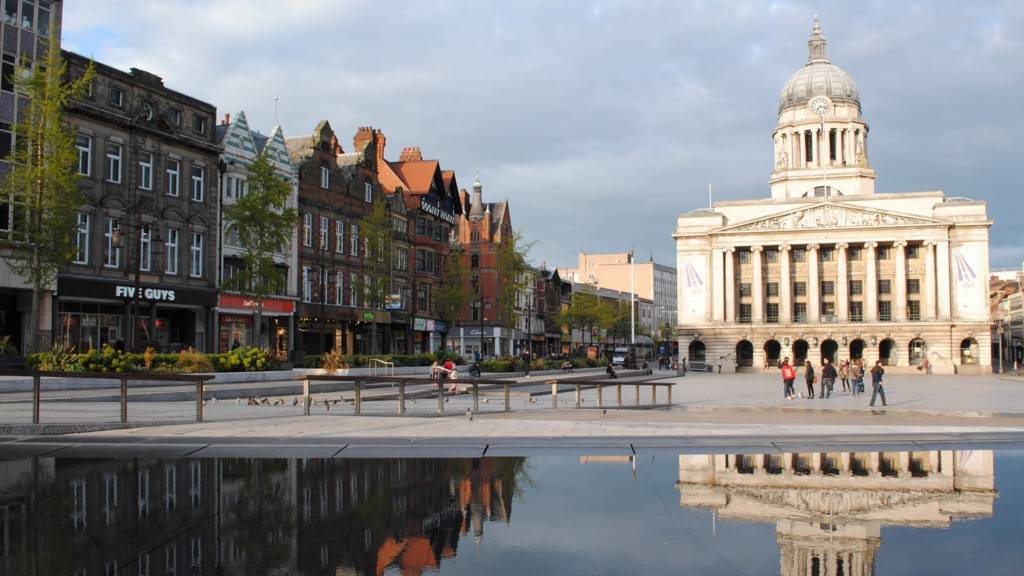 BBC Local Live: Nottinghamshire
Summary
Updates for Tuesday 24 November
News, sport, weather and travel updates resume at 08:00 Wednesday
Our live coverage across the day

That's all from Local Live today. Join us again tomorrow from 08:00.

Weather: Mild and mostly dry

There will be one or two showers continuing overnight, but it will be mainly dry with skies clearing through the night. 

Most places will be mild, although there is the risk of a slight frost in some areas.

Minimum temperature: 5C (41F).

Panthers: New defender's family ties

Kyle Hardy's dad played ice hockey in Brighton and Wembley, he says...

Abuse inquiries investigate claims against 400 people

Jeremy Ball

Social affairs correspondent, BBC East Midlands Today

It's four years since Operation Daybreak began investigating claims of serious child abuse at the former Beechwood home in Mapperley, pictured. 

The latest report from Nottinghamshire Police says they've had 167 separate allegations against more than 250 different people. 

The report also gives details of Operation Xeres, looking at allegations involving homes in the county, dating back to the 1940s. That inquiry's received 96 allegations, against 155 alleged offenders. 

Some perpetrators haven't been identified. The police are now working with the health service to help GPs offer victims more support.

Jury mulls verdict on ex-Notts cricketer

The jury in the trial of former Notts cricketer Chris Cairns has retired to consider its verdict.

The 45-year-old ex-New Zealand cricket captain has denied charges of perjury and perverting the course of justice at the trial at Southwark Crown Court in London.

He's accused of falsely declaring under oath in a libel case in 2012 that he had never cheated at cricket.

He is also accused of perverting the course of justice by inducing a fellow cricketer to give a false statement.

Latest headlines for Nottinghamshire

Here are some of the stories we're looking at today:

Rock City has been forced to look again at its security after the tragic events in Paris
Inquiries investigating child abuse at former Nottingham and Nottinghamshire care homes are looking at claims against more than 400 people
The jury has retired in the trial of ex-Notts crickter Chris Cairns, who's accused of falsely declaring under oath that he had never cheated at cricket

Behind the scenes at sculptor exhibition

Geeta Pendse

Arts reporter, BBC East Midlands Today

I've been given a sneak peek of a major Elisabeth Frink exhibition at Nottingham Lakeside Arts in Nottingham. 

She's described as one of the leading artists of her time. 

More on BBC East Midlands Today at 18:30.  

Your views: Queues at A&E

You've been having your say over on our Facebook page about the news that a 90-year-old woman was left on a trolley for 12 hours at the QMC.

Michael Ince-tivey said the system is to blame.

"The usual catch 22. U go to college then university u get qualified and then can't get a job as you not experienced enough to apply for the jobs that we are so desperate to fill," he wrote.

Yvonne Wright simply called it a "very sad situation".

Nottingham driver first woman to win bus gong

The first woman to win the bus driver of the year award drives the Red Arrow between Nottingham and Derby...

Forest: Cohen returns to training

He said it's been 435 days since he last did anything competitive.

Rock City 'looks again' at security

Owner of Rock City George Akins says the tragic events in Paris 11 days ago forced them to look again at their security.

"We've reviewed security measures but at the end of the day if some crazies with guns come along there's not much you can do about it," he said.

Nick Alexander, pictured, who was killed at the Bataclan Theatre was "a regular merchandise guy" at the Nottingham venue and Eagles of Death Metal have played "several times".

Notts WW2 sailors to be honoured

City venue ups security after Paris attacks

Rebecca Dickson

Reporter, BBC Radio Nottingham

Some news just in - the owners of Rock City in Nottingham say they've reviewed their security following the terrorist attack at the Bataclan Theatre in Paris.

A total of 89 people died when gunmen stormed the concert venue during an Eagles of Death Metal gig 11 days ago.

One of the men who died was 36-year-old Nick Alexander from Essex, who sold merchandise for different musicians at Rock City and was known by staff and bands alike.

Travel: Roadworks in Bilsthorpe

Nottingham Forest get injury boost

Nottingham Forest have confirmed that midfielders Chris Cohen and Robert Tesche have both resumed full training, after lengthy spells on the sidelines.

The third cruciate knee ligament injury of his career meant that Cohen (pictured) has not played competitively since September 2014.

Meanwhile, Tesche suffered a broken foot in Forest's first game of the current season.

Sharm flights from East Mids grounded until mid-December

Bad news if you've got a pre-Christmas break booked - Thomson, which flies to Sharm el-Sheikh from East Midlands Airport, has cancelled flights to and from there until 9 December.

It comes as Easyjet has cancelled all its flights to and from the Egyptian resort until the new year. 

British Airways has grounded flights until 17 December, Monarch until 19 December and Thomas Cook until 10 December.

Services were halted after a Russian airliner crashed in Sinai last month.

Christmas collection for Newark man who died in crash

The colleagues of a man who died in a car crash are collecting gifts to help out his family at Christmas.  

Ice Hockey: Players under automatic review

Two Panthers players are under automatic review for incidents at the weekend. 

News of any bans for Bryan Schmidt and David Clarke, pictured, will most likely come tomorrow.

Latest headlines for Nottinghamshire

Here's a recap of what's making the news in Notts:

Virgin Trains is to spend £21m refurbishing its east coast mainline fleet, which calls at Newark and Retford
A hospital trust has apologised after an elderly woman with head injuries was left waiting for 12 hours in A&E at the QMC
A Mansfield '"eyesore" former hospital site is being replaced by retirement homes

Travel: Lorry causes city delays

East coast trains to be refurbished

Good news for commuters - Virgin Trains is to spend £21m refurbishing its fleet of 45 trains which run on the east coast mainline and stop at Newark and Retford.

Copyright: Geoff Sheppard

All 401 carriages used on the route between Edinburgh and London will be overhauled with more than 20,000 seats replaced and new carpets and curtains fitted, the firm says.  

Hospital apologises for lengthy delay

Ben Truslove

BBC News Online

I've been writing about the 90-year-old woman who was left on a hospital trolley with no food or drink for nearly 12 hours.

Her daughter Linda Hughes said the staff were "very caring" but there did not appear to be enough of them

"It was only due to the pressure that we were putting on them that she was moved to a ward. In that time she was offered nothing to eat or drink," she said. 

The hospital trust apologised and said there had been a "surge" in patient numbers that day,

Council makes lost dog appeal

Roman secrets of North Notts town to be uncovered

A new project is aiming to unearth the secrets behind what is believed to be Nottinghamshire's largest Roman settlement.

Weather: Brightness in between showers

Charlie Slater

BBC Weather presenter

Here's a look at how your weather's looking this afternoon.

There'll be showers on and off, along with plenty of cloud and the potential for a couple of brighter spells. Highs of 8C (46F).

Christmas lights switch-ons calendar

Eastwood is the latest Notts town to get all festive tonight...

Other Christmas lights switch-ons coming up...

Friday 27 November: Kimberley
Sunday 29 November:Retford, Newark
Friday 4 December: Bingham, Kirkby-in-Ashfield, Ollerton

A&E 12-hour wait: Family fears for elderly patients

Now, the daughter of a 90-year-old woman who was left waiting in A&E in Nottingham for 12 hours while suffering from a head injury has said she fears for other elderly patients this winter.

Margaret Slater's family said they were disgusted at her treatment at the QMC a fortnight ago.

"Elderly people, they can't fight for themselves because they've not always got the ability and that worries me that coming into winter there'll be a lot of people in the same positions as mum was and haven't got people with them," said daughter Linda Hughes.

The hospital has apologised, saying it was fully staffed but there was a "surge" in visitors at the time.

Mansfield 'eyesore' plan will end 30-year blight

More now on the news that Mansfield's "biggest eyesore" could be replaced by retirement flats and bungalows.

Roy Bainton, who lives next to the site of the General Hospital, which was demolished last year (pictured), said the 54 homes will rid the area of "the blight we've had for the last 30 years".

Copyright: Mansfield District Council

"This is ideal - it'll be quiet, surrounded by trees and upgrade the area completely."

The £8.6m plan will be considered by the planning committee in February, the council said.

Petition against teenage parents service closure

Kevin Stanley

Reporter, BBC Radio Nottingham

Almost 900 people have signed a petition opposing the possible closure of a Nottingham school which supports teenage parents. 

The city council is considering whether to shut the Beckhampton Pupil Referral Unit because of relatively high costs compared to low pupil numbers. 

Officials insist no final decision has been made. A public consultation ends a week on Friday.

Mansfield hospital site plan 'wonderful'

Mayor of Mansfield Kate Allsop says a plan to build 54 retirement homes on a former hospital site in the town, once dubbed its worst eyesore, is welcome news.

She said the General Hospital site, pictured before it was demolished last year, has brought "bad feelings" from neighbours for more than 20 years.

"It'll be such a wonderful day when those apartments and bungalows are built," she said.

"It's going to be really nice, I really am delighted with it."

A&E 12-hour wait: Hospital apologises

More now on the claims that a 90-year-old woman was left queuing at A&E at the Queen's Medical Centre for 12 hours a fortnight ago.

Nottingham University Hospitals Trust says although the department was fully staffed, it experienced a surge in people attending.   

A spokesperson said the trust has apologised to Margaret Slater and her family for the long wait and that she was not offered any food or drink - staff have been reminded of the importance of doing so at regular intervals.

Have you seen missing man?

Police are concerned for the welfare of Muhammed Wasim who was last seen in the Meadows three days ago.

He's 30, about 5ft 8in tall and most likely wearing a navy blue jacket with white stripes on the sleeves and navy chino trousers.

City alleyways to be lit up

Nottingham's West End Arcade and Hurts Yard could be getting a revamp thanks to some "creative lighting".

Retirement home plan for 'eyesore' hospital site

It has been dubbed the biggest eyesore in Mansfield but it looks like the former General Hospital site may get a new lease of life.

The building was demolished last year after the district council bought the land from a developer. 

It now plans to spend almost £9m building 54 homes for older people.

Travel: 'Severe' bus delays

Latest headlines for Nottinghamshire

Here are the top stories in the BBC Nottingham newsroom this morning:

A family has said it's outraged after an elderly woman was left waiting 12 hours in A&E in Nottingham
Plans for 54 retirement homes on a former hospital site in Mansfield - once dubbed the worst eyesore in the town - have been submitted
Nearly 900 people have signed a petition opposing the closure of a referral unit for teenage parents in Nottingham

Magpies: Murray may play against Barnet

Notts County take on Martin Allen's Barnet at Meadow Lane tonight looking to avoid a third straight defeat. 

The Magpies may look to forward Ronan Murray, who came through his first appearance in 10 months on Saturday, unscathed. Midfielder Stanley Aborah is also back in contention.   

Elderly woman 'queued in A&E for 12 hours'

We're all aware of the pressures on A&E especially as the weather gets colder, but this story's quite shocking this morning.

The family of 90-year-old Margaret Slater say they're outraged after she was left on a trolley at the Queen's Medical Centre for 12 hours.

She'd had a bump to the head and was suffering from severe hallucinations.

Her daughter Linda Hughes says that even in the early hours, there were people queuing on beds in the middle of A&E and some elderly patients didn't appear to have been offered any water.

Travel: Lowdham congestion

Weather: Warmer with scattered showers

Charlie Slater

BBC Weather presenter

It'll be much milder today with plenty of cloud, a couple of brighter spells and some scattered showers. 

Highs of 8C (46F).

Travel: West Bridgford delays

Good morning: Join us for today's live news coverage

What happened to the daylight?! 

Never fear, I'll be shining a light on Nottinghamshire's news, sport, weather and travel until 18:00. 

When it'll be dark again...

Roll on spring.