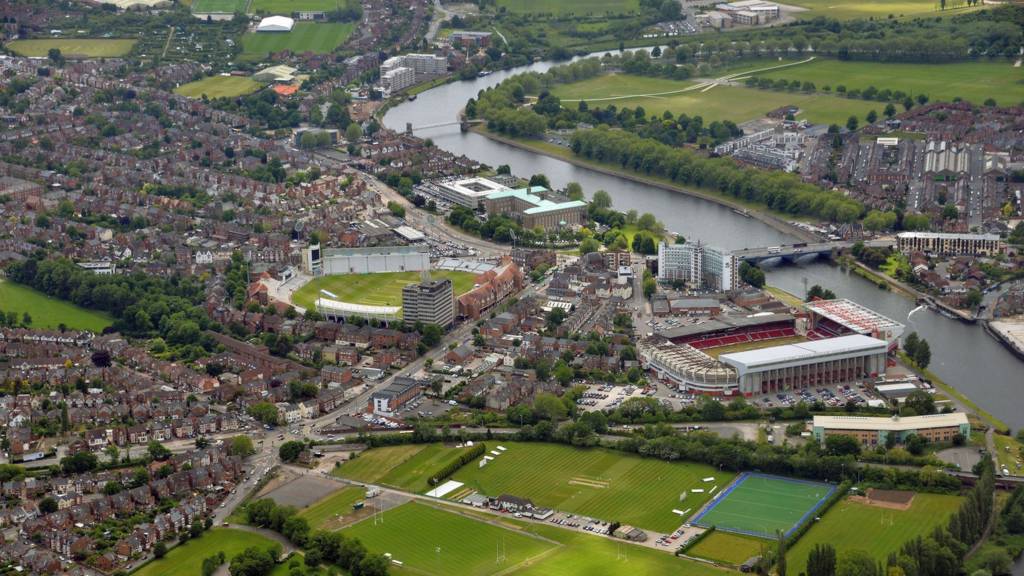 BBC Local Live: Nottinghamshire
Summary
Updates for Wednesday 12 November 2015
News, sport, weather and travel updates resume at 08:00
Our live coverage across the day

That's all from Local Live today. Join us again from 08:00 tomorrow.

Anna Church

Weather Presenter, BBC East Midlands Today

The wind will strengthen as a band of rain arriveslater this evening.

This will be heavy at times through the first part of the night. It should clear quickly but will be followed by some blustery showers. 

It's a colder night than recently with some clears spells. Minimum temperature 7C (45F).

Location of HMRC East Midlands base uncertain

More on the HM Revenues and Customs decision to close 137 offices and replace them with regional centres, including one in Nottingham.

Offices in Derby, Chesterfield, Leicester and Lincoln will close between 2016 and 2021 and staff will be relocated to Nottingham.

The Castle Meadow office, pictured, will remain open until 2020-21 when a move will be made to another building in the city.

HMRC says the plan will save it £100m by 2025 but there are fears over job losses.

Landlord murder: Victim died 'prolonged and painful death'

The police officer who led an investigation into the death of a 55-year-old man in an arson attack in Lenton described it as "one of the most barbaric murders I have investigated".

Christopher Bonnick died in March after Sekou Soumare, 56, set fire to the flats where the pair lived.

Copyright: Nottinghamshire Police

Det Ch Insp Leigh Sanders said Mr Bonnick "died a prolonged and painful death".

Soumare has been sentenced to life imprisonment and must serve a minimum of 26 years.

Your views: 'Tips should dump fees to tackle flytipping'

You've been having your say on flytipping over on BBC Nottingham's Facebook page after we posted some pictures of a mess left in Mapperley Plains.

"A disgrace," says Jill Saunders.

But some, including Sue Wheeler, blame restrictions at legal tips.

Alan Cassady-Bishop says: "This is what happens when official tips charge a fee to vans."

Travel: M1 problems worsen

Latest headlines for Nottinghamshire

Here are the latest stories from the BBC Nottingham newsroom:

A man who killed his landlord by setting fire to his Lenton home is jailed for 26 years
Christopher Metcalfe, 68, from Blidworth, appears in court charged with seven sex offences against two girls at Skegby Hall approved school in 1980s
Delays on M1 between junction 27 and 28 northbound because of an accident

Arson victim was 'not ready to die'

A man who was burned to death in his own home by arsonist Sekou Soumare has been described by his daughter as "full of pure goodness".

Grandfather Christopher Bonnick, 55, had just returned from a six-month trip to Africa where he had been helping people build homes, police said.

Copyright: Nottinghamshire Police

His daughter Clara Bonnick said: "My dad was not ready to die, he had too much to live for. He didn't deserve this, it wasn't his time to go."

Soumare called emergency services after setting fire to the flats in Derby Grove in March but told the operator nobody was inside the building.

Hanging the sail at city windmill

Rather him than me...

Here's another picture of the miller at Green's Windmill hoisting the sail.

With Storm Abigail on its way tomorrow, they might be spinning very fast indeed...  

Tailbacks on M1 after crash

Here's the view from the Highways England traffic cameras on the M1.

Copyright: Highways England

There are reports of a multi-vehicle crash between junctions 27 and 28 northbound.  

Travel: Broken down lorry in Mansfield Woodhouse

Arsonist who killed landlord jailed for 26 years

A man who killed his landlord by setting fire to him in his Lenton home has been jailed for 26 years.

Sekou Soumare, 56, used petrol to set fire to flats where he and Christopher Bonnick, 55, lived in March.

Copyright: Nottinghamshire Police

Mr Bonnick, who was a grandfather of four, was taken to hospital with 97% burns, police said, but died shortly after.

Soumare, of Derby Grove, Nottingham, appeared at the city's crown court today, where he pleaded guilty to murder.

Man in court on historical child sex offence charges

Jeremy Ball

Social affairs correspondent, BBC East Midlands Today

A man has appeared in court charged with seven sex offences against two girls who were residents at Skegby Hall approved school in the 1980s.

Christopher Metcalfe, from Blidworth, was the first to be charged by Nottinghamshire Police as part of Operation Xerxes, which has been investigating abuse at children's homes in the county.

The 68-year-old faces three rape charges of a female under 16, three of indecent assault on a female under 14 and one of buggery with a woman.

He has been ordered to next appear at Derby Crown Court on 7 December.

Campaign feels town 'overshadowed' by neighbour

Bassetlaw flytippers wanted

We were telling you earlier about flytipping problems in Nottinghamshire...

Bassetlaw District Council are also after the perpetrators who dumped what appears to be a large amount of garden waste in the north of the county:

Travel: Broken-down bus in city

Trucker's 'desperate attempt' to avoid fatal crash

A trucker was praised yesterday for trying to prevent a crash which killed a 21-year-old car driver.

HMRC regional centre to be based in city

Nottingham is hosting a new HM Revenue and Customs office after 137 local offices have been closed.

The new regional centres will be open in the next five years.

Blaze-hit school to be closed 'for some time'

More than 40 firefighters tackled a blaze at a school near Worksop last night.

Langold Community School, near the border with South Yorkshire, will remain closed "for some time", Notts Fire Service has said.

It's thought the blaze, which was put out late last night, started in a kitchen area at the school.

No-one was injured.

Miller climbs Nottingham landmark

A Nottingham miller is sailing very close to the wind here... 

Swearing lout slapped with ASBI

A Worksop man has been slapped with an ASBI after repeated visits to the Queen's Council Buildings where he attempted to verbally abuse and intimidate staff.

MPs on merger plan: 'Fresh start' for trust

The two Conservative MPs behind a plan to merge the troubled Sherwood Forest Hospitals NHS Trust say it would mark a "fresh start".

Robert Jenrick and Mark Spencer said the move would bring "greater financial stability, experienced management with a proven track record of running successful hospitals, more choice for patients and aid the recruitment and retention of talented staff".

'The Hoff' dines out in Nottingham

Ever wondered where a former Baywatch star chows down of an evening?

Wonder no more...

Troubled NHS trust merger plan: 'Enough is enough'

You might remember, the NHS trust which runs Newark and King's Mill hospitals was given three months to improve or risk a takeover by another trust.

Now two Conservative MPs Robert Jenrick and Mark Spencer are asking for signatures on a "Pledge for Health" to see the Sherwood trust merge with one of its neighbours.

The Newark MP tweeted...

Ex-Magpies boss Derry takes over at Cambridge

League Two side Cambridge United have appointed former Notts County manager Shaun Derry as their new boss.

The 37-year-old had been available since his sacking by the Magpies in March, when the club were one place above the League One relegation zone.  

MPs want merger for troubled NHS trust

More on the situation at Sherwood Forest Hospitals NHS Trust now. Newark MP Robert Jenrick and Sherwood MP Mark Spencer have announced they want the trust to merge with a neighbouring organisation.

The trust, which runs Newark and King's Mill hospitals, has been in special measures since 2013.

In a joint statement, the Tory Mps said: "Out of this difficult situation arises the opportunity to merge the trust with a high-performing neighbouring trust such as Nottingham or Sheffield."

Rushcliffe School is 'World Class'

Some good news now for one of our schools... Rushcliffe School has become the first in the East Midlands to be officially given "World Class" status. 

The secondary school in West Bridgford won the title after a long assessment involving students. 

Only schools which are ranked as outstanding by Ofsted in all categories can apply for what's known as the World Class Schools Quality Mark.   

Crime commissioner: Police will not bring in G4S

Nottingham Apprentice candidate avoids the chop

Apprentice hopeful David Stevenson, from Nottingham, narrowly avoided a sacking last night.

In a shock move, Lord Sugar sacked three(!) contestants after they were challenged to set up a handyman business.

The 25-year-old owner of a sports marketing company, pictured right, was brought back into the boardroom but survived "the process" for another week.  

Flytippers 'should be ashamed'

This flytipping hotspot in Gedling is one of the worst I've seen - do you know of any others in Notts? Let us know.

Geoff, who lives near to this disused farmland in Mapperley Plains, said the dumped rubbish includes old mattresses and toilet seats.

"Whoever's doing it should be ashamed of themselves - it's decimating the area," he said.

Your views: Game of Thrones cake

Dawn Butler's amazing cake of Ned Stark from Game of Thrones has got you talking.

Claire Cooper writes on Facebook: "Wow! A job in TV/movie make up surely?!"

Martin Camm says "Wouldn't fancy eating it thou!!"

Latest headlines for Nottinghamshire

Here are our latest stories for Nottinghamshire:

Worksop Market stalls to get new look

Forest extend Trotter's loan deal

Nottingham Forest have extended Bolton Wanderers midfielder Liam Trotter's loan deal by a month.

Trotter joined in October on a one-month contract and will now remain with the Reds for another month.

Flytipping: Council counts cost of clearing up

More on the flytipping problems blighting Notts, in particular Gedling, where a huge pile has been dumped in Mapperley Plains.

Councillor Peter Barnes, who has responsibility for the environment on the borough council, said the rubbish was on private land so there's a costly process to go through to get it cleared.

"It's a disgrace," he said.

"We want Gedling and Arnold to be one of the best places in the country to live and when people do this it's soul destroying."

Travel: Ravenshead delays

Latest headlines for Nottinghamshire

Here are the top stories in the BBC Nottingham newsroom this morning:

Flytipping is on the increase in Nottinghamshire with more than 150 incidents a week reported in the last year
Rushcliffe School has become the first in the East Midlands to get a World Class Schools Quality Mark
Sport: Forest have extended Bolton midfielder Liam Trotter's deal by a month

Gedling flytipping on the increase

What a horrible sight... 

The number of flytipping incidents reported to Gedling Borough Council has increased by half compared to the previous year, with nearly 1,500 in the past 12 months.

This rubbish was found dumped on farm land near Mapperley Plains.

The council said they can only take action if the landowner fails to respond to a request to clear it up.   

Game of Thrones cake wins award

Don't worry. Sean Bean has not been decapitated and put on display in a sick, medieval fashion.

This, believe it or not, is a cake of his Game of Thrones character Ned Stark, made by West Bridgford baker Dawn Butler.

She's just won a gold medal at the International Craft and Hobby Fair in Birmingham.

Weather: Getting windier and rainier later

After a dry start with some morning sunshine, cloud will spread in from the west, with rain, locally heavy, arriving by evening. 

Winds will strengthen through the day, with gales in places with a maximum temperature of 14C (57F).

Travel: Castle Boulevard delays

Good morning: Join us for today's live news coverage

Good morning Nottinghamshire. 

I'm in the news hotseat today, bringing you the latest news, sport, weather and travel on this slightly less mild than we're used to Thursday.