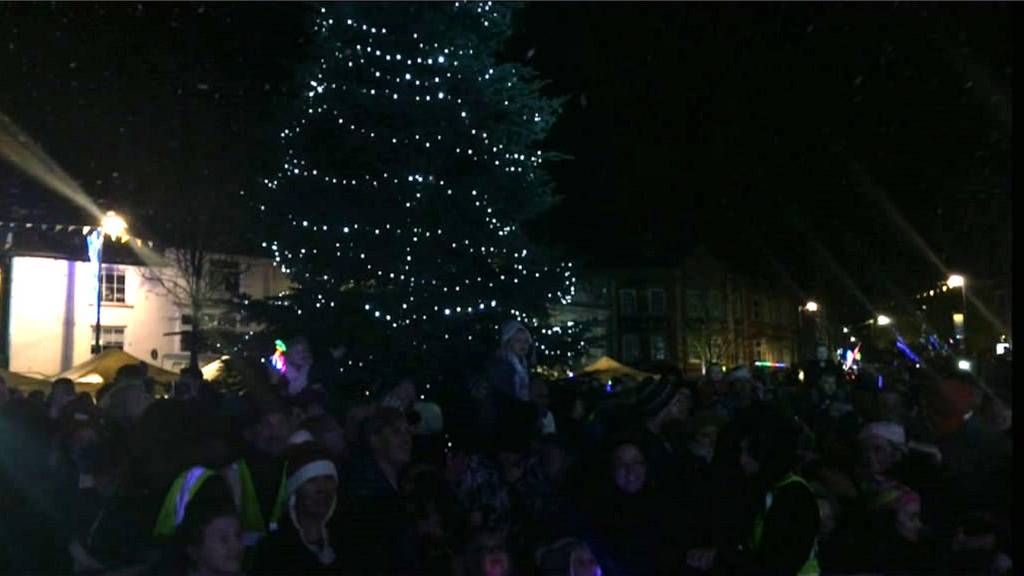 BBC Local Live: Northamptonshire
Summary
Updates for Friday, 25 November 2016
Eastenders star turns on Kettering's Christmas lights after Lohan no-show
Tom Percival

BBC Radio Northampton

Thanks for being with us this week. Fingers crossed for a good weekend for all Northamptonshire's sports teams.

But we'll leave you with this... This is the dramatic story of two boys from Northampton who've won awards for their bravery after their house caught fire.  

We'll be back on Monday morning. Have a good weekend.  

Weather: Becoming cloudy with mist and fog

Chris Bell

BBC Look East weather

A dry evening and night, with long clear spells across the BBC East region.

Becoming increasingly cloudy, with mist and fog patches forming, becoming quite thick in places.

Temperatures falling to 0-2C (32F-35F).

After a chilly and foggy start, Saturday will be dry with sunny spells, but becoming cloudy later.

Temperatures will reach 10C (50F).

You can find more details on BBC Weather.

Severe accident: A508 Northamptonshire both ways

BBC Travel

A508 Northamptonshire both ways severe accident, around A5123 Towcester Road.

A508 Northamptonshire - A508 Horseshoe Street in Northampton partially blocked and stationary traffic around Gas Street Roundabout, because of an accident.

Check local traffic and travel reports for:

Northampton Town loan: 'Robust controls in place'

Sam Read

BBC Radio Northampton politics reporter

Yesterday we were talking about a critical report into the way Northampton Borough Council awarded a £10.25m loan to Northampton Town FC.

I've been asking the Department for Communities and Local Government, which funds councils, for its response to the report.

Here's the statement I've been sent in full: "There are robust controls in place to make sure local authorities safeguard public money and their finances are scrutinised by an independent external auditor."

The authority's external auditor, KPMG, is still investigating the loan.

Bus services facing further squeeze

Sam Read

BBC Radio Northampton politics reporter

Bus subsidies in Northamptonshire have been cut by more than half since 2010 and campaigners are warning of further cuts to come. 

Northamptonshire County Council has reduced its financial support by £1.82m over the last six years and the Campaign for Better Transport says tight budgets mean more cuts are in the pipeline. 

The Bus Bill, currently going through parliament, aims to give local councils more of a say in bus services - allowing collaboration with private companies and franchising opportunities.   

The county council says the development of County Connect, a "dial-a-ride" service, and other "innovative" plans mean more communities in the county have a public transport service than before the cuts. 

You can see more on this story on Sunday Politics East, on Sunday at 11:00 on BBC One.

Busy Northampton shopping street to be closed to traffic

St Giles Street in Northampton will be closed to traffic this Sunday to allow the new road surface to be cleaned and parking bays to be repainted.

There will be no parking in the street between the Hazelwood Road junction and St Giles Square from 19:00 on Saturday until 19:00 on Sunday.

However, businesses in the street will remain open for one of the busiest shopping days of the year so far.

Most of the major works taking place on St Giles Street finished in October.

Abu Dhabi Grand Prix: Lewis Hamilton fastest in second practice

Andrew Benson

Chief F1 writer in Sao Paulo

Stevenage's Lewis Hamilton was fastest in both practice sessions at the start of the weekend that will decide the 2016 Formula 1 World Championship.

The Briton headed title rival and Mercedes team-mate Nico Rosberg by 0.079 seconds in the second session, at Abu Dhabi's Yas Marina track. He was 0.374secs quicker in first practice.

Hamilton is 12 points behind the German and has to win the race and hope his Brackley-based Mercedes team-mate finishes lower than third, in order to win the championship.

A group of supermarket workers bare all in a fundraising calendar for causes close to their hearts.

Weather: Sunny and chilly

Dave from Billing wins the "brilliant autumn sky" award with this beauty.

Copyright: Dave from Billing/Weather Watchers

It'll remain bright for the rest of the day, but all that clear sky will mean a chill in the air; 9C (48F) is the best we can hope for.

Day-night games in cricket's County Championship next year

Tom Percival

BBC Radio Northampton

The 2017 County Championship will feature a full round of day-night matches for the first time.

Northants will take on Leicestershire at Wantage Road on 26 - 29 June.

Canterbury staged the first day-night County Championship match five years ago (pictured). 

Tom Harrison, chief executive of the England and Wales Cricket Board, says it's hoped the pink ball games will help England players prepare for day-night Test matches, but it will also fit better with the lives of fans.

"The counties have really embraced the potential of Championship matches that stretch well into the evening, when people have finished school or work," he said.

"There are some really attractive matches in the day-night round and it will be fascinating to see how it works out."

Tom Percival

BBC Radio Northampton

Northamptonshire Rape Crisis' annual "Reclaim the Night" march takes place tonight in Northampton town centre, with an added poignancy.

Marchers will remember India Chipchase, the 20-year-old woman from the town who was raped and murdered earlier this year. Edward Tenniswood was convicted of both crimes in August.

Copyright: Northamptonshire Police

The march sets off from Morrisons car park on Victoria Promenade at 23:00. The national campaign seeks to highlight violence against women and sexual violence against people of all genders and sexualities.

The march will end with a minute of silence at All Saints Church in memory of India.  

Tom Percival

BBC Radio Northampton

The England forward line will have a Saints spine against Argentina tomorrow, at Twickenham.

Tom Wood returns to the starting line-up at flanker, joining Courtney Lawes and captain, Dylan Hartley, in the pack.

Teimana Harrison is on the bench for the match against the pumas, who lost narrowly last weekend to Scotland.

England, meanwhile, have continued their 100% record under Eddie Jones.

Ellie Robinson makes Young Sports Personality shortlist

Caroline Densley

BBC Radio Northampton Sport

Is there anyone in Northamptonshire who's had a bigger year than Ellie Robinson?

Gold and bronze medals at the Paralympics in Rio and Northamptonshire Sports Personality of the Year are already in the bag.

Now she's been announced on the shortlist for the BBC's Young Sports Personality of the Year. 

She's one of 10 sportspeople on a shortlist, which also includes gymnast Ellie Downie and rugby player Keelan Giles.

The 10 will be whittled down to three. The winner, chosen by a judging panel, will be announced on Blue Peter, on BBC One on 8 December. 

Abu Dhabi Grand Prix: Lewis Hamilton heads Nico Rosberg in first practice

Andrew Benson

Chief F1 writer in Sao Paulo

Stevenage's Lewis Hamilton headed rival Nico Rosberg in first practice at the title-deciding Abu Dhabi Grand Prix.

Hamilton is 12 points behind the German and has to win the race and hope his Mercedes team-mate finishes lower than third if he is to win the championship.

Hamilton was 0.374 seconds quicker than Rosberg, with the Red Bulls of Max Verstappen and Daniel Ricciardo next.

Second practice gets under way at 13:00. 

Newcastle next for inconsistent Saints

Graham McKechnie

BBC Radio Northampton sport

Six wins out of eight would suggest Saints have turned things around. They have climbed to sixth in the Premiership and are playing better, but the truth - which the team itself acknowledges - is that they can still play an awful lot better.

They need to if they're to continue to rebuild their season after a poor start. Confidence is a major factor though, so a good win tonight against Newcastle will give them a boost ahead of Leicester next weekend.   

I'll be live at Franklin's Gardens, from 19:00 on BBC Radio Northampton.

Duckett dropped for third test

Caroline Densley

BBC Radio Northampton Sport

Northamptonshire's Ben Duckett has lost his place in the England side for the third test against Bangladesh, which starts in Mohali tomorrow. 

It's no great surprise - the switch for Jos Butler was widely expected. Captain Alastair Cook said change was needed following defeat in the previous test.

"The lads are in good spirits, but we've made this change. Unfortunately Ben hasn't scored the runs he'd like to have scored, so it gives Jos an opportunity."

'It's her loss for not coming here, it's a beautiful town'

Tom Percival

BBC Radio Northampton

Among the hype over Lindsay Lohan's Christmas lights "will she, won't she?", Eastenders star Cheryl Fergison (right) cut a classy line last night when she did the honours in Kettering's market place. 

Cheryl, who's performing in the local panto and grew up in Peterborough, said: "I just think it's wrong when anybody should put down anything about anybody or any place that you live. It's her loss for not coming here – it's a beautiful town."

"I would say you should come and visit here. It's got a beautiful church and a beautiful square, the people are really lovely and they would welcome her I'm sure.

"She just needs to get her backside in gear and get over here I think."

Lindsay Lohan was invited by MP Philip Hollobone after her "offensive" tweet about the town on EU referendum night. 

She initially accepted his invitation, but in a video on her Twitter feed yesterday, Miss Lohan said: "I really wanted to make it but with my busy schedule I wasn't able to and I appreciate the offer." 

Lohan-less Christmas lights switched on

Following months of speculation, Hollywood actress Lindsay Lohan made her apologies and didn't make the trip to wintry Kettering in the end.

Which left it to former Eastenders star Cheryl Fergison to pull the big lever last night and transform the town with a multi-coloured glow...

And what a sight it looked too! Marvellous.

Black Friday weather: Dry and sunny with a brisk wind

Elizabeth Rizzini

BBC Look East weather

It's a cooler start to what's going to be a bright and breezy day today. 

There'll be a lot more in the way of sunshine, but we've still got that chilly and quite blustery north-easterly wind.

You'll feel that particularly towards coastal areas, where you'll have to factor in quite a bit of wind chill into today's temperatures, despite the sunshine.

Highs of 9C (48F).

Watch my full regional forecast here:

For a more detailed forecast where you are, visit BBC Weather.