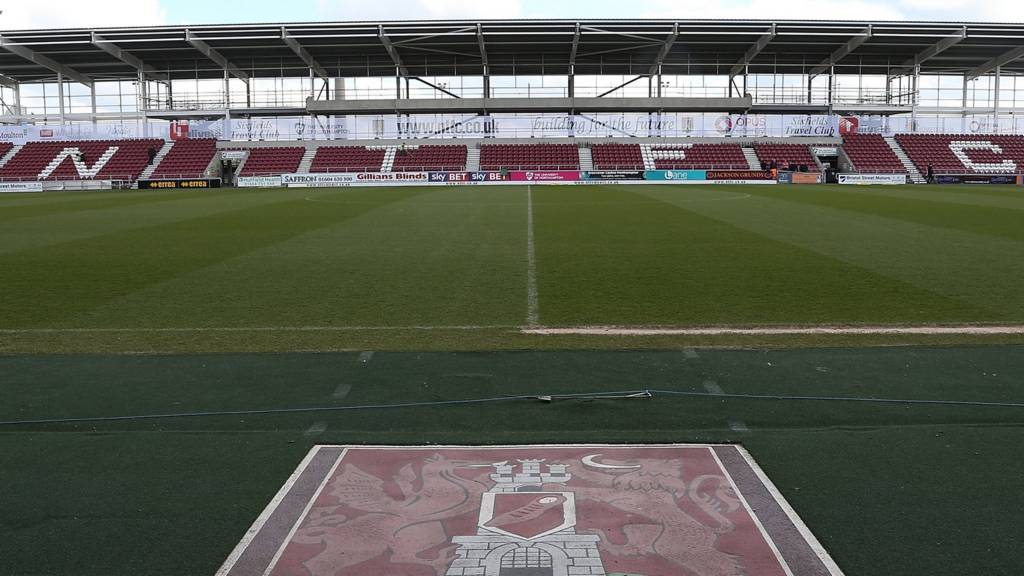 BBC Local Live: Northamptonshire
Summary
An export ban on the Egyptian statue Sekhemka has been lifted
A new company involving the county council, the NHS and the University of Northampton, which will tackle public health issues, launches today
Northampton Town say the new East Stand at Sixfields is now open for business after a safety certificate was granted
Updates for Friday, 1 April 2016
Our coverage across the day in Northamptonshire

That's it for today's Local Live coverage in Northamptonshire. Have a great weekend.

Egyptian statue sold by Northampton council gets export licence

An export licence is to be issued for a 4,000-year-old statue sold for £15.76m by Northampton Borough Council in 2014.  

Groups in the UK and Egypt campaigned for nearly two years to keep the statue of Sekhemka, a court official, on public view possibly in both countries. 

The issue of an export licence to the anonymous owner had been deferred several times by the Department of Culture, Media and Sport. As neither group could find a buyer an export licence is to be granted. 

"After a year under export deferral, no buyer has come forward to purchase the Sekhemka statue. As such, an export licence will be now be issued to the owner," a Culture Department spokesman said.

Weather: Dry tonight and tomorrow

Chris Bell

BBC Look East weather

It will be staying dry tonight with lows of 1-4C (mid-30sF).

Tomorrow should be dry with spells of hazy sunshine with highs reaching 13-15C (59F).

Headlines: Sekhemka export ban lifted...Sri Lankan leg-spinner Prasanna signs for county

Sarah Foster

BBC Radio Northampton

If you're catching up, here are the headlines:

The ancient Egyptian statue Sekhemka is to be allowed to leave the UK
Northamptonshire have signed Sri Lankan leg-spinner Seekkuge Prasanna for this season's T20 Blast
Today is Northamptonshire Police's 50th birthday as a single county Force

New school and money towards new bypass pledged by developers building 1,000 new homes in Daventry

More than £11m of infrastructure, including a new school and a new country park, in Daventry is being paid for by a housing developer building 1,000 new homes.

Zac wanted his memorial to be 'a party'

Martin Borley

BBC Radio Northampton

One of Zac Forskitt's friends, Jack Liggins, said he wanted his memorial service at Franklin's Garden to be a celebration, saying: "He wants us to have a party, that's how he wants us to remember him".

Zac, 20, died last month after battling against two unrelated cancers. Hhis illness prompted a major awareness and fundraising campaign called #BacZac.

Group which wanted Sekhemka on display in the UK 'very sad' export ban has been lifted

Sam Read

BBC Radio Northampton politics reporter

Gunilla Loe, from the Save Sekhemka Action Group, says she is "very sad" the 4,000-year-old Egyptian statue looks set to go overseas after the government lifted an export ban on the controversial artifact.

The action group had campaigned against the sale of the statue back in 2014. Once Sekhemka had been sold members had hoped it would be gifted back to a UK museum to go on permanent display.

Sekhemka to head overseas despite bids to keep it in the UK

Pete Cooper

BBC Local Live

Sekhemka was originally sold in July 2014 by Northampton Borough Council for £15.76m, of which the council received around half. Immediately an export ban was placed on the 4,000-year-old statue.

Subsequently Northampton Museum, which did house the statue, lost Arts Council accreditation.

Last year, the Save Sekhemka Egypitan Group started legal action to recover the statue and last month the Egyptian ambassador to Britain looked to intervene over the fate of the statue, which was gifted to Northampton's museums by the 4th Marquis of Northampton in 1880.

Despite these efforts it looks as if the little statue is set to head overseas after the government said they will issue an export licence to its owner.

Export ban on ancient Egyptian statue Sekhemka lifted

Pete Cooper

BBC Local Live

An export ban on the ancient Egyptian statue Sekhemka has been lifted after no alternative buyer came forward to purchase it.

The 4,000-year-old statue was sold in 2014 for £15.76m by Northampton Borough Council to an unknown overseas buyer, but the government imposed an export ban in an effort to find someone who would could keep it within the UK.

But in the last few minutes, the Department of Culture Media and Sport has said no-one else has come forward and as such "an export licence will be now be issued to the owner".

Breaking

Sekhemka export ban lifted

The export ban on Egyptian statue Sekhemka has been lifted - more to come.

Friends and family gather for memorial for Zac Forskitt

Martin Borley

BBC Radio Northampton

I've been to Franklin's Gardens, where friends and family of Zac Forskitt, the 20-year-old double cancer sufferer who started the #BacZac campaign, have gathered for his memorial service.

As requested everyone wore check shirts, white t-shirt and jeans...

This is the sunrise in Irthlingborogh taken by BBC Weather Watcher 'coleole'...

There will be more cloud as the afternoon progresses, with highs of 12C (54F).

There are more details on the BBC Weather website.

New 141-berth marina opens in Northamptonshire

Northampton Chronicle & Echo

A narrowboat marina on the River Nene is hosting an open day this weekend after it welcomed its first customers.

Pay increase of £22m for Northamptonshire workers from Living Wage

Pete Cooper

BBC Local Live

The new mandatory National Living Wage has come into force, requiring employers to pay workers aged 25 and over at least £7.20 an hour.

It is expected to give 1.8m workers an immediate pay rise.

This is how it'll affect Northamptonshire...

Nico Rosberg fastest in Bahrain Grand Prix first practice

Andrew Benson

Chief F1 writer in Bahrain

Brackley-based Mercedes put in an imposing performance in first practice at the Bahrain GP, setting the pace by nearly two seconds.

Nico Rosberg headed team-mate Lewis Hamilton by 0.505secs after the he made a mistake on his best lap.

And the German was a massive 1.834 seconds quicker than Kimi Raikkonen, third for Ferrari, on the same 'soft' tyres.

Union says new public health company is 'first step to privatisation'

Sam Read

BBC Radio Northampton politics reporter

The trade union Unison say a new company set up to run well-being services in Northamptonshire is the first step to privatisation.

Penny Smith, from the county council branch, said in the future the company will have a "massive effect on services because the company will need to show a profit".

The union also say employee terms and conditions could be "driven down" in the coming years.

Northamptonshire Police celebrate 50 years as one force for the county

Pete Cooper

BBC Local Live

On this date 50 years ago Northamptonshire County Constabulary merged with Northampton Borough Police to become the Northampton and County Constabulary.

Then, in 1974, the force was officially re-named Northamptonshire Police...

Saints make four changes for trip to Wasps

Pete Cooper

BBC Local Live

Northampton Saints have made four changes for their visit to Wasps in the Premiership on Sunday.

Harry Mallinder and Kahn Fotuali'i start in the backline, with Christian Day and Teimana Harrison added to the pack.

It means Tom Wood captains the Saints against opponents now based in his hometown of Coventry.

Dog poo fines come in to force in Daventry today

Pete Cooper

BBC Local Live

Make sure you take you're dog poo bags out in Daventry today - or face a fine.

Formal enforcement of the new Public Spaces Protection Order comes into place, replacing Dog Control Orders...

Sri Lanka international Prasanna signs for county

Joe Townsend

BBC Radio Northampton sport

Northamptonshire County Cricket Club has signed Sri Lanka international Seekkuge Prasanna.

The 30-year-old leg-spinner and batsman is available for the entire T20 Blast campaign with the Steelbacks - starting with the trip to Grace Road to play Leicestershire on May 20.

He may also appear for Northamptonshire in other competitions during 2016.