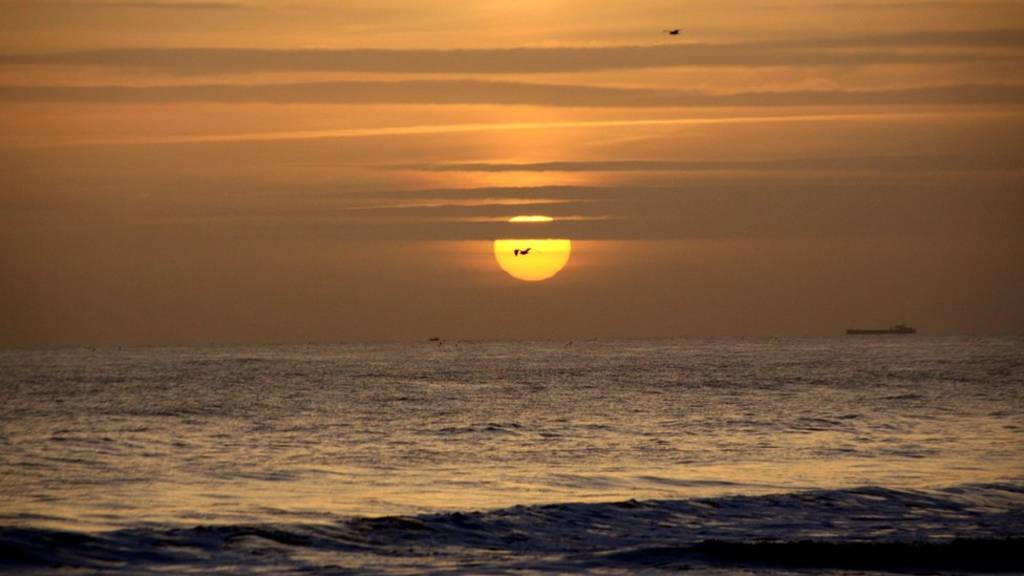 Our live coverage has now come to an end for the day:

That's all from the Norfolk Live team for the day - and for the week.

We'll leave you with this photo of blue skies over Sheringham - let's hope the fine weather continues over the bank holiday weekend.

Whatever you're doing, have a great time - we'll be back at 08:00 on Tuesday. 

The bank holiday weather forecast

Julie Reinger

BBC Look East weather

Apart from a few isolated showers, tonight will be mostly dry with clear spells.

Temperatures could fall as low as 3C (37F) although they'll rise by the end of the night.

A largely fine and dry day tomorrow, with sunny spells and just the chance of an isolated shower.

Temperatures rising to 14C (57F) - although it could be a little bit warmer in the best of the sunshine.

Another dry day on Sunday, although cloud will increase from the south west later... rain isn't expected until the evening.

As for bank holiday Monday... it's still uncertain, but potentially we could have some rain, followed by sunshine and showers, with temperatures hitting 17C (63F).

Investigation after gas pipeline breaks

Tim Addicott

BBC Radio Norfolk

An investigation is underway after one of the Bacton Gas Terminal pipelines broke in two.

The section of pipe on the bed of the North Sea has split around 17.5km (10 miles) from shore.

Operators of the terminal say it was a low pressure line and not flowing gas when the problem occurred, having been isolated at the end of 2016.

It happened over a week ago but fisherman say they weren't informed. One of them, Melvin Robinson, says they only found out today.

Quote Message: It's an area that's heavily fished... but because we've heard nothing about it, it could have been a disaster... we could have had vessels damaged and we still don't know if it's safe for us to go fish there or not." from Melvin Robinson Fisherman

Meet your local bobby on a bus

We've had "bobbies on the beat" but what about "bobbies on a bus"?

PCSOs Darren Smith and Michala Benton will be boarding the Number 11 Konnect bus service weekly, to meet passengers and listen to any concerns they may have.

On Tuesday, they'll be holding a surgery on the bus when it departs from Dereham market place at 10:25.

The route will take them through Toftwood, Shipdham, Watton, Saham Toney, Ashill, Holme Hale, Necton and Sporle before arriving in Swaffham.

The region's biggest independent retailer has seen profits rise after investing heavily in its stores.

The East of England Co-op has 120 shops in Norfolk, Suffolk and Essex.  

However, the group also saw its pay bill rise after the National Living Wage was increased.

Spokesman Doug Field says they estimate it will cost them nearly £4m over four years.

Quote Message: But we're an ethical retailer and we're paying the National Living Wage regardless of age to all our employees, including the under 25s who comprise 25% of our workforce." from Doug Field East of England Co-Op

Tim Addicott

BBC Radio Norfolk

Norfolk County Council and Great Yarmouth's town hall are continuing to be hit by phone issues caused by a suspected power surge.

Back up phone lines are up and running but there are far fewer than normal. People are being asked to only contact the authority if it is urgent.

It's also affecting computers at the Millennium Library in Norwich.

Here's the latest information we have on road closures, while work continues on the Northern Distributor Road.

A1151 Wroxham Road - from Tuesday, up to two weeks, a long stretch of this road close to NDR site will be reduced to one lane, controlled by traffic lights. This is for the diversion of a water main.

Salhouse Road - Temporary traffic lights remain in place at the NDR roundabout construction site - the road will close for up to two weeks from Monday, 8 May.

Reepham Road - Remaining closed until Friday, 5 May when Drayton Lane between Reepham Road and Hall Lane (Drayton) will also be reopened.

Buxton Road - The scheduled closure of Buxton Road, Spixworth, has been put back to Monday, 5 June, and reduced from three to two weeks.

35th anniversary of Tornado's arrival at Marham

This week marks the 35th anniversary of the arrival of the first Tornado aircraft at RAF Marham.

The first Tornado Squadron to be stationed at the west Norfolk base was 617 Squadron.

The Tornados have been on almost continuous service across the world ever since and are currently supporting operations over the skies of Iraq and Syria.

Copyright: MOD/CrownCopyright

Illegal cigarettes found in Norwich raids

Thousands of illegal cigarettes have been seized in raids across Norwich.

Trading Standards officers, accompanied by police, council and two detection dogs, carried out inspections on six shops yesterday, seizing a total of 13,500 illegal cigarettes and 250g of illegal hand-rolled tobacco from four of the premises.

Copyright: Norfolk County Council

Trading Standards spokesman Brian Chatten says the inspections show there are retailers in the county who're making smoking more accessible to children by selling illegal tobacco at pocket money prices.

Quote Message: They put the health of young people at even greater risk and are also supporting the organised crime gangs who we know are linked to this criminal activity." from Brian Chatten Norfolk Trading Standards

New monitoring service for expectant mums

A new service is being offered to mums-to-be after the Norfolk and Norwich University Hospital (NNUH) secured £10,000 funding for portable foetal monitors.

Three cardiotocography monitors have been purchased and will be used at two bases from which the Broadland and Castle community midwife teams operate.

If there are any concerns following the monitoring, the women will be asked to come into hospital for further assessment. 

Top crime authors descend on Norwich

Caroline Kingdon

BBC Local Live

Some of the top names in crime fiction are coming to Norwich to take part in the fourth Noirwich Crime Writing Festival.

Val McDermid, Martina Cole (pictured), Mark Billingham, Stuart MacBride and Anthony Horowitz headline the festival.

Copyright: Charlotte Murphy

The event, between 14 and 17 September, will cover all forms of crime writing.

The Noirwich festial, a collaboration between the University of East Anglia and the Writers' Centre, takes place at the Arts Centre, UEA and Jarrold. There'll also be fringe events across the city.

More people holidaying at home

More of us are holidaying at home because of the low value of the pound, according to a survey. 

Brexit is "very good news" for the regional tourism industry, explains Pete Waters of Visit Norfolk, despite 10% of tourism businesses in the county saying they're worried about its impact on staffing levels.

"A weak pound leads to a double win... more people having domestic vacations and overseas visitors able to have more affordable trips... however Brexit hasn't happened yet so we don't know the long term impact."

Almost 70% of businesses saw an increase in turnover last year. 

One business that saw an increase in business was Wiveton Hall. Remember those eyebrows? After Desmond featured in the four-part "Normal for Norfolk" BBC Two series, they had the best season ever.     

Quote Message: Turnover was up 35%... we estimated 5% was down to good weather, but 30% down to the television series... it was the best season we've ever had." from Kim Coleman Wiveton Hall business manager

Stars missing two riders for Somerset trip

Chris Goreham

BBC Radio Norfolk sport

King's Lynn Stars have been forced to bring in two guest riders for tonight's Premiership speedway trip to Somerset Rebels. 

Number one Chris Holder is ruled out because of his commitments at this weekend's Grand Prix in Slovenia. Belle Vue captain Craig Cook comes in as a guest. 

The Stars are also without the injured Josh Bailey so Poole rider James Shanes comes into the line-up. 

Hockey: Player of the year honour for Harleston star

Chris Goreham

BBC Radio Norfolk sport

Harleston Magpies top scorer Maria Andrews is celebrating being named the best player in their league this season. 

Her 17 goals in Conference East during the campaign also made Maria the division's top scorer. 

Andrews, who is due to move to Loughborough University for next season, said: "It's an amazing feeling to know that all the other players from the other teams in the league voted for you.  I'm just honoured really." 

Darts: Wright sees off Taylor to progress

Brenner Woolley

BBC Radio Suffolk sport

Suffolk darts player Peter Wright has qualified for the Premier League play-offs.

The 47-year-old from Mendham beat 16-times world champion Phil Taylor 7-3 in Birmingham last night.

"It's amazing where I've come to, I used to be 5/1 against Phil and I was odds-on today, but it's down to the hard work I've done," he told the PDC.

"I want to win my last two games and push for that top spot and challenge Michael, and then try and win the final at The O2." 

Canaries told to expect intimidating Elland Road

Chris Goreham

BBC Radio Norfolk sport

Norwich City make their final away trip of the season this weekend when they go to Leeds United. 

It's a huge game for the Yorkshire club because a defeat would end any hopes of them finishing in the play-offs. A draw would mean Leeds would be relying on results elsewhere. 

The Leeds manager Garry Monk has been linked with the vacant head coach role at Norwich City this week. He's warned the Canaries that his side will want to finish the season on a high in front of their home fans. 

"One of the objectives at the start of the season was to make teams fear coming to Elland Road and we need to do it one more time,"  Monk told BBC Radio Leeds. 

Man charged in connection with church lead theft

Caroline Kingdon

BBC Local Live

A 20-year-old man from Norwich has been charged with attempted theft relating to an incident in Coltishall earlier this week.

At around 21:30 on Wednesday, officers were called to St John's church following reports of suspicious activity.

They found a man on the church roof. 

He's now been charged with theft and being in possession of a bladed article.

Another man, in his 30s, and a woman in her 20s, were also arrested but have now been released. 

Body of man discovered in property

Caroline Kingdon

BBC Local Live

Investigations are continuing into the circumstances of the death of a man in Norwich.

Police were called to a property in Normanie Tower, on Rouen Road, at around 21:00 yesterday, following concerns for the safety of a resident.

On arrival, they discovered the body of a man in his 20s.

A post mortem examination is to be carried out to establish the cause of death, but officers don't believe their are any suspicious circumstances.