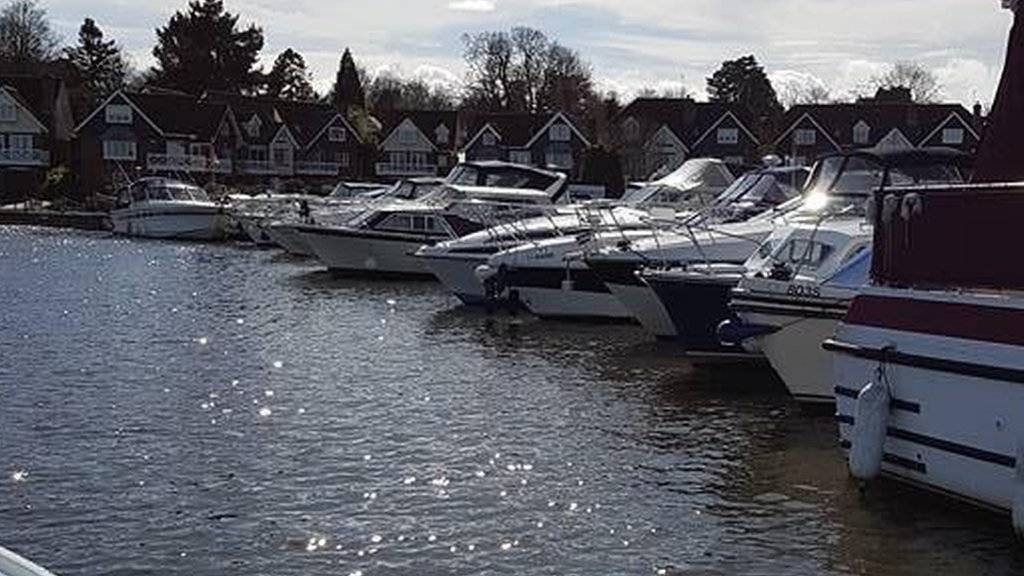 Summary
A child was able to be abused by a known sex offender because of "systemic weaknesses", according to a report
Police in Norfolk have received reports of 27 "revenge porn" incidents from last April to December
Junior doctors in the county have begun their second day of all-out strike action
Updates on Wednesday, 27 April 2016
News, travel and weather updates resume at 08:00 on Thursday
Our local coverage for the day

Weather: Scattered showers with hail and thunder at times

Scattered showers, some heavy and thundery with the risk of hail overnight, particularly across eastern parts of the region. Mainly dry and sunny tomorrow.

Temperatures of between -2C and 2C (28F to 36F).

BBC Weather has more details.

Watch: Dogs take to sky in fight against poachers

Debbie Tubby

BBC Look East

Today I've been to Norwich Airport to meet dogs being trained to catch rhino poachers in Africa.   

Bo and Rogue have been getting used to travelling in a helicopter, the mode of transport often used while hunting poachers. 

My full report can be seen on Look East tonight on BBC1 at 18:30.          

Devolution an 'opportunity for empire-building', warns Bellingham

North West Norfolk MP Henry Bellingham speaks out against devolution in Westminster debate: 

Hanse Festival launches in King's Lynn

Jill Bennett

BBC Radio Norfolk

The international Hanse Festival has been officially launched today in King's Lynn. 

The festival celebrates the Hanseatic League, a historic convention set up to help member ports develop trade links across Europe and Scandinavia. 

The celebrations run for two days from Saturday 21 May and will include a parade of medieval characters, fire-breathers and knights on horses through the town. 

Headlines: 'Systemic weaknesses' led to sex abuse of girl... Region's MPs debate elected mayor for East Anglia

Mariam Issimdar

BBC Local Live

The main news stories so far: 

"Systemic weaknesses" in child protection measures resulted in the abuse of a Norfolk girl, according to a report

The region's MPs debate whether there should be an elected mayor as part of a devolved East Anglia

'No more local government reorganisation' says MP in devolution debate

Stewart Jackson, Conservative MP for Peterborough, has been having his say at a meeting to discuss an elected mayor and proposed devolution deal for East Anglia:

MPs turn out for devolution debate

More on who's there from Andrew Sinclair:

Devolution debate about to start at Westminster

Andrew Sinclair

BBC Look East political correspondent

I'm at the East Anglian devolution meeting called by Stewart Jackson, Conservative MP for Peterborough: 

MPs to debate East Anglia mayor at meeting at Westminster

Andrew Sinclair

BBC Look East political correspondent

Supporters of devolution insist that the plans "are still on track" despite a growing number of complaints about proposals for a directly-elected mayor for East Anglia. 

The government wants elections for the new mayor, who would oversee transport and planning in Norfolk, Suffolk and Cambridgeshire, to take place next year. 

A new position will be debated with MPs at Westminster Hall this afternoon and I understand the negotiations are being led by Adnams boss, Andy Wood.

So far only East Cambridgeshire District Council has endorsed the idea.

Picture: Lonely asparagus

Mariam Issimdar

BBC Local Live

Earlier we told you about the impact the unseasonably cold weather was having on farmers. 

Well, here's a picture of Tim Jolly's asparagus crop....

Mr Jolly of East Harling, near Thetford, says at this time of year the field is usually full of the vegetable and that harvesting would have started last weekend. 

Other produce, like potatoes and flowers, has also been hit in Norfolk by the extended winter temperatures. 

Planning permission decision on homes deferred

A decision on planning permission for 1,000 homes on the edge of Norwich has been deferred.

Broadland councillors say they need more time to consider the development at the Royal Norwich Golf Club at Hellesdon.

Hellesdon Parish Council had argued the numbers of homes proposed was too high for the local infrastructure.

Gritters out again as cold spell continues

Police appeal after attempted robbery

Police are appealing for witnesses after a woman in her 20s was attacked by an unknown man.

The victim was walking along a footpath near Beaconsfield Road, Norwich, at 23:00 on Monday when she was pushed to the floor by a man who unsuccessfully tried to steal her handbag. 

He is described as being a white male in his mid-20s, approximately 5ft 7in, of a slim build wearing a white or light grey triangular-patterned hooded sports jacket and dark-coloured tracksuit bottoms.

Anti-poacher dogs put through their paces at airport

Debbie Tubby

BBC Look East

Daryll Pleasants, a former military dog trainer from Norfolk, has set up a charity called Animals Saving Animals, which trains dogs to stop poachers killing rhino in Africa.

Today the dogs are being put through their paces at Norwich Airport to get them acclimatised to helicopters like the ones they will be travelling in.

I'm heading to the airport to meet them.

Copyright: Extremus Dog Training

Norfolk County Council 'deeply sorry' for its part in Child P abuse case

Mariam Issimdar

BBC Local Live

A report concluding that a young girl - Child P - was "systematically let down" by all agencies that could have protected her from abuse has the full agreement of Norfolk County Council. 

In a statement the local authority said: "There is no doubt that, in this case, the child protection system failed this child and we are deeply sorry for our part in that failure."

The spokesman added that there had been a change in culture across Children's Services with new ways of co-ordinating work with other agencies.

Headlines: Child P abuse case could have been avoided, says report... Jobs to go at Bernard Matthews

Mariam Issimdar

BBC Local Live

The main news stories this lunchtime: 

The sexual abuse of a girl known as Child P could have been avoided, according to a report by Norfolk Safeguarding Children Board
Thirty workers at poultry producer Bernard Matthews could lose their jobs in a round of redundancies
The driver of a train that hit a tractor on a Norfolk level crossing "performed admirably", according to operator Abellio Greater Anglia

Crash train driver 'did exactly the right thing'

Andrew Turner

BBC Radio Norfolk

The driver of a train that hit a tractor on a level crossing in Norfolk did all he could at the time, according to the rail operator. 

Copyright: Rail Accident Investigation Branch

Abellio Greater Anglia's service from Norwich to Cambridge was carrying 135 passengers when the crash happened.

Network Rail had given the tractor driver permission to cross the line at Roudham, near Thetford, according to an interim report. 

Quote Message: The train driver took steps to alert everybody and then get out of the way as best he could. He did exactly the right thing. He performed admirably." from Jonathan Denby Greater Anglia trains

Weather: Sunshine with sleety showers

It will be breezy this afternoon with a mixture of sunshine and showers, some thundery and sleety at times. 

The temperatures will temporarily fall several degrees underneath the showers, averaging 10C (50F).

BBC Weather has more local forecasts.

New train signs to promote Wherry Lines

Andrew Turner

BBC Radio Norfolk

This is one of the new signs on an Abellio Greater Anglia train being used to promote the Wherry Lines service between Norwich and Great Yarmouth and Lowestoft. 

The Wherry Lines train is the first in a series of four trains to receive vinyls promoting East Anglian community rail lines over the coming months.

Copyright: Abellio Greater Anglia

The Wherry Line was formed in 2000 and, along with the Bittern Line, is managed by Community Rail Norfolk.