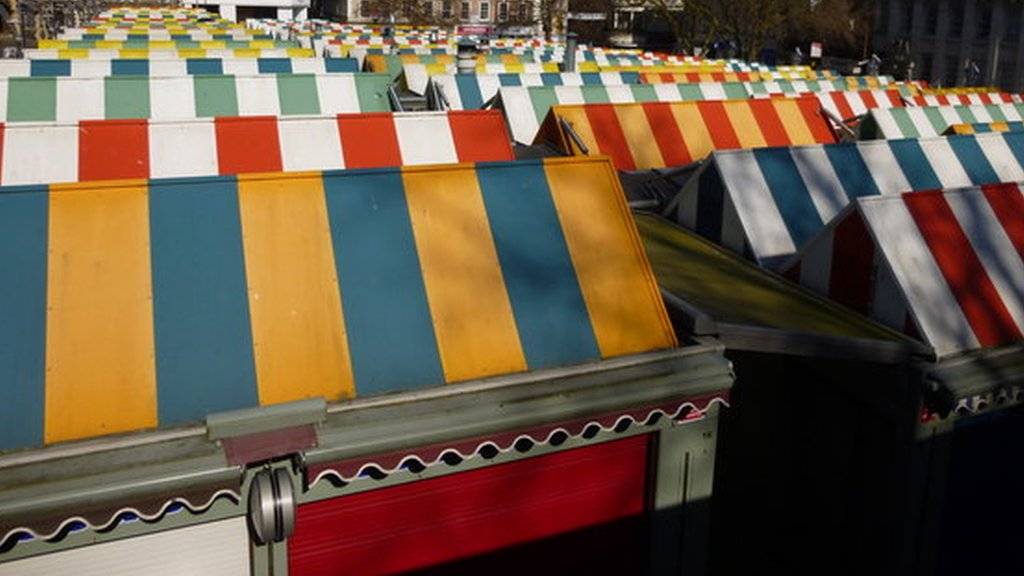 Summary
More news, sport, travel and weather updates from 08:00 on Friday
Our live coverage across the day

Weather: A dry and clear night

Any isolated showers will die out this evening to leave a dry and clear night across the county.

Minimum temperature: 0(C) (32F).

After a chilly start, Friday will be sunny with cloud later. Temperatures 12(C) (54F).

BBC Weather has more details for you.

The headlines: Consultation closes on Norwich market... Pressures on hospital's A & E department

The stories in the news today:

With a third of stalls on Norwich market lying empty, the city council has been running a consultation on how it could do better
The James Paget University Hospital is experiencing high levels of demand for it's A & E services
A new centre offering support to veterans of the armed forces has opened in Norwich

Ronnie Corbett: 'An absolute delight'

Paul Hayes

BBC Radio Norfolk

One of the country's most recognisable comedians Ronnie Corbett has died at the age of 85, and Joanna Bellis of the RNLI recalls his visit to Cromer in 2006 when he officially opened the town's Henry Blogg Musuem: 

Copyright: RNLI Henry Blogg Museum

She says he was "very enthusiastic to open the museum - an absolute delight."

Copyright: RNLI Henry Blogg Museum

The musuem has a little stool so that children can look into the RNLI boat properly, and Mr Corbett made a "great play of asking if it was there for him". 

She added the entertainer and his wife had come to the pier on tour in the 50s, and had a "nostalgic sense of enjoying Cromer".

Annual Diss King of the Cup ensures it's a Good Friday as £1,700 raised for charity

Nearly £1,700 was raised for good causes as hundreds descended on Diss for the fifteenth annual King of the Cup competition on Good Friday.

Watch: Bridge rescue cat reunited with owner

A cat rescued from under a bridge in Norwich has been reunited with her owner 15 months after she went missing. 

Claudia, who had become stuck on a pillar of concrete under a bridge in Heigham Street, was saved by the RSPCA.

It found she was micro-chipped and had gone missing from her home in the city in January 2015.                       

Norfolk tennis star Alfie Hewett's big win

Rob Butler

BBC Radio Norfolk sport

Norfolk's wheelchair tennis star Alfie Hewett has taken a major scalp at a tournament in South Africa. 

Cantley's Hewett has beaten Sweden's World number 7 Stefan Olsson at the Gauteng Open. He's now through to the Quarter Finals of the tournament. 

The British number two is warming up for next week's South Africa Open in Johannesburg.

Copyright: Tennis Foundation

The front page of today's Norwich Evening News, the story of six-year-old Ruth Carpenter

Big Garden Birdwatch: What's been spotted in Norfolk

More than 10,000 people across Norfolk took part in this year's RSPB Big Garden Birdwatch and the results have just flown in.

Top of the pecking order was the blackbird, which was seen in 94% of gardens across the county. The house sparrow took second place in the pecking order, tailed by the blue tit in third.  

This year, the long-tail tit ruffled a few feathers by joining Norfolk's top ten most spotted garden birds for the first time in five years, and goldfinches stepped up three places to take sixth in the ranking.  

Hospital reminder that A & E is for emergencies

The James Paget University Hospital is experiencing high levels of demand following the Easter break and is reminding people to only attend A & E in an emergency.

The Gorleston hospital has seen an increase in patients reporting respiratory problems, such as coughs and colds, combined with a general rise in attendances.

Other healthcare options are available, including the 111 service, walk-in centres, pharmacies or GPs. 

The back page of the Eastern Daily Press:

Norwich market: Changing over the years

Norwich has been home to a market for more than 900 years, attracting locals and tourists.  

It's stood alongside Gentleman's Walk since it was established on its present site by the Normans.  

In the 1930s it had a radical overhaul when the new City Hall was built.  And in the early 21st century, a newly refurbished market was open, which saw the stalls arranged in groups of four.

In this BBC programme of 2012, a local historian explains how the present-day city grew up around the original market. 

The back page of today's Norwich Evening News:

The headlines: High levels of demand for A & E services... Ideas for future of Norwich market

The stories in the news this afternoon:

The James Paget University Hospital is reminding people that A & E is for emergencies only after seeing an increase in patients
Norwich market isn't performing and could do better, says the city council

Weather: Becoming cloudy with showers

It's been a lovely sunny morning, but will now become more cloudy with the risk of a few showers developing.

Many thanks to BBC Weather Watcher Tavy for this photograph taken at Castle Acre this morning.

Copyright: Weather Watcher Tavy

Watch: Norwich market 'needs to be more colourful'

Vegetables, fruit, flowers, and toys are just some of the hundreds of products available on Norwich's market, which has stood on its present-day site since Norman times.

With a third of its stalls now standing empty, the city council has been asking for ideas on how to improve it.

A leading consultant, who's overseeing the market's rejuvenation, says it needs to become more colourful and adventurous if it's to survive beyond the next five years.                       

A new leader has been elected for Breckland Council. 

Copyright: Breckland Council

William Nunn is no stranger to the role, having previously served as leader for eight years from 2005 to 2013.

He replaces Councillor Michael Wassell, who stood down.  

Tabby cat rescued from under bridge

A cat has been reunited with its owner after going missing for more than a year.

Claudia was stuck on a small pillar of concrete under a bridge in Heigham Street, Norwich.  

The RSPCA enlisted the help of two men who were able to get to her, and she was was taken to a vet to be checked over.

The tabby's microchip enabled her to be reunited with owner Adrienne Hamilton who says Claudia recognised her immediately and is settling in. 

Survey to turnaround Norwich market

Rob Sykes

BBC Radio Norfolk

A consultation on the future of Norwich market ends today. 

More than a third of the stalls currently stand empty, and Norwich City Council has been asking for ideas on how to turn it around.