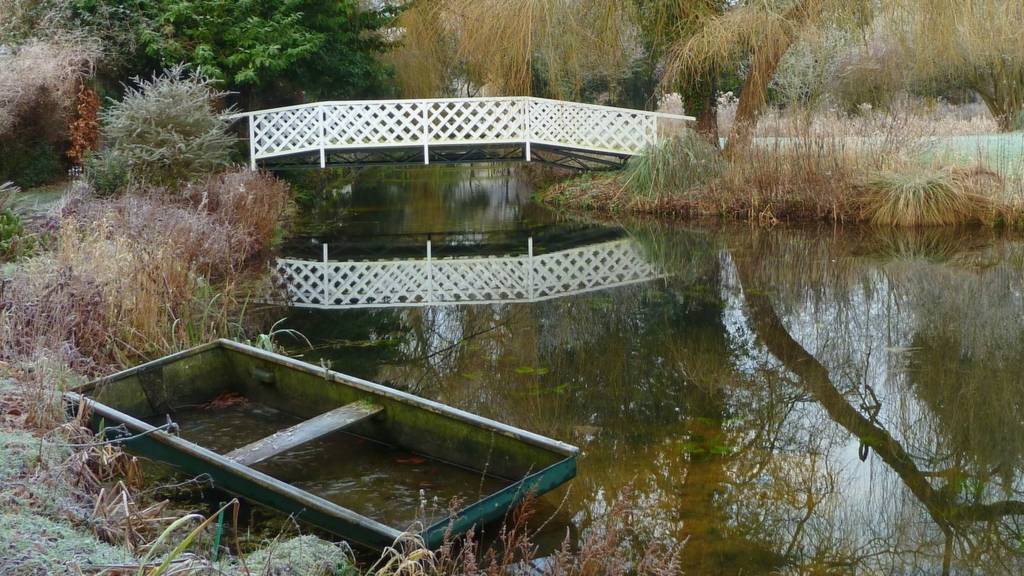 Summary
A pilot who died during an air display had an undiagnosed heart condition, an accident report says
Motorists are warned they face delays in Great Yarmouth until at least the weekend after a water main burst earlier this week
More news, sport, travel and weather from 08:00 on Friday
Our live coverage across the day

Today's big picture: Gooderstone water gardens

Our big picture today is of Gooderstone water gardens, in West Norfolk.

Taken earlier this year, it was sent in by Paul Easton - many thanks Paul.

If you've a picture that you'd like to share with the rest of the county, please send it to us on email.

Weather: Dry with isolated mist patches

Alex Dolan

BBC Look East weather

It will be a dry evening, with isolated mist or fog patches forming by dawn.

Minimum temperature: -1(C) (30F).

After a chilly start tomorrow, it will be a dry day with bright or sunny spells.

Temperatures will reach a maximum of 7(C) (45F). You can find more information on BBC Weather. 

World's biggest offshore vessel prepares for departure

The world's largest offshore vessel, has been put through her paces ahead of her departure from Great Yarmouth's Outer Harbour. 

Scylla, which can sleep of crew of 130, is due to leave for The Netherlands by the weekend, where she'll pick up components for wind turbines ahead of her first job off the German coast.  

Have a look at this piece of footage:

Maternity unit receives share of government funding

The maternity unit at the James Paget University Hospital has been awarded £23,000 in government funding to invest in new maternity safety equipment.

The money will be used to purchase two new cardiotocography machines, which measure the baby's heart rate, and one new twin monitor and a new portable ultra sound machine.

Head of Midwifery, Jayne Utting, says the equipment will be a great addition to the unit. The government had pledged £2m towards investing in safer maternity care.

Plane crash was 'tragic accident'

A fatal plane crash has been called a "tragic accident" by one of the victim's friends who witnessed it.

An accident report published yesterday revealed there was no mechanical fault with the aircraft and that Mr Jenkins had an undiagnosed heart condition.

"Our thoughts are with his family... they are re-living a very difficult time", said Willie Cruickshank, who was in David Jenkins' display team.

Canary Call: The best clips

The headlines: Tributes to fatal crash pilot... Inquest into fire death

The stories in the news today:

Tributes have been paid to a pilot who died in a crash at Old Buckenham airfield
A narrative verdict has been recorded into the death of a man who died in a fire at the family home in North Elmham
The world's largest offshore vessel prepares to leave Great Yarmouth's Outer Harbour

Resident's frustration at getting information from BT OpenReach

"A company that provides communications is not communicating with its customers" says a resident of a south Norfolk village where people have been without phones or internet access since a car hit a BT cabinet last Thursday.

Colin Cordey, who works from home, has tried on numerous occasions to get information from BT OpenReach. "There are two parts to this... we need to get it back up and running, and to understand what BT OpenReach's plans are to replace the box," he said.

The company says it hopes to restore connections to the 150 affected homes by the end of Monday.

Tribute to aerobatics pilot

A friend of a pilot who died during an air display at Old Buckenham of an undetected heart condition has described him as a "precise" and "talented pilot". 

Willie Cruickshank, who was on the same Wildcat Aerobatics display team as David Jenkins, 61, and saw the crash last April, said the Air Accidents Investigation Branch report had confirmed his thoughts Mr Jenkins was not believed to be at fault.

"There was nothing technological in the aeroplane; it identifies that David was a highly professional pilot – he was never a rule-breaker," said Mr Cruickshank.

Scylla 'jacked up' in Outer Harbour

Scylla, the world's largest offshore vessel, has been "jacked up" in the Great Yarmouth Outer Harbour.

Its 105 metre (115 yards) legs have lifted the vessel off the surface of the sea, to leave an air gap of 40 metres (44 yards).  

This is the height it will be working at when it helps to construct a windfarm off the coast of Germany. 

Couple's terror at arson attack

The front page of the Norwich Evening News:

Mariam Issimdar

BBC Norfolk Live

An inquest has been held into the death of a man who was killed when a fire broke out at his family home in North Elmham in March last year.

The inquest at Norwich Magistrates' Court heard Christian Milburn, 50, died from smoke inhalation and severe burns at the house in Eastgate Street, which has since been repaired (seen above).

The evidence, heard by senior coroner Jacqueline Lake, did not fully disclose how the fire started.  A narrative verdict was recorded.

Golf club appoints women to key roles

For the first time in the 123 year history of the Royal Norwich Golf Club, women have been appointed to key roles.

Copyright: Royal Norwich Golf Club

Angela Loveday, who's been a member for nearly 14 years, will be the first woman club captain in Norfolk. Incoming president Cherry Bishop, a member for 24 years, has also been the ladies' secretary and captain.

Jasmine Campbell and Janet Clare have been appointed junior captain and ladies' captain, respectively.   The club says the appointments demonstrate its commitment to increasing female participation in the game.

Pilot death: Friend watched crash unfold

An inquest into the death of an aerobatics pilot at a south Norfolk airfield is to be held on 24 March.

David Jenkins died when his Edge 360 plane crashed at Old Buckenham in April last year.

Willie Cruickshank, a friend of Mr Jenkins, said he "watched the crash unfold and along with many others who were there... experienced pilots... our assessment at the time was there was no attempt to recover from the manouevre, which led to the crash and led us to believe perhaps David was incapacitated." 

NDR: Update on travel information

A road to the east of Norwich which has been closed for site clearance work ahead of the construction of the Norwich Northern Distributor Road (NDR) is to reopen.

Plumstead Road, which is closed between Thorpe End and Little Plumstead, will be open to traffic on Saturday.  The nearby Middle Road will close on 14 March until 25 March.

To the west of Norwich, Drayton Lane which had been expected to close from Monday, will now be kept open until after Easter.  The lane is a cut-through between the B1149 Holt Road at Horsford and Reepham Road. 

Body believed to be that of missing man

An area of Old Buckenham remains sealed off following the discovery this morning of the body of a man.

Formal identification is yet to take place but Norfolk Police believe it to be Nadeera De Silva who was reported missing on 7 March.

Mr De Silva is from the local area, and his next of kin are being informed, police said.

Cyclist has 'no recollection' of crash

Norfolk cycling star Victoria Williamson says she's ahead of schedule in her recovery from a serious crash.

The world championship bronze medalist suffered a broken pelvis and vertebrae at an event in Holland in January. 

She will definitely miss the Olympics in Rio but is setting her sights on Tokyo in 2020.

Invsetigations continue into cause of burst water mains

Motorists in Great Yarmouth are being warned to expect delays in the town centre until the weekend at least, while engineers continue to carry out repairs on a water main near Haven Bridge which burst earlier this week.

Essex and Suffolk Water said investigations into the cause were continuing, and the leak wasn't necessarily linked to an incident last week when a piece of machinery fell off an HGV on South Quay. 

Quote Message: At this time of year, the most obvious cause of burst water mains would be temperatures dropping... cold weather and movements in the ground caused by the weather." from Oliver Rogers Essex and Suffolk Water

Disused pub to be turned into flats

Tim Addicott

BBC Radio Norfolk

A neglected pub in Norwich is to be turned into flats.

Norwich City Councillors have voted 11 to one in favour of turning The Ferry Boat Inn, on King Street, into two properties, along with a five storey block of 39 flats.

The Grade II-listed building has had two planning proposals turned down in the past... one to build around 40 apartments and another to turn it into a backpackers' hostel.