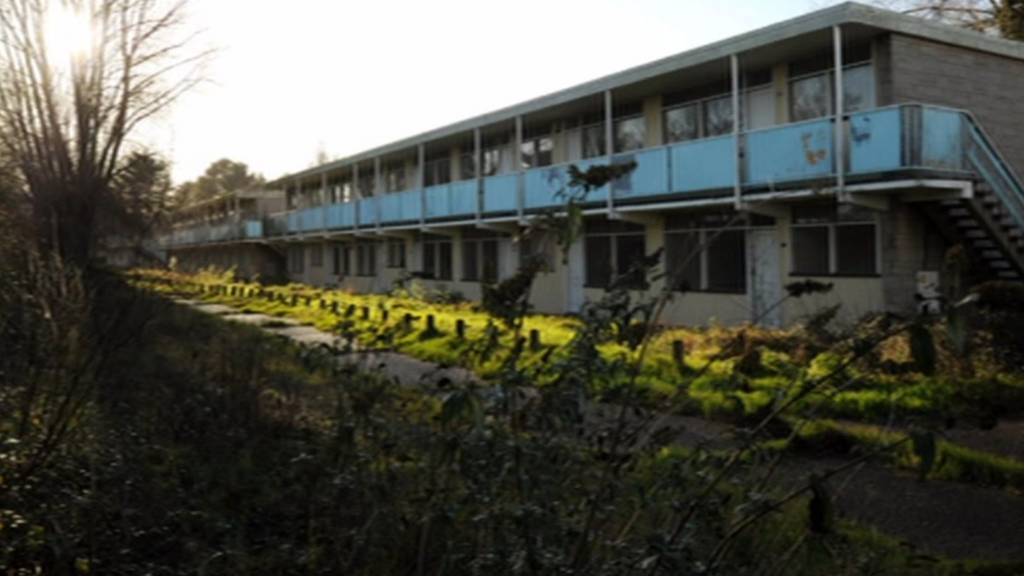 Summary
Plans to build 200 homes at the former Pontins holiday centre at Hemsby are recommended for approval by councillors tonight
Engineers continue repair work to a burst water main in Great Yarmouth
More news, sport, travel and weather from 08:00 on Wednesday
Our live coverage across the day

Weather: Cloudy with light rain

Alex Dolan

BBC Look East weather

A cloudy evening, with light rain or drizzle. Becoming wet and windy.

Temperatures falling to 4C (39F).

A wet and windy day, with heavy rain easing later. Temperatures reaching 7C (45F).

There's more information on BBC Weather. 

Your pictures: Sunrise in Norfolk

What a contrast to yesterday morning, when a carpet of snow spread itself across Norfolk.

Weather Watcher Kim captured this photograph of the sunrise today.

Copyright: BBC Weather Watchers / Kim

If you have a photograph that you'd like to share with us, you can send it to us on email.

New CT scanner to reduce waiting times

A new temporary CT scanner has been installed at the Norfolk and Norwich University Hospital to help cut down patient waiting times. 

Copyright: Norfolk and Norwich University Hospital

The unit, situated in front of the Urgent Care Centre, will be in place for six months and will be used by more than 30 patients a day for cancer and diagnostic scans.

Chief operating officer Richard Parker says it will help in the short term to speed up the care and treatment of patients. The hospital has been taking steps to reduce waiting times for diagnostic procedures.  

The headlines: Decision due on plans for homes at former holiday camp... Workers repairing burst water main remove section of pipe

The stories in the news today:

Councillors meeting tonight are expected to give the go-ahead to plans to build 200 homes on the former Pontins holiday resort at Hemsby
Engineers from Essex and Suffolk Water working on a burst water main in Great Yarmouth have removed a section of pipe
A Norwich man is chosen to be the voice of rail announcements on East Midlands Trains

Norfolk Senior Cup semi-final is on

Rob Butler

BBC Radio Norfolk sport

King's Lynn Town Reserves take on Dereham Town for a place in the Norfolk Senior Cup final tonight. Norwich United await the winners.

The Linnets' game against Hungerford on Saturday was postponed due to a waterlogged pitch but The Walks surface has been deemed playable for tonight's game.

Paw patrols 'invaluable' in fight against crime

There are 47 police dogs and 25 handlers in Norfolk and Suffolk's joint dog unit, providing specialist support to colleagues to help keep both counties safe.

Last year, the team made more than 1,170 arrests, carried out more than 1,500 drug searches and helped find 347 missing people.

Earlier the team posted this video on Twitter:  

Watch: Starlings take flight over Norwich

As the sun sets over the Norwich skyline, an amazing sight can be seen.

Hundreds of starlings take flight, forming a "murmuration", wheeling in formation over the city centre. 

Many thanks to Fabian Harrison for sending us this video.              

Landlords of loss-making shops in the Beales Department Store Group are being asked to lower rents or take back their properties.

Councillors urge rethink on parking meters scheme for Cromer and Sheringham

North Norfolk District Council has sent a statement from its members to officers of the Norfolk Parking Partnership Joint Committee setting out the authority's concerns at controversial plans to introduce on-street parking meters to Cromer and Sheringham.

Copyright: Geograph/Marathon

Councillor Nigel Pearce says he feels the proposals would be "robbing the Norfolk coast... taking money out of the area and not bringing benefits to the two seaside towns."

Councillor Judy Oliver says the council would look to challenge the proposal in court if it's pushed through.

The partnership says the financial sustainability of civil parking enforcement in Norfolk depends on additional revenue from such schemes.

Medieval monument to be restored

Tim Addicott

BBC Radio Norfolk

A medieval stone monument in the heart of Norfolk is being reinstated after it was broken in pieces when a car crashed into it in 2013.

Copyright: Norfolk County Council

Norfolk County Council has brought in a specialist firm to undertake the work to the old Stump Cross at Haveringland, near Reepham.

When put back together, the 500-year old monument will stand about 5ft (1.5m) tall.

Updates on road closures for construction of Northern Distributor Road

A main road to the east of Norwich, which has been closed since 22 February for preparatory work ahead of construction of a double bridge for the Norwich Northern Distributor Road (NDR), is to reopen.

Copyright: Norfolk County Council/Ordnance Survey

Plumstead Road, which has been closed between Thorpe End and Little Plumstead, is set to reopen by the evening of Friday.

On Monday, the nearby Middle Road will close until 25 March, followed by the closures of Smee Lane from 28 March and Low Road  from 11 April.

The long-term closure of Drayton Lane, on the western half of the NDR, begins on Monday, with Holly Lane providing a diversion route. The lane, a popular cut-through between Reepham Road and the B1149 Holt Road, is to be realigned to provide a new route for Holt Road traffic to the NDR.  

Watch: Conductor is new voice of train company

Senior conductor Stephen Carlyle-Hearn has been chosen as the new voice of East Midlands Trains. 

Mr Carlyle-Hearn, from Norwich, will be heard on pre-recorded announcements at all the rail company's stations.

He says it's a real privilege to be chosen, and that he had great fun recording the announcements.                       

Engineers remove damaged water main

Engineers from Essex and Suffolk Water worked throughout the night to repair a burst water main in Great Yarmouth.

A 4.5m (14.7ft) section of the burst pipe was removed.

Traffic is restricted to one lane on South Quay, and Gorleston-bound traffic cannot use the South Quay or Haven Bridge. Road restrictions are likely to remain in place until the weekend.                 

Nanette Aldous

BBC Radio Norfolk

Norwich is among the five most vibrant smaller cities in the UK, according to a new report.

The report, by the Centre for Cities think tank, says Norwich, Cambridge, Oxford, Milton Keynes and Swindon have higher productivity levels than bigger cities such as Manchester and Birmingham.

They also have higher than average levels of employment and business start-ups, and are among the fastest growing in terms of population. However, the report warns that without government help, challenges such as housing, increasing traffic congestion and skills gaps could halt the progress in its tracks.

Cannabis 'should be available in specialist shops,' says MP

The North Norfolk MP Norman Lamb is leading calls by the Liberal Democrats to allow specialist shops to sell cannabis.

He says it could raise over £1bn a year in tax revenue for the government. The party also says over-18s should be allowed to grow cannabis at home for personal use.

Mr Lamb, Lib Dem health spokesman, said it had to be better than the current policy where "vast amounts of police time and resources are wasted going after those using the drug".

Norwich Cathedral science fest's explosive start

There was an explosive start to a two-week science festival at Norwich Cathedral last night when a replica volcano erupted just outside the historic venue.

Copyright: Network Norfolk

Walsh's next challenger confirmed

Rob Butler

BBC Radio Norfolk sport

Cromer's British featherweight champion Ryan Walsh will make the second defence of his title on 30 April.

He will face Northern Irishman James Tennyson (pictured) at London's Copper Box Arena.

Copyright: Frank Warren Promotions

Coast protection work begins

Maintenance work on the shingle embankment and beach between Snettisham and Hunstanton is set to begin today.

Copyright: Environment Agency

Ryan Ely, flood and coastal risk adviser for the Environment Agency, says the moving of more than 5,000 cubic metres of sand and shingle from the Snettisham Scalp to reinforce the defences is the most sustainable way to protect the coast.

Nearly 3,000 properties are protected from tidal flooding by the embankment. The work, costing about £150,000, will take three weeks and is being carried out before the start of the bird breeding season.

Watch: Councillors to consider homes plan for former holiday camp

Controversial plans to build 200 new homes on the site of the former Pontins holiday camp in Hemsby are likely to get the go-ahead.

There's been strong opposition to the housing since the resort closed eight years ago.       

A decision will be made by councillors this evening.