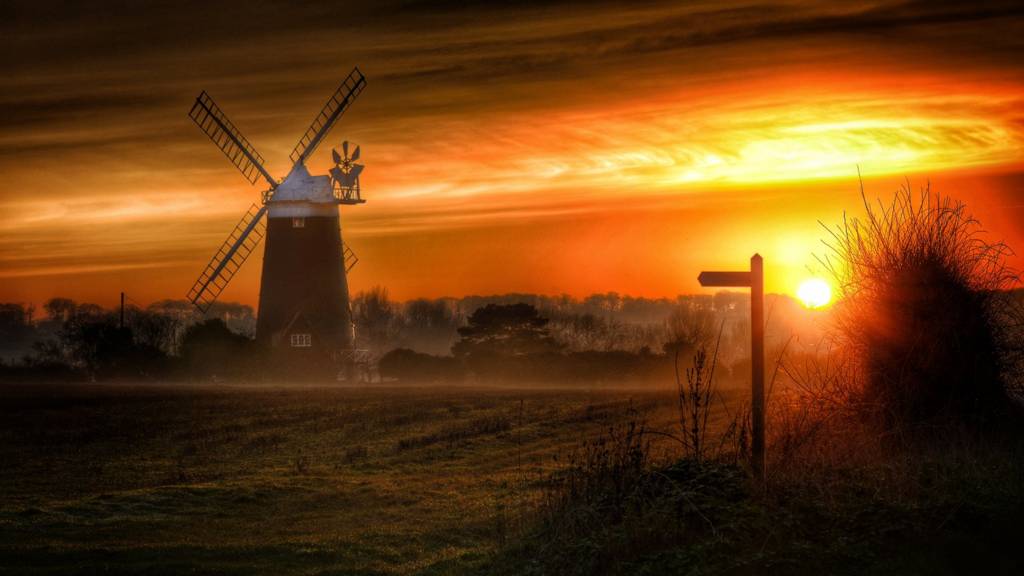 Summary
Norfolk county councillors agree next year's budget, which includes the first council tax rise in five years
Services are being cut from six GP surgeries in the county
Prince Charles is visiting community projects in Norfolk today
Updates for Norfolk on Monday, 22 February 2016
Our live coverage across the day

Weather: Cold with isolated showers

Dan Holley

BBC Look East weather

A mainly dry night, with a few isolated showers. Becoming cold, with localised frost patches. Temperatures falling to 0C (32F).

A chilly start to Tuesday, with a mixture of sunny spells and patchy cloudy.  A few wintry showers, becoming more frequent later. Temperatures reaching 7C (45F).

There's more information on BBC Weather. 

Our big picture today: Burnham Overy windmill

Many thanks to Gary Pearson for this stunning picture of Burnham Overy windmill.

We're always looking for photographs for our "big picture" at the top of the Norfolk Live page.

If you have some photos that you'd like to share, you can send them to us on email.

Watch: Seals released into the wild

After five months of care and treatment by staff and volunteers at the RSPCA East Winch Wildlife Centre, 10 seals have been released back into the wild.

The seals had been rescued from beaches along the Norfolk coast.                       

Your pictures: 'Wherry' in ice

Take a look at this amazing picture. 

Copyright: BBC Weather Watchers / photo passions

It was taken at Strumpshaw Fen, by BBC Weather Watcher "photo passions", who says it "represents the shape of a Norfolk Wherry in ice".  We agree that it does! 

If you've got a photo that you'd like to share, please send it to us on email.

Watch: Prince Charles visits Swanton Morley

The Prince of Wales met soldiers from 1st the Queen's Dragoon Guards at Swanton Morley today.

The soldiers, better known as the Welsh Cavalry, have recently returned to the UK. In the next few weeks they'll deploy to Sierra Leone to train local forces.                                        

The headlines: Councillors agree budget... Prince Charles in Norfolk

The stories in the news today:

Councillors have agreed Norfolk's budget, which will see the first council tax rise in five years
Prince Charles is visiting communities in Norfolk today
Power cut hits homes and businesses in Great Yarmouth

EU Referendum: MP 'to vote yes'

David Cameron is telling MPs why the UK should stay in the European Union.  

Norwich North MP Chloe Smith says she's likely to vote to remain in the EU.

Watch: Councillors agree Norfolk budget

County councillors have agreed a budget which will see Norfolk's first council tax rise in five years.

The council needs to save over £100m across all departments in the next three years. Today councillors agreed £42m in cuts.                    

Prince Charles in Norwich

The Prince of Wales is in Norfolk today.

He was in Norwich this afternoon, visiting St Mary's Works, to see how the Beauty-In-My-Back-Yard charity is giving the local community a say in the redevelopment of the former industrial site.

Earlier he met troops at Swanton Morley, ahead of their deployment to Sierra Leone. Later, the Prince will visit the White Horse pub in Upton, which was turned around by a community group helped by the Prince's Countryside Fund.   

Five vehicles scratched in Wymondham

Norfolk police are appealing for information after damage was caused to several vehicles on Pople Street, Wymondham, on Friday.

Picture: Robot performs best man duties at artist Bruce Lacey's wedding

Artist, performer and inventor Bruce Lacey, who has died, aged 88, built a number of bizarre robots during his long and varied career.

One of them, Rosa Bosom (Radio-Operated Simulated Actress Battery or Stand-by Operated Mains), even performed best man duties at his wedding to the actress Jill Bruce in 1967, throwing confetti over the happy couple.

Power cuts in Great Yarmouth

Tim Addicott

BBC Radio Norfolk

Parts of Great Yarmouth are being affected by a power cut this afternoon.

UK Power Networks says a fault has occurred on an underground electricity cable on South Market Road and engineers are looking into repairing it.

Earlier, fire crews from Great Yarmouth and Gorleston put out a blaze at an underground installation on the road. It's understood nearly 100 homes and businesses are being affected.

'British Land on Moon': More from Bruce Lacey

Here's some more of Bruce Lacey's work, courtesy of the BBC Archive.

The 88-year-old artist, performer and inventor, who lived near Wymondham, has died, according to The Guardian. 

Bruce Lacey introduces his robot friend

As reported in The Guardian, the artist, performer and inventor Bruce Lacey, who lived near Wymondham, has died aged 88.

Here's a flavour of his work, courtesy of BBC Archive.

Artist, performer and inventor Bruce Lacey dies

Artist, performer and inventor Bruce Lacey, who lived near Wymondham, has died aged 88, The Guardian has reported.

Lacey collaborated with Peter Sellers and Spike Milligan and appeared in the Beatles film Help! as George Harrison's gardener.

He was renowned for building bizarre robots and inspired the song Mr Lacey by folk-rock group Fairport Convention.

Norfolk companies among Britain's 'most inspiring'

A dozen firms from Norfolk have been recognised as some of the most inspiring companies in the UK.

They're on the thousand-strong list, drawn up by the London Stock Exchange. 

The 12 companies on the list including those from the engineering, catering, manufacturing and retail sectors, including Mervyn Lambert Plant, Dingles Motor Group and Warings Furniture.

Five injured in serious collision

Police are appealing for witnesses following a serious collision on the A47 at North Runcton at the weekend.

The incident happened at about 20:30 on Saturday when a red MG ZR travelling towards Swaffham and a red Nissan Qashqai travelling towards King's Lynn were involved in a collision.

Five people were injured, including an 11-year-old boy from the MG who was airlifted to Addenbrooke's Hospital, Cambridge. Two other people from the vehicle were taken to the Queen Elizabeth Hospital, King's Lynn, for treatment. The road was closed until 01:45.

Chris Goreham

BBC Radio Norfolk sport

Wroxham's Ryman League trip to Aveley which was due to take place tonight has been called off. 

Norfolk set for first council tax rise in five years

Nanette Aldous

BBC Radio Norfolk

County councillors have agreed next year's budget plans, which sees the first council tax rise in five years.

Protestors targeted the meeting, where tempers ran high. Less than 15 minutes into discussions, those in the public gallery had to be warned about their behaviour as council leader George Nobbs spoke. 

He emphasised how no fire stations or museums would close. Four councillors voted against, and two members abstained.