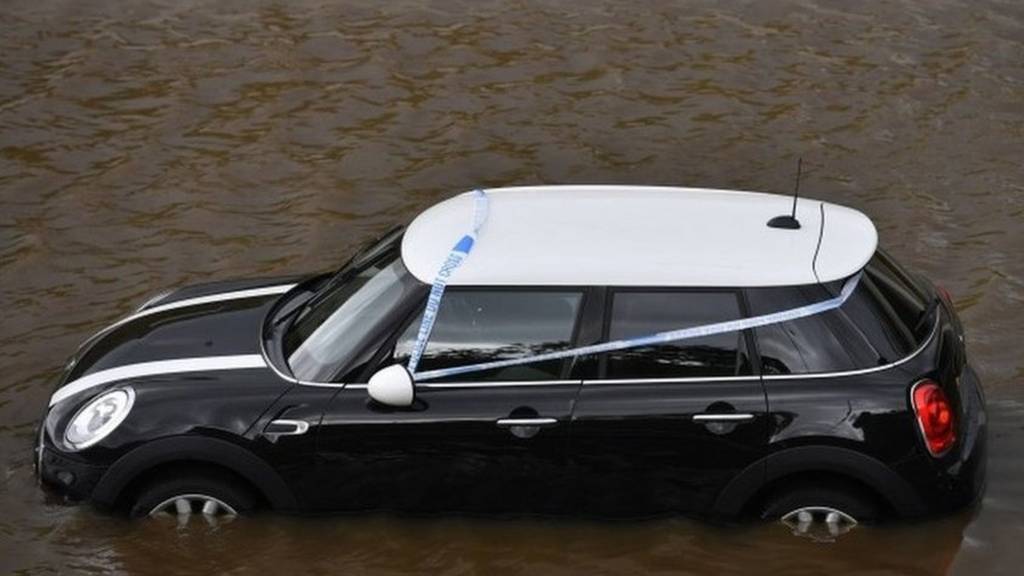 Floods improving, but focus switches to Whaley Bridge

Heavy rains and flooding are beginning to recede around the North West, but the focus is shifting to Whaley Bridge in Derbyshire where more than 6,000 residents have been evacuated.

A reservoir dam has been damaged by rising waters and a severe weather warning has been issued.

You can follow all the latest from Derbyshire here

A yellow weather weather warning remains in place for Greater Manchester with more showers expected.

But the situation is expected to further improve showers over night.

In pictures: River Mersey water levels

Nick Saunders has shared these two photographs of the River Mersey before and after the flooding.

Fire crews on hand to deliver sandbags

Firefighters are continuing to assist with the flooding relief efforts by helping to deliver sandbags.

Councillors react to the flooding aftermath

Cheshire East councillor Jos Saunders said there had been "dreadful problems" with the roads, some of which were "completely" flooded.

She said: "We have got roads where the water was waist-deep, and unfortunately this is the second time in three years it has flooded."

After going past the swollen River Goyt, Stockport councillor Steve Gribbon, who is also a firefighter, said: "I was amazed by how much has come down.

"It was about two metres higher than it normally is. The river is not normally that wide and it was about twice the width."

Copyright: Katie Ward/PA Wire

'I just felt completely out of control'

Flood water mixed with raw sewage from the drains devastated Katie Ward's house in Poynton, rising up to the third step of her stairs.

Her two family cars, which were parked outside, have also been written off.

The waters have receded but a big clean-up is under way in the Cheshire town after flash floods deluged houses on Wednesday.

"Your home is your secure place. The water level was rising and creeping closer and closer to the front door," Ms Ward said.

"I just felt completely out of control. It seemed to go from two inches to waist height within 10 minutes.

"By 17:00 BST we were completely flooded."

Boy, 13, rescued thanks to inflatable path

A 13-year-old boy was rescued from Happy Valley Nature Reserve in Hazel Grove, Stockport, using an inflatable path after he became stranded by flowing water.

One of the firefighters involved in the initial rescue fell into the fast-flowing water and also had to be rescued.

Greater Manchester Fire and Rescue Service described the operation as "difficult" and involving "acts of bravery".

Homes destroyed by flooding

Courtney Jackson said the flooding in Bramhall, Stockport, was so severe that residents had to be evacuated from homes on Bridge Lane last night.

"One older lady was in a dressing gown crying," the 23-year-old said.

"It's such a shame as so many homes have been destroyed and the poor shop owner at Nisa has already had to refurb his shop due the last incidence of flooding at Bramhall roundabout.

"Luckily I was a little higher, but I couldn't leave the house."

Copyright: Cheshire Fire and Rescue Service

Star 'disappointed' as rain-hit festival cancelled

More details have been confirmed after heavy rain led to the cancellation of a music festival and left headliner Gloria Gaynor "so disappointed".

The disco star was due to play the three-day Rewind North at Capesthorne Hall, near Macclesfield, on Saturday.

Referencing her hit, I Will Survive, Gaynor tweeted that extreme weather had made the festival site "unsafe".

Organisers for the event, which was also going to feature Tiffany and Thin Lizzy, said "prolonged extreme wet weather" meant it had to be cancelled.

Fire service manager's thanks to police officer

A Cheshire Fire and Rescue Service worker has publicly thanked a police officer who helped him to travel to the joint emergency services hub.

Inside Environment Agency's incident room

Here is a glimpse behind the scenes as staff at the Environment Agency continue to deal with the ongoing flooding and bad weather.

Council responds to 150 road-related flooding calls

It has been a busy night for staff at Cheshire East Council.

"Overnight, we have responded to more than 150 highways-related flooding calls and today we will be inspecting our roads, clearing any debris & responding to further requests for assistance," a spokesman said.

Copyright: Danny Lawson/PA Wire

Work continues to make bridge safe

The relief effort continues in Poynton with work ongoing to make the severely-damaged bridge on Moggie Lane safe.

Water being pumped from A555

Water is still being pumped from the A555 Manchester Airport link road after a major incident was declared on Wednesday following the heavy rainfall caused severe flooding.

Good Samaritan helps with relief effort

A resident braved the torrential weather to help with the relief effort in Poynton.

Adam Wainwright, 36, was out in his digger until the early hours to provide assistance to the emergency services.

"It has been very busy," said the groundwork landscaper.

"We've just been down in the village making sure the drains are flowing freely and making sure there are no blockages.

"Needless to say the fire service has been non stop."

This was the scene as firefighters returned home after seven hours of rescue and salvage work:

Majority of Cheshire roads reopen, but drivers urged to remain vigilant

The majority of roads in Cheshire have now reopened, the county's police force has confirmed.

But motorists have been advised to drive with care as there is still a large amount of surface water.The following roads remain closed:

Styal Road, Wilmslow
Flash Lane, Astbury
Fol Hollow, Congleton
Mill Lane, Adlington
Moggie Lane, Higher Poynton
Skellorn Green Lane, Adlington
A555 Manchester Airport link road

A number of other minor roads also remain closed and motorists are reminded not to ignore road closure signs as they could potentially be putting themselves in danger, a police spokesman added.

'Someone joked that we needed Noah'

Noah's Ark could have been a help in Poynton this morning, a church curate in the Cheshire town has quipped.

Quote Message: The rain missed my road but our church staff WhatsApp group told us people were in trouble.

Quote Message: We just about saved our youth worker's house but it was a close call – the water was about an inch away from his front door and we used a wheelie bin and what debris we could find to block the water's path. Someone joked that we needed Noah.

Quote Message: Today things seem to be fine. The water seems to have gone but there is a lot of mud so people have got their jet washers out. from Aled Seago Curate at Poynton Parish Church.

Warning of further downpours from noon....

A yellow warning for rain has been put in place by the Met Office for parts of Greater Manchester, Cheshire and Derbyshire from 12:00 to 20:00.

This could impact areas that were flooded yesterday, the Met Office said.

Quote Message: Whilst it's by no means a given that the affected areas will catch any fresh downpours, it's too close to call. from Alan Goodman Met Office Advisor

Five flood warnings remain in place

The Environment Agency now has five flood warnings in place across Greater Manchester and Cheshire.

These are for:

Poynton Brook at Poynton and Midway
Poynton Brook at Wigwam wood and parts of Armcon Business Park
River Bollin and Agden Brook at Little Bollington
River Bollin at Heatley
Timperley Brook at Altrincham

You can see the latest flood warnings here.

Bollington resident praises 'community spirit'

Lorna Hale filmed the floodwaters outside her house in Cheshire, and praised the community spirit.