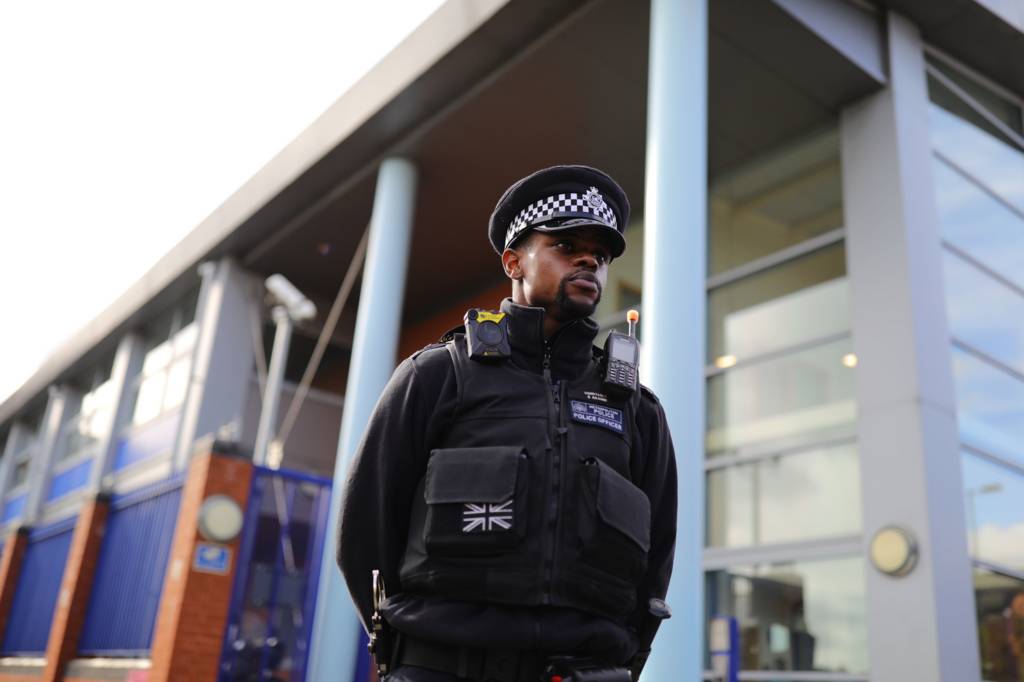 Officer dies after custody centre shooting: As it happened
Claire Timms

BBC London News

We're ending our live coverage of the fatal shooting of a long-serving Metropolitan Police officer while he was on duty at the Croydon Custody Centre early this morning.

The victim, who has not been named, is thought to have been a few weeks away from retirement and was described as "one of a kind" by a colleague.

Our evening news team will continue to update you on the story as it develops for the rest of the day.

Mayor of London Sadiq Khan and Home Secretary Priti Patel joined Met Police Commissioner Cressida Dick At New Scotland yard.

PM offers condolences to family and friends of fallen officer

Prime Minister Boris Johnson has spoken with Cressida Dick and "expressed his condolences" to the colleagues, friends and family of a Metropolitan Police officer who was shot dead in south London, Downing Street said.

A Number 10 spokesman said: "The Prime Minister has spoken with the Metropolitan Police Commissioner Cressida Dick.

"He expressed his condolences to the officer's colleagues, friends and family and thanked the police for their work on the ongoing investigation into this shocking incident."

Minute silence held for murdered police officer

Police Scotland chief pays tribute to Croydon officer

Police Scotland's Chief Constable Iain Livingstone has paid tribute to the officer shot dead in Croydon.

Speaking at the coronavirus briefing in Edinburgh, the head of Scotland's police service said: "Can I also start this afternoon by expressing on behalf of everyone in policing our deepest sympathies and support for our colleague from the Metropolitan Police who was tragically shot on duty in the early hours of this morning.

"And also support to our colleagues in the Metropolitan Police and indeed to the people of London, the thoughts of the whole of the policing family are with those who have lost a loved family member, a friend and a close colleague."

Poem pinned to bouquet of flowers outside custody suite

Thomas Mackintosh

BBC London News

It remains quite a teary atmosphere here outside the Croydon custody centre on Windmill Road.

A short while ago a dozen uniformed police officers walked silently to the custody centre and laid two large bouquets.

Silently they bowed their heads and left.

A poem pinned to one of the bouquets read:

"Time to come home dear brotherYour tour of duty throughYou have given as much as anyone could be expected to doJust a few steps further the smoke will start to clearOthers here will guide youYou have no need of fearYou have not failed your brothersYou clearly gave it allAnd through your selfless actionsOthers will hear the callSecure your place of honourAmong those who have gone beforeAnd know you will be rememberedFor now and evermore."

Officers lay floral tributes for fallen colleague

Police officers continue lay flowers outside Croydon Custody Centre in south London after a much-loved colleague was shot dead while on duty in the early hours of today.

Officers at several crime scenes as part of investigation

Speaking about what the next steps would be, the Met Police Commissioner Cressida Dick said: "A murder investigation is under way and officers are working at several crime scenes to secure evidence and establish the facts of what happened.

"We are working closely with the Independent Office for Police Conduct.

"Early indications are that the suspect shot himself, this has not yet of course been established as a fact. The man I can tell you remains in a critical condition in hospital.

"I do understand that there is considerable interest in the identity of my colleague. But I cannot tell you yet his name as we have not yet been able to inform all of his close family.

"The investigations will establish the full facts of what has happened and I would ask you as far as is possible to show restraint in speculation at this time.

"This terrible incident underlines again how police officers face danger every single day 24/7-365 in their work to protect our public.

"Thank you all for your thoughts and I will issue more information when I can later today."

In pictures: Police officers arrive to pay their respects

MP lays flowers outside custody centre

Croydon North MP Steve Reed arrived at the custody centre earlier to lay flowers in tribute to the officer.

'All police mourning' after custody shooting

Police across the UK "are mourning a great loss," after an officer was shot dead at custody centre, the country's most senior police officer has said.

A Met Police Sergeant died after being shot in the chest at the centre on Windmill Road, Croydon, shortly after 02:15 BST on Friday.

A 23-year-old male suspect is critically ill after apparently turning the gun on himself.

Metropolitan Police Commissioner Cressida Dick offered her "heartfelt condolences" to the unnamed office's family.

Ms Dick said: "The Met is a family. Policing is a family in London and across the UK and today we police we are all mourning a great loss.

"This terrible incident underlines once again how police officers face danger every day in their work to protect the public."

She added the Met was giving the officer's partner "the best support we can".

Suspect thought to be known to counter-terrorism police

Danny Shaw

BBC Home Affairs Correspondent

The investigation by the Independent Office for Police Conduct (IOPC) will have several strands.

It's likely to focus on the circumstances of the man's arrest: which officers were deployed during the operation; whether and how the suspect was searched; and if he was put into handcuffs.

The inquiry will need to establish the man's background and if risk assessments were carried out.

It's believed the suspect was known to counter-terrorism police, having been on their radar in the past, though the Met Police has not officially confirmed that.

The IOPC will also need to establish what happened at the police station and whether appropriate measures were put in place when the suspect was taken out of the police van.

Killed officer was shot in the chest, sources say

Daniel De Simone

BBC Home Affairs producer

The dead officer was shot in the chest before the suspect turned the firearm on himself, the BBC has been told.

The suspect was brought into the custody suite in a police vehicle and the shooting occurred during routine questioning about Covid-19, sources said.

Both men were taken for treatment to St George's Hospital in Tooting, south London, which was guarded by armed police, according to a source.

'Another hero has been taken from us'

Lissie Harper, the widow of PC Andrew Harper was killed in the line of duty in August last year, has released a statement about the Croydon officer's death:

Quote Message: This is devastating news. No person should go to work never to return. No human being should be stripped of their life in a barbaric act of crime. Another hero has been taken from us in unwarranted violence. They protect us but who protects them? Another life is gone in a disgraceful act that reminds us of the danger our police officers face with every shift they begin. My heart is broken for yet another member of our blue line family, and all of his family, friends and colleagues who must now accept a life without him in it. My thoughts and love are resolutely with them." from Lissie Harper

Officer was 'an inspiration to all who knew him'

Police Insp Richard Berns, who is based with the Met in Camden called the officer "an inspiration to all who knew him".

Killed officer was a 'much loved colleague' - commissioner

Met Police Commissioner Cressida Dick has been speaking about the death of the officer in Croydon.

She said: "This morning we learnt of the shocking death of a much loved colleague, a long-serving sergeant in the Metropolitan Police, who was working last night in our Croydon Custody Suite.

"I have visited and spoken to our officer's partner together with other colleagues and we are of course giving her the best support we can. My heartfelt condolences go to her, to their family, to his colleagues and his close friends.

"I am thinking also of everyone who was involved in and affected by this terrible event. We are all deeply shocked and very sad.

"The Met is a family, policing is a family in London and across the UK and today we police are all mourning a great loss.

"I would like to thank our officers and the staff, together with colleagues from the London ambulance service, London air ambulance service and all our medical and hospital colleagues who I know did everything they could to save his life."

'Our heart goes out to everyone involved,' says local MP

Croydon Central MP Sarah Jones has offered her condolences to "the family of the officer who has been killed" and the "wider police family".

Ms Jones, who was due to visit the custody suite today, said: "We always say officers put themselves on the line of duty every day, they put themselves into danger, but we don't expect this to happen."

"You only need to ride out with the police officers and see the work that they do, and the danger they put themselves in every day, to see how close-knit they are and what a community it is.

"For something like this to happen is absolutely devastating and I'm just so sorry.

"We need to work out what happened. But at the moment, the community of police are in shock. Croydon is in shock."

The Labour MP added: "My heart goes out to everybody involved and all those brave officers who themselves in danger every day."

Home secretary calls killing 'a sad day for our country'

Home Secretary Priti Patel has been speaking about her shock at the death of the officer in Croydon.