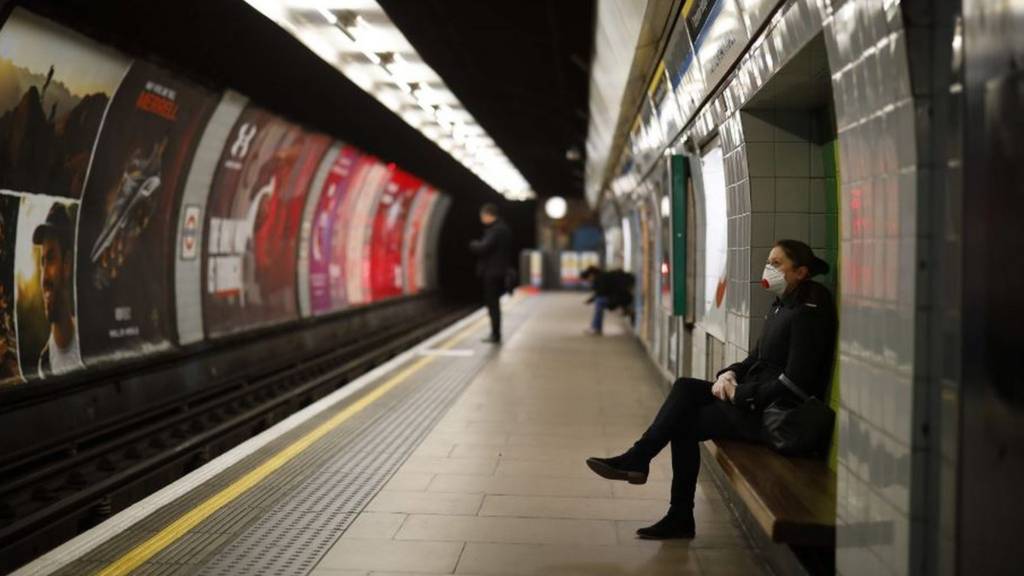 By Michelle Roberts

Health editor, BBC News online

That's all from BBC London's live page for this week. We'll be back on Monday with all the latest news, advice and information on how the coronavirus pandemic is affecting Londoners.

Have a good weekend.

Battersea Cats and Dogs Home able to rehome pets again

Copyright: Battersea Dogs

Battersea Cats and Dogs Home is able to rehome its animals again following newly approved government guidelines on social distancing.

In a statement, the animal shelter said: "Our centres remain closed to the public but we're pleased to say we are now in a position to rehome our dogs and cats following government approved guidelines, and will be prioritising existing applications and customers who live within a short distance of our three centres to try and match as many of our animals as we can with new owners.

"The welfare of our staff, volunteers, and our animals will always be our priority, and we have introduced a number of measures to help protect both our customers and our staff."

London's main Hindhu temple feeding key workers

A Hindu temple has helped feed key workers at Brent Council during the coronavirus pandemic.

Shri Swaminarayan Mandir, also known as Neasden Temple, in Brentfield Road, has been providing food and snacks for 70 council workers over the past month.

Representatives from the temple said it wants to help those supporting the most vulnerable people in Brent, including social workers, housing officers and enforcement teams.

Brent Council said it was "blown away by the generosity and kindness" as it thanked those involved for their efforts.

It is part of a wider campaign by the temple during this crisis, with hundreds of volunteers supporting needy and elderly members of the community.

As well as providing food and drink, volunteers have been connecting with those who might feel isolated due to nationwide lockdown measures.

Yogen Shah, a volunteer at the Mandir, said: "His Holiness Mahant Swami Maharaj has inspired and energised us to serve and support the people of this country and stand by them in this time of need.

"We're praying together for this pandemic to subside and for God to provide strength to all."

Halt to Northern Line extension

Work on the long-awaited extension of the Northern Line into Battersea is on hold to keep workers safe during the coronavirus crisis.

Like all major Transport for London projects, work on the Northern Line Extension has temporarily stopped.

A TfL spokesperson said: "This was done to ensure the safety of our construction and project teams and also to further reduce the number of people travelling on the public transport network. It is vital that the transport network is only used for essential journeys."

The Northern Line extension, scheduled to open in autumn 2021, will be the first major Tube line extension since the Jubilee line in the late 1990s.

It will connect Kennington to Battersea Power Station, via Nine Elms, allowing local commuters to get to the City and the West End in just 15 minutes.

CCTV appeal after Westbourne Green stabbing

Police have released CCTV of a man they are trying to find after a stabbing in west London left another man critically injured.

The victim, aged in his 50s, was found with a stab wound to his stomach after emergency services were called to the Brunel Estate, off Westbourne Park Road in Westbourne Green, at about 05:30 on Wednesday.

It was discovered that he had earlier boarded a bus where he told another passenger he had been attacked. The driver was then alerted and police and paramedics were called.

The released CCTV shows a man at a bus stop near to the Brunel Estate who police want to trace.

Detectives believe the victim, who remains in a critical condition in hospital, was stabbed up to 100 yards away from the bus stop shortly after the footage was captured.

Det Ch Insp Christina Jessah said: "We are particularly keen to identify the man pictured, but are also keen to speak to anyone who was using a N28 or N31 bus in the area of Westbourne Park Road around the time of the incident who may have seen a man acting suspiciously or possibly local residents who may have heard raised voices".

No arrests have been made.

British Airways increases flights from London to China

Thomas Mackintosh

BBC London News

British Airways is increasing the frequency of its cargo flights from China to import more supplies for UK healthcare workers.

The airline announced that from next month it will operate 21 flights per week from Shanghai or Beijing to London, up from the current level of 13.

These flights from Shanghai and Beijing will be able to carry up to 770 tonnes of cargo for the NHS each week, including personal protective equipment (PPE) and ventilators - aircraft will also carry private cargo.

British Airways is operating the flights in partnership with its sister company, IAG Cargo, and the Government.

Its first cargo-only flight from China to London during the coronavirus pandemic was on 9 April.

Last week it began carrying cargo in the cabin - as well as the hold - for the first time.

Police dogs become therapy dogs to boost officer morale

Police dogs are being used as therapy dogs to help London's officers during the pandemic.

The Met said Daisy and Dexter had been providing "cuddles and playtime" for members of the force across the capital "to provide a boost of morale and sunshine".

Tour buses given to the NHS

Copyright: Vans For Bands

Image caption: One of the buses has been deployed to the Whittington NHS Trust in London

Tour buses which would normally be used to ferry stars around the country are being parked outside hospitals for the use of NHS workers.

Tarrant Anderson, who runs touring company Vans For Bands, said the pandemic shutdown had meant the vehicles were doing nothing "so we got on social media to see what we could do".

"The main thing we got back was that hospitals needed somewhere for staff to rest up, decompress and feel more human," he said.

After making sure the buses met lockdown guidelines and NHS health and safety standards - the Vans For Bands fleet started heading out to hospitals.

Mick Jennings, a consultant at Lewisham Hospital, has been using the bus parked outside their building.

"You look at the people coming off shifts after about 12 hours, they're absolutely spent from all the emotion, all the tension," he said.

However, he told Newsbeat walking onto the bus instantly makes staff feel like the big names that would normally use it.

"Every time you sit down it's like 'Yeah, this is a special place to be and I'm special, too.'"

Vietnamese kids use lucky money to buy PPE masks for UK

How about this for a good deed?

Two London-loving children from Vietnam have spent their savings on PPE equipment for the UK.

The British Ambassador in Hanoi issued a heartfelt thanks to Truong Thi Linh Nhan and Truong Cao Khoi for their generosity to the British people.

Copyright: British Embassy, Hanoi

Traditionally, lucky money is a small amount of money put in a red envelop then is given to children to wish them luck and good things in the lunar new year.

Tributes for 'wonderful and gentle' east London GP

Thomas Mackintosh

BBC London News

Colleagues have remembered a "wonderful and gentle" doctor and father after he passed away with suspected coronavirus symptoms on Monday.

Father-of-three Dr Yusuf Patel, 61, founded Woodgrange Medical Practice in Newham, where he worked as GP for over two decades before he passed away at Queen's Hospital in Romford.

Dr Patel established the practice, which is ranked as "outstanding", in 1997, and increased its patient list from 1,000 to more than 16,000.

He leaves behind his wife, Nasim, and his children Rumaysa, Maariya and Ahmed, who are all pursuing medical careers, according to Woodgrange Medical Practice.

His colleagues there have remembered him as a "simple, humble and honest man" who was "the life and soul of any party."

In a statement, the practice said: "He was a simple, humble, honest man with no extravagances in life and he was the life and soul of any party and great fun to be with.

"Yet he set an example for all of us with his drive and enthusiasm to achieve the highest standards.

"He touched thousands of lives with his kindness, generosity and sincerity, serving the local community in Newham."

Met officers read bedtime stories to children

In a bid to support parents through their daily routine and to keep consistency for children who are used to visits from the officers at school, Safer School Officers have recorded videos of themselves reading bedtime stories.

Their normal normal role is to regularly attend primary and secondary schools and build a rapport with both pupils and staff.

They cover a range of responsibilities from crime investigation to engaging with pupils and discussing topics such as online safety.

PC John Barry said: "Obviously since the government's restrictions came into place our level of interaction with them has dropped drastically.

"Parents and teachers have informed us that there is a certain level of nervousness around the current situation and the changes in routine has been unsettling for some of the pupils.

"I watched my own children gain pleasure from having their school teacher read them a bedtime story via social media and thought this could be something we could adopt easily," he said.

You can watch the officers read stories such as 'The Tiger Who Came to Tea' and 'Room on the Broom' on the Met's YouTube channel.

Three new raven chicks born at Tower of London

A year after the first raven chicks were born at the Tower of London for 30 years, another three have now arrived.

Like the four born last year, the young birds are the offspring of breeding pair Huginn and Muninn.

They were born in secrecy at the start of April and are now in temporary residence with the Tower's Ravenmaster, Yeoman Warder Chris Skaife.

The Tower usually has six ravens at any time and, according to legend, if they ever leave both the fortress and the kingdom will fall.

There are currently eight ravens living at the Tower meaning accommodation is full so the trio will be moved to stay with raven breeders elsewhere in the country.

The Tower's ravenmaster said he was "thrilled" by the new arrivals.

"We're pleased that the raven bloodline of the Tower of London seems secure for the foreseeable future, which can only be good news for the Kingdom," he said.

Poverty increases in London claims charity

Poverty remains higher in London than any other UK region, according to a leading charity in the capital.

About 28% of Londoners – some 2.5 million people – are living in poverty, compared to 22% across the UK, according to charityTrust for London.

Its chief executive Bharat Mehta says the data should now be seen as a "baseline" because "everything has changed with coronavirus".

He said: "Households from across the income spectrum are on the precipice – many will have fallen over by the time this crisis ends.

"More people will be unemployed, relying on the safety net of social security. More evictions, despite the government's promises, are highly likely."

Housing costs in particular are driving the problem: the lowest income Londoners spend more than half of their incomes on housing, compared to just over a third in the rest of England.

And 56,000 London households are currently in temporary accommodation, up 30% in the last five years.

Different boroughs face vastly different levels of poverty – in Tower Hamlets and Newham, more than 50% of children are growing up in poverty.

Other east London and inner city areas are also badly affected, including Hackney, Islington, Westminster, Lambeth and Camden.

More than 250 rough sleepers rehomed by Newham council

Local Democracy Reporting Service

An east London borough with one of the highest rates of homelessness in the UK has housed more than 250 rough sleepers in a month.

Newham council's rough sleeping team said it had found accommodation in 40 locations for 256 homeless people since the start of the coronavirus lockdown.

Some 160 people were new rough sleepers while a further 41 were moved from properties that did not meet clinical guidance, the council said.

Almost 500 households living in shared temporary accommodation at the start of the crisis, including 186 families, were moved into self-contained units in response to the pandemic.

Emergency hubs set up to deal with the pandemic have also handed out 5,500 parcels of food and essentials.

Mayor Rokhsana Fiaz said: "With no early end to lockdown in sight, the council has been doing everything it can to support our most vulnerable residents, extraordinary efforts have been made to find accommodation for rough sleepers, and residents in property deemed unsuitable for self-isolation."

Newham has one of the worst homelessness problem in the country. One in every 24 people in the borough are considered homeless, according research carried out by charity Shelter.

Union 'not surprised' by TfL's financial situation

Thomas Mackintosh

BBC London News

Two other trade union officials have reacted to the news of TfL's current financial situation - with one saying they are not surprised.

Unite's Simon McCartney said: "This situation has been on the cards for the last month and the news should act as a spur for the Government to provide a substantial financial package for TfL, not just in the short-term, but in the longer term.

"As the mayor indicates, it won't be business as normal once the lockdown restrictions are eased."

Adding to Mr McCartney's comments, Manuel Cortes - general secretary of the Transport Salaried Staffs Association - said TfL's decision was "responsible".

He said: "These are very challenging times for our transport networks, but it is absolutely the right thing to do to maintain social or physical distancing and for those who can stay at home to do so in our fight against coronavirus.

"We also welcome the introduction of better PPE, although this clearly needs to be kept under review.

"The importance of TfL to the successful running of London cannot be overstated.

"It is vital that adequate Government support is provided to ensure our key workers can get around."

Breaking

London's coronavirus death toll reaches 4,426

Thomas Mackintosh

BBC London News

A further 126 patients have died from coronavirus inside London hospitals, according to latest NHS figures.

It brings the total toll in the capital of deaths in hospitals linked to coronavirus to 4,426.

Twenty-five of the latest patients to die did so at the Lewisham and Greenwich NHS Trust - which runs two acute hospitals the Queen Elizabeth Hospital and University Hospital Lewisham.

A further 16 people died at the Royal Free NHS Trust making it one of two NHS Trusts in London which have recorded over 400 deaths - the other being London North West University NHS Trust.

In total 17 NHS Trusts in the capital are known to have recorded more than 100 deaths linked to Covid-19.

'Impossible to run full Tube service with staff not at work'

Thomas Mackintosh

BBC London News

Trade union Aslef, which represents around 2,450 London Underground drivers, has backed TfL's decision to furlough thousands of staff.

Aslef's regional organiser on the London Underground network, Finn Brennan, told BBC London: "Government ministers have repeatedly called for TfL to provide a full service on the tube.

"It is impossible to do that if thousands of staff are not at work.

"Although we recognise that TfL is doing the right thing by guaranteeing staff will receive 100% of salary, this demonstrates the urgent need for an agreement by central government to fund the shortfall in created by the dramatic lose in passenger revenue."