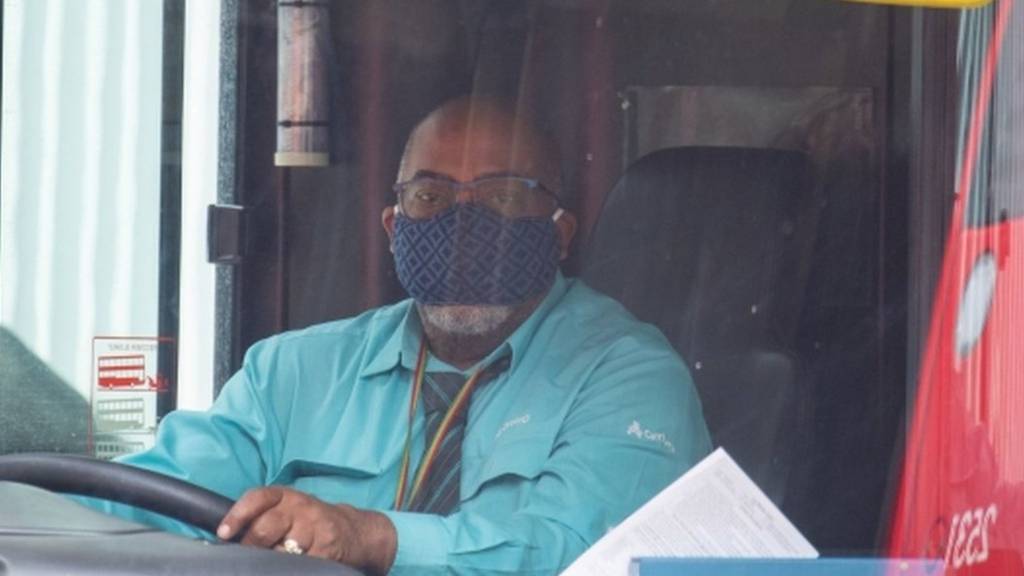 By Joe Tidy

Cyber-security reporter

That's all for our live page this week bringing you news and latest information about the coronavirus as it is affecting the lives of Londoners.

We'll be back at 08:00 on Monday. Have a good weekend.

Richmond council holds first virtual meeting

Local Democracy Reporting Service

Richmond council has held its first virtual meeting since the coronavirus outbreak.

The licensing sub-committee started 30 minutes later than originally planned due to some technical difficulties.

Copyright: Kingston Council

It allowed councillors, democratic services, the applicants and members of the public who wished to object to the license to take part via conference software.

Other members of the public and the press were allowed to watch the meeting via a live webcast on the council's website.

This prevented members of the public who were not scheduled to speak at the meeting from causing any problems, as happened at South Somerset District Council last week, where trolls logged into the council's Zoom meeting and played adult content in the background.

Wandsworth council, which shares a staffing arrangement with Richmond, will also be using Richmond's webcasting service to broadcast some virtual meetings from next week.

Lewisham Council warns it could close its parks

Local Democracy Reporting Service

Lewisham Council has warned its parks could close if residents do not follow the government's social distancing guidelines.

The borough has 45 parks and open spaces which the council describes as "a lifeline for families and those who do not have access to a garden or outdoor space".

According to the Lewisham Council, the "overwhelming majority" of residents followed the guidance over the bank holiday weekend in a bid to stop the spread of coronavirus.

Cllr Sophie McGeevor, cabinet member for environment and transport, thanked residents and urged them to continue social distancing to avoid further restrictions.

She said: "We're lucky to have so many green spaces in our borough, and for many of our families, particularly those without access to gardens, they're an absolute lifeline.

"That is why it's vital that we follow Government guidance on social distancing so that our parks can stay open.

"Our parks staff are here to make sure everyone is safe, so please give them the respect they deserve.

"We're living in unprecedented times and unless people follow Government guidance, there could be further restrictions on movement and that means our parks could close."

Richmond care home residents 'experiencing symptoms'

Local Democracy Reporting Service

More than 40 residents in care homes across Richmond are experiencing symptoms of coronavirus, the council has said.

In an update from Richmond Council it revealed that as of last week it is aware of at least 43 residents to be experiencing Covid-19 symptoms from across the borough's 48 care homes.

"Currently we have 1,400 residential and nursing care places in the borough," a Richmond Council spokesperson said.

"We are working closely with all 21 care home providers who have been valued and key partners throughout to make sure we support them to deliver the services we need for our residents.

"Personal protective equipment remains a challenge nationally, but we are doing all we can to support our providers so they have the equipment that they require.

"We will continue to monitor the situation carefully."

According to Public Health Data, Richmond-upon-Thames has one of the lowest confirmed amount of coronavirus cases in London (297).

Sunak extends furlough scheme for firms hit by virus

Thomas Mackintosh

BBC London News

The Chancellor has given a month-long extension to the government's furlough scheme for companies hurt by the coronavirus.

Rishi Sunak said. "It is the right decision to extend the furlough scheme for a month to the end of June to provide clarity,

He added: "It is vital for people's livelihoods that the UK economy gets up and running again when it is safe to do so, and I will continue to review the scheme so it is supporting our recovery."

The scheme, which allows firms to furlough employees with the government paying cash grants of 80 per cent of their wages up to a maximum of £2,500, was originally open for three months and backdated from the 1 March to the end of May.

Further 145 coronavirus deaths announced in London

Thomas Mackintosh

BBC London News

A further 145 patients in London have died in hospitals from coronavirus, according to latest statistics released NHS England.

It brings London's coronavirus death toll in hospitals across the capital to 3,522.

Among the latest include 17 people have died Barking, Havering and Redbridge University Hospitals NHS Trust which runs King George Hospital in Goodmayes and Queen's Hospital in Romford.

Fourteen patients have also died after testing positive for Covid-19 at the London North West University Trust bringing its cumulative total to 364 - the highest in the capital.

A total of 16 NHS Trusts in London have seen over 100 deaths linked to coronavirus.

West London NHS trust boosts intensive care capacity

Local Democracy Reporting Service

The number of beds for the sickest patients needing critical care or ventilators is being increased at three west London hospitals as part of the response to the coronavirus pandemic.

Imperial College NHS Trust has already more than doubled its usual capacity of 68 critical care beds and ventilators to 143.

It now plans to "increase our capacity rapidly by up to another 157 beds" at its three main hospitals at Hammersmith, Charing Cross, in Fulham (pictured), and St Mary's, in Paddington.

More than 200 patients with coronavirus have died at the trust's hospitals over the last month, since the pandemic intensified.

Tributes paid to Ilford radiology support worker

Thomas Mackintosh

BBC London News

The death of a health worker in Ilford who "touched so many people's hearts with his personality" is suspected to have been due to coronavirus.

Amrik Bamotra, a radiology support worker at the King George Hospital in Ilford, died aged 63, Barking, Havering and Redbridge University Hospitals NHS Trust (BHRUT) confirmed.

Mr Bamotra, known to colleagues as "Bob", was said to have treated everyone "like his own family", and leaves a wife, daughter and son.

Several of his relatives, including his wife and son, also work for for the trust.

His family shared a message in his memory which said: "Dad was one of those people that, if he saw you in the corridor at work, he would stop and make sure he had a chat with you.

"He was always positive about everything he did. He was a loving husband, father, grandfather, and loved and cared for all his family and friends.

"There's not a time when we can say he wouldn't go that extra mile to do something for anyone to make sure they were happy.

"He had always been a hard worker. He had touched so many people's hearts with his personality, which has been shown to us through messages we have received.

"On that note, we would just like to say thank you to all our family and friends for their love and support through this difficult time."

Minute's silence held for transport staff killed by virus

A minute's silence has been held to pay tribute to the London bus workers who have lost their lives to coronavirus.

Twenty-six transport staff in London have died after contracting Covid-19.

Organised by trade union Unite, the silence took place at 11.00.

Unite regional secretary for London, Pete Kavanagh, said: "Unite pays tribute to those bus workers who have died during the coronavirus pandemic and our thoughts are with their loved ones at this incredibly painful time."

Mayor's 'concern' over Met breaking social distancing rules

The Mayor of London has called for an explanation after videos showing a large gathering of Met Police officers, including its chief, Cressida Dick, taking part in a large-scale event to applaud NHS staff last night..

A video posted by a London doctor on social media clearly shows many members of the public and the police not observing social distancing rules on Westminster Bridge.

The force's HQ is a stone's throw away from the bridge but a Met spokeswoman denied last night's appreciation was a planned event.

Speaking to LBC, London's mayor Sadiq Khan said he had seen the videos adding, "I'm equally concerned that the social distancing rules don't seem to have been observed."

He added it was "not unreasonable" that the public were querying how this could happen.

"I suspect and I have no confirmation that the Met and London Ambulance Service will be asking these kind of questions in relation to this.

"The police have a difficult job to make sure the rules are observed and I think they will both be asking questions," Mr Khan added.

The now weekly UK wide event sees member of the public clap in unison to show support for the NHS and all key workers.

Prof Anthony Costello of UCL's Institute for Global Health also warns that the UK will "face further waves" of coronavirus cases.

Coronavirus cases in London just shy of 20,000

Thomas Mackintosh

BBC London News

The amount of confirmed cases of coronavirus in London has risen to nearly 20,000, according to official government data.

Barnet and Southwark are the two latest areas to reach a milestone of more than 1,000 confirmed cases of coronavirus.

According to data released by Public Health England both boroughs have recorded 1,001 cases as of yesterday morning.

Only Brent (1,086) and Croydon (1,050) have more confirmed Covid-19 infections in London.

Across the whole of London there are currently 19,511 known infections of coronavirus.

Croydon volunteers help lockdown homes without internet

Local Democracy Reporting Service

Volunteers in Croydon are making sure that those without internet access will not be overlooked in the coronavirus pandemic with a dedicated phone line.

The Croydon Covid-19 Mutual Aid (CCMA) group has 3,500 members and 70 local groups spanning the borough from Kenley to Norbury.

A phone helpline has now been set up which will be open from 08:00 to 20:00 daily.

Ben Taylor from CCMA said: "But many people can't or don't use the internet and so may find it hard to reach out.

"With this helpline we'll be able to help link these up with people in their own community so they can get the support they need.

"Where their need is sensitive or complex we can sign post them up to the correct agencies such as Croydon Voluntary Action."

The mutual aid group was set up last month and gained thousands of members in just a few weeks.

Local people have so far stepped up to collect shopping or urgent medical supplies and have phone chats with people self-isolating and even redistributed hoarded toilet rolls.

The helpline number is: 020 3322 8379.

Police respond to 'clapping crowd' on Westminster Bridge

London's Metropolitan Police says officers are reminded regularly of "the importance of social distancing" after some appeared not to follow the government guidance during a clap for carers on Westminster Bridge.

People in the UK have been applauding at 20:00 each Thursday to show their appreciation for the country's key workers during lockdown.

But videos on social media show members of the public and officers standing close together while taking part on Westminster Bridge.

"Officers, along with other emergency service workers, came together last night on Westminster Bridge to celebrate the work of all key workers," a Met spokesperson said.

"A large number of members of the public also gathered to express their gratitude.

"While many people adhered to social distancing guidance, it appears that some did not.

"We regularly remind our officers of the importance of social distancing where practical, and will continue do so."

'There will be more waves of coronavirus'

Thomas Mackintosh

BBC London News

An academic at the University College London (UCL) has warned that the UK is "going to face further waves" of the coronavirus.

Prof Anthony Costello, of UCL's Institute for Global Health, said: "If we're going to suppress the chain of transmission of this virus in the next stage we all hope that the national lockdown and social distancing will bring about a large suppression of the epidemic so far - but we're going to face further waves.

"And so we need to make sure that we have a system in place that cannot just do a certain number of tests in the laboratory, but has a system at district and community level."

He added that "the harsh reality" is that "we were too slow with a number of things" which may have led the UK to have "probably the highest death rates in Europe".

But Prof Costello said we "should not have any blame at this stage".

"We can make sure in the second wave we're not too slow," he said.

Breaking

London-only lockdown considered at start of epidemic

The Health Secretary has told the health select committee that the government had considered a "London-specific lockdown" before implementing the measures nationwide.

Copyright: Mariam Issimdar

"We did consider having a London-specific lockdown, and decided that it was better to do it across the country as a whole," Matt Hancock said.

"And that's for two reasons. The first is that if you put a lockdown in one part of the country, then there's still travel from there to the rest of the country, so it isn't as easy as that.

"And the second reason is that actually one of the really strong things that's come through this crisis is that the country is acting in lockstep."

He said that the country had "come together" in response to the social distancing measures.

"To separate off one part of the country from the rest actually has downsides in terms of the national unity that we've seen in support for the overall response," he added.