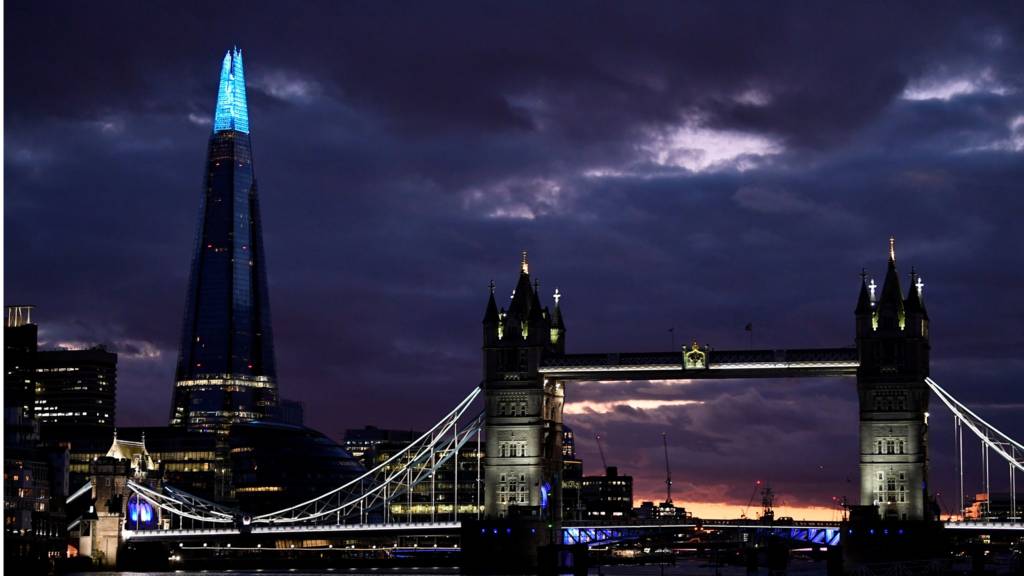 That's all for today's live page on how the coronavirus pandemic is affecting Londoners.

You can follow the very latest news and information at BBC News all this weekend.

Have a good weekend.

Schools donate 1,000 pieces of PPE to NHS

Local Democracy Reporting Service

Thousands of pieces of personal protective equipment (PPE) have been donated to local hospitals in Redbridge and Waltham Forest.

Every secondary school in Waltham Forest has donated to Whipps Cross Hospital, according to one head teacher.

Woodbridge High School in Woodford alone donated 360 pairs of goggles to Barking, Havering and Redbridge University Hospitals NHS Trust.

NHS staff are facing shortages of vital personal protective equipment, such as masks, gloves and aprons, to prevent them catching and spreading Covid-19.

On 31 March, the headteacher of Kelmscott School in Walthamstow, Sam Jones, said: "Over 1k more goggles gratefully received by @WhippsCrossHosp today. "Donations from every secondary school in the borough. An astounding team effort."

Medical physicist Adam Gibson added: "Stunning to see how Waltham Forest schools are pulling together to help the local hospital out."

Waltham Forest Council had previously called on local businesses, such as butchers and nail salons, to donate any spare equipment they could.

Coronavirus: Looking after your mental health

Londoners should set a good working day routine to tackle insomnia and depression while in lockdown, a mental health charity has said.

"We know that coronavirus is causing worry and stress for many people", Stephen Buckley, Head of Information at Mind, said.

"Some people may find being asked to stay at home and avoid others stressful or difficult. Making sure to maintain your wellbeing during this time can help you cope.

"Try and set up a routine that you can follow, knowing what you'll be doing each day can help, especially if you've been asked to stay away from school, college or work.

"Having things to get up for, and knowing what will happen when, may help you feel more in control.

"Sleep is very important, especially if you have been feeling worried. Try to establish a regular sleeping pattern by going to bed and waking up at roughly the same time every day. Go to bed only when you feel tired enough to sleep. Then get up at your usual time.

"If you are finding it difficult to get to sleep, try to set up a relaxation routine. Do something calming – such as listening to relaxing music, reading or having a bath. You may also want to try breathing exercises or relaxation techniques like mindfulness, which many people find helpful."

Market donates 40 tons of fruit and vegetables

Copyright: City of London Corporation

More than 40 tons of fruit and vegetables have been donated by traders at London's New Spitalfields Market to help food banks and vulnerable people during the coronavirus pandemic.

The market, which has been operating under Royal Charter since 1682 and is currently based in Leyton, is considered the UK's premier horticultural market, offering the greatest choice of exotic fruit and vegetables of any market in Europe.

Donations from it were sent to Acton charity City Harvest which redistributes food to organisations across the city.

Products have also also being provided at cost price to campaigns like Fuel our Front Line, which aims to provide food packages to NHS frontline and support staff.

Empty London: In pictures

Friday afternoons in central London are normally full of workers and shoppers bustling around the streets getting ready for evening drinks with colleagues or heading home early for the weekend.

But these are not normal times and central London's streets look more reminiscent of scenes from a dystopian or post-apocalyptic movie.

BBC London's Rebecca Williams took these images this afternoon while out for a brief walk.

Copyright: Rebecca Williams

Image caption: Piccadilly Circus

Copyright: Rebecca Williams

Image caption: Chinatown

Copyright: Rebecca Williams

Image caption: Leicester Square

Copyright: Rebecca Williams

Image caption: Paddington Bear statue in Leicester Square

Demand 'growing' for financial help in Bayswater

Local Democracy Reporting Service

The organiser of a community support group has said she's concerned about the growing demand for support as the economic impact of coronavirus bites.

Nicola Spurr is helping to organise an army of 400 volunteers who make up the Bayswater Mutual Aid group helping their community just two miles from Charing Cross.

She said local food banks have suffered as people haven't been able to get out and about to donate goods due to the outbreak of the pandemic.

"Two weeks in, there is a growing need as people run out of food and money," she said, adding that "there are lots of pensioners and lots of pockets of deprivation and huge housing estates."

Her team has been leafleting estates as they are concerned about reaching residents who are not online to help prevent people falling through the cracks.

Ms Spurr said: "It does not feel very co-ordinated, it feels very disparate the things that are happening."

The Mutual Aid group raised £200 from volunteers initially and used it to give out £10 Tesco shopping vouchers.

And it has now had a grant from the Paddington Development Trust to pay for food parcels.

"In two-and-a-half weeks we have done a remarkable thing, we have links with councillors and the One Westminster charity and St Mary's hospital through their charitable arm and links with Waitrose who have provided some food," said Ms Spurr.

The council said it was "setting up a system to connect volunteers to those who need help." It has published an online map of community and charity support along with pharmacies and supermarkets.

Bridge Park leisure centre transformed into a emergency food hub

Bridge Park Community Leisure Centre, Brent, has been transformed into an operational Hub, delivering supplies to the most vulnerable.

The first 100 doorstep deliveries of food and essential supplies have been made to those most at risk from Covid-19 and who are self-isolating, the council said.

A further 50 deliveries are expected to be made over the next 24 hours.

A Brent Council spokesman said: "Drawn from across the Council, the team have worked tirelessly to set up stations in the sports hall for picking and packing boxes of essentials, including pasta, cereal, fruit, tea bags and toilet rolls. Stations are set up so that social distancing can be observed at all times.

"Working in partnership with the Brent Food Aid Network, the Hub's operations will soon be expanded to cover those who need additional support with food and other essential items such as sanitary towels, nappies and toothbrushes."

Watch: Prince Charles opens NHS Nightingale from afar

Prince Charles spoke of his gratitude as the first UK emergency field hospital to treat coronavirus patients opened, in east London's converted ExCel centre.

The temporary NHS Nightingale Hospital is able to hold as many as 4,000 patients.

He paid tribute to staff as he opened the facility via video link.

'People can feel isolated if they have additional needs'

Claire Harris is an assistant at a library in Mottingham, south east London.

She is providing speech and language sessions online for children who don't have access to them throughout the coronavirus pandemic.

Video by Gem O'Reilly

Community spirit is inspiring - mayor of London

The Mayor of London, Sadiq Khan, is inviting Londoners "to shine a light on the inspiring examples of courage, kindness and generosity being shown amidst the coronavirus crisis."

Whether delivering supplies to vulnerable neighbours, checking in on those self-isolating or signing up as volunteers to support the NHS, Londoners' community spirit is a beacon of light during these challenging times, the mayor said.

"We are in the grip of a major public health crisis, with all Londoners forced to make substantial changes to their day-to-day lives to help support the NHS and save others", he added.

"But one aspect of life that never changes is the remarkable way Londoners pull together in a time of crisis. From city-wide applause for carers and the NHS, to those delivering food parcels to neighbours, to the millions saving lives by staying home, Londoners are showing why this city is the best in the world.

"When times are rough we see the very best of our city, and these extraordinary acts of charity and empathy show that our sense of community is not confined by walls.

"These acts of kindness can make a big difference, and if we stay home, look after one another and follow the advice of the experts, we will beat this virus in London, together."

A&E doctor believes it is 'inevitable' he will get virus

Coronavirus will transform UK work and travel, says AA

The aftermath of the Covid-19 crisis will transform the way we live, work and travel in the UK, the AA says.

It predicts a permanent reduction in the demand for travel because people have learned during the crisis to use home-working technology.

The implications are profound for commuters and for government finances.

The chancellor currently plans to spend £27bn to curb congestion on roads and £100bn on HS2 – but if demand falls, that may not be needed.

Heathrow Airport to operate with only one runway

Heathrow will close one of its runways next week as air traffic continues to fall globally amid the coronavirus pandemic.

The west London hub will operate its landings and takeoffs from one strip from Monday to "increase resilience and safety for staff, passengers and cargo" throughout the Covid-19 outbreak.

The airport has two runways and will alternate which one they keep open on a weekly basis, a spokesman said.

They added: "Although we are seeing significantly fewer flights at the moment, Heathrow will remain open so that we can continue to play a crucial role in helping to secure vital medical goods and food for the nation during this unprecedented epidemic."

In 2018, Heathrow served 80.1 million passengers, according to their website.

By Paul Lynch and Anna Khoo

BBC Shared Data Unit

Car park closed after distancing rules flouted

Local Democracy Reporting Service

Harrow Council was forced to shut a car park after people continued to flout government rules around social distancing.

It took the decision to close Old Redding Viewpoint car park after people were seen "gathering in groups" and behaving anti-socially.

It explained that some had been driving over grass while others were clearly going against government guidelines that are in place to try and stop the spread of coronavirus.

"Sorry we've had to do this – been happening too many times. We will review again but in the current emergency crisis and to reduce the spread of virus it will remain closed," the council tweeted.

It noted that the area will remain open for residents to use as part of a daily exercise routine and reminded people to obey social distancing guidelines.