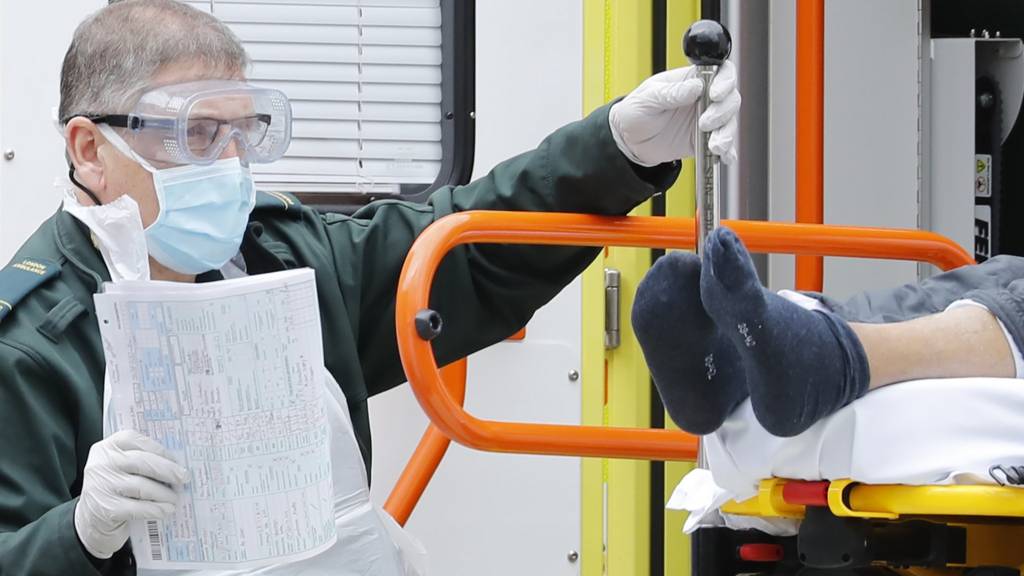 By The Visual and Data Journalism Teams

BBC News

That's it for today but we'll be back at 08:00 on Thursday with all the latest news, information and advice on how London is being affected by the coronavirus pandemic.

Have a good evening.

British backpackers in India on way home but 'sad' to leave

Three British backpackers have managed to get a place on one of the few commercial flights leaving India.

Image caption: Danny (left) Will Stammers (centre) Joseph Hunt (right)

The country went into lockdown on 23 March including grounding most flights and stopping all travel, to try and curtail its coronavirus epidemic.

Graduate Joseph Hunt, 21, from Putney, west London, Will Stammers, 20, from Snetterton, Norfolk and Danny from Attleborough, Norfolk arrived in India at the beginning of March.

They along with 30 other travellers have been staying at the Moustach Hostel, in Pushkar.

Mr Stammers said he had been in a hotel at first but was forced to leave by police who said foreigners "had to go".

He added they were extremely sad to be leaving India, and that they had been very well taken care of by the hostel staff, with regular meals of dhal daily.

"We had a meeting last night and they were going to shut the hostel. So we all got into a bit of a panic and bought the flight," Stammers said.

Mr Hunt said they had not heard from the British Embassy unlike German and Isreali travellers whose embassies had organised flights for their nationals soon after India declared a lockdown.

The London graduate said both his parents have been diagnosed with Covid-19 and that he was concerned what he will face on his return home.

The travellers, who were not allowed to leave the hostel during their stay, kept their spirits up by playing football on the building's roof top.

They each paid £450 for a Finn air flight which they will board on Thursday morning.

Police stopping unauthorised cyclists in Richmond Park

Unauthorised cyclists are still being stopped in Richmond Park, five days after bikes were banned from the area to help ensure social distancing.

Dozens of cyclists, some travelling across London to come to the park, had been stopped the Met Police said.

NHS workers can continue to cycle though the park if they show their staff pass.

Pedestrians are allowed in the park. The Royal Parks is appealing to all visitors to remain at least two metres apart from each other within the park.

Police have the power to enforce social distancing rules, which ban leaving the place where you live "without reasonable excuse" and being in a public gathering of more than two people

If someone refuses to follow the regulations - for instance a request to go home - officers can give them an on-the-spot fine of £60, reduced to £30 if paid within 14 days. If they keep breaking the law, more fines can be given - up to a maximum of £960.

By Michelle Roberts

Health editor, BBC News online

Firefighters to drive ambulances to help virus response

Some 300 London Fire Brigade (LFB) staff are to join up with London's ambulance crews to boost emergency responses during the coronavirus pandemic, it has been announced.

Under the agreement between the Brigade and London Ambulance Service (LAS), firefighters will assist paramedics through tasks such as driving ambulances to emergency situations.

LAS's Chief Executive Garrett Emmerson said the service were "already dealing with unprecedented levels of demand as a result of Covid-19 – more than 11,000 people are calling 999 for an ambulance every day – and we know the peak of the pandemic is still to come.

"As part of our preparations we must reach out to all our partners to help boost our response so we can continue to treat every patient who needs us during this difficult time."

Andy Roe, LFB's commissioner, said "hundreds of firefighters" had already "stepped forward to volunteer" to support ambulance crews.

UEL offers beds to Nightingale hospital workers

Workers at the NHS Nightingale Hospital London will be offered free accommodation at vacant university students halls in east London.

The University of East London (UEL) will make accommodation available to the NHS throughout April at its Royal Docks Campus, which is less than two miles from the newly created hospital.

The university said staff and students are already volunteering at NHS Nightingale, including nursing, physiotherapy and technician teams.

UEL President Professor Amanda Broderick said: "With our Royal Docks Campus located so close to NHS Nightingale we know that the University of East London has an important and central role to play in supporting the NHS, the government and the public during the unprecedented challenges coronavirus is setting us."

The new hospital, built at the ExCel centre in Newham, is expected to house 4,000 - 5,000 beds to help with the demand on the NHS when it opens later this week.

By Michelle Roberts

Health editor, BBC News online

Food bank opens in Square Mile

Local Democracy Reporting Service

The City is the latest area to set up a food bank in London.

Local resident Liz King is running the facility with help from Age UK.

"I had never had anything to do with food banks besides giving tins when I go shopping and now in less than a week coming together in the Barbican and the whole community is amazing," she said.

She added: "We don't know what the demand is going to be."

Some 8,000 people live in the Square Mile in private flats and the Corporation's own council flats and many people, including freelancers, face financial worries in these tough times.

The new food bank is operating across the City, including the Barbican, Golden Lane estate, Portsoken ward near the borders with Tower Hamlets including Middlesex Street and the Mansell Street estate which has 194 homes.

Donations collected since Friday are put into quarantine for 72 hours before they are given to people who need them.

Food and other essential items are collected from a drop-off point in the Barbican between 10:00 and 11:00 on Mondays, Wednesdays and Fridays.

By Andy Verity

BBC Economics correspondent

Paramedics have enough safety equipment - LAS

The chief executive of London Ambulance Service has said paramedics do have enough safety equipment.

Garrett Emmerson said: "We have enough equipment and the challenge has been to make sure we stay in that position and that we can get supplies and we keep supplies not only arriving here for us to use, but also to distribute out across our ambulance stations and get them on to ambulances."

He added: "It's another part of the logistical challenge to make sure we can keep all of the equipment, not only PPE but medical equipment and our vehicles on the road."

Sadiq Khan: 'Banks have got to step up'

Mayor of London Sadiq Khan earlier told BBC Radio 5 Live that "banks have got to step up" to help small and medium-sized businesses survive during the coronavirus pandemic.

Research published today suggests that nearly a fifth of all small and medium-sized businesses in the UK are unlikely to get the cash they need to survive the next four weeks, in spite of unprecedented government support.