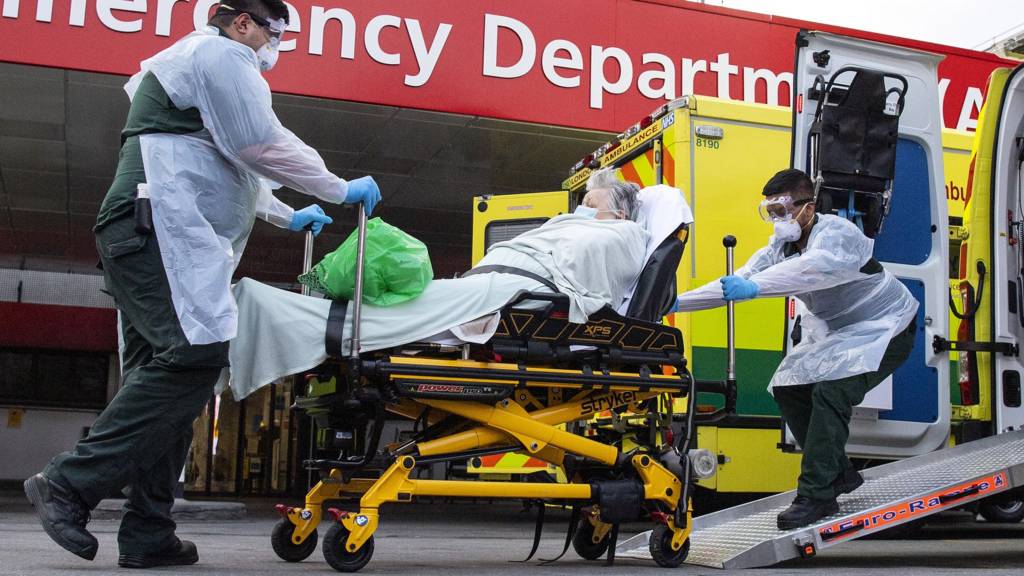 That's it for our live page today on how London is being affected by the coronavirus pandemic.

We'll be back tomorrow at 0800 with all the latest news, information and advice and analysis.

For the very latest developments nationally, keep up to date with BBC News

Hundreds of retired Met officers to return to help with virus

Over 200 retired Met Police officers have come forward to help London cope with the Coronavirus outbreak, following Commissioner Cressida Dick's call last week.

Retired officers were asked to return to the force as it tries to cope with the coronavirus outbreak in London.

Former PCs and sergeants who left in the past five years are to be offered work in a paid or voluntary capacity.

The Met said 250 officers had come forward in recent days.

"I hope we'll get more and I'm looking forward to welcoming them back to assist us in what will no doubt be a very challenging time for all of us," Ms Dick said.

"These are very skilled people, they joined the job to help, they retired with a wealth of knowledge and we will try to put them back in the areas where they will be able to contribute most."

She added that the Met remains in a good position to respond to the challenges posed in the current climate.

"At the moment we have a very, very resilient service. I'm proud of what the guys and girls are doing, they're getting on with it and we're able to do all the work we need to do," she said.

"We are utterly determined to continue throughout the next weeks and months to provide an excellent service to London. We are here. We will continue to deal with violent crime and all the other things that concern Londoners, and we will do our best to keep our public safe."

Children's hospice faces income shortfall

A hospice charity has said that it faces an income shortfall of more than £2 million this year, more than half its projected income, due to the impact of coronavirus.

Noah's Ark Children's Hospice, which supports seriously unwell children and their families in north and central London and Hertsmere, said that fundraising events have had to be cancelled.

Sophie Andrews OBE, chief executive officer of Noah's Ark, said: "We're concerned about how we're going to support these children through coronavirus and beyond.

"Our community has been a bastion of generosity in the past and we're once again calling on them to rally around for their local children's hospice."

Prop designer donates visors to St Bartholomew's Hospital

AA mechanics help double London's ambulance fleet

Karl Mercer

Political reporter, BBC London

With coronavirus calls expected to surge in the next week in the capital the London Ambulance Service (LAS) is expecting to double the amount of trucks on the road.

It follows an appeal by the AA which asked for mechanics to volunteer their time to help repair ambulances.

"We put out this call to help the London Ambulance Service and we had loads of volunteers rushing to be part of it," the AA's Edmund King told BBC London.

Forty-one people have signed up to volunteer which the London Ambulance Service say will increase the amount of trucks on the road to more than 600.

Croydon homeless charity 'saved' by Covid-19 volunteers

Local Democracy Reporting Service

A charity providing meals for the homeless was on the brink of closing, but was saved by volunteers wanting to help amid the Coronavirus outbreak.

In just a few weeks more than 3,000 people in Croydon have signed up to help their vulnerable neighbours.

The volunteers are organised locally into more than 60 Whats App and Facebook groups from Thornton Heath to Waddon and Addiscombe to Purley.

The groups gained traction through social media as well as with the help of 50,000 flyers donated by creative hub Matthew's Yard, which were distributed by volunteers.

Good deeds from neighbours have included collecting shopping for people self-isolating and picking up medical supplies.

The volunteering group, named Croydon Covid-19 Mutual Aid (CCMA) managed to connect a soup kitchen on the brink of closure with local food producer, Eat with Tom Mathews.

The network has also helped find young, healthy volunteers for charities including Croydon Nightwatch to step in when older volunteers had to self-isolate.

CCMA member Ben Taylor said: "Seeing so many people come together in such a short time has been truly inspiring."

Cllr Hamida Ali, said: "Croydon has a burgeoning voluntary and community sector and the development of Croydon Covid-19 Mutual Aid and its 29 associated mutual aid groups is just one more example and testament to the strength of community spirit here in Croydon."

Battersea rehomes 150 pets amid Coronavirus crisis

More than 150 Battersea dogs and cats found new homes last week amid this unprecedented health crisis.

Battersea Cats and Dogs Home staff rehomed more than double the figures for the same week in 2019.

Between 16 - 22 March, 86 dogs and 69 cats left Battersea for a new life with their owners. During the same week last year, 42 dogs and 29 cats found new homes.

The centre has since stop accepting rescue animals due to the coronavirus outbreak.

Battersea's Head of Operations, Rob Young, said: "We want to thank all these new owners for thinking of rescue pets at such a challenging time.

"All three of our Battersea centres are now closed to the public, but many of our animals are now in loving homes or out on temporary foster with our staff and volunteers.

"Battersea are still caring for around 100 animals at our three centres and working hard to ensure each and every dog and cat continues to get the treatment, care, love, play and interaction they need."

By Leo Kelion

Technology desk editor

By Ian Westbrook

BBC Business reporter

Spurs put 550 non-playing staff on furlough and cut wages

Thomas Mackintosh

BBC London News

Tottenham Hotspur chairman Daniel Levy has announced that everyone employed by the club in a non-playing capacity will lose 20% of their pay.

Spurs have also placed 550 non-playing staff on furlough as part of measures to "protect jobs" amid the coronavirus crisis.

In a statement Levy said: "The club's operations have effectively ceased, some of our fans will have lost their jobs and most will be worried about their future.

"Our sponsors will be concerned about their businesses and our media partners have no certainty when we may play games again or whether we will be allowed to play in front of our fans.

"In the meantime, the club has an annual cost base running into hundreds of millions of pounds.

"Yesterday, having already taken steps to reduce costs, we ourselves made the difficult decision – in order to protect jobs – to reduce the remuneration of all 550 non-playing directors and employees for April and May by 20 per cent utilising, where appropriate, the government's furlough scheme.

"We shall continue to review this position."

By Michelle Roberts

Health editor, BBC News online

London DV helpline reached 'all time high' before lockdown

A London domestic abuse helpline hit an all-time high in the days leading up to the current restrictions.

Solace Women's Aid, which helps vulnerable women throughout London, said it had been inundated with calls before the lockdown, but the number of callers have since "fallen dramatically as abusers have been more able to monitor a household's movements."

The Met Police said it had not yet seen an increase in domestic violence call-outs, but promised to continue to prioritise responding to domestic abuse calls.

Activists say abuse has already increased elsewhere in the world.

Fiona Dwyer, CEO of Solace Women's Aid said: "We are going to see in the UK, all of the women who are currently trapped with abusive partners, once they are allowed out and to leave relationships, we will see a spike in demand for help."

On social media, Home Secretary Priti Patel said: "I fully understand that for victims of abuse, home is not the safe haven it should be.

"During this challenging time, my message to you is simple - we have not forgotten you and we will not let you down."

An estimated 1.6 million women and 786,000 men experienced domestic abuse in England and Wales in the year ending March 2019, according to the Office for National Statistics.

And in 2018,173 people were killed in domestic violence-related homicides, according to data obtained by the BBC from 43 police forces across the UK.

MP calls for leaders to coordinate approach on Covid-19

The MP for Tottenham is calling for world leaders to come up with a global solution to tackling the Covid-19 crisis.

Speaking to the BBC David Lammy added: "The Covid-19 pandemic is by its nature a global crisis. As is clear from the previous epidemics as well as the global financial crisis which culminated in 2008, global crises require global solutions.

"By now, the G7 or G20 should have spearheaded a global response by sharing information and strategy on public health policy; coordinating economic responses; and providing assistance to developing nations to contain the virus' spread.

"Unfortunately, populist nationalism has been in the ascendance over the past decade. From the United States, to Brazil and the United Kingdom, nationalist leaders have been reluctant to lead a global response."

Coronavirus caused 4% of all London deaths

Sam Francis

BBC News, London

Coronavirus was linked to 4% of all deaths in London, four times more than the national average, according to new figures.

London recorded 44 deaths in the week ending March 20 where Covid-19 was mentioned on the death certificate, figures from the Office for National Statistics reveal.

What's different about the data is it looks at community deaths – people who died at home or in residential care who doctors recorded on the death certificate as probably having Covid-19.

By contrast, official numbers from the Department for Health and Social Care have so far only included deaths inside hospitals, though this is changing from Tuesday.

As of Monday there have been 22,141 confirmed cases of Covid-19 in the UK and 1,408 deaths according to Public Health England.

Southwark cemeteries to be restricted to mourners only

Local Democracy Reporting Service

Cemeteries in Southwark are closed to everyone except mourners attending funerals until further notice.

A spokesperson for Southwark Council said: "In line with government legislation during this emergency period, we will tonight be closing all of our cemeteries and our crematorium grounds, to all but those attending funerals."

The closures came into effect last night.

"This will help make the area safer for grieving family and friends, at an incredibly difficult time," Southwark Council said.

Nunhead Cemetery, Camberwell Old Cemetery, and Camberwell New Cemetery will all be affected by the new rules.

Southwark has the highest recorded level of confirmed Covid-19 cases in London and the fourth highest in the country.

The latest figures show there are 368 confirmed cases in Southwark, the fourth highest in the country after Sheffield, Hampshire and Birmingham.

Met police find Gin-ventive hand sanitiser suppliers

Gin distilleries and breweries are to begin supplying the Met police with hand sanitiser.

Portobello Road Gin in Notting Hill, 58 Gin Ltd in Haggerston and Copper Rivet Distillery in Chatham have all agreed contracts to ensure the Met's supply of hand sanitiser doesn't dry up.

Budweiser Brewing Group UK&I, has also agreed to donate 6,000 litres to the country's largest police force.

The outbreak of COVID-19 in the UK has led to an increased demand across the country for hygiene products such as hand sanitiser.

Hand sanitiser is a crucial item for officers and staff in the Met especially those on the frontline who are patrolling the streets of London, dealing with prisoners in custody and attending crime scenes.

All potential suppliers are producing and selling the hand sanitisers using the formulation provided by the World Health Organisation (WHO), allowing the product to be made in a timely manner.

The Met Police's Director of Commercial Services, Mark Roberts, said: "I am extremely grateful to all of the suppliers who have agreed to work with us and provide us with this vital commodity, which will help prevent the spread of COVID-19 and ultimately save lives."

By Neil Smith

Entertainment & arts reporter

Wembley IKEA turns into coronavirus test centre

Thomas Mackintosh

BBC London News

A coronavirus test centre for NHS workers has opened at Ikea's store in Wembley.

The firm has offered the store as an additional medical facility and said it has also been donating food to local hospials, food banks and homeless shelters.

"We're enormously proud of the NHS and proud to be able to offer Wembley as an additional medical facility," an IKEA spokesman said.

"We have also responded to requests from intensive care units and doctors across the country by delivering tens of thousands of our disposable paper tape measures, to help them continue their amazing care for their patients."