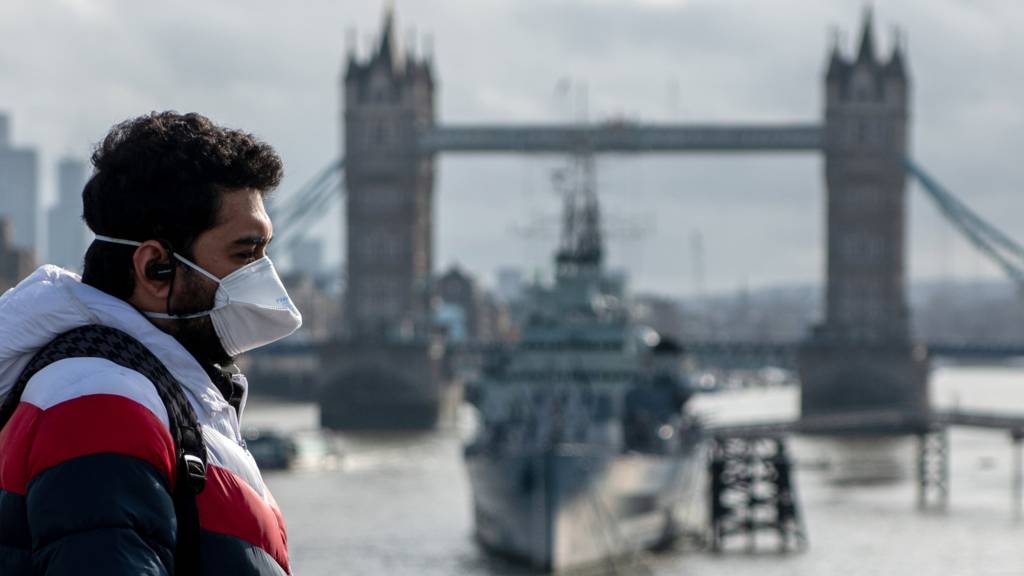 By Rachel Schraer

Health reporter

Claire Timms

BBC London News

We're ending our special coronavirus coverage for London for the day but we'll be back tomorrow from 08:00 with all the latest news, information and analysis.

In the meantime, do watch BBC London News at 1830 on BBC One and you can follow more updates on the BBC England coronavirus live page

Council to stop roadworks during pandemic

Local Democracy Reporting Service

Waltham Forest aims to shut down all roadworks tomorrow due to the coronavirus pandemic.

Residents had previously criticised the council for continuing to allow construction workers to work on road improvement schemes, including the "Mini-Holland".

Work will continue in order to secure the sites and make them safe for residents before stopping until further notice.

Workers will still be allowed to do "essential reactive maintenance" such as telecoms, electric, gas or water works, according to a council statement.

London university provides corona testing equipment

The University of Westminster's School of Life Sciences has transferred some of its equipment to the Government's new COVID-19 testing unit in Milton Keynes.

Head of the School of Life Sciences, Professor Brendon Noble, said: "Testing individuals is absolutely crucial to our ability to slow the spread.

"When we don't know if we have the virus, we don't know how to change our behaviour, and this is so important.

"Healthcare and key workers are currently being sent home if they show any symptoms at all but could possibly continue working if they tested negative."

Dr Mohammed Gulrez Zariwala, Assistant Head of the School of Life Sciences, added: "The School plans to expand its contribution to the fight through donations of critical protective equipment to hospitals and a volunteering scheme for some of our expert colleagues.

We are pleased to have been contacted by the Prime Minister's Office with this request."

Governments around the world are advising people to socially distance themselves in order to reduce pressures on health services and stop the spread of coronavirus (COVID19).

Prince Charles 'touched' by well wishes

After Boris Johnson brings in new measures, the BBC explains why staying in is a matter of life and death.

By Daniel Thomas

Business reporter, BBC News

WATCH: Boaters take part in 'rooftop yoga'

Restaurant praised for donating food to charity

An Indian restaurant in Hounslow, west London, has been praised for donating pre-packed food to humanitarian charity Khalsa Aid International.

Langar Aid which supports the homeless, vulnerable and those struggling with poverty in the UK, said on Twitter that it distributed the food to hostels.

Court conducts hearings remotely

The Old Bailey has allowed court reporters to cover criminal cases from home in what is believed to be a legal first.

On Thursday, journalists rang into a conference call at London's historic Central Criminal Court for preliminary hearings before Judge Angela Rafferty QC.

This followed an application to the court by journalists from the PA news agency, the BBC and the London Evening Standard in the interests of open justice.

The judge was in the court while barristers and journalists were on the phone, and wherever possible defendants who were in custody appeared via video link from prison.

Since the coronavirus crisis began, defendants and lawyers had already been attending court remotely and new trials were put on hold.

Why Ralph McTell has updated his hit Streets of London for coronavirus era

Cancer patient's chemotherapy put on hold

Copyright: Nancy Carter-Bradley

A woman with brain cancer has been told her chemotherapy has stopped because of the coronavirus outbreak.

Nancy Carter-Bradley, 44, said the health secretary should ring-fence cancer treatment.

She said her treatment at a Charing Cross Hospital had paused as it was at full capacity and oncologists were helping with the response to coronavirus.

Imperial College Healthcare NHS Trust said it was "exploring use of private healthcare facilities".

NHS staff urged to move to conference centre hospital

Health bosses are urging staff to move quickly to work at the new 4,000-bed field hospital being set to manage a surge in seriously ill coronavirus patients, it has been reported.

Health Secretary Matt Hancock announced earlier this week that the ExCeL site in London will become a temporary hospital equipped with two wards of 2,000 beds to cope with any patient surge in the capital.

The Health Service Journal (HSJ) reported on Wednesday that leaders were "urgently" identifying staff who could be redeployed quickly at the new Nightingale Hospital.

An email from a London trust chief executive to staff, seen by the HSJ, said a response was needed within hours and accommodation could be provided if necessary.

It added: "Along with other NHS trusts, we have been asked to identify a range of our people to help staff the new Nightingale Hospital at the ExCeL centre in east London.

"This is a key element of the NHS national response to coronavirus and will provide the first major wave of 'surge' capacity.

"The urgency in identifying staff is to allow time for training to take place before opening to patients.

"We have asked divisional clinical leads to identify and approach staff who may be able to be redeployed quickly to the ExCeL and, in the interests of time, we are also asking staff directly to come forward to be considered for redeployment.

"Accommodation will be provided if required."

The email said the new hospital should take some pressure off London hospitals by absorbing demand, giving the trusts more time to increase their own capacity.

The required staff range from consultants, GPs, critical care nurses and pharmacists to non-clinical staff, such as porters and administrators, it added.

YQA: Is social distancing affecting our mental health?

How does social distancing and isolation affect our mental health?

Psychologist Roberta Babb (@DrRBabb) will be answering your questions live on our Instagram page at 19:00 tonight.

What would you like to ask?

#StayAtHome #SocialDistancing #Isolation #MentalHealth #Q&A

London trust shops for people who can't

London Underground journeys down 93%

Tube journeys have been reduced by 93%, London Underground has said.

Passengers journeys fell a further 13% on Wednesday morning compared to Tuesday and bus travel is down 8%, according to the latest figures.

But Andy Lord, Managing Director of the London Underground, said: "We want to continue to run a core Tube service so that NHS staff and other key workers can make essential journeys.

"Around a third of our own staff are themselves ill or have to self-isolate, so we are simply not able to run a full service. "We have further reduced journeys by construction workers by temporarily stopping all work on TfL and Crossrail construction sites.

"The majority of people are playing their part and avoiding travel but more people need to stop travelling immediately to save lives."

BBC London's transport correspondent Tom Edwards said he has been speaking to Transport for London staff who are "dropping like flies" as angry key workers complain about overcrowded Tube trains.