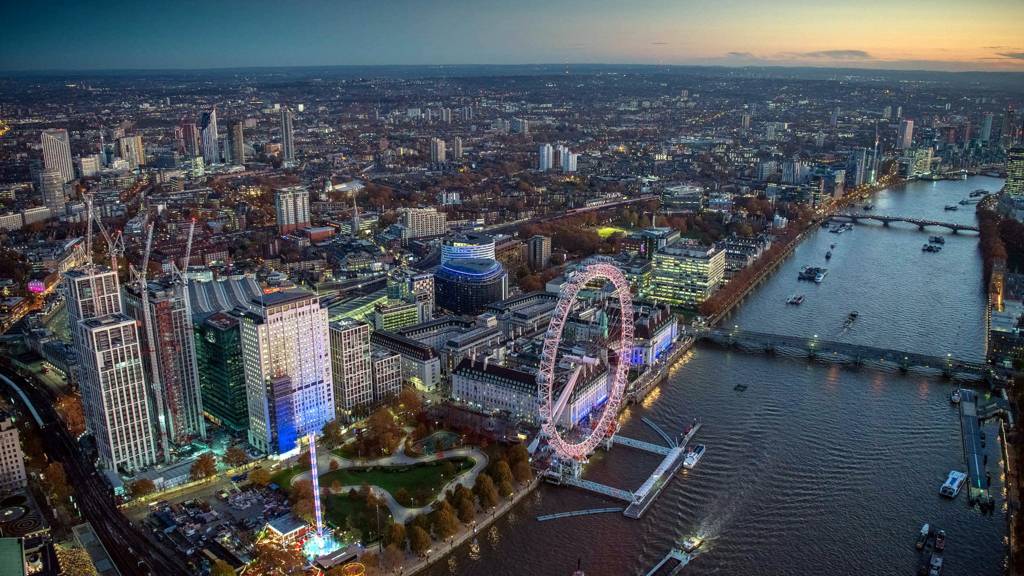 BBC London Live: As it happened
Updates for London have now ended but we'll be back at 08:00 on Monday with the latest news, sport, travel and weather.

Have a great weekend.

House damaged in Catford fire

Copyright: London Fire Brigade

About half the ground floor of a house in Catford has been damaged following a fire.

Firefighters were called to the building on Catford Hill, which houses several flats, just before 14:00.

Four fire engines and about 25 firefighters tackled the blaze which was under control by 15:00.

The cause of the fire is under investigation.

Surgeons celebrate 50 years of robot kidney transplants

Copyright: Peter Tarry, The Sunday Times

Surgeons at Guy's and St Thomas' NHS Foundation Trust are celebrating 50 years since the UK's first kidney transplant using robot-assisted keyhole surgery.

The Trust has carried out more than 7,600 transplants over this time, including a ground-breaking HIV patient to HIV patient transplant and innovative work to overcome cases where patients' bodies reject a new kidney.

Patients whose lives have been transformed include Siobhan Morris, 44 from Beckenham, Kent.

She was one of the first patients to have a robot-assisted kidney transplant in the UK at Guy's Hospital in 2016.

Ms Morris had acute renal failure because of an extremely rare auto-immune disease which shut down her kidneys.

She had to visit hospital three times a week for more than two years for haemodialysis.

"You are on the machines for three and half hours each time and afterwards feel very tired," she said.

"It's very draining."

Ms Morris had her first transplant from her mum in 2007 but her body rejected it nine years later

After a short spell back on dialysis, she received a kidney donated by her brother using robot-assisted keyhole surgery.

"That was fabulous," she said.

"When I had my first transplant the pain was excruciating the next day. I could not move and could not go to the bathroom for three or four days. I was black and blue. With the robot-assisted operation, I came back from surgery on the Sunday night and was walking well the next day. It was amazing."

Advances in anti-rejection drugs have meant that Guy's and St Thomas' has been able to reduce rejection rates from about 50% to about 20% producing better long term transplant survival.

Gang rivalries 'driving violence' at young offenders Feltham young offenders institution

Gang rivalries at a young offenders institute are so fierce that some inmates say they are "not be able to stop themselves assaulting members from a rival gang," a report has found.

Violent incidents happen every day in every part in Feltham Young Offenders Institution (YOI), driven by "postcode" allegiances from the outside world the prison's watchdog has said.

Many teenagers and young adults feel unsafe living on the same unit or attending the same education classes, according to Feltham's independent monitoring board (IMB).

Catering for these individuals "presents an enormous problem for the prison as 'postcode' gang allegiances and enmities change very frequently", the report said.

Staff reported that, in some instances, inmates run up gambling debts which they are compelled to repay by performing an act of violence on someone with whom they have no obvious grievance.

IMB chairwoman Caroline Langton said: "We have raised a number of serious issues for the Governor, the Prison Service and ministers to address; however we recognise the hard work of staff throughout another difficult year for the prison."

A Youth Custody Service spokeswoman said: "The safety and welfare of every young person at Feltham is the Governor's top priority and while there are significant challenges, progress is being made."

Man stabbed outside Clapham Tube station dies

A man in his 40s who was stabbed outside Clapham Common Tube station in south-west London has now died.

Police said in a tweet posted at about 15:30 that an update on his condition was imminent but subsequently said he died at the scene.

No arrests have been made.

Police announces crack-down on speeding motorists

Police officers will be deployed to "road danger hot spots" for seven days starting on Monday in a bid to tackle speeding motorists.

The Metropolitan Police announced the move today, which it says is part of the European Traffic Police Network (TISPOL) national campaign.

Cops will also be joined by "Community Roadwatch volunteers" who will be carrying out both education and enforcement activity throughout the week.

Det Supt Andy Cox, of the Met's roads and transport policing command, said: "Throughout this week of action and beyond, our roads policing teams will be actively targeting motorists who exceed the speed limit, or commit other road traffic offences, and we will take appropriate action against them.

"Exceeding the speed limit is dangerous and a serious offence under the Road Traffic Act.

"People who do so are not properly in control of their vehicle and are more likely to be involved in a collision.

"Every road death or serious injury is devastating for the victim's family and friends. Through education and enforcement we must remind all road users of the importance of keeping themselves and others safe when on London's roads."

Man jailed for sexually assaulting a teenager

Copyright: Metropolitan Police

A man has been jailed for sexually assaulting a teenage girl on a bus.

Lloyd Weekes, 57, of no fixed address, admitted to touching a 14-year-old girl on the Route W3 bus travelling through Haringey on 26 February 2018.

He was positively identified by a Detective Constable who recognised him after a CCTV image of the suspect was circulated amongst officers.

The court heard that Weekes had previously committed similar offences on the London Underground network.

Weekes was sentenced to two years' imprisonment at Wood Green Crown Court on Thursday. was also ordered to sign the sex offenders register for 10 years, and a 10-year Sexual Harm Prevention Order was made.

Severe accident: A23 London southbound

BBC News Travel

A23 London southbound severe accident, at A232 Stafford Road.

A23 London - A23 Purley Way in Waddon closed and queuing traffic southbound at the A232 Stafford Road junction, because of an accident.

To report traffic and travel incidents dial 0330 123 0184 at any time

'Watch out for headphone thieves', Hoxton residents told

'Mobile barber shops will be a thing, trust me'

For many black British men, barber shops are a place to hang out, chat and meet friends. But for others they waste too much time, which is why two young men have come up with a new approach - a barber shop on wheels that you book via an app.

A van painted in bright colours drives slowly down a leafy, residential road in Norwood, south London. A young man in the front garden of a house, clutching a phone, waves at the driver, who parks nearby.

They shake hands, then the driver pulls back the sliding door of the van. This reveals a sparkling, silver barber's chair, a large mirror, a hair dryer and pots filled with a variety of scissors.

Severe disruption: A3212 London both ways

BBC News Travel

A3212 London both ways severe disruption, from Battersea Bridge to Chelsea Bridge.

A3212 London - Delays on A3212 Grosvenor Road in both directions in Chelsea from the Battersea Bridge junction to the Chelsea Bridge junction, because of a rolling road-block and Brexit a demonstration. Congestion to surround roads, affecting traffic through Chelsea, Fulham, Battersea, Vauxhall and Pimlico.

To report traffic and travel incidents dial 0330 123 0184 at any time

Severe accident: A297 London northbound

BBC News Travel

A297 London northbound severe accident, from A217 Reigate Avenue to Middleton Road.

A297 London - A297 St Helier Avenue in Rosehill closed and queuing traffic northbound from Rose Hill roundabout to the Middleton Road junction, because of an accident.

To report traffic and travel incidents dial 0330 123 0184 at any time

We used this wonderful photo by Jason Hawkes of the city's as our banner, but we want a new picture every day to show off the capital.

Have you taken a photo of your part of London which you think would be suitable? If so, email it in high resolution (2048 x 1152 or 1680 x 945) to london.locallive@bbc.co.uk.