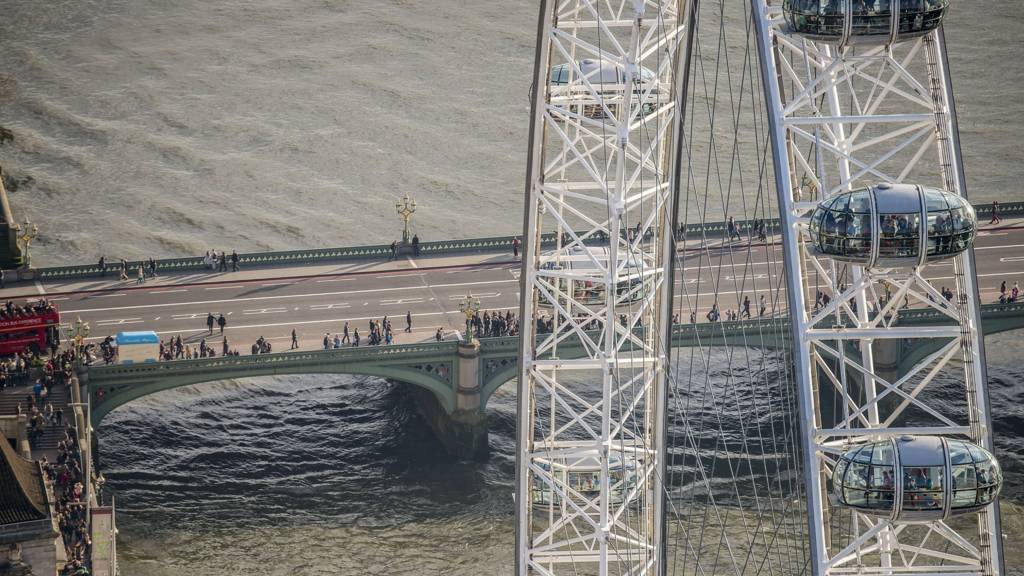 BBC London Live: As it happened
Summary
Updates on Friday 11 January
Updates for London have ended for the day but we'll be back at 08:00 on Monday with the latest news, sport, travel and weather.

Have a great weekend.

Tonight's weather: Dry and increasingly breezy

Mainly dry this evening with some clear spells possible. It is then expected to be mostly cloudy through tonight with a few spots of drizzle possible. A few mist patches forming. Increasingly breezy.

Minimum temperature: 3 to 6°C (37 to 43°F)

Bexley continuing to push for Crossrail extension

Local Democracy Reporting Service

Bexley Council will continue to press for Crossrail to be extended through the borough despite a blow from Transport for London (TfL) this week claiming the move was "not on the agenda".

Leader Teresa O'Neill said there is still a strong case for taking the Elizabeth line through Bexley despite TfL commissioner Mike Brown playing down the chances of the extension at City Hall this week.

Crossrail will link Abbey Wood through the capital and out as far as Reading when it eventually opens – over a year later than planned.

MPs and council leaders including Bexley's want the delayed £15.4bn line's south-eastern arm to be taken further from Abbey Wood, through Belvedere and Dartford and out to Ebbsfleet.

The proposed extension would play a vital role in supporting Bexley Council's ambitious growth strategy, which plans 30,000 homes by 2050.

Extending the Elizabeth line is a "key infrastructure project", according to the strategy, which has earmarked the north of the borough for major regeneration.

But Mr Brown said the £1.5bn add-on was not "on the agenda", New Civil Engineer reported.

Responding to the claim, Councillor O'Neill said: "I understand that City Hall are currently focused on ensuring that Crossrail services operate on the existing line.

"However, this statement doesn't reflect the conversation with the deputy mayor Heidi Alexander, who visited last week and she could see the tremendous opportunities that will be created by extending the line from Abbey Wood to Ebbsfleet.

"Taking the line to Ebbsfleet as originally planned will create fantastic opportunities for 'good growth' along the Thames."

Bexley Council plans to make the case for the "C2E" extension to be included in the Comprehensive Spending Review this autumn.

Appeal after woman shoved into path of bus in Pimlico

Police have issued a CCTV image of a woman they are trying to find after another woman was injured when she was shoved into the path of a bus in Pimlico.

The victim, aged in her 60s, was in a Tesco Express on Warwick Way on 29 May last year when she had a verbal exchange with another female.

The woman was barged but left the shop uninjured, police said.

When she got to a set of traffic lights on Vauxhall Bridge Road the woman who pushed her earlier appeared and shoved her into the path of the bus.

The victim suffered grazes, cuts and bruising to her legs, head and shoulders after she fell into the passenger doors of the vehicle.

Det Con Samantha Edwards said it was "an been an unprovoked assault which left the victim very distressed."

Londoner Octavian wins the BBC Sound of 2019

Mark Savage

Music reporter, BBC News

Maverick, genre-defying rapper Octavian has won BBC Music's Sound of 2019.

Endorsed by Drake, but entirely self-made, the 23-year-old has perked ears with a series of unpredictable EPs that juggle grime, house, pop and gospel.

He beat pop singer King Princess and balladeer Grace Carter to take the title, which has previously gone to Adele, Sam Smith, Haim and Sigrid.

"That's lit," the Southeast Londoner told the BBC. "I don't even know how to feel right now... Mum, I made it!"

Scrap Black Tie dress-code trial approved

Local Democracy Reporting Service

The City of London Corporation is no stranger to scenes of red robes, gold trim, furry hats, and sceptres at its 16th-century town hall – but its guests are being invited to dress a touch more casually from now on.

Fashion was the unlikely item on the agenda for members of the body that governs the Square Mile from the grand Guildhall, in the heart of the UK's financial district on Tuesday, as they approved a trial to break with centuries-old traditions, and relax dress requirements – for some.

Guests at its business evenings at Mansion House will be allowed to turn out in "Lounge Suit" in place of Black Tie for the first time, councillors agreed.

That's good news for fans of England Manager Gareth Southgate's dapper look – British style and etiquette experts Debrett's define Lounge Suit for men as anything from a waistcoat three-piece, to a matching suit jacket and trousers ensemble that wouldn't look out of place in the office.

Copyright: Local Democracy Reporting Service

But Sir Michael Snyder told the public relations and economic development subcommittee if they were going to talk about dress-codes, perhaps it was time for the City to reconsider its distinctive Aldermanic red robes too.

"As much as they might like wearing lace, I think it looks silly if they have different dress from the rest of us," he remarked.

Alderman Sir David Wootton replied that his fellows did tend to prefer to wear Black Tie for City events in place of their customary dress.

"In fact there has been comment from the Aldermen that they don't get enough opportunity…" he began, before being cut off by Sir Mark Boleat and Sir Michael exclaiming gleefully from across the table: "to wear their lace!"

The question of business banquet and awards nights fashions attracted a spirited back-and-forth among councillors on Tuesday who agreed it was time the City did away with the posher dresscode for the dinners from March 2019.

While the City's dresscode concerns attracted some mirth on Tuesday, its members made the decision for change based on the Corporation's recognition that changing fashions often reflected an increasingly diverse and equal society.

It emphasised dress-codes today should avoid being discriminatory as: "dress codes have evolved over many years and whilst still applied to many formal occasions, the contemporary view has flexed the more traditional codes to ensure that they are fit for the circumstance and occasion."

However with royals and diplomats to impress at its setpiece events, white bowties – and the red robes and lace – will still be flourished around Threadneedle Street, as the Corporation restated its commitment to hat-tipping its customs – and, perhaps, the expectations of old-school City grandees.

We used this wonderful photo by Jason Hawkes of the London Eye as our banner, but we want a new picture every day to show off the capital.

Have you taken a photo of your part of London which you think would be suitable? If so, email it in high resolution (2048 x 1152 or 1680 x 945) to london.locallive@bbc.co.uk.

Events mark Waltham Forest becoming Borough of Culture

Claire Marshall

BBC Environment Correspondent

TfL has agreed tenders to shorten 11 town centre bus routes

Transport for London's plan to shorten 11 bus routes through Croydon town centre is "a straight cut in services which looks like afait accomplias new tenders have already been issued with shortened routes".

That's the claim made by the East Surrey Transport Committee, the largest group representing public transport passengers in Croydon, Sutton and parts of Surrey, in a highly critical 12-page response to TfL's public consultation.

London Bridge terror attack inquest date set

Danny Shaw

BBC Home Affairs Correspondent

Image caption: Clockwise from top left: Chrissy Archibald, Sebastien Belanger, Kirsty Boden, Ignacio Echeverria, Sara Zelenak, Xavier Thomas, Alexandre Pigeard, James McMullan

Inquests into the London Bridge terror attack will begin on 7 May and will last for two months, it has been revealed.

Eight victims were killed on 3 June 2017 when three attackers drove into pedestrians on the bridge before using knives to randomly assault people in Borough Market.

The attackers were fatally wounded during a confrontation with armed police.

Those who died were: 30-year-old Canadian national Chrissy Archibald, Australian Kirsty Boden, 28, Australian Sara Zelenak, 21, James McMullan, 32, from Hackney, London, French nationals 26-year-old Alexandre Pigeard, Xavier Thomas, 45, and chef Sebastien Belanger, 36, and Spanish national Ignacio Echeverria, 39.

Inquests for the attackers, heard with a jury, will take place immediately afterwards and last between two to three weeks.

They were: Khuram Butt, 27, a British citizen born in Pakistan, Rachid Redouane, 30, who had claimed to be Moroccan and Libyan, and Youssef Zaghba, 22, a Moroccan-Italian man.

Man dies in Walthamstow flat fire

A man has died in a flat fire in Walthamstow.

Four fire engines and around 25 firefighters were called to Wood Street in Walthamstow at 07:16.

Fire crews wearing breathing apparatus brought a man out of a second floor flat.

He was pronounced dead at the scene. The cause of the fire is under investigation.