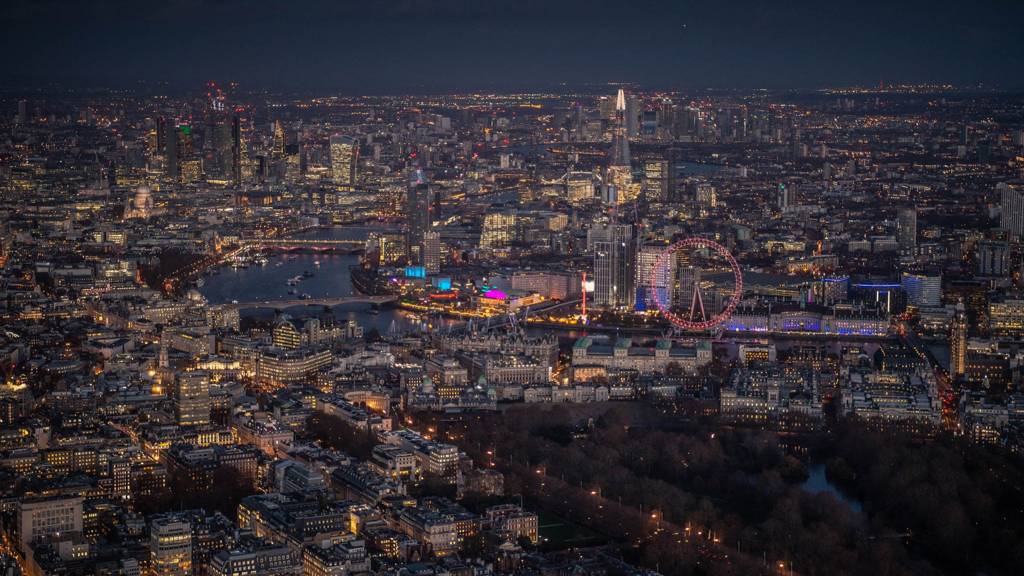 BBC London Live: As it happened
Summary
Updates on Friday 21 December
Updates for London have ended for the day but we'll be back on New Year's Eve with the latest news, sport, travel and weather as the capital gears up to welcome in 2019.

Have a great Christmas break.

Watch: Christmas and New Year rail disruption

Tonight's weather: Breezy with a risk of showers

Some clear spells through this evening and tonight. However, there will also be a lot of cloud with the chance of a few showers spreading from the west, mainly before midnight. Staying breezy.

Minimum temperature: 7 to 10°C (45 to 50°F).

Historic Barnet pub given protection

Local Democracy Reporting Service

Copyright: Local Democracy Reporting Service

Campaigners have won extra safeguards for a historic public house at risk of being knocked down to build flats.

The Midland Hotel in Station Road, Hendon, has been listed as an 'asset of community value' (ACV) – making it easier for community groups to buy the building.

It means that if the owner wants to sell the pub, community groups will have six months to come up with a bid that would allow them to maintain its current use.

The pub can only be sold to a community group during that timeframe – but the owner will be free to sell it off to any interested party once the six months is up.

Built in 1889, The Midland was a popular watering hole for commuters using the Midland Railway.

In September, plans to demolish the pub and build three blocks of flats sparked an uproar from residents, and hundreds of people have objected to the proposals on the council's website.

The Midland Hotel Community Group, which nominated The Midland as an ACV, described it as "the social hub of the local area".

The bid to protect the pub attracted cross-party support, with Conservative MP for Hendon Matthew Offord and Labour London Assembly Member Andrew Dismore throwing their weight behind the campaign, alongside Labour and Tory councillors.

Barnet Council's community leadership and libraries sub-committee granted the pub ACV status at a meeting on Wednesday.

Roger Tichborne, pubs protection officer for the local branch of the Campaign for Real Ale, said: "The pub is very much at the heart of the community."

Advent calendar: Mo Farah breaks British record at London Marathon

Britain's Mo Farah finishes third at the London Marathon in a new British record as Kenyan Eliud Kipchoge wins the race for a third time.

Farah crossed the line in two hours, six minutes and 21 seconds to beat Steve Jones' 33-year-old record.

Water damage to war memorial 'persistent problem'

Local Democracy Reporting Service

The Tower Hill Memorial must be refurbished to stop water damage which has become a "persistent problem", according to the authority responsible for commemorating the Commonwealth's fallen soldiers.

The Commonwealth War Graves Commission (CWGC) has proposed several alterations to Grade I-listed Mercantile Marine Memorial at Tower Hill.

In documents submitted to Tower Hamlets council, the commission said it had spent "a number of years" trying to understand the "root causes of the ongoing issues surrounding the water ingress to the building".

The memorial, designed by Sir Edwin Lutyens who was also the architect behind Cenotaph in Whitehall, faces the River Thames and was unveiled by Queen Mary on December 12 1928.

It commemorates the names of the 12,000 Merchant Navy personnel who lost their lives at sea during World War One.

"The condition of the memorial has deteriorated to a level that the symptoms of this water ingress are clearly visible," the CWGC said.

"If this underlying cause is not remedied then the concern is that water will affect the steel and reinforced concrete structure behind the Portland stone cladding, speeding the deterioration and the future requirement for intrusive repairs to the memorial."

The commission has ask liaised with Historic England and council officers before asking for permission to install new copings, remove the memorial's lead roof and introduce a ventilation system.

Ten new plants discovered this year

Plant collectors have searched for the hidden wonders of the plant world for centuries.

Yet plants that are new to science are still being described, at a rate of about 2,000 a year.

Scientists at the Royal Botanic Gardens, Kew, discovered and named more than 100 new plants in 2018.

Their list of the top new plants includes carnivorous pitcher plants, exotic orchids and climbers with untapped medicinal powers.

Missing London mum: 'We just want her back for Christmas'

Copyright: Family handout

The family of a woman from south-west London who has been missing for three weeks have urged the public to provide police with information to help bring her home in time for Christmas.

Lucy Chisholm, 44, was last seen on CCTV in Mortlake High Street just before 19:00 on 2 December.

Since then she has not used her bank cards or contacted friends or family.

In a statement, her brother, Leo Michaels, said: "We are all very concerned about Lucy, she has now been missing for over two weeks which is extremely out of character.

"She is a wonderful, caring mother and sister and we just want her back for Christmas.

"Her family and friends are desperate for information. We all just want to know she is safe and well."

Det Insp Richard Coe said there was "nothing to suggest Lucy has come to harm" but added: "We are incredibly concerned about her and we would urge anyone with information which could help to come forward straight away."

Anyone who has seen Ms Chisholm or knows where she is should call police at South West Command Unit on 101 and ask for CID of SW BCU Missing unit, or call Missing People on 116 000.

We used this wonderful photo by Jason Hawkes of the city's skyline at night as our banner, but we want a new picture every day to show off the capital.

Have you taken a photo of your part of London which you think would be suitable? If so, email it in high resolution (2048 x 1152 or 1680 x 945) to london.locallive@bbc.co.uk.

With specialist dating websites are on the rise, what is considered important when looking for love?

Severe accident: A12 London southbound

BBC News Travel

A12 London southbound severe accident, from Heath Drive to Pettits Lane North.

A12 London - Queuing traffic on A12 into town in Romford from the Heath Drive junction to the Pettits Lane North junction, because of an accident earlier on. Congestion to Gallows Corner. All lanes have been re-opened.

To report traffic and travel incidents dial 0330 123 0184 at any time

Afternoon weather: Windy with sunny spells

A windy day. Cloud will break up this afternoon to leave it bright with spells of sunshine. Mild despite the brisk winds.

Maximum temperature: 11 to 14°C (52 to 57°F).

Climate protest puts BBC HQ in lockdown

A peaceful climate change protest outside the BBC's headquarters in Oxford Circus has led to the office being in lockdown with staff unable to get in or out of the building.

The large scale protest by Extinction Rebellion is also taking place at BBC offices in Salford, Birmingham and Bristol.