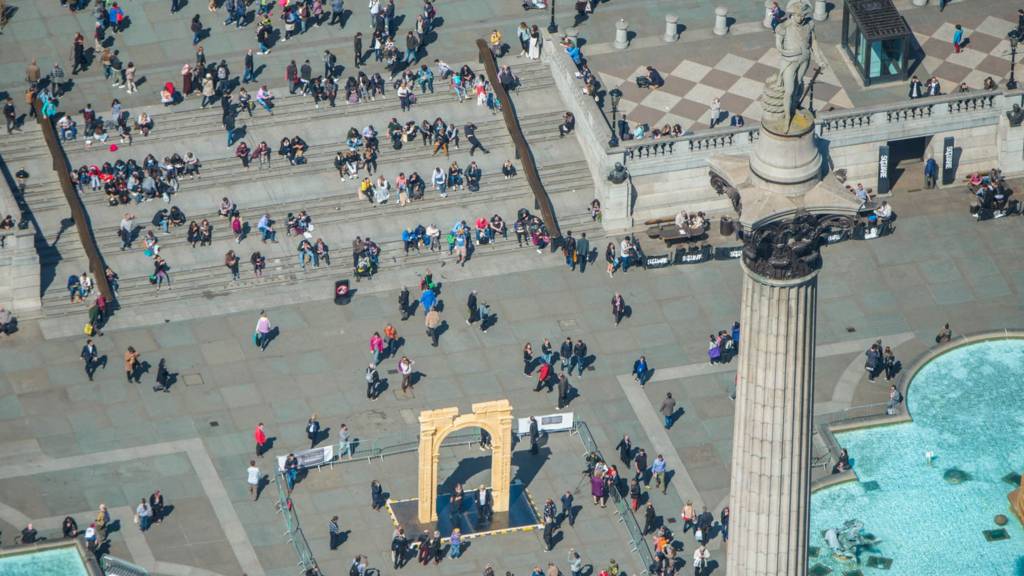 BBC London Live: As it happened
Summary
Updates on Friday 21 September
Updates for London have ended for the day but we'll be back on Monday at 08:00 with the latest news, sport, travel and weather.

Tonight's weather: Dry with winds easing

It looks like being dry through tonight with some long clear spells. As wind ease down, so it will allow it to turn rather chilly.

Minimum temperature: 7 to 10°C (45 to 50°F).

New exhibition explores male self-harm

A London photographer is trying to raise awareness about male self-harm in his new exhibition of self-portraits.

Daniel Regan's photos document his self-harm "journey", using light to cast patterns across his face which represent both physical and mental scars.

"[Self-harm] begins with a rising tide of emotion that can swell over the course of hours or days, hot on the skin and scorching from the inside," he said.

"It builds and builds until the act itself, a daze of relief, dissociation and euphoria, helps to extinguish the overwhelming feelings."

Although Mr Regan admits that self-harm isn't a long-term answer to problems, he feels he "would not be here" without it.

Mr Regan's Threshold exhibition is free and will be on show at Science Gallery London as part of their HOOKED exhibition from today until 6 January next year.

Could Bethnal Green soon get an Oktoberfest?

Local Democracy Reporting Service

A bar owner hopes to start an Oktoberfest event in Bethnal Green after getting permission to turn a disused railway arch into a microbrewery.

Tower Hamlets Council has granted Vagabond Wines an alcohol licence for its Boxcar Brewery in the arch in Birkbeck Street.

The site will be the independent merchant's seventh London premises.

Owner Stephen Finch told the licensing committee: "It will be a well-run operation and we will look to hire locally.

"Assuming things go well, we would like to eventually do something like a Bethnal Green Oktoberfest, within reason of course."

Residents had complained the proposed closing times of 23:30 on weekdays and 00:30 on weekends were too late.

But, Mr Finch agreed to scale them back by half an hour to "address concerns".

Could violence interrupters work in London?

Thomas Mackintosh

BBC London News

A key to the success of Chicago's public health model has been through the work of a team of people known as Violence Interrupters.

They have been deployed on some of Chicago's most dangerous streets since the turn of the century as part of the city's radical approach to tackling violent crime.

Carefully picked and trained, most have come from the hierarchy of Chicago's fiercest gangs. Collectively they have served hundreds of years in prison and have similar backgrounds to the people they are now trying to reach.

Separate from police and law enforcement, they use their community contacts to identify high-risk situations and individuals and then work with them to interrupt conflicts before they turn deadly.

They do not aim to dismantle gangs or cliques but instead work with them in order to save lives.

Copyright: Alyssa Schukar

Angalia Bianca (pictured) was a member of the infamous Latin Kings gang for more than 30 years before becoming a violence interrupter seven years ago.

"It's all about buying time in most situations, trying to calm people down and talk them down from doing something they'll regret," she says.

"These guys out here aren't going to listen to police, but we have a reputation and a street cred.

"We used to live our lives out on the streets, gangbanging, committing crimes. We speak their language."

Harry Uzoka died after three men attacked him in Shepherd's Bush on 11 January.

NHS pays out £35m due to unsafe hospitals

The NHS paid out £35 million in compensation last year due to hospitals being unsafe for staff to work in and dangerous for members of the public to visit.

Research by law firm Nockolds Solicitors found the average payout over the 2017/18 financial year was £158,219 but some trusts paid out more than £1 million each.

It said routine breaches of the duty of care the NHS owes to its staff and hospital visitors often get overlooked because of the focus on compensation for medical negligence.

The details come from freedom of information requests to all 232 trusts in England.

London's top hospital payouts:

Guy's and St Thomas' NHS Foundation Trust (£1,009,306)
Royal Free London NHS Foundation Trust (£672,579)
Barts Health NHS Trust (£632,306)

Seven trusts had no payouts last year, including Great Ormond Street Hospital for Children NHS Foundation Trust, Royal Marsden NHS Foundation Trust and Papworth Hospital NHS Foundation Trust.

Sunny outlook for children around South Norwood allotment

A first-time dad-to-be from South Norwood was so dismayed hearing friends complain about the children's programmes they were forced to endure in the name of parenthood, he went off and wrote and made his own animated television series.

Severe accident: A104 London both ways

BBC News Travel

A104 London both ways severe accident, between Oak Hill and Empress Avenue.

A104 London - A104 Woodford New Road in Highams Park closed and queuing traffic in both directions between the Oak Hill junction and the Empress Avenue junction, because of an accident.

To report traffic and travel incidents dial 0330 123 0184 at any time

Can Chicago's model cure violence in London?

Thomas Mackintosh

BBC London News

Copyright: ALYSSA SCHUKAR

Sadiq Khan has announced he is to tackle London's surge in violence by treating it as a disease.

Known as a public health approach, it originated on the streets of Chicago nearly 20 years ago and the idea comes from a scientist who spent years fighting infectious diseases in Africa and Asia.

In the 1990s, many major US cities had problems with violent deaths - Chicago often featured at the top of murder rates.

Dr Gary Slutkin looked at the data and noticed a number of similarities between the violence in Chicago and the epidemics he had just spent years trying to cure.

As an epidemiologist, he knew to look for three things before classing a disease as contagious; clustering, self-replication and epidemic waves.

Dr Slutkin concluded Chicago was facing an epidemic disease just as bad as he had witnessed in Uganda.

It's an approach which appears to have been a catalyst for the Mayor of London's latest bid to crackdown on violent crime in the capital.