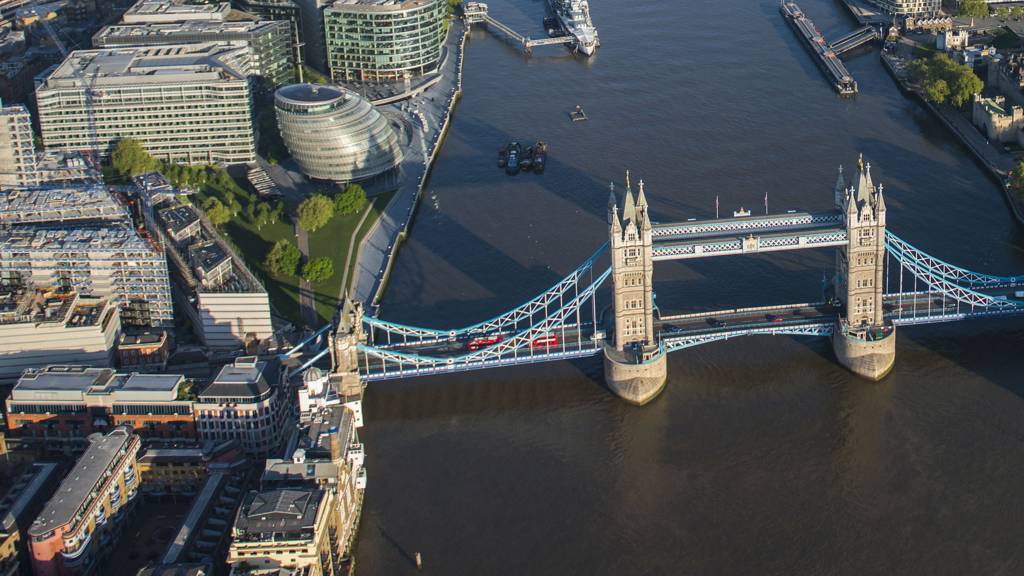 BBC London Live: As it happened
Updates for London have ended for the day but we'll be back at 08:00 on Monday with the latest news, sport, travel and weather.

Have a good weekend.

Tonight's weather: Dry, cloudier and warm

Tonight is going to remain dry with clear spells as well as variable amounts of cloud. A warmer night compared with last night too. Minimum temperature: 14 to 17°C (57 to 63°F).

Plans for flats in Erith listed building put forward

Local Democracy Reporting Service

Plans to build a block of apartments at a listed building in Erith have been submitted again.

Developers have come back to Bexley Council with revamped proposals for 13 flats in Bexley Road.

It follows several attempts for apartments at the site dating back to 2002, including a rejected plan earlier this year.

The council said previous proposed layouts would have an "adverse impact" on the character of the area and on neighbouring properties.

The most recent attempts, which were for 17 and 14 apartments respectively, were thrown out after the council questioned the density.

The developers have now come back with a scheme for 13 apartments, saying their vision is in keeping with the area.

The development would protect the front of the building, which has been locally listed.

A three-storey building with 13 parking spaces has been proposed but none of the flats included have been earmarked as being affordable.

The plans are being considered by planning officers at the council.

Stockley Park 'not fit for purpose'

Local Democracy Reporting Service

Overflowing bins, poorly maintained paths and unkempt lawns are blighting one of Hilingdon's much-loved parks, say some local residents.

People living close to Stockley Park in Uxbridge claim they are being put off using it because it is so poorly maintained.

The park is looked after by leaseholder Stockley Golf Club, which has now been given 30 days by the council to improve the situation or face possible enforcement action.

Resident Phil Freemont, said he and others have been campaigning to improve the park for years.

"The security is not maintained so there are times when the car park gates are padlocked for days or weeks on end," he said. "

"This means there's no access for wheelchairs or people with disabilities.

"They don't seem to be able to maintain the park at a reasonable standard. Rubbish is often not cleared and bins are left overflowing.

"Paths are not properly maintained and they keep drawing water off the lake which is having a terrible effect on wildlife."

The council issued a statement saying: "We echo the concerns of residents and wrote to the operators of the golf club and park on 19 July, giving them 30 days to improve the site.

"If they fail to do so, we will be considering further proceedings."

The golf club said it worked closely with the council in the running and maintenance of the country park.

Dogs sniff out illegal cigarettes in west London

Local Democracy Reporting Service

A dog team has sniffed out thousands of pounds worth of illegal cigarettes and shish in a sting targeting shops in west London.

Five north Westminster shops have been caught by Trading Standards selling illicit products, ranging from counterfeit branded tobacco to shisha products that were not carrying the proper health warnings.

During Operation Rover, Westminster City Council's Trading Standards service used rescue dogs Pippa and Rico, who have been specially trained to smell cigarettes and money, to detect the products.

The dogs, led by their trainer Huw from WagTail UK, made unannounced inspections of five shops, based on reports from members of the public. They found illegal tobacco products in all of them.

One Edgware Road location had more than seven brands of illegal tobacco which were suspected to be counterfeits due to their "look-a-like UK packaging."

Altogether, the stings uncovered 8,670 Cigarettes with an estimated street value of £3,989, 43 shisha tobacco products, six pouches of tobacco and 109 counterfeit mobile telephone covers.

Government figures showed 13% of cigarettes sold in 2015/16 were found to be illegal, compared to 21% of sales in in 2000/01.

Camden church to become hotel

Copyright: Manalo & White

Image caption: The hotel would be operated by TheWesley Hotel

A London church is set to be turned into a hotel to prevent it from having to close.

Camden Methodist Church, on Plender Street, says without significant repair, it may have to close within a decade.

To raise enough money for renovation works, it has partnered up with Methodist International Centre which trades as TheWesley Hotel and operates a 4-start hotel on Euston Street, close to Euston Station.

The company will operate the new hotel while the building will be managed by the Methodist Council on behalf of the Methodist Conference.

Copyright: Manalo & White

The church, which won planning application for its proposals from Camden Council yesterday, wants to extend its roof and insert a "four-storey structure" into the building to provide a 39-room hotel.

The church had been built for a congregation of up to 850, but it currently counts just 38 members and 49 adherent members, meaning the "existing worship space is significantly larger than is required," according to planning documents.

Third fatal stabbing in a week as man's body found

A man in his 50s found dead at a home in south-east London has become the third person to be stabbed to death in London this week.

The victim was found at about 14:00 at a home in Madron Street, in Walworth, south-east London.

A crime scene is in place and inquiries continue, police said.

A 42-year-old man died early this morning after he was found with stab wounds at an address in Flaxen Road, Chingford, while 31-year-old Simonne Kerr was found fatally injured in a house in Battersea on Wednesday.

Today's deaths follow a serious stabbing in Camberwell in Thursday night in which four boys aged 15 to 16 were hurt. One remains in a critical condition in hospital.

Free health checks for your dog in east London

Maternity hotline getting '1,000 calls a month'

Local Democracy Reporting Service

A hospital trust's maternity helpline is proving popular with new and expectant mums.

Barking, Havering and Redbridge University Hospitals Trust's hotline is open from 09:30 to 22:00 seven days a week and receives 1,000 per month.

The line is staffed by experienced midwives who provide support and reassurance on all aspects of pregnancy, birth and early motherhood to prevent women from needing to come into hospital.

When midwives identify what may be a more serious issue, they can ensure the relevant teams are aware a mother-to-be is on her way, so they can prepare for her arrival and treat her more quickly.

The helpline is also a great resource for GPs, health visitors and other healthcare professionals who can call the trust's midwives for specific advice.

The helpline is based in the maternity department at Queen's Hospital.

If you're pregnant or a new mum and you need help or support, call the helpline on 01708 503742.

We used this wonderful photo by Jason Hawkes of Tower Bridge as our banner, but we want a new picture every day to show off the capital.

Have you taken a photo of your part of London which you think would be suitable? If so, email it in high resolution (2048 x 1152 or 1680 x 945) to london.locallive@bbc.co.uk.

Road closures after police chase across Tower Bridge

Police chased two moped riders across the capital this afternoon following reports of them attempting to rob people.

Officers began the chase after they were called to Bethnal Green, east London, shortly before 13:00.

A police helicopter was also deployed to track the two male suspects as they sped through east London before crossing Tower Bridge.

Officers arrested the duo after using a stinger - a spiked device to burst tyres - in Denmark Hill.

The suspects are being held over alleged driving offences and conspiracy to rob.

Road closures are in place, the Met said.

Stamps released to mark Old Vic bicentenary

A set of special stamps making the bicentenary of The Old Vic are to be released by Royal Mail.

The set features eight plays which starred actors such as Sir Laurence Olivier, Richard Burton, Judi Dench and Maggie Smith that have been performed at the south London theatre since the 1950s.

The Old Vic was originally called the Royal Coburg when it first opened in May 1818. It has also been known as the Royal Victoria before being finally renamed in 1871.

Philip Parker, of the Royal Mail, said the theatre was a "remarkable" place where "so many of our finest actors have trodden its boards."

The stamps go on sale on 30 August.

New CCTV control room launched in Brent

Local Democracy Reporting Service

Brent Council has launched a new £2.3 million CCTV control room to help tackle crime and anti-social behaviour in the borough.

The previous, analogue system, which was installed in the mid-1990s, was described as "archaic" and in clear need of an upgrade.

Following a review in March last year, the council's cabinet heard that maintaining the old system would end up costing more money than introducing a new one.

The new system forms part of the council's community safety strategy, which seeks to improve security across Brent.

It features 14 big screens to enable operators to keep an eye on the borough's high streets.

It also benefits from HD pictures, and there will be access to deployable cameras for hotspot locations.

Severe disruption: A2217 London both ways

BBC News Travel

A2217 London both ways severe disruption, at A215 Denmark Hill.

A2217 London - A2217 Coldharbour Lane in Camberwell blocked in both directions at the A215 Denmark Hill junction, because of a police incident.

To report traffic and travel incidents dial 0330 123 0184 at any time

Man charged with fatal hit-and-run

A man has been charged in connection with the death of a 22-year-old woman who died in a hit-and-run collision in south London.

Tshan Henry, 27, of no fixed address, will appear before magistrates later charged with causing death by dangerous driving, driving a motor vehicle dangerously, failing to stop after a road accident and failing to report a road accident.

The woman died at the scene on Clapham Road in Stockwell, on 5 August.