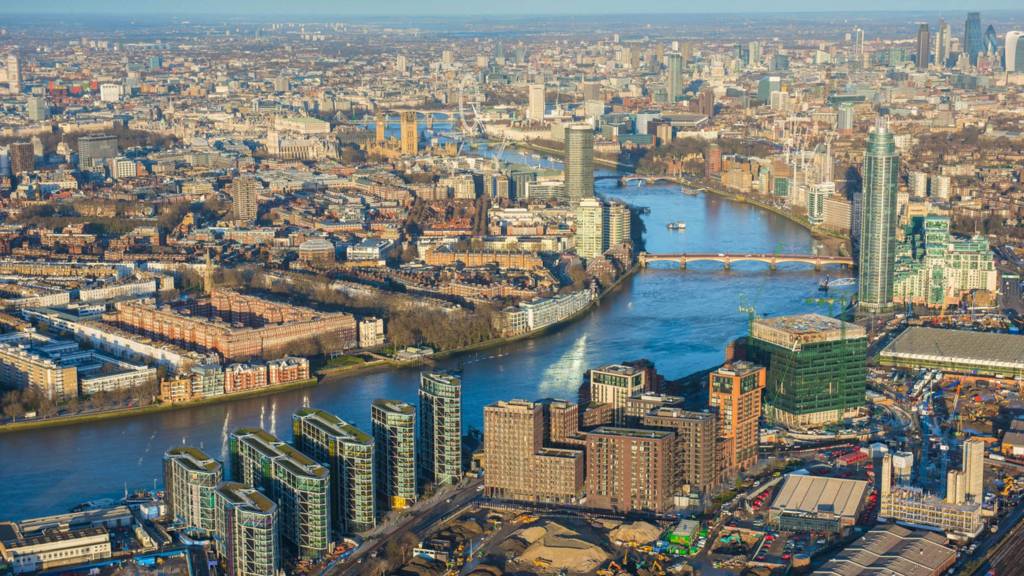 BBC London Live: As it happened
Summary
Updates on Friday 1 June
Updates for London have ended for the day but we'll be back at 08:00 on Monday with the latest news, sport, travel and weather.

Have a good weekend.

Tonight's weather: Dry but misty in places

Tonight looks set to remain dry with clear spells, but also areas of cloud. It could turn rather misty in places too. Minimum temperature: 14 to 17°C (57 to 63°F).

Travel: Severe delays on the Central Line

BBC London Travel

BBC Radio London Travel

Third teenager charged over Croydon murder

Copyright: Croydon Advertiser

A 15-year-old boy has been charged with murder over the death of a young man in Croydon earlier this year.

Kelva Smith, 20, (pictured below) was fatally stabbed in South Norwood on 5 March.

The teenager has also been charged with being in possession of an offensive weapon.

He joins two other teenagers who have already been charged as part of the murder investigation.

Tyronne Farquharsan, 19, of Archer Road, in South Norwood and a 14-year-old boy, who cannot be named for legal reasons, are due to stand trial at the Old Bailey on 10 September.

The pair will also face charges of murder and being in possession of an offensive weapon.

Breaking

Holborn knife incident 'not terror related', say police

Police say the item at Holborn station is not believed to pose any threat and the station is starting to be reopened.

A 33-year-old man has been taken to custody after being arrested on suspicion of being in possession of a bladed weapon.

During the arrest, a suspicious item was found in the man's possession. As a precaution, the station was closed for just over an hour while officers made further checks.

This incident is not believed to be terror related.

Angel Wings campaigner set for battle as council is told to get rid of sculpture

Severe disruption: A102 London northbound

BBC News Travel

A102 London northbound severe disruption, from the Tunnel Approach to A13 East India Dock Road affecting before Sun In The Sands Roundabout.

A102 London - Queuing traffic on A102 Blackwall Tunnel northbound in Greenwich from the the Tunnel Approach junction to the A13 East India Dock Road junction, because of an earlier broken down vehicle. All lanes have been re-opened. Congestion to the before Sun In The Sands Roundabout junction.

To report traffic and travel incidents dial 0330 123 0184 at any time

Housing fraud crackdown saves Enfield Council £850,000

Local Democracy Reporting Service

A crackdown on housing fraud has saved Enfield Council £850,000 in the last financial year and freed up homes for residents in need.

The council says it recovered 59 properties from people who had "no right to reside in them" during 2017-18.

Several cases are still said to be under investigation.

Enfield councillor Dino Lemonides said: "We don't want people to make a profit by lying about their entitlement to a council property and preventing a family in genuine need from being given a home.

"We take housing fraud very seriously and we will fully investigate every report of illegal subletting and tenancies obtained by deception.

"It is completely unfair that residents in desperate need of housing cannot have a home because unscrupulous individuals want to make a fast buck."

Brigade celebrates former WW2 firefighter's 100th birthday

Hackney Council's former Carillion workers keep jobs

Local Democracy Reporting Service

Cleaners and security guards employed by Carillion and working at the Hackney Learning Trust kept their jobs after the construction giant's collapse in January.

Hackney Council has confirmed that all 21 employees at the non-profit firm, which runs Hackney's education services, are now employed by OCS Group with the same terms and conditions.

Carillion went into liquidation in January, causing more than 2,000 people to lose their jobs and drawing censure from a parliamentary inquiry.

This Londoner painted the underground nightlife of '80s Hackney

Timeout London

Timeout London

Man and woman injured during 'robbery intervention'

Two people have been taken to hospital after being attacked with a knife in Rotherhithe this morning.

The Met Police believe the man and the woman had been "intervening in a robbery" on St Elmos Road at about 11:30.

The two victims have been taken to a hospital in south London with non-life threatening injuries.

No arrests have been made and police enquiries are continuing.

Rail timetable debacle 'harming London's reputation' - Mayor

Disruption following the introduction of new rail timetables is damaging the "international reputation" of London, Sadiq Khan has warned.

Thousands of Govia Thameslink Railway (GTR) and Northern trains have been cancelled or delayed by more than 30 minutes since new schedules were introduced on 20 May.

The mayor described the performance of GTR - which operates in south-east England - as "nothing short of a debacle" and "wholly unsatisfactory".

In a letter to Transport Secretary Chris Grayling, Mr Khan said he would be "totally supportive" of a decision to strip GTR of its franchise immediately.

"Passengers have had enough of excuses and a lack of accountability," the mayor stated.

He also wrote to GTR chief executive Charles Horton, urging him to give Londoners "a detailed account of how these problems are going to be resolved".

Network Rail, GTR and Northern apologised to passengers, blaming the "sheer number of changes" and late-running engineering projects for a delay in approving the new timetables and making amendments.

Breaking

Holborn station closed after man with knife arrested

Holborn Tube station has been closed after a man was arrested following reports of someone being in possession of a knife on-board a Central Line train.

Specialist British Transport Police (BTP) officers, including armed police, attended the station shortly after 16:00.

Two knives were recovered.

Holborn has been closed as a precaution whilst a suspicious item is examined, according to the BTP.

As a result of the police investigation, there is no eastbound service on the Central Line between Leytonstone and Marble Arch.

It has resulted on severe delays across the rest of the line.

Watch: London Bridge PC on terror attack anniversary

Prof Tim Orchard confirmed as Imperial's new CEO

Local Democracy Reporting Service

Copyright: Imperial College Healthcare NHS Trust

A gastro specialist professor has taken over the helm at the NHS trust that runs Charing Cross and St Mary's hospitals.

Professor Tim Orchard, a gastroenterology expert, has been appointed chief executive of Imperial College Healthcare NHS Trust. He has been interim medical director at the trust since December 2017, and said the staff at the hospitals had "big aspirations" for the trust's future.

He said: "We have to develop services and ways of working together that really make a difference to the quality of our care and the health of our population."

Lorries and potholes put people off cycling - survey

More than half of people say they would cycle more if roads were in a better condition, a survey for the charity Cycling UK suggests.

The YouGov poll of 2,024 people found that potholes and drivers overtaking too closely were the joint second most common reasons for avoiding cycling.

The most common concern was having to share the road with large lorries.

Cycling UK wants "fundamental changes" to road design and the Highway Code to give confidence to potential cyclists.

Agencies mishandled grieving 'victims' of rough sleeper

Local Democracy Reporting Service

London authorities have been told to review the way they handle rough sleepers after a man who refused help was left to vomit and urinate on a grieving couple's doorstep.

The man rebuffed offers of accommodation during the "Beast from the East" snow snap that swept the UK this March, the report on the couple's complaint showed.

The paper for the City of London Corporation's safer city partnership strategy committee found the resident called police and rough sleeping charities on a Friday night to raise concerns about the man who was sleeping rough outside his door in an alley in the north of London's Square Mile.

Agencies responded immediately to reports the man was vomiting, urinating, leaving rubbish on the ground, and acting intimidatingly toward residents but he refused all offers of accommodation and support.

The report said the mental health triage team found him "did not believe there were grounds to justify taking him to a mental health hospital against his will" and police decided to leave him alone until a further assessment could be undertaken, the report said.

He then spent the weekend fouling the doorstep and intimidating the couple, who were dealing with a bereavement at the time.

After being told there was nothing authorities could do the resident used the "community trigger activation" complaints process, citing smell and the fear the rough sleeper was creating in the area.

The following Wednesday a health assessment was carried out and the rough sleeper was taken to hospital for 28 days. He then returned to the same location when he was discharged.

The findings of the complaint noted there needed to be clearer cooperation in future between police, cleansing and rough sleeping support teams.

It also called on police to review their risk assessment options and laid out a process for agencies for dealing with similar cases in future.

"I think there were a lot of lessons from that," deputy chairman Doug Barrow said.