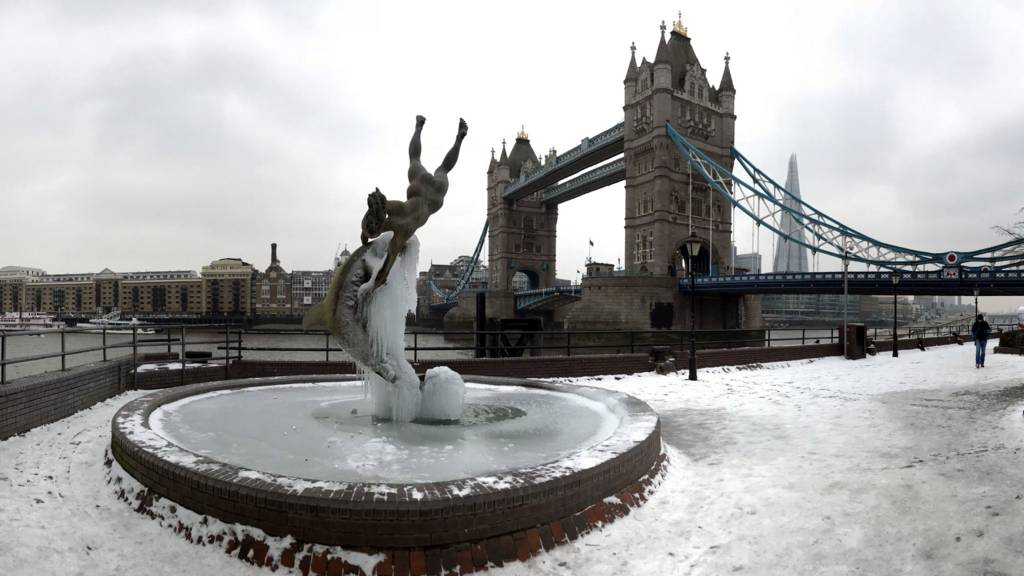 BBC London Live: As it happened
Summary
Updates on Friday 2 March
Tonight's weather: Cold with risk of ice

Cold through tonight with a risk of ice once more. There will be further spells of snow at first but these will tend to ease later on.

The chance of some mist forming later too.

Minimum temperature: -1 to 2°C (30 to 36°F)

The artist who sees the cold spell as an opportunity

Passengers trapped overnight on train from Waterloo

Copyright: Samantha Blackburn

Image caption: Passengers posted pictures on social media showing their frustrations

About 100 passengers were trapped overnight in freezing temperatures on a train from London Waterloo to Weymouth.

The electric train ground to a halt on Thursday evening near New Milton, Hampshire, due to ice on the conductor rail leaving those on board without clean water or heating for nearly 12 hours.

At least three trains ground to a halt as freezing conditions hit lines in the New Forest in Hampshire.

They were eventually rescued at about 08:00 GMT on Friday.

Robert Luther, who was on board, said: "It shouldn't happen in this day and age, it's not as if we've got three-foot of snow on the tracks.

"It's fortunate people had winter clothing - it looked like we were going on ski trip."

Travel delays across networks due to weather

BBC London Travel

BBC Radio London Travel

Trains

London Undergound

There is a reduced service with severe delays on theLondon Overground due to damage to the power supply caused by ice, and services have ceased between Highbury & Islington and Stratford, and between Surrey Quays to New Cross.
The Metropolitan Line is suspended between Chalfont and Latimer, and Chesham due to ice on the line. Minor are on delays on the rest of the line.
There are minor delays on the District Line due to a tree on the track near Gunnersbury earlier.
The Bakerloo Line has minor delays due to an earlier signal failure.

Waterloo station will stay open until last train

BBC London Travel

BBC Radio London Travel

Waterloo Station - which was earlier reported to be closing at 20:00 GMT - will stay open until the last train has left.

South Western say their last departure is due to be at 21.45 GMT.

Wiley 'surprised' after picking up MBE

Grime music legend Wiley has expressed his surprise that the royal family had even heard of the underground music genre he helped pioneer as he collected an MBE.

The Godfather of Grime, whose real name is Richard Cowie, received the award for services to music from the Duke of Cambridge at Buckingham Palace on Friday.

The 39-year-old told the Press Association: "I did think in the music industry you could do work that people would recognise, I always knew that part."

Laughing, he added: "But I didn't know if, like, the royals would. I don't know why I felt like they would never know us."

Reflecting on his MBE, he added: "This could open up doors for me in terms of going back to teach, to help, because I don't care about myself anymore, I care about others. "I feel like that's the way I get on in my life, it's about everyone else, and that's why I'm here."

'Sheer luck' that man knifed 10 times survived

A 28-year-old man was stabbed ten times in Ilford on Thursday evening, and detectives say it is "sheer luck" that the victim is still alive.

Officers were called to Ilford Lane's junction with Wingate Road at 22:55 where they found the man suffering from his stab wounds.

He was taken to a hospital in east London where he is said to be in a "serious, but not life-threatening" condition.

The Met Police say there have been no arrests.

Det Con Kirk Parson added: "It was sheer luck that the victim in this case wasn't fatally wounded."

London snow latest: In pictures

Made in North Korea: The graphic design of a pariah state

Snow being cleared from City London Airport

London City Airport closes runway due to snow

QPR's Grenfell charity match wins football award

A charity football match that raised more than £400,000 for Grenfell Tower survivors has won a community project of the year award.

Former England goalkeeper David Seaman joined a cast of celebrities including Marcus Mumford, Les Ferdinand, Peter Crouch and Damian Lewis at the Game4Grenfell in September last year.

Queens Park Rangers hosted the celebrity showdown at the Loftus Road stadium, situated just a mile away from the site of the disaster.

About 2,000 complimentary tickets were given to those directly affected, including residents, relatives of the victims, volunteers and members of the emergency services.

The event won best community project run by a London club in 2017 at the London Football Awards last night.

Man found dead on Croydon golf course

Croydon Advertiser

Newspaper

Welsh immigrants in Southall

Mark Steel talks about Southall's immigration issues of the 1930s.

We've used this great picture of a very cold Tower Bridge sent to us by Sarah Cook for our banner picture.

Have you taken a photo of your part of London which you think would be suitable?

If so, email it in high resolution (2048 x 1152 or 1680 x 945) to london.locallive@bbc.co.uk.