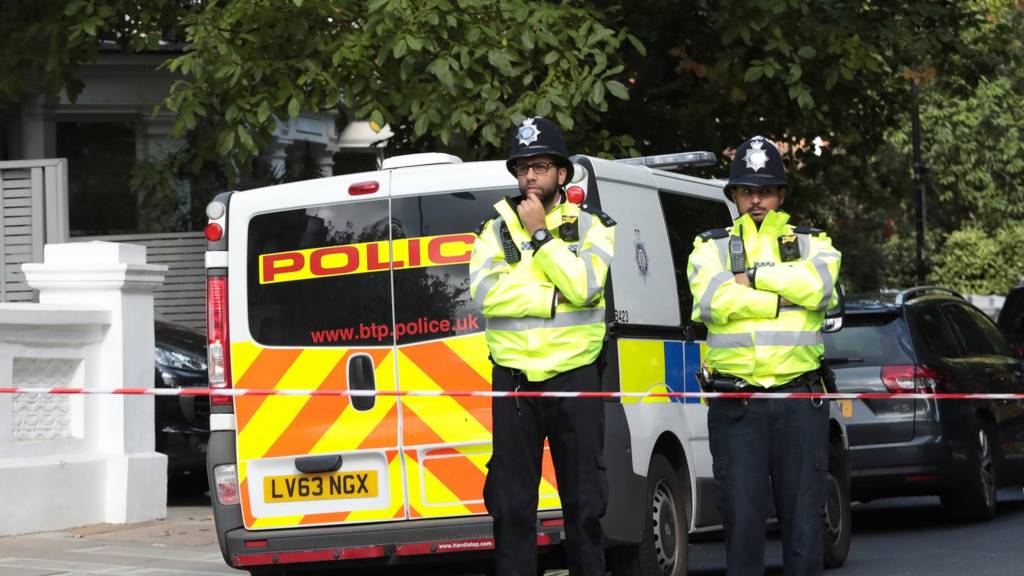 Live
Live: Police search for Tube attacker
Breaking

Police arrest man in connection with bombing

British police have arrested an 18-year old man in the Dover area in connection with the bombing on a Tube train at Parsons Green.

Analysis: A 'critical' change

Frank Gardner

BBC Security Correspondent

This is the fourth time the UK national terror threat level has been raised to 'critical' since the system was made public in 2006.

The last time was in May this year, following the Manchester Arena bombing, when it was wrongly thought that the bomb-maker was still at large and could strike again.

In the case of Parsons Green it is perhaps surprising that it took the government so long - more than 12 hours - to raise the threat level to critical, under advice from the Joint Terrorism Analysis Centre, when it was obvious the perpetrator had neither died nor been caught.

Each time the level has gone to critical, it has only stayed at this highest level of alertness for three to four days - this is partly as it involves an unsustainably high tempo for the police, intelligence and security services.

Transport attacks 'strike at the heart of cities'

Writing in the Daily Telegraph, Raffaello Pantucci, director of international security studies at the defence think tank Rusi, says attacks on public transport strike at the heart of cities and damage the economy.

While it is impossible to guarantee complete security, he says initiatives such as public awareness campaigns, as well as authorities staying on top of the terrorist threat, mean the UK is seeing only relatively limited impact events.

'Terrorist incompetence is saving lives'

The Guardian suggests the incompetence of terrorists has spared hundreds of lives in recent years.

Before the improvised explosive device that failed to detonate fully on the tube train at Parsons Green, there have been many other bungled attempts to kill or maim people - including a world-be suicide bomber who set off his own device in a toilet.

Eliminating key individuals with high levels of expertise will help stop knowledge of destruction passing to potential attackers, the paper says.

Transport 'will never be 100% safe'

Writing in The Times, crime and security editor Fiona Hamilton says that the Tube bombing at Parsons Green station is an important reminder of how vulnerable the transport network is.

While security has been improved since the 7 July in 2005, "a network with huge numbers of passengers can never be made 100% safe".

Police cuts hamper fight against terrorists

Former chairman of the intelligence and security committee and Tory MP Dominic Grieve said he "accepted the argument" that cuts to the police have led to less community officers "picking up tips".

He told Radio 5 Live that the government should "listen carefully" to critics of the cuts, as "anything which can increase our resilience against terrorism needs to be considered".

However, he warned against "jumping to conclusions" that more police on the beat would have stopped such attacks from happening.

Internet giants must help stamp out terrorism

Today Programme

BBC Radio 4

More must be done by internet companies to tackle the spread of information online which inspires attacks, Security Minister Ben Wallace tells the Today programme.

That includes taking down manuals on how to build bombs like the one used in Parsons Green.

Quote Message: We take a lot down, but sometimes, very quickly, these things reappear, so we go at them again."

Quote Message: We have to find a way to build pressure on internet companies to get them to invest some of their vast profits into the technologies to make sure we take down content very quickly or don't even let it surface."

NHS England is offering advice on how to cope with reactions in the wake of traumatic incidents.

More details can be found here. Or you can go to the NHS Choices website at www.NHS.uk

Parsons Green station up and running

The meaning of 'critical'

Today Programme

BBC Radio 4

The MI5 website describes what each terrorism threat level means. The last time it was raised to "critical" was following the Manchester terror attack in May.

But Security Minister Ben Wallace tells the BBC Today programme that the Parsons Green attack is different.

Quote Message: Unlike Manchester, where the bomber obviously killed himself along with all the innocent people he murdered, there was no obvious bomber attached to this and so there is effectively a manhunt.

Quote Message: We are trying to track down who did it. Whether it's a bomber, or bombers, and all those other issues we need to answer. In this case, that's what imminent means."

'Terrorist analysts' set security level

Today Programme

BBC Radio 4

The national terror alert level was raised to critical later on Friday evening, hours after Friday morning's bombing.

Asked why it took hours to increase the level, Security Minister Ben Wallace tells the BBC's Today programme:

Quote Message: The threat level in this country is set independently of politicians by the Joint Terrorist Analysis Centre.

Quote Message: They look at a range of things. They look at the intelligence at their fingertips. They look at changes in people we are currently watching - and see if they are inspired by an attack to maybe copy things - and they look at the pace of the investigation.

Quote Message: If they feel as a result of all those factors that an attack is likely to become imminent then that's why they raise it to critical as they then did later in the day."

Extra police officers on duty

Extra police officers are on duty on Saturday after the bombing, including from the British Transport Police.

And the police have asked asked the Prime Minister Theresa May for authorisation to enact part of the first phase of Operation Temperer - which provides military support to police force operations.

Police hunt bomber behind Tube attack

Image caption: The device was inside a supermarket bag with wires trailing on to the carriage floor

A manhunt is under way to find the person behind Friday's rush hour Tube bombing in south-west London.

Police say they are "chasing down suspects" and have hundreds of officers trawling through CCTV following the District Line attack, which injured 29.

The UK terror threat has been raised to critical - the highest level - meaning an attack may be imminent.

Saturday's papers: Manhunt for Parsons Green 'bucket bomber'

The hunt for the person responsible for the attack on a train in south-west London dominates the front pages.

Breaking

Parsons Green reopens

The station in south-west London has reopened.

Front pages focus on police search

Police Scotland says it will be increasing the number of armed police on patrol, particularly at key locations and crowded places.

Officers will also be reviewing all significant events taking place in Scotland over the next few days and will increase security where appropriate.

Police Scotland point out that there is no intelligence to suggest there is any specific threat to Scotland but ask the public to remain alert and report anything suspicious.

British Transport Police also say they'll have more officers - including armed police - at stations as well as on trains.