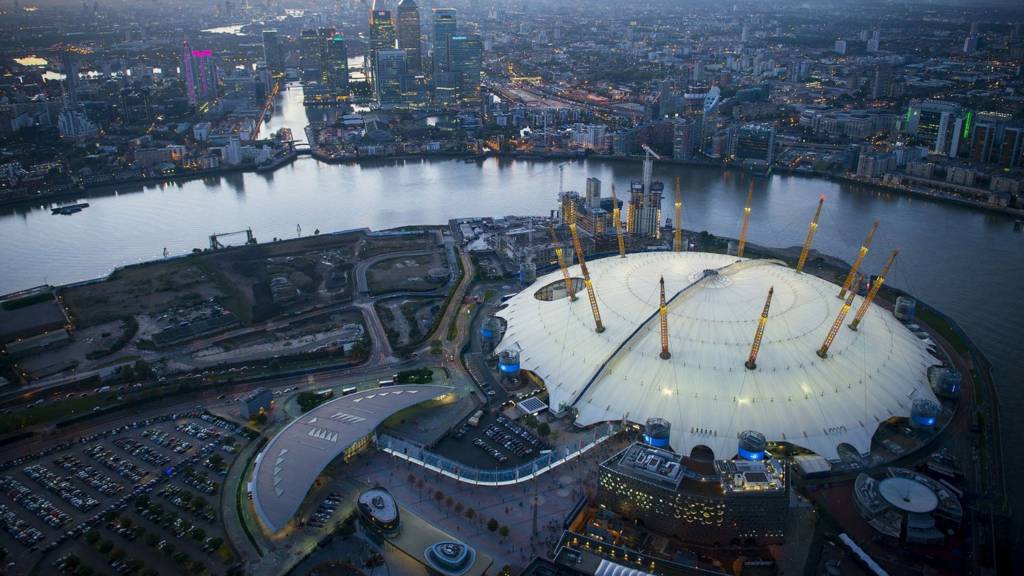 BBC London Live: As it happened
By David Ornstein

BBC Sport

Goodbye from BBC London Live

Updates for London have now ended for the day but we'll be back at 08:00 on Monday with all the latest news, sport, travel and weather.

Have a great weekend.

Tips for a special parkrun weekend

#GetInspired

It's a special weekend in parks around the country.

This Saturday, 19 August, those who take part in their local parkrun might find themselves jogging alongside some of the country's sporting stars.

It's all part of campaign for National Lottery funded athletes to give back and say thank you.

And, if you've never heard of of done a parkrun, it's really easy to get involved. Here's Team GB rowing legend Katherine Grainger to give you the low down in five simple steps....

UK tourism sector booms as sterling falls

Rob Young

Business presenter

Tourism has been one of the most successful parts of the UK economy recently, thanks in part to Brexit.

The weaker value of the pound since the Brexit referendum vote means that the UK is now a much cheaper destination than it used to be.

Many mainland Europeans, Americans and Chinese people are taking advantage of that.

That's clear from the cacophony of different languages and accents outside Buckingham Palace, and on the streets around the Palace of Westminster.

"It's a little more economical than it was a few years ago," says one visiting American tourist.

"Thanks to the euro, London is not more expensive than in France," a French tourist adds.

Stoke striker playing in Grenfell charity game

The Stoke City striker Peter Crouch is going to appear in a special football match next month in aid of the community affected by the Grenfell Tower fire.

A range of free sports programmes over the summer is ending in a 90-minute match at QPR's Loftus Road on 2 September.

Game 4 Grenfell will feature ex-professionals, celebrities and musicians.

Organisers say Crouch will appear alongside his childhood friend Gregg Jules, a firefighter directly involved in the relief effort at the tower.

By the busload: £940m bill for Boris Johnson's mayoral 'vanity projects'

Tonight's weather: Showers dying out but staying breezy

This evening will see further showers move across Greater London, however many areas will tend to turn dry after midnight.

The rest of the night will then be largely dry with some clear spells, however it will stay on the breezy side.

Minimum temperature: 12C (54F).

Watch: Grenfell kids stage classic musical

Schoolchildren who live and study in the shadow of Grenfell Tower have been putting on a production of Bugsy Malone.

Here, they tell Caroline Davies, what it means to them.

Watch: Have you got what it takes to become a picnic spy?

Londoners are being offered the chance to spend their weekends in the park and get paid for it.

Keep Britain Tidy has launched a project to record what picnickers do with their litter in the hope it will help them to better understand the issue of "abandoned picnics" in the capital's green spaces.

The environmental charity is looking for eight observers who will be paid £11 per hour.

The advert says any potential applicants should be flexible, as they will only be needed on sunny days over August and September.

Commuter spared jail for elbowing woman in face on crowded Tube

Visits to UK rise amid fall in pound

The number of overseas residents visiting the UK rose to 3.5 million in June, up 7% from the same month last year, according to official figures.

While in the UK, the visitors spent £2.2bn, a rise of 2%, the Office for National Statistics (ONS) said.

The increase comes as the weak pound makes the UK more affordable for visitors, but also follows terror attacks in London and Manchester.

Meanwhile, UK residents took 7.2 million trips abroad, a 4% increase.

Black British stars celebrated at National Portrait Gallery

BBC Entertainment and Arts

Copyright: National Portrait Gallery

Image caption: Sir Trevor McDonald. Naomi Campbell and Tinie Tempah

Naomi Campbell and Tinie Tempah are among 37 black British musicians, actors, politicians, models and sports stars who will feature in a major new National Portrait Gallery exhibition.

Running next year, the exhibition will also feature actor Sir Lenny Henry, journalist Sir Trevor McDonald, singer Laura Mvula and actress Thandie Newton.

It is the gallery's biggest acquisition of Afro-Caribbean sitters.

Leadenhall Market is fully let for the first time in five years

Severe accident: A105 London both ways

BBC News Travel

A105 London both ways severe accident, between Woodberry Grove and Hermitage Road.

A105 London - Very slow traffic on A105 Green Lanes in both directions in In Harringay between the Woodberry Grove junction and the Hermitage Road junction, because of an accident earlier on. All lanes have been re-opened. Congestion on A503 Parkhurst Road to Nags Head, to the B105 Lordship Park junction, on B150 Woodstock Road to the Upper Tollington Park junction and to the Burgoyne Road junction.

To report traffic and travel incidents dial 0330 123 0184 at any time

Man stabbed to death in Brixton

A murder investigation has been launched after a man in his 30s was stabbed in Atlantic Toad, Brixton at lunchtime.

He was found with stab injuries at 12:50 by police and died a short while after in a south London hospital. No arrests have been made.

NHS study finds Ealing among top places in England to be successful at quitting smoking

Severe disruption: B223 London both ways

BBC News Travel

B223 London both ways severe disruption, between A23 Brixton Road and A2217 Coldharbour Lane.

B223 London - B223 Atlantic Road in Brixton closed in both directions between Brixton Station and the A2217 Coldharbour Lane junction, because of a serious police incident.

To report traffic and travel incidents dial 0330 123 0184 at any time

Reward offered after woman, 82, strangled with dog lead on her doorstep

Crimestoppers are offering a £5,000 reward for information after an 82-year-old woman was strangled with a dog lead in an attack on her own doorstep.

Catherine Smith was found covered in blood in Lydhurst Avenue, south London sometime after 13:00 BST on 27 July.

She first saw her attacker - described as a slim, black woman, about 5ft 5ins (1.67m) tall - while walking her dog near Streatham Hill.

When she returned home, the woman was waiting for her and repeatedly asked for money before later forcing her way into the house and attacking her.

The reward is being offered for information that leads to arrest and conviction.