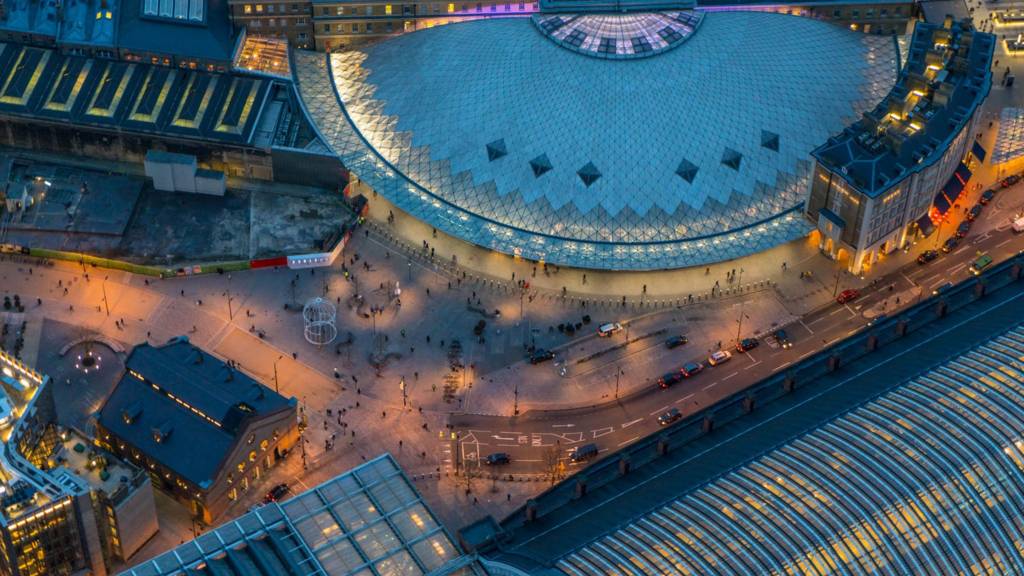 BBC London Live: As it happened
Summary
Updates on Friday 7 April
Goodbye from BBC London Live

Updates for London have now ended for the day but we'll be back at 08:00 on Monday with all the latest videos, news, sport, travel and weather.

Have a great weekend and enjoy the sunshine.

Tonight's weather: Dry, clear with a risk of frost by morning

It will be a dry night with clear spells for most parts with light winds. However, some mist and fog patches will develop by the end of the night as well as a touch of ground frost in prone locations. 

Minimum temperature: 7C (45F).

Westminster Bridge bike and pedestrian improvements start on Tuesday after delay

Tom Edwards

Transport Correspondent, BBC London

Works to improve Westminster Bridge for cyclists and pedestrians will start on Tuesday. 

They had been postponed after the terror attack on the bridge on 22 March.

Severe disruption: Greater London westbound

BBC News Travel

Greater London westbound severe disruption, at A314 Hanworth Road.

Greater London - High Street in Hounslow blocked and queuing traffic westbound at the A314 Hanworth Road junction, because of an incident.

To report traffic and travel incidents dial 0330 123 0184 at any time

Watch: Garden Bridge should be scrapped

GP practices close in record numbers

Record numbers of GP practices closed last year, forcing around 265,000 patients to move, data suggests.

A Freedom of Information request by  Pulse magazine  revealed 57 practices closed in 2016, with a further 34 shutting because of practice mergers.

The Royal College of GPs said doctors could no longer cope with growing patient demand without more funding.

NHS England said investment in general practice had increased by £1bn over two years.

Kick-start your career with street cricket

#GetInspired

As the County Cricket season gets underway today,  England opener Haseeb Hameed gives his support to a different form of the game....

If you want to find out more about how to get into cricket, take a look at the Get Inspired guide.

Surrey in healthy position at tea

Surrey 239-2 v Warwickshire - Tea

Mark Church

BBC Radio London commentator

A better session from Warwickshire with the ball but Surrey are still in a fine position. Rory Burns fell to Keith Barker for 71 breaking an opening stand of 154 with Mark Stoneman.

Stoneman dominated the afternoon and moved to a century on his Surrey debut with his 17th boundary. Rikki Clarke bowled an excellent spell from the Pavilion End and Warwickshire were rewarded with the wicket of Scott Borthwick for 23, caught by Clarke off Hannon-Dalby.

Kumar Sangakkara joined Stoneman just before tea and Surrey will look to push on during the final session. Warwickshire may still wish they had given themselves the chance to bat first.

Award for Rotherham-born artist

Adam Pinder-Smith

BBC Local Live, Yorkshire

Congratulations to Rotherham-born artist Jason Davies, who's work won first prize in the painting category at the London Biennale in Chelsea.

Here's the pieces he submitted to judges:

Mr Davies, who started painting in 2002, said that painting "saved his life".

Stolen Torah scrolls found by roadside after police appeal

We reported yesterday that two valuable Torah scrolls had been stolen from the house of two a Rabbis in Barnet.

They have now been found on a roadside in Potters Bar, Hertfordshire, and returned to Rabbi Larry Tabick and Rabbi Dr Jackie Tabick.

Detectives are continuing to appeal for information to trace the suspect, who was disturbed at the property in Ashbourne Grove at 17:30 on 22 March during the break-in.

He is described as white, around 5ft 10 ins and dressed in black with a scarf across his face.

PC Louise Bates, of Barnet CID, said: "It is fantastic that these scrolls have been found and returned to their owners, but our efforts to try and find the person who carried out the burglary continue.

"The scrolls were found in bushes near the Bentley Heath Cricket Club on Wagon Road. Have you seen anyone dumping anything at the roadside there in the last few days? We would like to hear from you."

Essex jockey set for the Grand National

An Essex jockey says he's nervous, but can't wait to take part in tomorrow's Grand National at Aintree .

Danny Cook, who grew up in Romford and has a home in Brentwood, is riding one of the favourites.

He's told BBC Essex today is all about looking after his horse Definitly Red (there's a missing e in his name, it is believed whoever filled out the horse's registration papers wasn't a great speller). 

Cook (pictured riding Yesyoucan at Haydock in 2012) said: "He [Definitly Red] had a gallop this morning, not a hard gallop. That should put him spot-on ready for tomorrow.

"You have got to keep him fresh as well as fit - to find a happy medium."

Severe accident: M25 Kent clockwise

BBC News Travel

M25 Kent clockwise severe accident, between J2 for A2 and J3 for M20.

M25 Kent - One lane blocked and very slow traffic on M25 clockwise between J2, A2 (Darenth Interchange) and J3, M20 (Swanley Interchange), because of an accident involving lorry and a car.

To report traffic and travel incidents dial 0330 123 0184 at any time

London Fire Brigade urges smokers to vape instead

The London Fire Brigade (LFB) is encouraging smokers to take up vaping instead to reduce the risk of house fires. It says cigarettes remain the biggest of cause of fatal fires but there have been no recorded deaths or injuries as a result of vaping or e-cigarette fires..

To mark World Health Day, fire chiefs are advising smokers to quit smoking altogether but concede that vaping holds fewer fire risks than cigarettes.

In the past three years LFB has recorded only 14 e-cigarette fires compared to just over 3500 smoking related fires - 255 times more fires caused by tobacco smoking and unsafe disposal of smoking materials.  

Smoking remains the third largest cause of accidental house fires for the past five years in the capital and the single largest cause of death, the LFB adds.

Afternoon weather: Dry and sunny

It will be dry with spells of sunshine and light winds this afternoon. In the strong spring sunshine it will feel warm for many of us. 

Maximum temperature: 15C (59F).