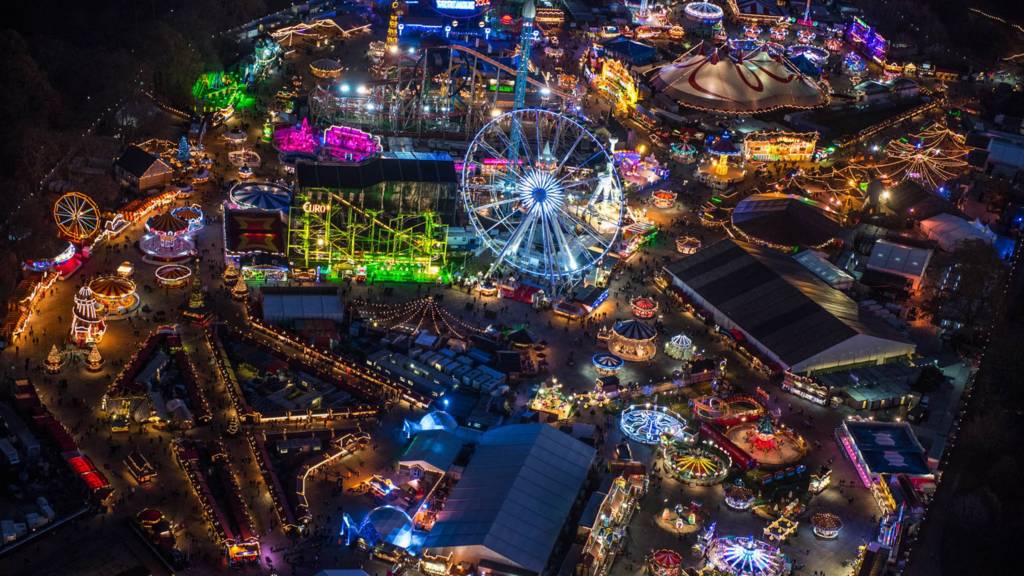 BBC London Live: As it happened
Summary
Updates on Wednesday 28 December 2016
Crystal Palace winger Wilfried Zaha is included in Ivory Coast's 23-man squad for the Africa Cup of Nations.
Read more
Good evening from BBC London Live

Updates for London have now ended for the day but we'll be back at 08:00 on Thursday with the latest news, sport, travel and weather.
Have a good evening.
Average age of British passenger trains is 21, study says
Trains on Britain's railways are 21 years old on average, an investigation has found.
It shows the age of British trains is at its oldest in at least 15 years. Rolling stock on the Caledonian Sleeper service is the oldest, at 41 years old.
London trains? Typically a sprightly 19 years old.
Croydon PC helps poorly Melody meet her hero
A Croydon police officer has gone above and beyond the call of duty to help a sick nine-year-old girl meet her music hero.
PC Ricky Philips was on a visit to the Fieldway Community Centre in the town when he heard about poorly Melody who suffers from numerous conditions including the debilitating Retts Syndrome, which causes internal bleeding.
She spends 80% of her time in hospital and her mother Karina told PC Phillips about Melody's love of singer songwriter Ed Sheeran. She spends every waking hour listening to his music and watching videos on her tablet.
A bit of hard work and determination paid off when the officer managed to get a message through to the singer.
Ed went to visit Melody in hospital, sang her some of his songs and signed her little pink guitar. She was so star struck she had to check Ed's tattoos to make sure it was really him!
Nearly 100 held in nail bar crackdown
Nearly 100 people working in nail bars have been arrested on suspicion of immigration offences as part of a clampdown on illegal working.
Investigators targeted more than 280 nail bars in Edinburgh, London and Cardiff as part of the government's Operation Magnify on "risk" industries.
Immigration minister Robert Goodwill vowed to tackle the "barbaric crime" of modern slavery by targeting businesses.
The government said it would identify and help potential trafficking victims.
Fire brigade tackle another water leak in Islington
Talks aimed at averting Tube strike adjourned until next week
Talks aimed at averting a strike by thousands of London Underground workers in the new year over job cuts and ticket office closures have been adjourned until next week. 
Members of the Rail, Maritime and Transport (RMT) union and the Transport Salaried Staffs Association (TSSA) are due to walk out for 24 hours from the evening of 8 January. 
The conciliation service Acas hosted talks between London Underground and the two unions, whose members have been banning overtime. The talks will resume next Wednesday.
What stories hit the headlines in London in 2016?
House price growth 'to slow in 2017' and more sharply in London
UK house prices will continue to rise in 2017 but at a much slower rate, according to research from the Halifax.
Britain's biggest mortgage lender said annual house price growth would be running at between 1% and 4% by the end of the year.
That compared with an average of 10% in March 2016.
Halifax said prices in London would slow more sharply than elsewhere, as affordability in the capital was already stretched.  
Severe disruption: A102 London northbound

BBC Travel
A102 London northbound severe disruption, from A102 Blackwall Tunnel Approach to A12 Blackwall Tunnel Approach.
A102 London - A102 Blackwall Tunnel in Greenwich closed and stationary traffic northbound from the A102 Blackwall Tunnel Approach junction to the A12 Blackwall Tunnel Approach junction, because of overheight lorry.
Check local traffic and travel reports for:
Watch: Tributes build at George Michael's London home
Fans and friends of George Michael have been leaving tributes outside his home in London as Emily Unia reports.  
Afternoon weather: Sunshine with the odd lingering fog patch

A fine afternoon with plenty of sunshine for most, although perhaps a little dull for a time in places where fog has lingered and persisted from the morning. 
Maximum temperature: 6C (43F).
Man knifed next to children's fair in Brixton
Image released in hunt for restuarant burglary suspect
Detectives have released this image of a man they'd like to trace in connection with a burglary at a restaurant in Balham.
A small quantity of cash was taken from the Foxlow Balham restaurant in Bedford Hill on the morning of 19 October but police weren't alerted until the 21st.
The CCTV caught the suspect entering the premises at about 08:00 and then leaving minutes later through a rear fire exit.
He was wearing dark glasses, a blue tracksuit top with a red motif and dark blue trousers.
One year on widow blames 'austerity' for husband's knife killing
A young mother has blamed "austerity" for mistakes which led to a mentally ill man being free to kill her husband. 
Renowned academic Dr Jeroen Ensink, 41, was set upon as he left home in Islington, north London, to post cards announcing the birth of his daughter, Fleur, a year ago tomorrow.
Nigerian foreign student Femi Nandap, 23, admitted carrying out the frenzied knife attack and was handed an indefinite hospital order in October. 
Since then, Dr Ensink's widow has emailed an open letter to politicians including Labour leader and Islington MP Jeremy Corbyn and London Mayor Sadiq Khan calling for an independent investigation into the circumstances of his death. 
Nadja Ensink-Teich told of her frustration that lessons were not being learned. 
She said: "It's an issue with austerity, it's an issue with not sharing information. If the police and CPS collaborated, information would have been shared. 
"The CPS did not even know he was in a mental hospital. All the information came out later on. If they had known about that before, he would have got psychiatric help and then it might not have happened." 
Fog causes problems at London's airports

BBC London Travel
BBC Radio London Travel
Fog around London is so far not causing any issues at Heathrow, just minor delays for departures and arrivals, but it is having an impact at other airports.
At London City Airport there are up to 90 minutes' delays for departures, 40 minutes at Stansted, 40 minutes at Gatwick and one hour at London Luton.
MasterChef judge treated in hospital after 'lucky escape'
 MasterChef judge John Torode was treated in hospital on Boxing Day after suffering a "lucky escape", his partner has said. 
Lisa Faulkner thanked the "lovely" medical staff at St Mary's Hospital, in Paddington, west London, for treating the 51-year-old celebrity chef. 
Ms Faulkner, 44, did not reveal the cause of Mr Torode's injuries when she posted a picture of him in a hospital bed and stated he "is very bruised but doing well".
Talks aim to halt Tube strike over ticket office closures
Talks are to be held in a bid to avert a strike by thousands of London Underground workers in the new year over job cuts and ticket office closures. 
Members of the Rail, Maritime and Transport (RMT) union and the Transport Salaried Staffs Association (TSSA) are due to walk out for 24 hours from the evening of 8 January. 
The conciliation service Acas will host talks today between London Underground and the two unions, whose members have been banning overtime. 
Paul Gascoigne injured in 'drunken brawl' at London hotel
Former football star Paul Gascoigne was taken to hospital after an alcohol-fuelled fight at a hotel, it has been reported. 
Mr Gascoigne, 49, was "racially abusing" customers at the Ace Hotel in Shoreditch, east London, and throwing money at them, according to a witness. 
The Metropolitan Police said officers were called to a disturbance at the hotel shortly after 18:00 yesterday before a 49-year-old man was taken to hospital with a head injury. 
Witness Alvin Carpio said the former England and Newcastle United striker, who has long-battled alcoholism, appeared "very drunk" during the altercation. 
He tweeted: "Gazza has just been kicked down the stairs by a guy whose friend got slapped by him. He really isn't in a good place.
"It's a sad state: He's been spitting, making racist remarks & groping women, all while throwing around £ notes. 
"He was racially abusing my mates, and hitting one of them on the shoulder and head before throwing a £20 note on him."
A Scotland Yard spokeswoman said: "The man has been taken to an east London hospital where he remains in a stable condition." No arrests have been made and inquiries are ongoing, she added.
Today's weather: A frosty and foggy start, clearing later

 A frosty and locally foggy morning, then a dry and bright day for many although fog and low cloud may linger across some areas giving a cold and dull day.
Maximum temperature: 7C (45F).  
Travel update: Engineering work affecting trains and Tube

Paddington Station remains closed due to engineering work meaning there is no service on Heathrow Connect and Heathrow Express, and Great Western Railway services start and terminate at Ealing Broadway.
Elsewhere rail replacement bus services are running between Chadwell Heath and Shenfield. Greater Anglia services are also not running between Liverpool Street and Witham.
The DLR has severe delays after a signal failure, while the Woolwich Ferry has been suspended due to the heavy fog. 
Engineering works are also affecting the Tube. The District line has no service from Edgware Road to Wimbledon and Kensington, and no service from Gloucester Road to Acton Town, Richmond and Wimbledon. 
And there is no service between Moorgate and Gloucester Road via Tower Hill on the Circle Line.
London Overground has no service between Romford and Upmister, and between Gospel Oak and Barking. 
For the latest information go to our travel page or follow us on Twitter @BBCTravelAlert
BBC London Live updates on Wednesday 28 December

Claire Timms
BBC London News