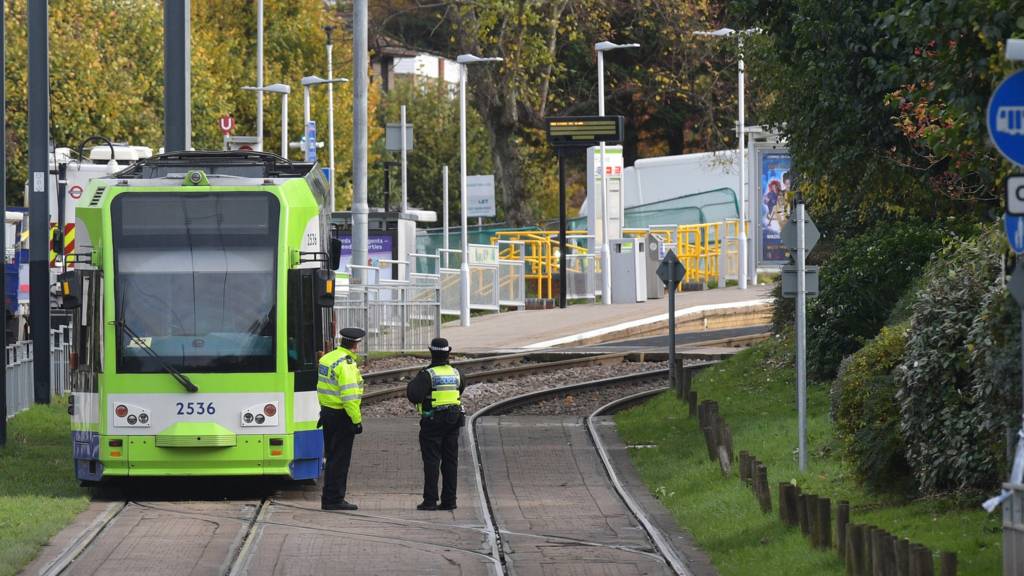 BBC London Live: As it happened
Our live coverage across the day

Updates for London have ended for the day but we'll be back at 08:00 on Monday with the latest news, sport, travel and weather.

Croydon Council start tram crowdfunding page

Severe accident: A203 London both ways

BBC Travel

A203 London both ways severe accident, between A3 Clapham Road and Landor Road.

A203 London - A203 Stockwell Road in Stockwell closed and queuing traffic in both directions between Stockwell Station and the Landor Road junction, because of a serious accident. Diversion in operation - bus routes 2,196,322,333,345 affected.

Check local traffic and travel reports for:

Severe accident: A406 Greater London eastbound

BBC Travel

A406 Greater London eastbound severe accident, between B550 Colney Hatch Lane and A109 Bounds Green Road affecting A1000 High Road.

A406 Greater London - Slow traffic on A406 Pinkham Way North Circular Road eastbound in Southgate between Colney Hatch Interchange and the A109 Bounds Green Road junction, because of an accident earlier on. All lanes have been re-opened. Congestion to the A1000 High Road junction.

Check local traffic and travel reports for:

Severe accident: A316 Greater London southbound

BBC Travel

A316 Greater London southbound severe accident, at A305 Twickenham Road.

A316 Greater London - A316 Great Chertsey Road in Twickenham entry slip road closed southbound at Apex Corner, because of an accident.

Check local traffic and travel reports for:

Watch: Leonard Cohen was an "inspiration" - the Webb Sisters

Hattie and Charley Webb, who toured with Leonard Cohen for six years, have paid tribute to the singer, following his death at the age of 82.

The sisters, speaking from south London, also featured on five of his albums.

Watch: London bakers create gingerbread mansion

Severe disruption: A214 London both ways

BBC Travel

A214 London both ways severe disruption, at Jasper Road affecting A212 Westow Street.

A214 London - A214 Westow Hill in Crystal Palace closed in both directions at the Jasper Road junction, because of a broken down scaffold lorry. Diversion in operation - Bus routes 249,417,432,450 affected. Congestion on A212 Church Road to White Hart Traffic Lights.

Check local traffic and travel reports for:

Police commander pays tribute to the community of Croydon

Message from Gold Commander DCC Adrian Hanstock about the Croydon Tram crash:

"When we first took a call about an incident involving a tram in Croydon on Wednesday morning, none of us could have anticipated the scale of the tragedy and extent of the scene of devastation that lay ahead.

"Police officers and members of the emergency services who were first on scene were met with more than 50 injured people – and, as we know now, encountered seven people who sadly lost their lives following this tragic incident.

"We are supporting the coroner in her formal arrangements to identify the victims as soon as possible. We have specially trained officers supporting their families and loved ones, helping them through what could be a lengthy inquest process.

"I want to pay tribute to the community of Croydon who have shown incredible strength and resilience during this difficult time, as well as every single member of the emergency services and other agencies who have helped throughout.

"Since Wednesday, scores of police officers, paramedics, firefighters, safety experts and others have worked through the day and night.  The hospitals provided outstanding treatment and care to more than 50 injured people; local businesses and residents provided emergency workers with support, food and drink; Croydon Council opened its doors to the community; and charities, including the Red Cross, Salvation Army and Railway Chaplains, came to offer their support.

"This has been a challenging and difficult week for everyone in Croydon – not least for those directly affected and the local community – I want to thank everyone for their continued patience while we fully investigate the circumstances of what happened.

"We expect the tram to be removed from the site during the next 24 hours and would ask that the families are given the time and space they need to grieve."

Watch: Mayor of Croydon speaks after minute silence for tram crash victims

Investigation could take many months

Tom Edwards

Transport Correspondent, BBC London

The Rail Accident Investigation Bureau (RAIB) is now calling for passengers to come forward if they think they have information relevant to its inquiry.

It has already said that the reason for the crash was excessive speed on a sharp left hand corner, but it is trying to find out why the tram was going so fast.

Was this a technical issue that could be rectified?

The preliminary report next week will set out how the full investigation will continue. That process will take many months.

But if there are any urgent safety recommendations for the operation of trams it will release them straight away.

The report is technical and it will not apportion blame or liability. 

It looks as though the tram may be moved today and it will probably go to the RAIB base in Farnborough for further examination.

'The last couple of days have just felt like a nightmare'

Mark Smith's cousin Tom Smith wrote on Facebook: "Still cannot believe this is true, the last couple of days have just felt like a nightmare that I'm gonna wake up from. 

"Not only were you my cousin but literally my best friend. The thought that we are all never gonna see you or hear from you again makes me feel sick. 

 "We are all in bits and I just wish you could walk back into your home with that smile on your face and make everyone laugh."

Another friend, Rich Padley, posted on Facebook: "Trying to find the right words to say in light of the tragic events that happened on Wednesday morning, Marky was one of the nicest guys I've ever met in the car scene, and always made time for anyone. 

 "RIP dude, the world's a sadder place without you that's for sure, my heart goes out to your loved ones that you've left behind."