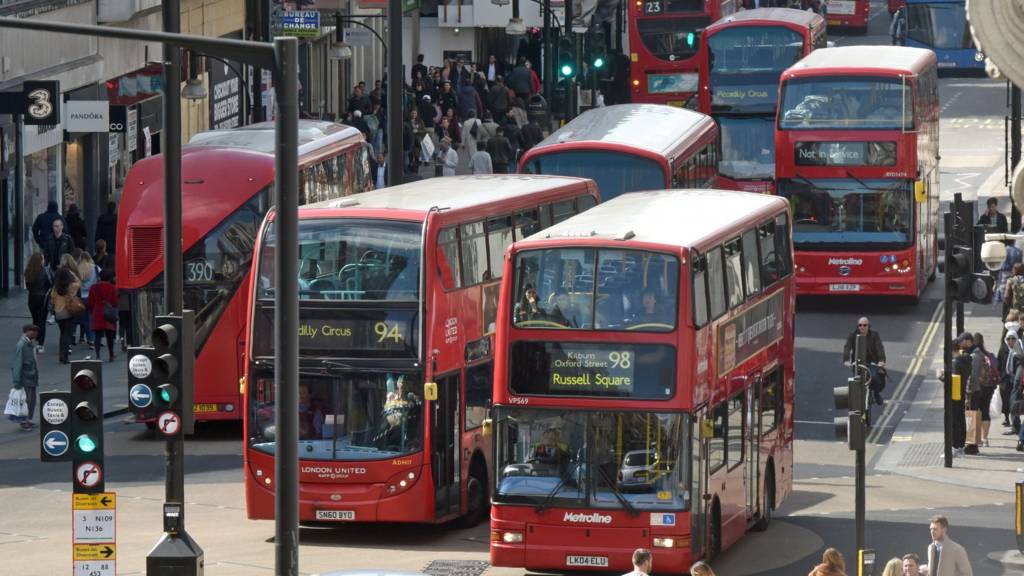 As it happened: BBC London Live
Summary
Updates on Friday 2 September 2016
Our live coverage across the day

Updates for London have now ended but we'll be back on Monday at 08:00 with the latest videos, news, sport, travel and weather.

Tonight's weather: Any rain fading to leave clear spells

Any remaining outbreaks of rain during this evening will gradually fade and ease away eastwards during the first half of the night. 

Clear spells are then likely to develop for many of us, leading to some patches of mist or fog forming by dawn, especially along prone stretches of the River Thames. 

Lows of 12C (54F).

Analysis: The economic bounce back

Kamal Ahmed

Economics editor

The number of cranes that pepper the skyline is a useful indicator of economic activity.

The more cranes there are, the more construction work is going on.

In 2013 a study by the Health and Safety Executive (which oversees the erection of tower cranes) revealed that 60% of them went up in London, despite the city only having 1 in 8 of the population.

The figures showed that the capital was the economic powerhouse of the UK. And that construction mattered.

Today's construction figures are far from gloomy.

Watch: Improvement in air quality say scientists

Learning to code is the best way to protect your job, warns technology firm boss

Silent disco in canal bed to mark Camden Lock repairs

Copyright: Canal & River Trust

A celebration will be held in a drained chamber of Camden Lock to mark the end of three-years of repairs.

The event, a so-called silent disco, will see 160 people dancing to music while wearing headphones on Saturday evening.

The chamber at the north London site will also be open to public as the Regent's Canal marks 200 years.

Eight sets of lock gates on the Regent's Canal were repaired on replaced at a cost of £500,000.

Copyright: Canal & River Trust

'Subterranean squad' to tackle mega-basements

A new "subterranean squad" will be making sure Westminster's mega-basements are all in order as well as taxing developers for the work they're carrying out. 

The Westminster City Council group will monitor the noise, dust and traffic impact of developments.  

The new 'subterranean squad' will:

Make sites coordinate deliveries 

Check that developers are keeping neighbours informed 

Enforce stricter working hours
Provide a point of contact for residents with complaints

It's predicted an average basement scheme will be levied at £8,000 with larger developments coming in at about £30,000.

London Welsh: Former Premiership club faces winding-up order

London Welsh are facing a winding-up order at the High Court on Monday as the club tries to secure investment and avoid going out of business.

Welsh escaped liquidation in April but have since struggled to pay players' wages, while head coach Rowland Phillips left in July and not replaced.

It is one of England's oldest clubs, having been formed in 1885.

Southern rail co-owner Go-Ahead reports £100m profits

Southern rail co-owner Go-Ahead has reported a profit of nearly £100m and apologised for major ongoing disruptions to its railway services.

Earlier this year hundreds of rail services were axed as part of a revised Southern timetable, prompting travel chaos and complaints from passengers.

The profit figures angered unions, with RMT describing Go-Ahead and Southern as "a money-raking disaster".

Go-Ahead's yearly profits before tax rose 26.8% to £99.8m.

London Zoo marks International Vulture Awareness Day

Copyright: Tony Bates/ZSL London Zoo

This striking image of a Rupell's griffon vulture has been captured by ZSL London Zoo employee Tony Bates, ahead of International VultureAwareness Day tomorrow.

The Zoo is celebrating all things vulture this weekend to raise the profile of the rapidly declining species. 

Populations of three of India's commonest griffon vultures are now 90% less than they were just a decade ago. 

A spokesman said: "ZSL conservationists and scientists are working in India and Nepal to try and bring these iconic birds back from the brink.",

Man wanted over rape and false imprisonment

A man is wanted by police in connection with a number of offences including rape, false imprisonment, wounding, possession of a firearm, threats to kill and theft. 

Copyright: Blackpool Police

John Hewitt, 36, formerly of Dickson Road in Blackpool, also has links to Essex, Portsmouth, Wales, Norfolk, Thames Valley, Greater Manchester and London. 

He is also known to go under the names of John Wilson, Dean McKenzie, John Burton and John Davies.

Incidents are reported to have taken place between June 2015 and July this year.

Man bailed in south London street brawl murder probe

A man arrested on suspicion of the murder of a 25-year-old who died after a brawl in a busy street has been bailed. 

Reginald Ofei-Berko was found unconscious outside a block of flats in Walworth, south London, on 25 August  after an altercation with a group of men, Scotland Yard said. 

He was rushed to hospital after being discovered just after 15:00 but died a short time later.

A post-mortem examination carried out the next day failed to establish a cause of death, but police said he had injuries consistent with being assaulted. 

A 19-year-old man was arrested on 30 August on suspicion of murder and was bailed on 1 September to return to police on a date later in the month. 

Watch: Campaigners gather to call for action on refugee crisis

The campaign group, Citizens UK gathered at the Home Office to hand in a letter demanding action on the refugee crisis. 

They say they have identified almost 400 refugee children living in the so-called Jungle camp in Calais who are eligible to come to the UK.

The call comes on the anniversary of the death of the Syrian boy, Aylan Kurdi.