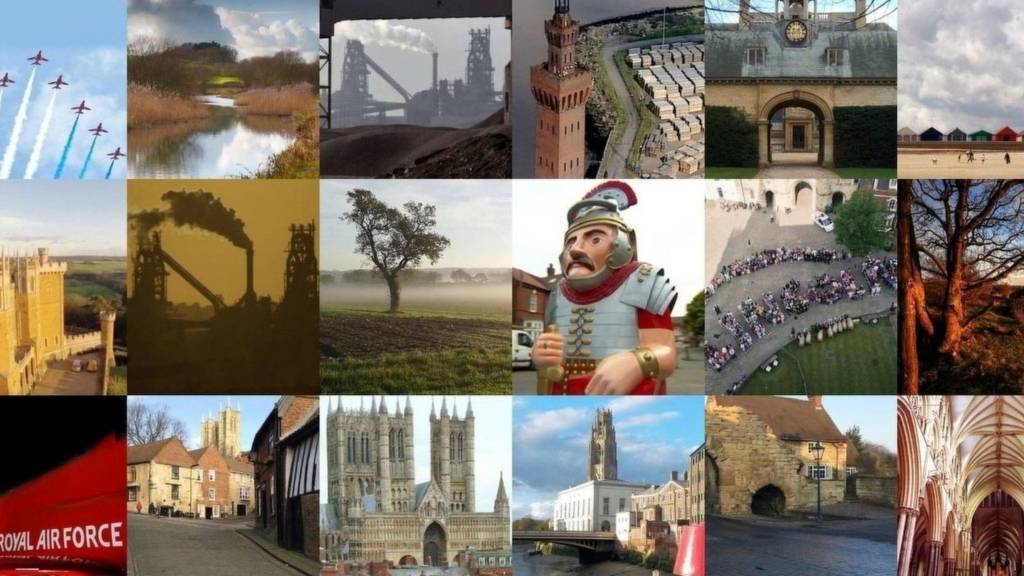 Lincolnshire breaking news: Latest updates
Thousands of bottles of wine going under hammer

More than 4,000 bottles of wine and champagne worth up to £80,000 are to go under the hammer.

Copyright: Eddison CJM Auction Centre

The company which ran Lincolnshire-based 3D Wines went into liquidation in September.

The wine will go under the hammer in an online auction on Wednesday at the Eddison CJM Auction Centre in Scunthorpe.

Copyright: Eddison CJM Auction Centre

3D Wines was founded in 1992. The business took off in 1999 after featuring on the BBC Food & Drink programme when the wine writer Oz Clarke went on one of the club's grape picking events in the Loire Valley.

Quote Message: From a wine drinker's point of view, 4026 bottles of great wine going under the hammer just two weeks before Christmas is probably about as good as things get" from Paul Cooper Auctioneer

Parents react to Grantham school Christmas card plea

Parents of children at a Grantham primary school where pupils have been asked not to send Christmas cards to friends say they are planning to ignore the request.

Jonathon Mason, headteacher at Belton Lane Primary School, wrote to parents suggesting students send a single card to the class rather than individual ones.

He said some children had expressed concern about the environmental impact of cards.

However, one parent said the request was "pathetic".

They said: "There hasn't been a ban, we can still write them.

"My little boy is seven and has asked me to get him cards, so I'm still getting them to send his friends."

Another added: "We'll still be sending them. It's a Christmas tradition for the kids. They all love coming out of school with all their cards from their friends so we'll definitely still be sending them."

Other parents have been more supportive of the move with one saying: "I don't do Christmas cards, they seem like a waste of effort. I'm a cloth nappy mum so I'm all for saving the environment."

Foodbank staff 'blown away' by donation

Staff at a Lincolnshire foodbank say they were "blown away" after receiving hundreds of pounds worth of donations from a seven-year-old girl.

Izzie, from Walcott, near Sleaford, was inspired to help after learning about foodbanks during her harvest festival at school.

She ended up donating 30 bags of food because she says "everyone deserves a treat at Christmas":

Man threatens shop staff with hammer in attempted robbery

A man armed with a hammer entered a shop in Winthorpe and demanded money earlier this week, according to Lincolnshire Police.

Copyright: Lincolnshire Police

The force is investigating the robbery at The Village Store on the corner of Church Lane and the A52 Roman Bank.

The man entered the store at about 21:00 on 3 December and demanded money, but he made off from the shop empty-handed.

Copyright: Lincolnshire Police

The suspect was wearing a dark blue hooded jumper, black trousers and grey trainers.

Anyone with information about the incident is being asked to contact police.

Man jailed for abusing young boys in South Yorkshire

A Lincolnshire man has been jailed for 30 years after abusing boys when he worked as a sports coach in South Yorkshire.

Copyright: South Yorkshire Police

Dylan Lamb, 72, worked in Rotherham, Doncaster and Brigg in Lincolnshire as a football and hockey coach when the abuse took place.

Lamb, who also went under the name of Johnathan Haythorne and Jonathan Haythorne Price, abused five boys in the 1970s, 80s, 90s and early 2000s.

One victim was just 13 when the abuse took place in Swinton and Mexborough, South Yorkshire.

The offender lured the children to his house and sometimes to hotels, buying them meals, presents and arranging trips.

The 72-year-old, of Queens Court, Scawby, North Lincolnshire, was found guilty of 11 counts of indecent assault, five counts of indecency with a child and five counts of other additional sexual offences following a trial.

New trains set to hit the tracks in Lincolnshire

The first of almost 100 new trains set to run on routes across Lincolnshire are to be introduced later this month.

Train operator Northern will introduce 50 trains across its network on the 15 December with another 49 due to be brought into service next year.

They'll be more spacious, fully accessible and offer free WiFi and at-seat power, the company has said.

Northern is currently fully refurbishing its existing fleet of 268 trains, improving its stations and has introduced more than 2,000 extra services a week since 2016.

Quote Message: The new trains present huge economic benefits for Lincoln and there has never been a better time to visit with a spectacular programme of events and experiences taking place in 2020." from Mike Timson Chief executive, Visit Lincoln

Police probe 'deliberate' Grimsby house fire

Police in Lincolnshire are investigating a suspected arson attack at a house in Grimsby.

The front door of a house in Littlefield Lane was set alight in the early hours of Tuesday.

The occupant was woken by an alarm and managed to put the fire out unharmed, according to Humberside Police.

Fire investigators believe the fire, which happened between 01:00 and 01:45, was started deliberately.

Anyone with information about what happened is being asked to contact Humberside Police.

Woman in court over Welton Cliff triple fatal crash

A woman has appeared in court accused of causing the deaths of three teenagers by dangerous driving.

Ricky Sharpe and Aiden Sawyer, both 17, and Joby John Scrimshaw, 14, died when the Vauxhall Astra they were in crashed near Lincoln on 25 March.

Two other passengers in the car were injured in the crash Heath Lane at Welton Cliff.

Kasey Boulton, 18, of Heath Close, Welton - who was also hurt - was bailed at Lincoln Magistrates' Court.

A crown court hearing was scheduled for 3 January.

Men arrested following Lincoln assault

Three men have been arrested in connection with an assault on High Street in Lincoln.

The assault happened at 05:00 on Monday.

Lincolnshire Police said the three arrested men, aged 42, 35 and 19 are all from Lincoln.

They remain in custody and the investigation continues.

Brexit Party MEP defects to back Boris Johnson's deal

An East Midlands MEP has resigned from the Brexit Party in order to back the Conservatives and Boris Johnson's Brexit deal.

Annunziata Rees-Mogg - sister of Conservative Jacob Rees-Mogg - was elected to the European Parliament in July for the Brexit Party.

She said: "The Conservatives are the only option for Brexit supporters and democrats alike."

She is one of four MEPs to leave the Brexit-supporting party, alongside London's Lance Forman and two Yorkshire and Humber representatives, Lucy Harris and John Longworth.

Longworth, a former director general of the Chamber of Commerce, was sacked from the party yesterday for "repeatedly undermining" Brexit Party leader Nigel Farage.

Mr Farage said he would not contest 317 seats won by the Tories in the 2017 election, but he has come under fire for fielding candidates in Labour marginal seats, potentially splitting the Leave vote.

In reply, Mr Farage said the Brexit Party had already worked to assist the Tories in securing a majority for exiting the European Union.

"Whilst we are disappointed that four of our MEPs don't seem to understand that we both saved the Conservative party from large scale losses to the Liberal Democrats in the south and south-west of England, but we are also hammering the Labour Leave vote in its traditional heartlands, making it much easier for the Conservatives to win many of those seats," he said.

Thousands expected as Christmas market gets under way

Lincoln is bracing itself for about 230,000 people descending on the city over the next four days as the Christmas Market gets under way today.

Copyright: Nathan Emerson

About 300 stalls are being set up, and organisers say one in five will be different from last year.

Jerry Jordan, one of the marshalls at the event, says everyone's hoping for a big turnout.

"It's absolutely fantastic, I love it and really enjoy working here. Last year it was fantastic.

"There were so many people who came.You couldn't see the pavement with the amount of footfall we had. Hopefully it will be the same this year."

This year, stalls will be set up in and around the castle, cathedral and uphill Lincoln.

Accidents spark delays on Lincolnshire roads

There are delays on the roads in Lincolnshire this morning due to several incidents.

There's been an accident on Winnowsty Lane involving a car and a motorbike which is causing problems on the A15 Wragby Road Southbound.

One person has suffered minor injuries.

Meanwhile, the A15 is blocked southbound from Horncastle Lane to the Riseholme Roundabout.

Four vehicles have been involved in a crash.

Severe accident: A15 Lincolnshire southbound

BBC News Travel

A15 Lincolnshire southbound severe accident, from A1500 Horncastle Lane to A46.

A15 Lincolnshire - A15 in Welton Cliff blocked and queues southbound from the A1500 Horncastle Lane junction to Riseholme Roundabout, because of an accident involving four vehicles.

To report traffic and travel incidents dial 0330 123 0184 at any time

Water pumping continues at river breach site

Water which flooded acres of farmland near Woodhall Spa after heavy rainfall last week is being pumped back into the river.

The Timberland Delph burst its banks and left about 200 acres of farmland under up to 3ft of water in places.

Nearby properties were evacuated as a precaution.

Sandbags have since been used to mend the 40ft wide breach ahead of a permanent fix using clay.