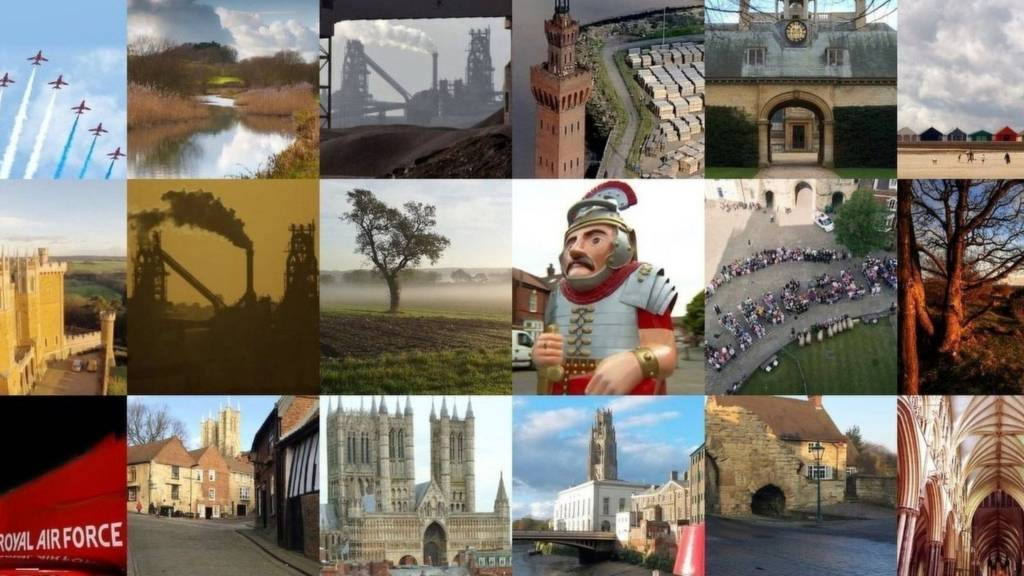 Lincolnshire breaking news: Latest updates
Severe accident: A46 Lincolnshire eastbound

BBC News Travel

A46 Lincolnshire eastbound severe accident, from A18 Barton Street to Grimsby Road.

A46 Lincolnshire - A46 Grimsby Road in Laceby blocked eastbound from Laceby Crossroads to the Grimsby Road junction, because of an accident. Traffic is coping well.

To report traffic and travel incidents dial 0330 123 0184 at any time

Severe disruption: A46 Lincolnshire both ways

BBC News Travel

A46 Lincolnshire both ways severe disruption, between Haycorns Gatehouse Road and Owersby Moor.

A46 Lincolnshire - A46 in Holton Le Moor closed in both directions between the Haycorns Gatehouse Road junction and the Owersby Moor junction, because of flooding.

To report traffic and travel incidents dial 0330 123 0184 at any time

Floods leave farmers with 'unprecedented costs'

Widespread flooding has left some farmers in one of England's main crop-growing regions unable to sow seeds for wheat and barley crops.

Heavy rainfall in Yorkshire and the East Midlands "swamped thousands of acres of farmland at a crucial time", the National Farmers' Union (NFU) said.

It said 90% of the winter cereals was expected to be drilled in Lincolnshire, but only 10% had been done.

Thousands of homes and businesses have been flooded since 7 November, including the farm at Bardney in Lincolnshire pictured above.

A spokesperson for the NFU said farmers were facing "massive and unprecedented costs" because of the floods.

James Peck, from the NFU, said up to 10 inches of rain fell in some parts of Lincolnshire and Nottinghamshire, leaving fields waterlogged.

The current conditions means harvesting root vegetables and crops - including cabbage, broccoli and Brussels sprouts - has been difficult.

Boston United launches campaign to support new stadium

Boston United fans are being asked to sponsor parts of the team's new Community Stadium as part of their "Building Together" campaign.

Copyright: Chestnut Homes

The stadium is taking shape on the outskirts of the town as part of The Quadrant development.

The club has now asked for donors willing to pay for floodlights, the centre spot and greenery in the car park and comes after costs rose by over £3m.

Secretary Craig Singleton says the club will be able to afford the ground even without donations, but this will "aid the process and speed things up".

"If four people don't come forward and pay £5,000 each for a floodlight, then obviously the floodlights are still going to be here because we can't operate without them," he says.

Woman admits causing death by careless driving

A woman from Leeds will be sentenced next month after admitting causing a fatal crash on the A17 in Lincolnshire.

Marilyn Cook pleaded guilty to a charge of causing death by careless driving of Mary Marshall-Sheriff.

It follows a collision at Heckington, near Sleaford, between an Audi Q3 driven by Cook and another car on 9 August 2018.

Cook, 72, of Scott Green Crescent, Gildersome, Leeds, was today given an interim driving ban.

She was granted bail to reappear before Lincoln Crown Court (pictured) on 17 December for sentencing.

Man, 65, to stand trial over £13m 'Ponzi' scheme

A man has appeared in court charged with defrauding hundreds of investors out of almost £13m in a "Ponzi" scheme.

Alistair Greig, 65, is also accused of moving stolen money out of the UK.

It is alleged investors - most resident in Scotland, in particular the Aberdeen area - were offered the opportunity to receive high guaranteed interest rates on short-term deposits.

Mr Greig, who lives in Boston, Lincolnshire, denies all the charges and is due to stand trial next year.

Police appeal over failed ATM theft near Grantham

Police are appealing for witnesses after four men tried but failed to remove an ATM from a service station in Lincolnshire.

The attempted theft happened just after midnight at the Moto Services on Great North Road in Gonerby Moor, near Grantham.

Four men tried to remove the cash machine and then fled the scene in a dark coloured vehicle, leaving behind a trailer and an Iveco tipper truck at the scene.

Police want to hear from anyone who may have been driving in the area or has dash cam footage from the area at around the time of the incident.

'Nightmare' for villagers after water pump problem

People in a North Lincolnshire village are currently unable to use their toilets, have a bath or make a cup of tea due to a problem at a pumping station.

Anglian Water says its engineers are on site to check that the pump, which is located near the village of New Holland, is working properly.

However, the firm says recent heavy rain has left sewers full to capacity and it's been using tankers to try and alleviate some of the pressure on the sewer network.

Carol Hickman, who lives in the village, says the current situation is "just a nightmare".

"We've had to resort to chemical toilets, I've had to clingfilm my toilets over in the en-suite and in the bathroom to try and stop the smell coming up," she says.

Plans passed to spread festive 'JOY' in Lincoln

Local Democracy Reporting Service

Plans to put up some new giant festive lettering spelling the word "JOY" in Lincoln's Cornhill have been passed.

Copyright: Banks Long & Co

The illuminated decoration will be erected outside 5&6 Corn Exchange until 12 January after City of Lincoln Council backed the plan.

The letters will be made of illuminated gold metal frames and a wreath-type illuminated "O" big enough for people to stand under.

Banks Long and Co, which lodged the plan on behalf of Lincolnshire Co-op, said in its proposal that the aim of the lettering was to spread a little joy.

Boston stabbing victim remains in hospital

Lincolnshire Police say a man who was stabbed in the street in Boston remains in a stable condition in hospital.

The 24-year-old man was found in Tunnard Street in the early hours of Monday morning after what's thought to have been a street fight.

One man was arrested on suspicion of attempted murder and two others were arrested on suspicion of affray. All three remain in police custody.

Police are still in the Tunnard Street area investigating the incident.

Teacher invents new compact foldaway scooter

A Lincolnshire teacher has invented a new type of scooter that children can fold away in seconds and hang up on a peg in class.

Robert Bett is a Design and Technology teacher at Boston Grammar School.

He says he hopes pupils will use his scooter- which he's called 'Tricksta'- to get to school rather than taking the bus or getting in a car.

He said: "A lot of kids do take their scooters to school and they're difficult to store so it's a good idea to have one that's so compact."

Woman killed in 'vicious' attack at caravan park

A woman died following a "vicious" attack on her 64th birthday, a court has heard.

Copyright: Lincolnshire Police

Linda Treeby was found seriously injured in a caravan at Summerlands Caravan Park at Igoldmells, near Skegness, in May.

Prosecutors allege she was killed by her partner Andrew Highton, 51, after the couple came home from a nearby pub.

William Harbage QC: "The injuries she received were far more severe than might be caused by just punches. They indicate she had been kicked and stamped on."

Mr Highton, of Highbury Road, Nottingham, denies murder and an alternative charge of manslaughter.

The trial at Lincoln Crown Court continues.

Lincolnshire health visitors stage month-long strike

Heath visitors in Lincolnshire have begun a near month-long strike in a dispute over pay and conditions.

About 70 members of the Unite union at Lincolnshire County Council are due to strike until 13 December.

The union said some workers were "significantly worse off" since being transferred from the NHS in 2017.

The council said it had held constructive discussions with union officials and was disappointed the action was being pursued.

According to the union, some workers stood to lose £150,000 during their careers due to a two-tier grading system introduced by the authority.

It said some staff were being placed in the lower band despite them having the same qualifications as those in the higher tier

Watch: Tuesday's forecast for Lincolnshire

This morning's fog and mist may take a while to lift but when it does there'll be some bright, sunny spells with temperatures getting up to about 5C or 6C.

Overnight it will stay dry and slightly milder than last night with temperatures down to about 2C or 3C:

Grace Millane: Backpacker died 'accidentally during sex'

A British backpacker died when consensual sexual activity "went wrong", a court has heard.

Copyright: LUCIE BLACKMAN TRUST

University of Lincoln graduate Grace Millane died on 1 December, the night before her 22nd birthday, while travelling in Auckland, New Zealand.

A 27-year-old man, who cannot be named for legal reasons, denies her murder.

His defence told Auckland High Court Ms Millane, from Wickford, Essex, died accidentally after being consensually choked during sex. The defendant has chosen not to give evidence himself.

Prosecutors allege he strangled Ms Millane before disposing of her body.

The trial continues.