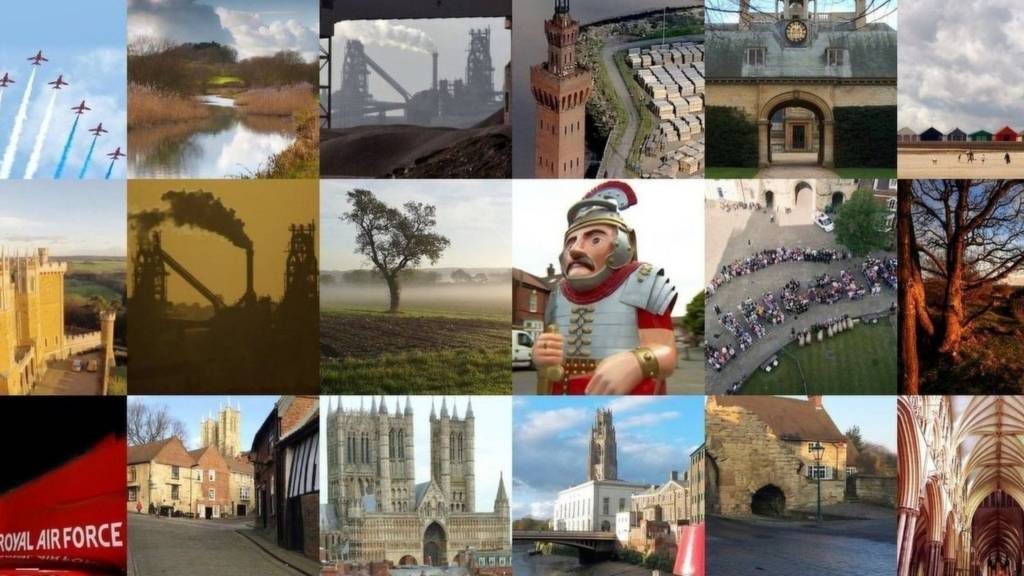 Lincolnshire breaking news: Latest updates
Yellow weather warning for rain in place across county

New £1.5m homeless shelter opens in Lincoln

A new £1.5m homeless shelter has been officially opened in Lincoln.

The YMCA Lincolnshire and the Nomad Trust centre provides emergency accommodation for homeless people at night and hot meals during the day.

The centre replaces the organisation's former shelter on Monks Road, which has been used for the last twenty years.

Chief Executive of YMCA Lincolnshire Caroline Killeavy described the building as "groundbreaking".

"Not many cities have these kind of facilities for rough sleepers at all and what they're providing is private and dignified space," she said.

Large straw stack fire near Grantham

Lincolnshire Fire & Rescue say they are aware of a large stack fire near Stainby and are allowing it to burn out.

The service tweeted to say the blaze is being supervised by the farmer and does not pose a danger to the surrounding area.

Backlash over replacement wheelie bin charges in Boston

Local Democracy Reporting Service

Boston Borough Councillors are asking the authority to remove charges for replacement wheelie bins after a backlash from residents.

Copyright: Boston Borough Council

At a meeting in September, the Environment and Performance Scrutiny Committee recommended to cabinet that it withdraw a £25 charge for replacement green and blue bins, which has been in the budget since 2013-14.

They say residents have been left angry and confused by the charges.

Since 2013-14, Boston Borough Council has spent £162,000 on green and blue bins but has raised just £5,000 from householders whose bins were damaged.

Boston Borough Councillor Peter Bedford also believed the cost involved in officer time outweighed the £25 charge:

Quote Message: For the small amount of money the borough has recouped since they started charging, the cost of officer monitoring and everything else, they must be out of pocket." from Peter Bedford Councillor

Grimsby go local for town's Christmas tree

Grimsby's Christmas tree has been put in place today, but for the first time in years it has not come from Norway.

The tree has previously been gifted to the town from Norway - a tradition dating back to the 1940s - but last year it had to be replaced due to its poor state.

Now, this year, after poor weather conditions in Norway hampered tree growing, North East Lincolnshire Council have taken their festive fir from a local grower.

Boston choir head to Royal Albert Hall for top concert

Members of the Boston Youth Pop choir are making the journey of a lifetime today to perform at the world famous Royal Albert Hall.

Over 40 young people from schools in the Boston area will be performing at the Music for Youth Proms concert tonight.

They've fought off competition from 40,000 other young musicians over a series of regional and national heats to be picked.

They'll take to the stage tonight with their version of Eminem's Lose Yourself and The Colour Purple from the musical of the same name.

Evie, 13, is one of those taking part and she says she can't wait:

Quote Message: I'm really excited to go to the Royal Albert Hall for my first time. I think it's going to be amazing for everybody and I think it's going to be really good." from Evie Choir member

Environment Agency criticised over farmland flooding

A Lincolnshire farmer has criticised the Environment Agency for not doing enough to stop his farmland from flooding.

Henry Ward's land surrounds the Barlings Eau, near Lincoln, which burst its banks over the weekend.

He said more than a 1,000 acres of his land has been covered with between six and 10ft of water and he says he's not heard anything from the Environment Agency.

He told BBC Radio Lincolnshire: "They've not even spoken to me or my family.

"We're not a flood plain, it's open arable land and we're being used as a flood plain free of charge and we're expected to take the cost of this on the chin."

He posted the following footage online:

The Environment Agency has said it is making plans to repair the Eau "as soon as ground and weather conditions allow" and is liaising with the National Farmers Union to offer support and advice to farmers affected by flooding.

People urged to download app to speed emergency response

From today Lincolnshire Police will be using an app to help them find people in an emergency more quickly.

What3words divides the world into 57 trillion squares, each measuring 3m by 3m (10ft by 10ft) and each having a unique, randomly assigned three-word address in order for people to be easily located.

It can be used when postcodes or location names aren't specific enough.

Ch Insp Steve Williamson said: "Being able to identify a caller's exact location is incredibly important.

"With What3Words we can quickly pinpoint where that caller is be it in a field, staying in a caravan on holiday, on the beach, lost or involved in a road traffic collision in an unknown rural area, we will be able to locate them.

"I would ask everyone who has a smart phone to download the app, and ask your family, friends and neighbours to download it."

CCTV 'shows backpacker's body in suitcase'

A jury has been shown CCTV of a man accused of murdering the backpacker Grace Millane pushing a suitcase said to contain her body.

Copyright: REX/SHUTTERSTOCK

University of Lincoln graduate Grace Millane, from Wickford, Essex, died on the night before her 22nd birthday while travelling in New Zealand.

The suspect, who cannot be named for legal reasons, denies murder.

He had been on a date with Ms Millane the day before he left his Auckland hotel with two suitcases.

Prosecutors claim Ms Millane was in one of them and allege the suspect strangled Ms Millane before disposing of her body.

But the defendant claims the University of Lincoln graduate died on 1 December after they engaged in consensual rough sex.

The trial continues.

Boston-based Wild Bill won't be back for second series

TV crime drama Wild Bill, which is filmed in Lincolnshire, has been cancelled after just one series, ITV has confirmed.

The Boston-based series starred Hollywood actor Rob Lowe as a police chief constable.

ITV says it's "very proud" of the drama but that it "didn't connect with audiences" in the way the broadcaster had hoped.

Further fears over flood-hit horse charity in Bransby

Staff at a flood-hit Lincolnshire horse charity say they're worried about further rain which is forecast for the county later this week.

Bransby Horses, in Lincoln, is trying to rehome some of its animals after losing 40% of its grazing land to flooding.

More rain is expected at the end of the week and the charity is now hoping to move about 100 horses to land near Langworth.

Staff say they're "eternally grateful" for all the offers of land and stables they've received.