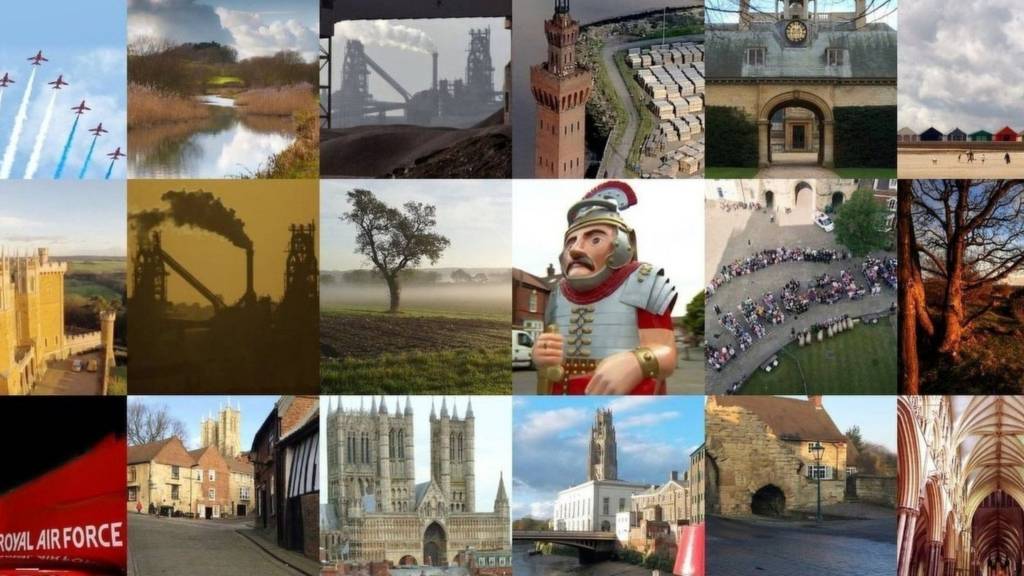 Lincolnshire breaking news: Latest updates
Severe disruption: Lincolnshire both ways

BBC News Travel

Lincolnshire both ways severe disruption, from Spa Road to Waterside North.

Lincolnshire - Baggholme Road in Lincoln closed in both directions from the Spa Road junction to the Waterside North junction, because of flooding.

To report traffic and travel incidents dial 0330 123 0184 at any time

Bad weather delays Red Arrows return

The Red Arrows say they'll have to stay in Greenland for another 24 hours following bad weather.

The team are on their way back from Canada and North America where they've been on an 11- week tour.

The current home of the RAF aerobatic display team is RAF Scampton in Lincolnshire.

Drugs and weapons seized in Grimsby

Drugs, weapons and cash have been seized after police raided a property in Grimsby.

Copyright: Humberside Police

Humberside Police found Class A drugs with an estimated street value of £5,000 at the address on Kingsgate Mews.

Two men and a woman were arrested on suspicion of possession of drugs with intent to supply following the raid.

Insp Paul Bennett said the force was tipped off by members of the local community.

Quote Message: Today's warrant came as a result of information given to us by the local community , I want to thank people for coming forward and sharing their information with us." from Insp Paul Bennett Humberside Police

By Owen Phillips

BBC Sport

Woman denies Skegness attempted murder

A woman has appeared in court to deny attempting to murder a man found seriously injured at a house in Skegness.

Scott Dabbs was found injured at a property in Swallowfields Court on 28 June.

Katy Borley, 32, of Swallowfields Court appeared at Lincoln Crown Court earlier today to deny the charge of attempted murder.

Following the hearing she was remanded into custody to stand trial at the same court on 9 March.

Railway line blocked after passenger taken ill

Train operator Northern says the line between Cleethropes and Barton-upon-Humber is currently blocked and rail replacement buses are in use after a passenger was taken ill.

Passengers are advised that the disruption will continue until at least 21:00:

Teenager reaches finals of prestigious choral contest

A 14-year-old girl from Lincoln has reached the finals of the BBC Young Chorister of the year competition.

Copyright: Choirs of Lincoln Cathedral

Lydia South is one of eight finalists in the contest which is taking place at Media City in Salford at the weekend.

She sings with Lincoln Cathedral Choir and says she's a little nervous about it:

Quote Message: I'm sure it'll kick in a bit more and it'll feel more real on the day. Hopefully, I'll make friends and I'm looking forward to meeting people there." from Lydia South Chorister

New plans revealed for former Lincoln store

A former Lincoln shop could be turned into an amusement-themed bar, under new plans.

Lindum Leisure Limited has submitted plans to City of Lincoln Council to transform the former Ruddocks of Lincoln shop on the city's High Street.

The site has been empty since it closed its doors in April 2017 after more than 160 years of business.

The council is expected to make a decision on the proposal at a later date.

Ex-council leader pleads guilty to drink-driving

Local Democracy Reporting Service

The former leader of North East Lincolnshire Council has been given a 28-month driving ban and fined £1,000 after pleading guilty to drink-driving.

Copyright: Local Democracy Reporting Service

Ray Oxby, 63, was found slumped over the wheel after he reversed his car into a wall on February 28 having drunk two bottles of wine and a bottle of vodka.

The former leader of North East Lincolnshire Council was found to have 224mg of alcohol in 100ml of blood. The legal limit is 80mg.

Oxby's lawyer, Saleem Khan, told Grimsby Magistrates his client had "sought solace in alcohol" after being subjected to "vitriol and hatred at the hands of the local community" following a recent controversial council decision.

Shortly after the incident Oxby, of Dursley Avenue, New Waltham, announced he was resigning as leader of both the Labour group and the council, blaming health reasons and personal abuse directed at him.

Watch: Village clean-up starts after flooding hits again

Following heavy rain overnight, eight properties in Ruskington near Sleaford have flooded.

It's the second time these homes have been flooded in a fortnight.

Surface water run-off and overloaded drains are behind the latest flooding, according to the Environment Agency.

A flood warning remains in place.

Now, workers from nearby farms are trying to pump water out of the affected properties:

£1,000 worth of jewellery taken in Alford house burglary

Lincolnshire Police want to speak to this man in connection with a burglary in Alford:

Copyright: Lincolnshire Police

A property in East Street was burgled between 08:40 and 11:05 on Wednesday 9 October.

About £1,000 worth of jewellery was taken, including three rings and a bracelet.

Anyone with any information is being asked to contact the police.

Children struggling to find adoptive families

Older children, children with disabilities, and those with brothers and sisters who need to be kept together, are struggling to find adoptive families in Lincolnshire, according to the county council.

These children often end up waiting the longest time to find a home, the council says.

As a result, the authority's now running information events in Lincoln - one today and one on Thursday - for anyone interested in adopting.

Anne Johnson, adoption team manager at the county council, says the authority's looking for all sorts of different people to be adoptive parents:

Quote Message: Nobody is too old. You can adopt if you're single, you can adopt if you're gay and we have some really successful same-sex couples in Lincolnshire." from Anne Johnson Adoption team manager, Lincolnshire County Council

Houses in village flooded for second time in fortnight

Eight homes have flooded in Ruskington for the second time in as many weeks.

Surface water run-off and overloaded drains after heavy rain overnight is behind the latest flooding, according to the Environment Agency.

Roy and Jean Allen's bungalow was flooded a fortnight ago and the couple say they can't believe it's happened again:

Quote Message: The place was dry and they were going to come back with all the heaters, starting to dry the place out. We've come this morning and it's an absolute disaster. We've gone back to where we were." from Roy Allen affected resident

Some local residents have criticised farmers in the area for not doing more to improve drainage in the area.

But Richard Wright, leader of North Kesteven District Council, says he disagrees:

Quote Message: They've done a lot of ditching work to make sure their ditches flow correctly, so they've done the land management work that needed to be done. They're doing work now to divert the water away." from Councillor Richard Wright Leader, North Kesteven District Council

Boring machine finishes £100m Humber tunnel dig

A huge tunnel-boring machine which has just completed a groundbreaking £100m project under the Humber Estuary is on its way back to Germany.

The machine, called Mary after a schoolgirl who won a competition to name it, is the size of 11 double-decker buses.

It's spent the last 18 months linking Goxhill on the south side of the Humber Estuary to Paull on the north bank.

The tunnel is 3.3 miles (5.4km) long.

It's the first time a tunnel has been constructed underneath the River Humber and will house a replacement gas pipeline.

Spalding relief road: Homes still under demolition threat

A number of homes could still be demolished as part of plans for a relief road in Spalding, it's emerged.

Copyright: Lincolnshire County Council

A review into the planned road was ordered after opposition and concerns from residents living nearby.

There are eight different options for the route, but recommendations still include knocking down five homes in Bourne Road and building the route close to four other properties.

Lincolnshire County Council says a decision won't be made until early next year.

Executive member for highways, councillor Richard Davies, says the authority's been in contact with affected residents:

Quote Message: We've written to residents on Bourne Road and Horseshoe Road within the 'safeguarded corridor' about the outcome of the study and will continue to stay in contact with them as things progress towards a final decision." from Councillor Richard Davies Lincolnshire County Council

Fraud costs county council £1.3m in lost council tax

£1.3m is being claimed incorrectly in single-person discount on council tax in Lincolnshire, it's been revealed.

It follows a review of 75,000 households across the county.

Lincolnshire County Council says it has a zero tolerance approach to council tax fraud, which it says "takes money away from local services and is unfair on the majority of people who pay the correct bill".

Lucy Pledge, head of internal audit and risk management, says the authority will now look into other types of fraud:

Quote Message: Over the coming months, our next focus will be on procurement fraud, financial mismanagement and identifying where business rates have not been paid." from Lucy Pledge Lincolnshire County Council

Flood warning for village near Sleaford

A flood warning's been issued for village of Ruskington, near Sleaford.

There's been heavy rainfall overnight and river levels at Ruskington Beck are rising.

Flooding of property, roads and farmland is possible and river levels are forecast to remain high for the next few days, according to the Flood Information Service.

Areas most at risk are near Ruskington Beck including Manor Street, High Street South, High Street North, Chapel Street and Chestnut Street.

Local residents are being urged to avoid using low-lying footpaths near streams and rivers and plan driving routes to avoid low lying roads near rivers, which may be flooded.