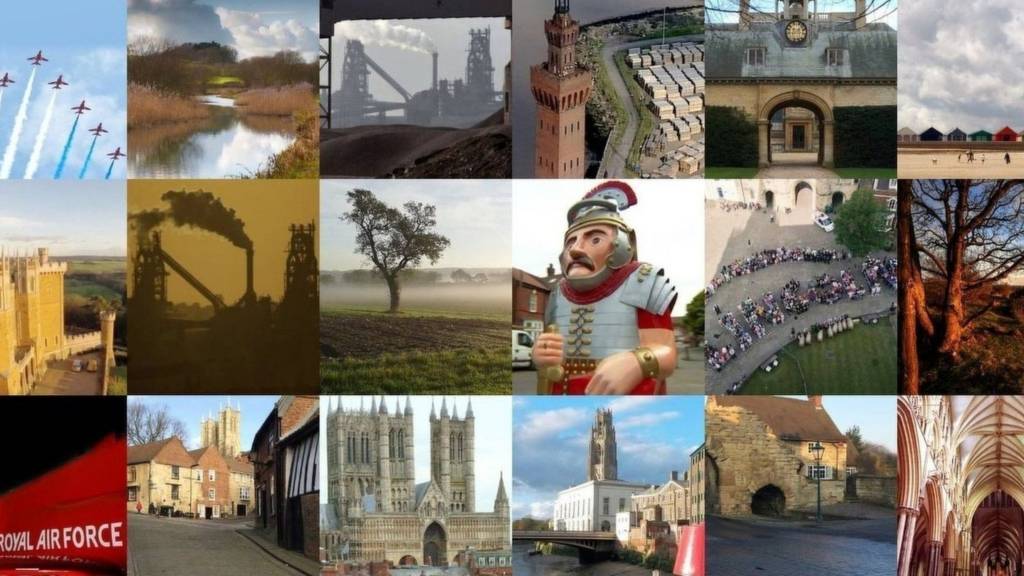 Lincolnshire breaking news: Latest updates
Severe accident: A1084 Lincolnshire both ways

BBC News Travel

A1084 Lincolnshire both ways severe accident, from Searby Hill to Owmby Hill.

A1084 Lincolnshire - A1084 in Searby closed in both directions from the Searby Hill junction to the Owmby Hill junction, because of an accident.

To report traffic and travel incidents dial 0330 123 0184 at any time

Severe accident: A16 Lincolnshire both ways

BBC News Travel

A16 Lincolnshire both ways severe accident, from Pear Tree Lane to Station Road.

A16 Lincolnshire - A16 in Ludborough blocked in both directions from the Pear Tree Lane junction to the Station Road junction, because of an accident. Traffic is coping well.

To report traffic and travel incidents dial 0330 123 0184 at any time

Wainfleet flooding: RAF ballast drop to cost up to £1m

The government will face a bill of up to £1m after deploying RAF helicopters to plug flood defences when a river burst its banks in Lincolnshire.

Heavy rainfall caused the River Steeping to burst its banks at Wainfleet on 12 June.

About 580 homes were evacuated, with some people not expected to be able to return for months.

RAF crews dropped tonnes of ballast and sand in the breach in an attempt to prevent further flooding.

The costs were revealed at a meeting of the Lincolnshire Police and Crime Panel during a discussion about the effect of the flooding on local service budgets.

Police and Crime Commissioner Marc Jones said the final bill was likely to be between £750,000 and £1m.

Fire safety warnings issued as county set to sizzle

As Lincolnshire braces itself for tomorrow's exceptionally high temperatures, Lincolnshire Fire and Rescue have issued this advice to keep us safe in the sun:

According to the Met Office temperatures across the county could reach 31C on Saturday before turning cooler on Sunday.

Appeal for help in tracing wanted Lincoln man

Police have released an image of a man they want to trace in connection with an allegation of fraud and malicious communications.

Copyright: Lincolnshire Police

Lincolnshire Police are appealing for help to find Keith Saunders ,31 from Lincoln.

If you know where Keith is, please call 101 or Crimestoppers on 0800 555 111.

Support for victims of Wainfleet's floods

A specialist liaison officer has been employed at East Lindsey District Council to help those affected by recent flooding in Wainfleet.

Copyright: East Lindsey District Council

Flood water wreaked havoc after heavy rainfall caused the River Steeping to burst its banks on 12 June, forcing hundreds of people to abandon their homes.

Lauren Marshall has been working in Coronation Hall's Community Information Point for the past fortnight and will continue to offer support and advice.

She says: "In the last two weeks I've had the opportunity to meet so many of those people affected by the flooding. It's been a really tough time for the community. My role is to help people get back on their feet and return to their normal way of life."

Severe accident: A1 Rutland northbound

BBC News Travel

A1 Rutland northbound severe accident, from Casterton Lane to A151.

A1 Rutland - A1 Great North Road partially blocked and it's very slow northbound from the Casterton Lane junction in Tinwell to Colsterworth Services Junction in Colsterworth, because of an accident.

To report traffic and travel incidents dial 0330 123 0184 at any time

Lincolnshire shop manager jailed for assaulting women

A former Lincolnshire shop manager has been jailed for sexually assaulting three women.

Lincoln Crown Court heard how John Vallance, from Brewery Hill in Grantham, assaulted his first victim in 2011 when he was the manager of Timpsons in the town.

He went on to sexually touch two other women in 2016.

The 68-year-old was found guilty of nine sexual offences following a trial earlier this year.

He was jailed for three years and three months and was also given a restraining order which prevents any contact with his victims for seven years.

Injured man found in Skegness

Lincolnshire Police are carrying out investigations in Skegness this lunchtime after a man was discovered with "unexplained injuries".

He was found at Swallowfields Court just before 11:00 this morning, and has been taken to hospital.

Anyone with information about the incident is being asked to contact police.

Appeal after schoolgirl approached by man

A girl was left "frightened and upset" after being approached by a man as she walked to school.

Lincolnshire Police said the girl was approached near the footbridge over the A1 at Heath Lane, in Great Ponton, on Wednesday morning, between about 08:15 and 08:45.

Officers suspect the man may have been in the nearby service station before the incident and then crossed the footbridge towards the village.

The man is described as being about 60-years-old with a beard.

Officers investigating the incident have appealed for witnesses to come forward.

Red Arrows prepare to head stateside

There are just over six weeks before the Red Arrows' first display of their North American trip.

It's the team's first major tour of the US and Canada in more than 25 years.

The first display will be in Ottawa, Canada, on 13 August.

It's expected the displays will be watched by millions of people over the course of the tour.

New screen for picturesque Lincolnshire cinema

Lincolnshire's much-loved family-run cinema, Kinema in the Woods, is due to open its new screen tonight.

Copyright: Kinema in the Woods

The new screen, the cinema's third, is a 92-seater.

The famous picture house at Woodhall Spa opened in 1922 and is thought to be the only full-time cinema in the UK still using rear projection.

The cinema's resident organist still plays during the interval in screen one every Saturday night.

Severe accident: M180 Lincolnshire eastbound

BBC News Travel

M180 Lincolnshire eastbound severe accident, from J4 for A15 to J5 for A18.

M180 Lincolnshire - One lane closed on M180 eastbound from J4, A15 (Scawby) to J5, A18 (Barnetby Top), because of an accident. Traffic is coping well.

To report traffic and travel incidents dial 0330 123 0184 at any time

Siemens reassures Lincolnshire workers

The engineering giant Siemens, which is building a new power station in North Lincolnshire, has defended itself from claims it's not offering enough work to UK employers.

About 50 workers are protesting outside the firm's base in Lincoln city centre this morning, saying they fear the company will outsource construction work on its new plant in Keadby, near Scunthorpe.

But Wesley Tivenham, managing director of power generation at Siemens, says the firm will make the most of local talent:

"I'd like to reassure local workers that Siemens is fully committed to maximising local employment opportunities," says Mr Tivenham.

"We haven't yet let any of the contracts which the concerns are being raised over. The procurement process is in the fairly early stages.

"We expect to conclude that probably in mid-September, with the work starting in December and January next year."

Watch: Friday's weather forecast

Owain Wyn Evans

Weather presenter, BBC Look North

A grey start before it brightens up, with plenty of sunshine in the afternoon.

Watch my full forecast here:

Jobs protest held at Siemens in Lincoln

Harry Parkhill

Reporter, BBC Radio Lincolnshire

This is the scene outside Siemens in Lincoln this morning, where a group of protesters are calling for the firm to keep jobs in the UK.

The engineering giant is building a power station at Keadby, near Scunthorpe, but members of the GMB union say they fear some construction jobs will be outsourced to workers from the EU.

Protester Keith Gibson, from the GMB, has told me he wants to remind Siemens that there are plenty of skilled workers in the UK.

Siemens says that so far 80% of the contracts at Keadby have gone to UK companies and that the firm has invested heavily in Lincolnshire.