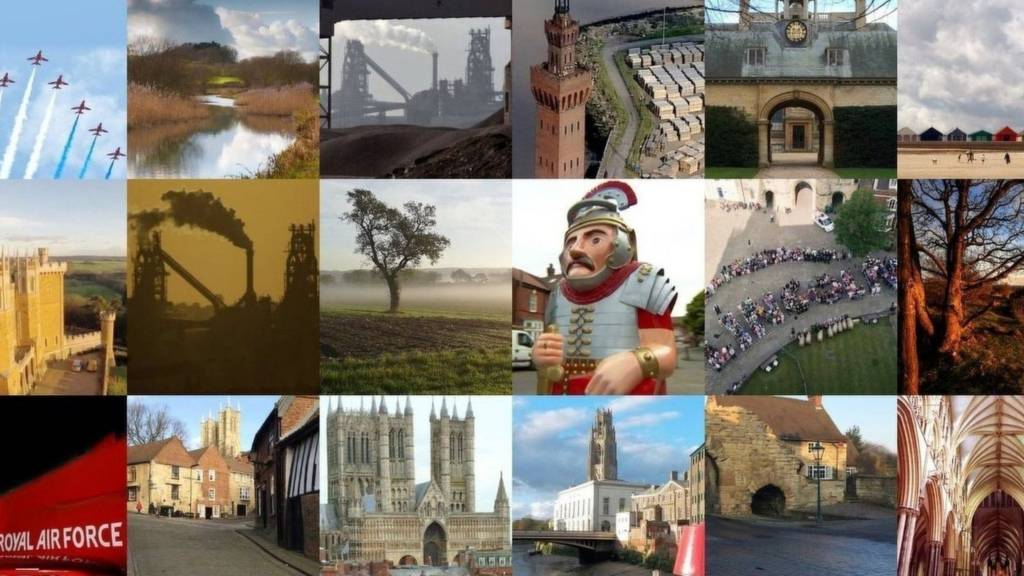 Lincolnshire breaking news: Latest updates
Summary
New rail crossing bridge opens in Lincoln
Lincolnshire beaches awarded Blue Flag status
CCTV appeal over Lincoln cash card theft
'Good progress' on bypass avoids need for road closures
First passengers for new East Coast high-speed trains
Live updates on Wednesday 15 May 2019
Medical centre told to make improvements

Holbeach Medical Centre has been rated 'inadequate' and told it could be shut down unless improvements are made.

Inspectors from the Care Quality Commission visited last month and found staff weren't reviewing medicines properly. They also found the practice wasn't receiving drug safety updates.

Nobody at the centre wanted to comment, but the Clinical Commissioning Group (CCG) said it is working with staff to help make changes and will regularly review and monitor their progress.

Suspended sentence for teen who threw beer glass

A man was left permanently scarred after a teenager threw a beer glass at him, Lincoln Crown Court heard.

Curtis Schafer had intervened in a dispute between customers at the Black Dog pub in Westgate, Grantham in July last year.

Helen Marley, prosecuting, said the initial dispute between Joseph Kennedy and another man continued outside the pub. Schafer got involved again and Mr Kennedy asked him what business the dispute was of his.

It was then that Schafer threw the pint beer glass hitting Mr Kennedy's forehead causing a significant cut. He needed 18 stitches and has been left with a prominent scar.

Schafer, 18, of St Pierre Avenue, Grantham, admitted a charge of assault occasioning actual bodily harm. He was given nine months custody suspended for a year with 100 hours of unpaid work and ordered to pay £1,200 compensation to his victim.

'I had to carry sickbags in my handbag'

An expectant mother from Lincolnshire has said she doesn't think she could go through pregnancy again after suffering severe sickness.

Hayley Smith, from Great Steeping near Spilsby, has been hospitalised with Hyperemesis Gravidarum.

It's the same condition experienced by the Duchess of Cambridge during her three pregnancies.

Symptoms include vomiting up to 50 times a day, dehydration, weight loss and low blood pressure.

Hayley has shared her experiences as the largest ever UK study into severe pregnancy sickness is launched.

Quote Message: This pregnancy, I've said I don't think I could do it again because it is so debilitating and you just think it's never going to end. It's horrendous to feel so sick and so secluded because you can't leave the house because it's embarrassing. I had to run out of a supermarket because I was going to throw up and it just comes so you daren't leave the house. If I do leave the house I carry sick bags in my handbag." from Hayley Smith

Health bosses' new plans for Lincolnshire

Health bosses are set to develop plans to create one clinical commissioning group (CCG) to serve the whole of Lincolnshire.

John Turner, senior accountable officer for the county's four CCGs, told a Health Scrutiny Panel for Lincolnshire meeting today that officials felt the time was right to move towards a single organisation.

The region currently has four groups; Lincolnshire West, Lincolnshire East, South Lincolnshire and South West Lincolnshire.

Health bosses had previously proposed plans to work together to simplify decisions back in July 2018.

Currently, commissioning bodies make decisions on their own services for their local area.

Water testing under way at popular swimming spots

The Environment Agency is testing the waters at Lincolnshire's most popular swimming spots.

The agency will be testing the quality at more than 400 sites, including beaches at Ingoldmells and Chapel St Leonards.

Last year, all of Lincolnshire's public bathing waters got top marks for having clean water.

Quote Message: Improving water quality at our beaches is a fantastic achievement and is a testament to the work of Environment Agency staff, water companies, local authorities, farmers, volunteers and NGOs. It shows what energy and commitment can achieve for the environment and people." from Helen Wakeham Head of water quality, Environment Agency

Councillor blames Prime Minister after losing seat

One of Lincolnshire's longest serving councillors who lost her seat at the local elections has blamed the Prime Minister.

Pat Woodman, a Conservative, was on North Kesteven District Council for 45 years.

But she lost her seat earlier this month.

She says the government's handling of Brexit is partly to blame.

Quote Message: I am as fed up with central government and the way it has not resolved Brexit and particularly with Theresa May. I voted to leave and here we are three years along the line and don't seem to be any nearer a conclusion." from Pat Woodman Former councillor

In pictures: Lincoln's new multi-million pound footbridge

People have started using a new multi-million pound footbridge over the Brayford Wharf East railway line in Lincoln.

Network Rail said it will reduce delays at the barriers for the 16,000 pedestrians who use the crossing every day. It opened to the public today.

Police called to break up Grimsby street fight

A man and a woman were taken to hospital with cuts and bruising after a street fight in Grimsby.

Police were called to a large disturbance on Carnforth Crescent at about 7pm last night, Tuesday 14 May.

Det Sgt Ian Potter said police received a report that a group of individuals were fighting in the street.

He said: "Officers and ambulance crews attended quickly and a man and a woman were taken to hospital with cuts to their heads and bruising.

"Three men have been arrested in connection with the incident, they remain in our custody at this time while our inquiries continue."

Anyone with information, CCTV footage, or mobile phone video footage showing the incident should contact Humberside Police.

'Good progress' on bypass avoids need for road closures

Four planned weekend road closures near Lincoln will no longer take place, it's been confirmed.

Copyright: Lincolnshire County Council

The A15 Sleaford Road was due to be closed on the following weekends to allow ducting works and utility diversions for the Lincoln Eastern Bypass to be completed:

18-20 May
1-3 June
8-10 June
15-17 June

However, Richard Davies, in charge of highways at Lincolnshire County Council, says "good progress" has been made over the past few weeks and the closures will now be unnecessary.

Free counselling offered to young children

Children as young as four are being offered free professional counselling in Bourne.

The charity Don't Lose Hope has set up a community cafe and pupils who have free school meals can have eight sessions.

Adults on certain benefits will also be able to get help without being charged.

Nicola Brister, the charity's CEO, says it's important younger children are taught how to process their emotions and work through problems in a healthier way.

There are many children who are bereaved at a young age, she adds.

Art historian and broadcaster to come to Lincoln

Art critic, journalist and TV presenter, Andrew Graham-Dixon will appear at the University of Lincoln on Friday.

He has presented numerous landmark series on art for the BBC and has published a weekly column on art for more than 20 years, first in the Independent and more recently in the Sunday Telegraph.

Andrew returns to the university for the third time, to talk about his career highlights and offer an insight into his roles at the forefront of arts journalism. Andrew regularly lectures on art in the UK and abroad, allowing the audience an insight into both the world of journalism and the arts.

This lecture is free to attend but booking is essential.

Police investigating the theft of cash and three bank cards which fell out of the victim's pocket in Lincoln say they want to speak to these two men:

Copyright: Lincolnshire Police.

The incident happened at Lincoln Golf Club on 9 April and the cards from within the wallet were later used on three separate occasions in the Gainsborough area.

Anyone who recognises the men should contact Lincolnshire Police.

Long-awaited Lincoln rail crossing footbridge opens

A multi-million pound footbridge over the railway crossing in Lincoln city centre opens to the public today.

Network Rail says the bridge, at Brayford Wharf, will alleviate delays for the 16,000 pedestrians who use the crossing every day.

But there is no disabled access and disability campaigners say it will be humiliating to be left waiting at the level crossing as others go across the new footbridge.

Network Rail said there was no funding available to install lifts, but they could be added at a later date.

People who can't use the footbridge can still go across the level crossing, according to the company, which added that the steps are simply another option for people.

Quote Message: When they do these multi-million pound investments, they do need to include disabled access in all of it - not just put one bridge in and say, 'That's it, our quota's done'...They've still not got it correct at all." from Chris Alderman Wheelchair user

Lincolnshire beaches awarded Blue Flag status

Beaches in Lincolnshire have once again been given a top award for cleanliness.

The central beaches at Skegness, Sutton on Sea and Mablethorpe have all been granted Blue Flag status - which looks at the water quality and beach management and which is considered the gold standard for beaches.

The Blue Flag is also flying high once again in Cleethorpes at the resort's central beach, from Wonderland through to the leisure centre.

Thomas Roberts, a lifeguard supervisor in Skegness, says retaining Blue Flag status is important for the town:

Quote Message: Beaches get busier and busier every season and I think the public come to the beaches sometimes because of the Blue Flag. We've got to make sure it's clean, and I think the public does have a big say on how that is being done." from Thomas Roberts Lifeguard supervisor, Skegness

Watch: Wednesday's weather forecast

Lisa Gallagher

Weather presenter, BBC Look North

A dry, fine and warm day ahead with lots of sunshine.

Watch my full forecast here:

First passengers for new East Coast high-speed trains

A brand new type of train for the East Coast Main Line will carry its first paying passengers later.

It's claimed the Azumas, built by Hitachi, the same firm which made Japan's Bullet Train, will speed up journeys between Yorkshire, Lincolnshire and London.

They replace others trains that are more than 30-years-old.

Rail company LNER says it will offer extra services to Harrogate, Hull, Leeds, Bradford and Huddersfield as a result of the introduction of the 65 new trains.

The new trains are set to begin operating on the East Coast Main Line five months later than planned.

Plans to introduce the trains in December were abandoned after the electric-diesel locomotives were found to interfere with trackside signalling equipment.