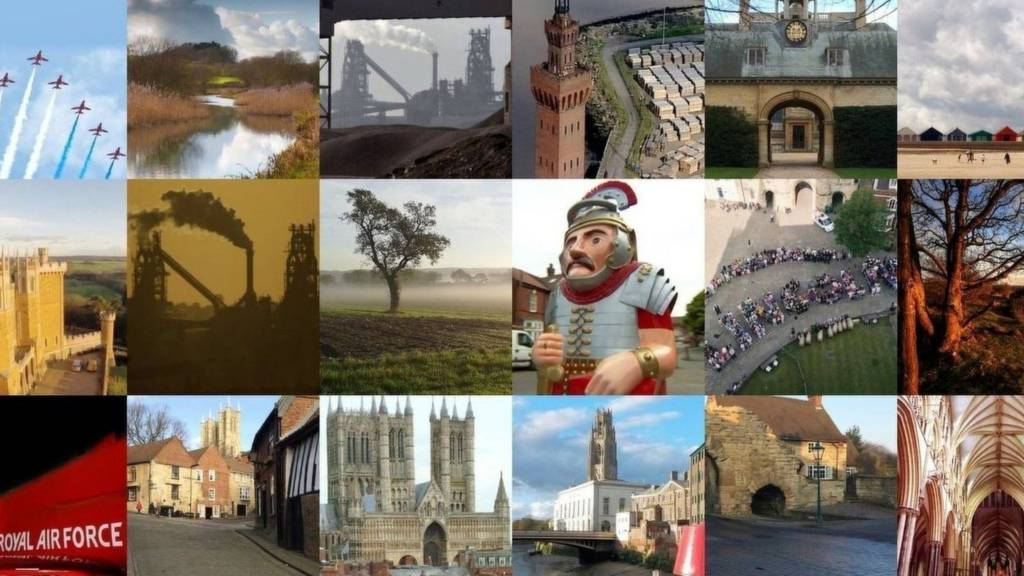 Lincolnshire breaking news: Latest updates
New post office for Lincolnshire

One Lincolnshire village is bucking the trend of post office closures with the opening of a new one.

Arvind Bhutiya recently reopened the village shop in Sudbrooke near Lincoln, and has now added post office services.

Traffic concerns over Lincoln housing scheme

Concerns have been raised about the impact of traffic from a huge new housing development in Lincoln.

Copyright: City of Lincoln Council

Plans for the Western Growth Corridor, which include 3,200 homes, have been drawn up by the City of Lincoln Council.

Lincolnshire County Council has said not enough is being done to mitigate the development's impact on roads in the city.

Councillor Richard Davies, who's in charge of highways, said there had been a "lack of detail" from the city council, and it should "go back to the drawing board".

In response, the City of Lincoln Council said it has conducted extensive consultation on the scheme with local residents, and taken specialist opinion on highways and transport matters.

Lincolnshire firefighter joins cyclone rescue efforts

A Lincolnshire firefighter is on his way to Mozambique to help people affected by Cyclone Idai.

Dave Philips is joining a team of health and emergency response workers travelling from the UK:

Dave Phillips (second from right) flew from Heathrow yesterday.

Dave, who has spent 20 years working with Lincolnshire Fire and Rescue, has joined many international rescue efforts, including an operation in Bangladesh last year and to Haiti following the devastating earthquake in 2010.

Thousands of people in Mozambique have been left stranded and homeless following Cyclone Idai.

Clocks sold to honour inventor

A selection of 1,000 clocks, which have been on display in North Lincolnshire, have been sold today.

A huge display of clocks, known as Harrison's Garden was created in Barton-upon-Humber, to recognise inventor, John Harrison.

Harrison, the son of a carpenter, was born near Wakefield in 1693 and moved to Barton-upon-Humber at the age of 7.

He went on to invent the marine chronometer.

Today, a selection of the clocks were offered to the public, in return for a donation.

The rest will be sold at auction in Lincoln next month.

The money raised will be used to create a life-size bronze statue of the inventor in Barton.

Police trying to trace man over fake £20 note

Police are trying to trace a man after a woman was given a fake £20 note in Skegness:

Kirton fire victim had been stabbed in heart

An inquest has heard that one of the three people who died in a house fire at Kirton, near Boston, had been stabbed.

Copyright: Lincolnshire Police

A post-mortem examination revealed Billy Hicks, 24, from Wyberton, had received a knife wound to his heart.

Jay Edmunds, 27, from Kirton, and Ashley Martin, 32, from Luton also died in the fire, which is believed to have been started deliberately, on New Year's Day.

Giving evidence at Boston Coroner's Court, Det Ch Insp Karl Whiffen said Lincolnshire Police received a call on 1 January about a domestic incident at a house on Pear Tree Road in Kirton.

Police were told during the call that the house was on fire.

The inquest also heard that Ashley Martin would have been arrested on suspicion of murder had he survived the blaze.

The inquest was adjourned.

Female police officer injured in Grantham assault

A man has been charged after a police officer was assaulted in Grantham.

Copyright: Lincolnshire Police

The woman was taken to hospital with facial injuries following the incident in the early hours of yesterday morning.

Nathan Squires, 25, from West Corner, Barrowby, has been charged with assault by beating and criminal damage.

He is due to appear at Lincoln Magistrates' Court on 23 April.

On-the-run rapist arrested in London

A convicted rapist who sparked a police hunt after he absconded from North Sea Camp near Boston has been found.

Copyright: Lincolnshire Police

Lee Brophy failed to return to the open prison from temporary release last Thursday.

He was found by police in South London yesterday.

Brophy is serving an indefinite sentence for raping a woman in South London in 2011 and infecting her with Hepatitis C.

Spruce-up for grubby Boston footbridge

Cleaning teams have moved onto St Botolph's footbridge in Boston town centre.

Copyright: Lincolnshire County Council

The bridge will be closed for three days to allow the work to take place.

Algae will be removed from the structure and all of its white beams will be cleaned, according to Lincolnshire County Council.

Lincolnshire man starts sea trials before Atlantic attempt

A 68-year-old Lincolnshire man is starting sea trials ahead of his attempt to row solo across the Atlantic Ocean.

Retired radiologist Dr Richard Harries, from Middle Rasen, hopes to become the oldest man to row the 3,000 miles between Canary Islands to Antigua.

The sea is looking pretty calm at Bridlington, where he's testing his skills!

Work under way to protect 400-year-old Grantham Oak

Work has started this morning to protect one of Lincolnshire's oldest oak trees.

The Grantham Oak, on Belton Road in the town, is more than 400 years old.

The Woodland Trust is concerned that its roots are being damaged by vehicles parking or driving on them.

Now, special protective ground mesh is being laid over the oak's roots.

Experts say the tree could live for another 600 years, if properly protected.

Libby Squire death: Inquest due to open

An inquest is due to start later into the death of Hull University student Libby Squire, whose body was found near Grimsby Docks last week.

Miss Squire disappeared after a night out in Hull.

Police believe she got a taxi from the Welly Club to her home in Wellesley Avenue at about 23:30 on 31 January.

Her body was recovered last Wednesday close to Spurn Point, near Grimsby Docks.

The 21-year-old's death is being treated as a "potential homicide" and a man remains under investigation, police say.

The inquest is expected to be opened and adjourned at Hull Coroner's Court this afternoon.

Inquest due to open into fatal Boston house fire

An inquest into the deaths of three people who died in a New Year's Day house fire near Boston is due to open later.

A murder investigation was launched following the blaze in Pear Tree Road, Kirton, near Boston in Lincolnshire.

Billy Hicks, 24, from Wyberton, and Jay Edmunds, 27, from Kirton, died in the fire.

Police confirmed later in January that Ashley Martin, 32, from Luton, who also died in the fire, would have been treated as a suspect in the death of Mr Hicks and Ms Edmunds.