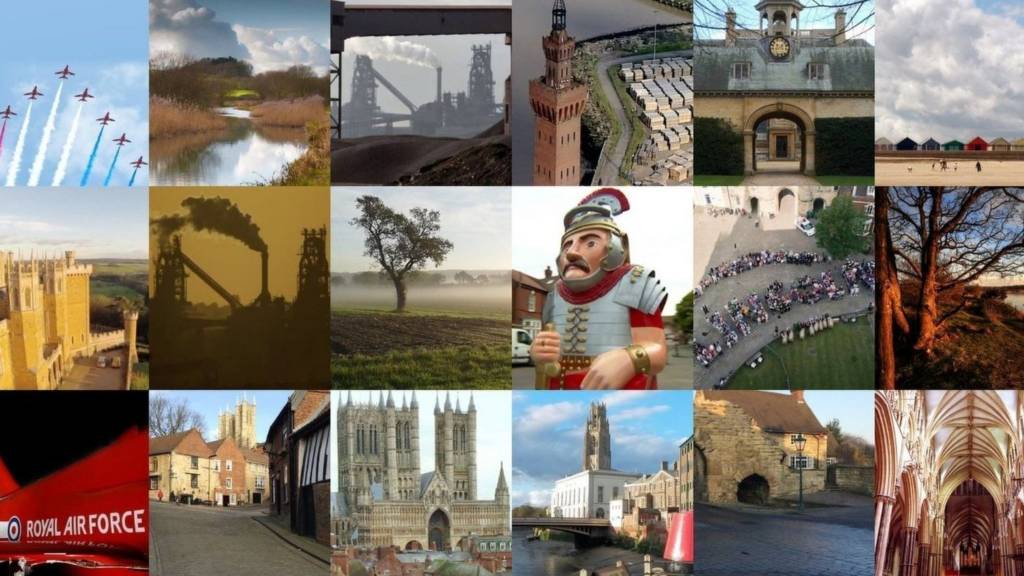 Lincolnshire breaking news: Latest updates
Today's top stories from Lincolnshire so far today include:

Weather: Sunshine all the way

Feeling hot, hot, hot!

This weekend's weather is looking lovely in Lincolnshire:

Police concern for missing man

Police in Grimsby are trying to locate missing man Tony Pelton and say they're concerned for his welfare:

Coming up on Look North tonight

Peter Levy

Presenter, BBC Look North

Here's a look at what coming up on Look North with me tonight:

Concern for welfare of missing Bourne man

There's concern for the welfare of a 47-year-old man who went missing from Bourne yesterday.

His family say they're concerned for the welfare of Matthew Hobson.

He's 6ft 4in and of an average build.

Police want him, or anyone who's seen him to contact them.

Boston near the top in terms of solving crime

Boston has the second best figures for solving crime in the country, an in-depth five-year survey by The Times has revealed.

The paper reports that 20.1% of the town's crimes result in a conviction, the national average is 9%.

Boston Borough Councillor Paul Skinner says it shows "the perception of crime in Boston is not matched by the reality".

This is despite a number of high profile violent crimes in the town in the last year.

Including the death of a man who was allegedly tied up in a chair and beaten up, and the murder of a disabled man by his neighbour last summer.

A recent survey by Lincolnshire's Police and Crime commissioner showed perception of crime is much higher in Boston than other areas of the county, despite the level of crime being similar across Lincolnshire.

Watch: Fire breaks out at restaurant

Four fire crews have been tackling a blaze at an Indian restaurant in Coningsby.

Lincolnshire Fire and Rescue say no-one was injured in the fire as the building was empty at the time.

The smoke could be seen from the nearby RAF base and RAF Police and Lincolnshire Police secured the scene.

An investigation into the cause is underway:

Lincoln man to front heart campaign

A Lincoln man's been chosen to front the British Heart Foundation's latest fundraising campaign.

The charity will be asking people to face their fears and turn courage into cash next month.

John D'Arcy, who suffered from a stroke and had heart problems, established an online forum to help others.

He says it's because of this the charity want him to be the face of the campaign.

Quote Message: I started developing a website for stroke survivors, that's developed over the years its become very popular. Its got an online forum so that people can help each other. I found that people who know the most about strokes have had one themselves." from John D'Arcy Campaigner

Boston flood barrier moving ahead

Work on a £100m flood barrier to protect Boston has taken a step forward.

Foundations for the barrier, which will protect 14,000 homes and businesses in the town from flooding, will start to take shape after the assembly of a special structure this week.

The cofferdam (pictured) is designed to create a water proof seal in the centre of the Haven river.

Water will be pumped out of the area to allow workers to start excavation work ahead of constructing the barrier.

Watch: It's 'easy peasy' as the pea harvest gets under way

If you regularly drive past the pea fields of Lincolnshire, you'll know the distinctive smell of the vining season.

You'll also have seen the queues of pea vining machines parading across the fields at this time of year.

The pea harvest is well under way now, and with 5000 acres of pea crops to de-pod they're only 20% of the way through:

Your headlines this lunchtime

The top stories from Lincolnshire so far today include:

'Punish a Muslim' letter accused appears in court

A man has appeared in court accused of sending a number of so-called "Punish A Muslim Day" letters.

David Parnham, 35, of St Andrew's Close in Lincoln, is accused of a total of 14 offences spanning two years, including one count of soliciting to murder.

He is also charged with two counts of sending a number of letters promoting a "Punish A Muslim Day", capable of encouraging the commission of one or more of a number of offences.

Mr Parnham faces a further five counts of sending a substance with the intention of inducing in a person a belief that it is likely to contain a noxious substance, five counts of sending a number of letters conveying a threat and one count of making a bomb hoax.

He appeared at the Old Bailey on Friday, via videolink from HMP Wandsworth and was remanded in custody to appear at the same court on 5 October.

Family wants 'lessons' learned over court death

The family of a young mother who died after collapsing in a court building say they "hope lessons" will be learned following her death.

Hayley Gascoigne, 32, from Scunthorpe, had a cardiac arrest in the public concourse area of Hull Combined Court Centre on 26 January 2017.

A coroner ruled yesterday she had died from natural causes.

The two-day inquest heard a paramedic, who has since retired, admit he made mistakes when he attended the incident.

Gary Long told the hearing he did not take a green bag with cardiac equipment to the incident, as he believed Miss Gascoigne had suffered a fit.

Miss Gascoigne's family have said they were shocked no defibrillator had been available in the court building.

Quote Message: If anything good is to come from these sad events we sincerely hope that lessons will be learned and no-one else has to lose their life in such a shocking way." from Terry and Kate Gascoigne Miss Gascoigne's parents

'Progress' made on doctor shortages at Pilgrim

Medical chiefs say progress has been made on the future of children's services at Pilgrim Hospital in Boston.

The medical director of the trust which runs the hospital says "progress has been made" and they've come up with a new plan to help maintain services.

The plan includes reducing the number of beds on the ward and downgrading the maternity unit so it only deals with low-risk births.

He added the trust is still working on contingency plans in case the new plan doesn't work.

12-year-old knocked off bike

A 12-year-old boy has been treated for minor injuries after being knocked off his bike in Lincoln last night.

It happened on Scopwick Drive at about 16:30 yesterday.

Police say they wish to speak to the driver of a grey Volkwagen Jetta.