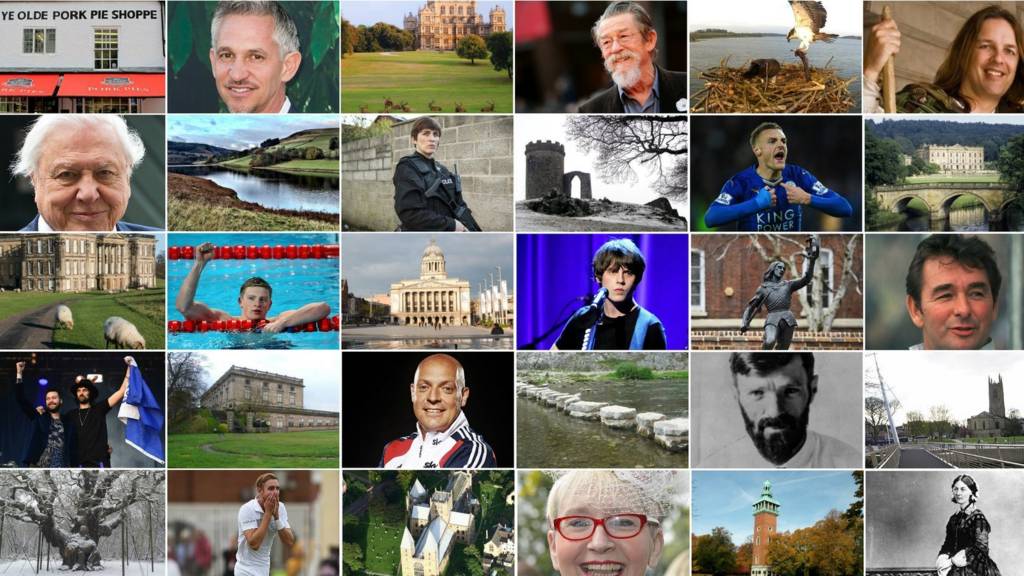 Latest updates: East Midlands Live
Listen live to your BBC local station in Derbyshire, Nottinghamshire and Leicestershire.
Severe disruption: M1 Derbyshire northbound

BBC News Travel

M1 Derbyshire northbound severe disruption, from J30 for A616 Worksop to J31 for A57 Worksop Road Sheffield.

M1 Derbyshire - One lane closed on M1 northbound from J30, A616 (Worksop) to J31, A57 (Sheffield), because of a broken down vehicle. Traffic is coping well.

To report traffic and travel incidents dial 0330 123 0184 at any time

Severe accident: A453 Nottinghamshire both ways

BBC News Travel

A453 Nottinghamshire both ways severe accident, at Farnborough Road.

A453 Nottinghamshire - One lane closed and queuing traffic on A453 Clifton Lane at the Farnborough Road junction, because of an accident involving 3 cars and 2 vans.

To report traffic and travel incidents dial 0330 123 0184 at any time

Our live coverage across the day

Today's live updates have now finished. We'll be back with more news, sport, travel and weather from 08:00 on Thursday.

Weather: Staying dry and clear tonight

Tonight will be dry with clear periods and some patchy cloud.

Minimum temperature: 2 to 5°C (36 to 41°F)

Police warning over 'out of control' dog

Leicestershire Police say they were called to Collingham Road earlier this afternoon because of an "out of control" husky dog.

The force tweeted that officers were unable to catch the dog and it is now loose on Aylestone Meadows nature reserve.

Members of the public have been warned not to approach the dog and call the local dog warden.

Watch: Gran has first horse ride on 90th birthday

How sweet. This is the moment Joan Natzel first climbed into the saddle for a horse riding lesson.

It was her 90th birthday.

Travel: Delays ease outside hospital after crash

Crash closes lane outside city hospital

Nick Smith

BBC News Online

One lane is closed on Hucknall Road outside the entrance to Nottingham City Hospital following a crash involving a car and a bus.

The crash, on the inbound side of the A611 Hucknall Road, is causing minor delays to traffic.

'Chances missed' to help brothers at risk of harm

Amy Orton

Local Democracy Reporter

More should have been done to help a seven-year-old boy who scalded his hand preparing milk for his baby brother, according to a serious case review.

Chances to help the two boys, who were found to be at risk of physical harm, were missed by agencies involved in their care according to the Leicestershire and Rutland Safeguarding Children Board (LRSCB).

Key findings of the review included the brothers had lived in a high risk environment since birth where there was evidence of, at times, uncontrolled violence.

The children's mother had a long history of mental health issues and alcohol abuse and that there was a long history of a series of abusive relationships.

The board looked into the boys' case after the youngest child was found with an untreated head wound, when a social worker visited the family home unannounced in 2016.

The boy was taken to the Leicester Royal Infirmary where doctors diagnosed a depressed fracture to the front of his skull, which was suspected to be a non-accidental/unexplained injury.

At the time of injury, both children were subject to child protection plans under the category of risk of emotional harm.

During the time frame looked at by the board, there was evidence that the mother "inappropriately" required her older child to undertake a caring role for his baby brother. There was evidence that he had scalded his hand while warming milk for him.

Both boys now live with their respective fathers and the youngest child made a full recovery from the head injury.

Man arrested after large amount of cash found in car

Nick Smith

BBC News Online

A man has been arrested after a large amount of cash was found in his car.

Police stopped the man in South Avenue, Radcliffe-on-Trent, at around 10:30 today.

He has been arrested on suspicion of possession of criminal property and will be questioned by officers.

Vehicle wedged between car and wall after crash

A crash in Hinckley earlier saw a car wedged sideways between a wall and another car.

Police have said they were called to Alma Road just before 10:00 and both vehicles have now been recovered.

Luckily no one was injured and so far no one has been arrested.

Two arrested over crossbow tweet to MPs

Two people have been arrested in connection with a series of malicious tweets sent to five MPs, including Anna Soubry.

Messages were sent to Ms Soubry and her Independent Group colleagues Chuka Umunna, Angela Smith and Sarah Wollaston, and Labour MP David Lammy.

One showed a crossbow above the words "We are ready for civil war, are you?"

South Yorkshire Police said a man and a woman had been arrested on suspicion of sending malicious communications.

Travel: Broken-down vehicle causing delays

Fire crews leave scene of caravan park fire

Nick Smith

BBC News Online

Fire crews have left the scene of a fire which destroyed or damaged 80 caravans today.

Firefighters were called to the storage yard at Ainmoor Grange Caravan Park in Stretton, Derbyshire, at 05:30 this morning.

The fire was extinguished by 09:30 and nobody was injured.

Panthers defenceman Steve Lee out for "months"

Constituents 'will not trust PM again'

"Good" and "not stupid" - I think the people of North West Leicestershire can take that as a compliment.

'Dream come true' for horse riding grandmother, 90

Age is just a number for Leicester's Joan Natzel.

To celebrate her 90th birthday she rode a horse for the first time yesterday.

Copyright: Witham Villa Equestrian Centre

The lesson was booked as a surprise by her grandson 44-year-old Adrian who said: "She loved it".

Joan, who turns 90 tomorrow, has been very active throughout her life but despite always having an interest in cowboys, she'd never been on a horse. She told her grandson it was "a dream come true".

Verity Saul from Witham Villa Equestrian Centre said: "She had a half hour riding Holly in our indoor school. She didn't stop smiling for the whole time."